Oh, What A Difference Some Trim Makes!
My rolling French doors are taking longer than I had expected. I spent several hours on Tuesday stripping the many layers of paint from the doors (I think there were about 8 to 10 layers of paint on them), and then I spent yesterday getting them all sanded, wood filled, and sanded some more. And then I was finally able to start adding trim to one of the doors.
Trim is always the fun part. It's what turns a project from an amateurish homemade looking thing into a beautifully hand crafted piece. Trim makes all the difference in a finished product.
In the picture below, the door on the left hasn't been trimmed out yet, but the door on the right has had three types of trim added.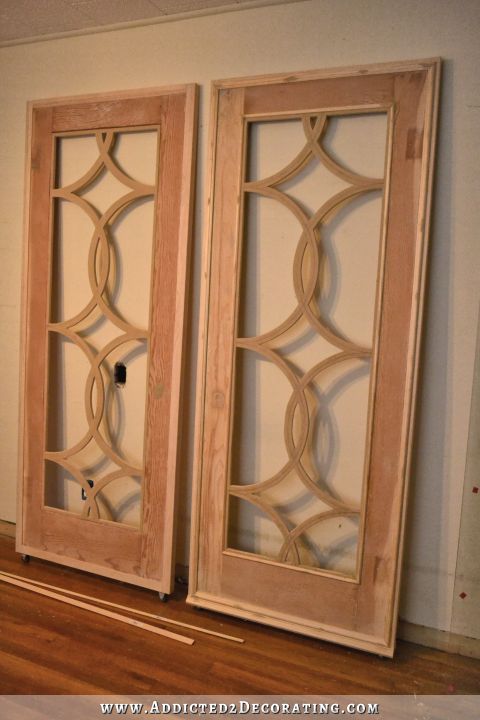 The untrimmed door has such a flat, thin appearance. The one with the trim has a much more substantial look (and feel) to it.
I added a thin 1/2-inch trim (called cabinet trim, and sold by the 8-foot piece at Home Depot) around the center fretwork panel, and then added a larger 3/4-inch trim (also called cabinet trim and sold by the 8-foot piece at Home Depot) around the inside edge of 1″ x 2″ lumber that I attached around the outside edges of the doors. (I still need to sand the nail holes and corners that have been filled with wood filler.)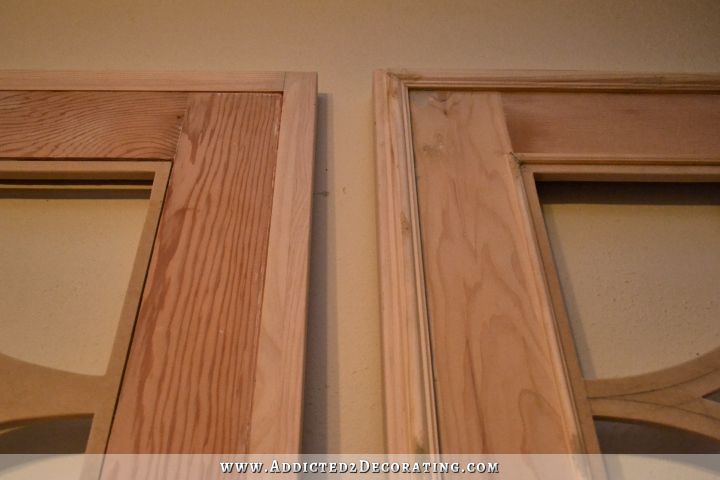 At the last minute, I also decided to add a strip of trim along the bottom of the door to cover up the casters a bit.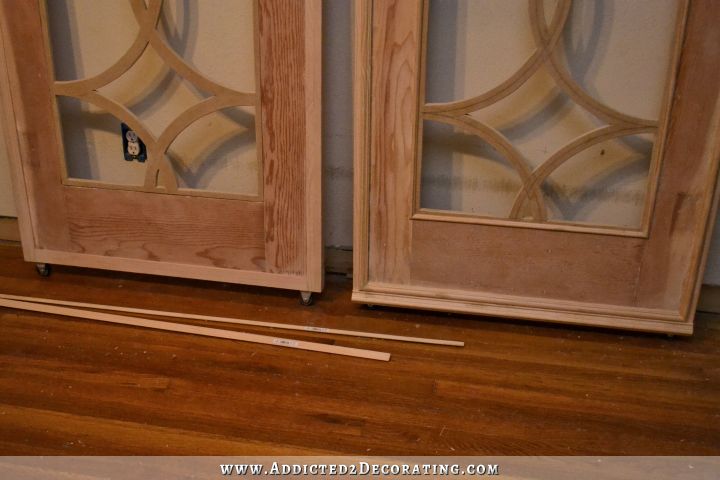 I love trim! And when I'm at Home Depot (which is at least four times a week) and I have a few extra minutes to spare, I love to browse the trim aisle and dream up uses for all of the different trim they have. It can be used in so many different ways, and can really add a touch of elegance to a room.
Of course, we've all seen trim used on walls, right?  Picture frame molding is very often used in traditional homes, and really gives a custom look to a house.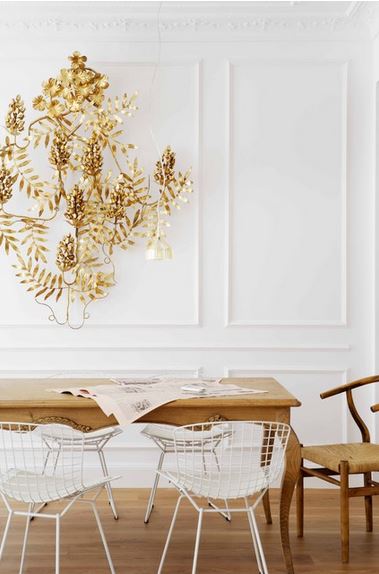 Contemporary Dining Room by Other Metro Interior Designers & Decorators Mikel Irastorza
That type of molding is very easy to add to a wall, and it's also relatively inexpensive.  All you need is a miter saw, a hammer and finishing nails.  If you have a nail gun, then it's even that much easier.  You can easily add elegance to the walls of your room in a weekend by just adding traditional picture frame molding.
But if you think beyond the typical picture frame molding, board and batten walls, and other traditional wall trim, the possibilities are endless.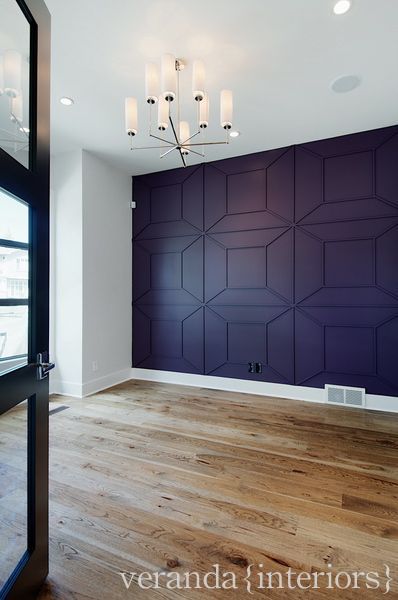 Just about any pattern you can think of that is made of straight lines can be recreated on a wall using trim from the hardware store. (Designs with curves are much more difficult, and beyond my skill level. I have yet to try bending wood.)
If you have some cabinet doors that are looking a little plain, they may just need some trim and a coat of paint to look brand new and completely updated. Brandi from Don't Disturb This Groove completely changed the look of her kitchen using this method. Here's what her cabinets looked like before…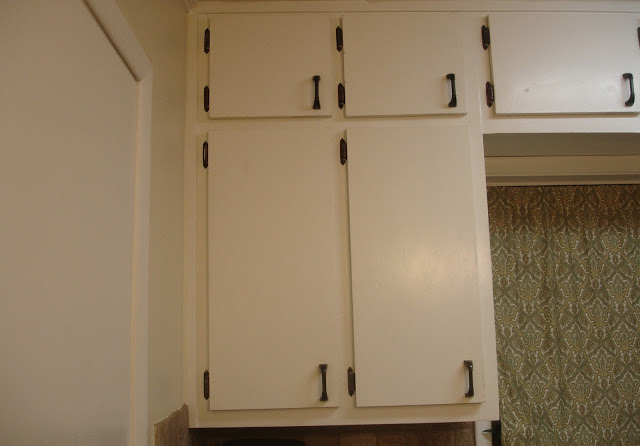 And here's what it looked like after she added trim and a coat of paint to the doors.
And even if your cabinet doors are looking just fine, sometimes it makes a huge difference to add trim to the actual cabinets. Remember, in my own kitchen, the main difference between these cabinets…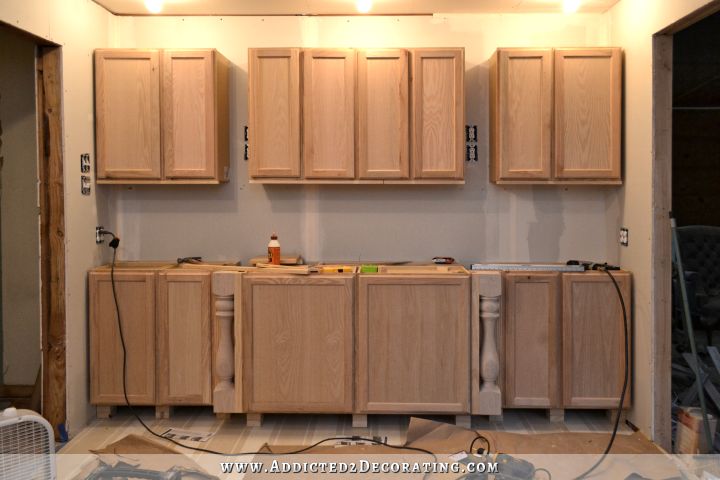 ..and these cabinets…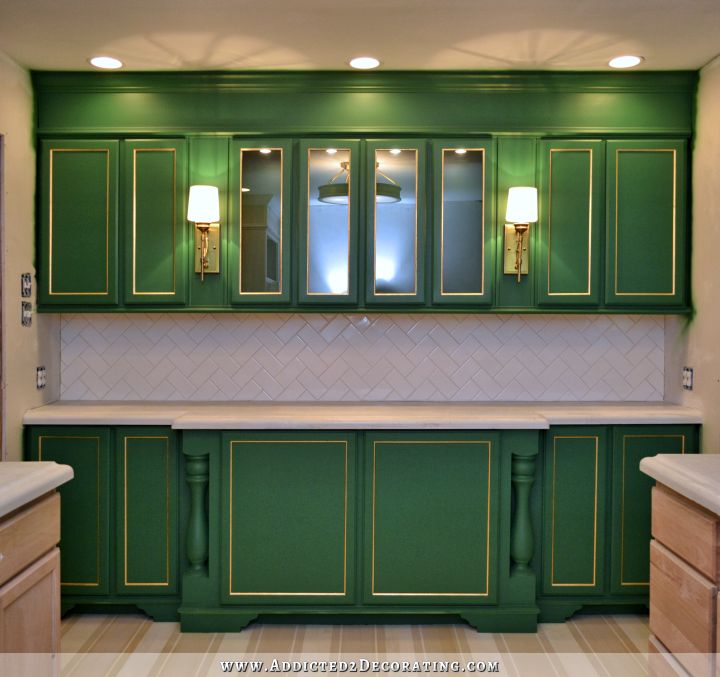 …is lots of trim and paint.
Have boring interior doors? Just add trim! Abby at DIY Design completely transformed her interior closet doors using trim, recreating the look of the shaker doors that she wanted but were out of her price range.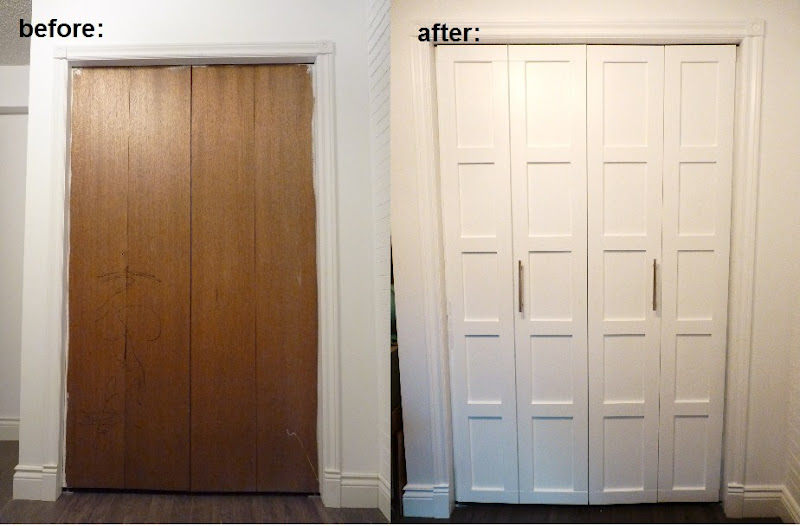 Or even just some very simple molding can create a very elegant look.  This door from White Nest got a very simple treatment with thin molding.  Here's how the door looked as the trim was being added…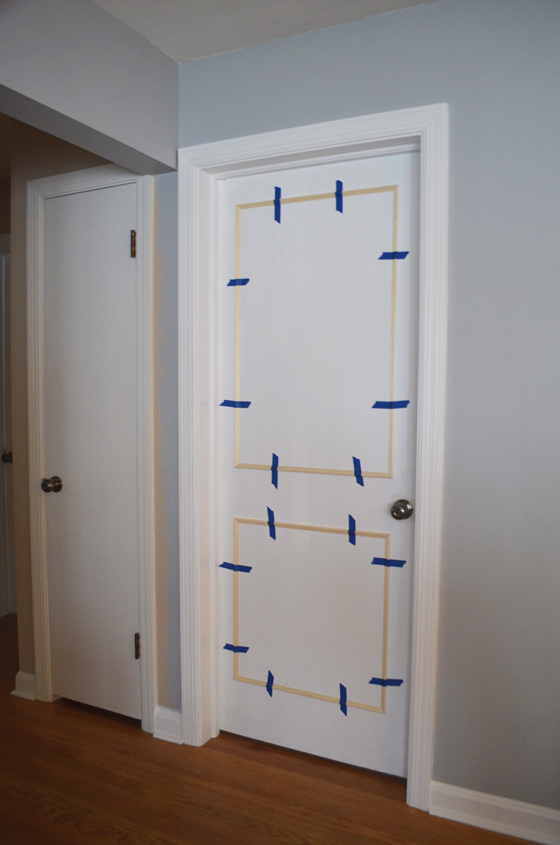 And here's how it looked with a coat of paint.
It's a very simple idea that really elevates the look of flat panel doors.
One area that I think most of us forget about is our ceiling, but adding just a very simple trim pattern to your ceiling can create a very big impact in a room. Here's an example from a kitchen remodel by Kim at The Kim Six Fix.
Or you can add trim around the edge of the ceiling, which really makes the crown molding look much more substantial and dramatic.
Traditional Kitchen by San Francisco Architects & Building Designers Gast Architects
If your doors and windows have wimpy builder-grade trim around them, you can add more trim to create a custom look. Sandra at Sawdust Girl did this with her windows, and the difference is quite dramatic. Here's what she started out with…
And here's how it looked after she add quite a bit more trim…
I'm tellin' ya. You can transform the look of just about anything with decorative trim. The next time you're at Home Depot or Lowe's, just take a stroll down the trim aisle and let your imagination wander. And remember, don't pay attention to the labels on the trim. Just because something is labeled "casing", that doesn't mean that you can only use that on windows and doors. If you can think of another creative use for it, go for it!
Update:
To see the next step in this rolling barn door-style French door project, you can see that here…
Update #2:
My rolling barn door-style French doors are finished! Here's a peek at how they turned out…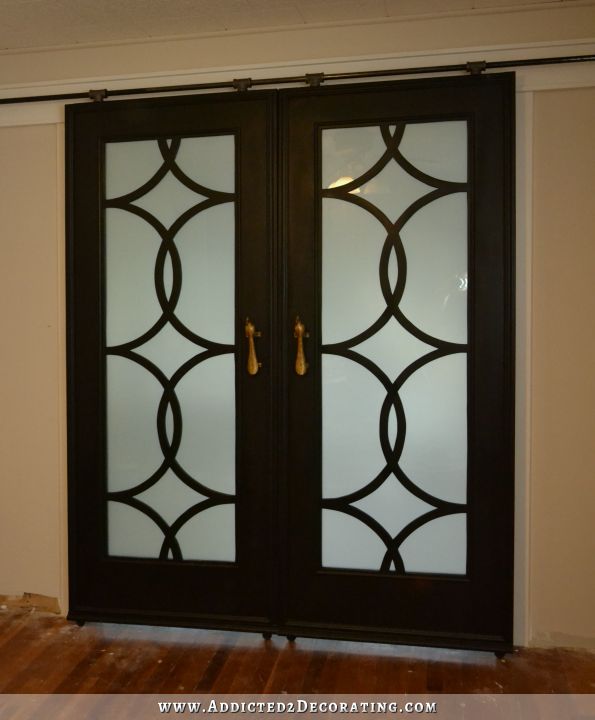 You can see more pictures of the finished doors here…
Addicted 2 Decorating is where I share my DIY and decorating journey as I remodel and decorate the 1948 fixer upper that my husband, Matt, and I bought in 2013. Matt has M.S. and is unable to do physical work, so I do the majority of the work on the house by myself. You can learn more about me here.