My Hallway – Paneled Interior Doors vs. Flat (Flush) Interior Doors
I'm still working on my rolling door project.  It rained yesterday, so I couldn't take my doors out and spray them.  So I worked on framing out the doorway, but ran into a problem with it also.  Since I'm making the doorway narrower and centering it on the wall, I have an area that's going to require new drywall.  Ugh.  Don't you hate it when a project seems so simple, and two weeks later you're still working on it?
Anyway, while I was working on that yesterday, I was thinking ahead to my hallway, and trying to decide exactly what I want to do in there.  As I've told you, I'm going to replace all of the doors with new doors so that I can widen a couple of the doorways for Matt.  On a couple of occasions now, I've wanted to head to Home Depot to pick up the doors I'll need for the hallway.  I thought I'd just get the ubiquitous 6-panel door.  Prehung, pre-bored, $64 each.
But each time I go to Home Depot to look at the doors, I second guess myself.  Part of me wants to grab the flat (flush) doors instead and do something amazing with them.  I know a lot of people really hate flush doors and look forward to the day when they can "upgrade" their flush doors to paneled doors.  But the fact is that flush doors are a blank canvas, and there are countless ways you can make them look completely custom.  There are so many amazing flat panel door ideas out there!
Of course, you can add trim to them like I showed you yesterday, but that's not quite what I'm talking about here.  I'm talking about something more along the lines of Miles Redd's gorgeous upholstered doors with nailhead trim.
via House Beautiful
I've had that image saved on my computer in my "house inspiration" file for quite some time now.  Those doors are some of the most gorgeous doors I've ever seen.  No six-paneled, off-the-shelf door from Home Depot could compare to those in my mind.
This is another picture I've had saved for quite some time.  It's basically the same idea, just a different color.  And these doors look painted rather than upholstered to me.
Eclectic Hall by Miami Interior Designers & Decorators DKOR Interiors Inc.- Interior Designers Miami, FL
And of course, when you're dealing with flush doors, you can do any design you want.  You're not limited by a design that's already on the doors.  I don't really think something like this would work in my house, especially since I have five doors in my hallway that would all need the same treatment, but I do love the design on this door from Design Sponge.
via Design Sponge
And this geometric design by Amanda Brown from Spruce Upholstery is most certainly to much for my house, but I love the inspiration.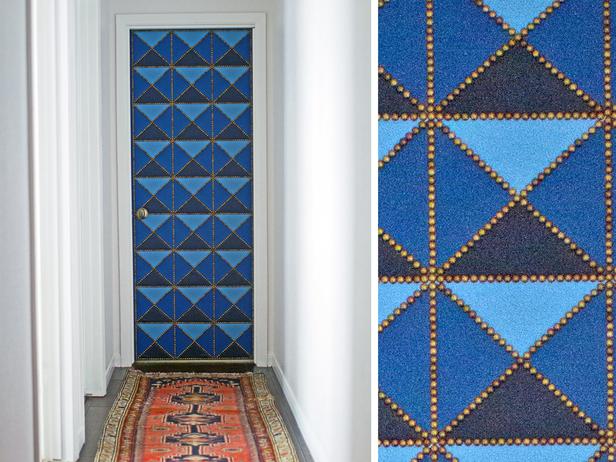 via HGTV
If I were fortunate enough to have double doors, this design would be my top choice.  Wouldn't this be beautiful on double doors leading to a master bedroom?
Eclectic Bedroom by San Francisco Architects & Building Designers Redmond Aldrich Design
I'm kind of a sucker for nail head trim, and I've really been itching to do a nail head trim project lately, but of course you can create similar designs with just paint.  It would certainly be easier and much faster…and cheaper.  I came across this beautiful inspiration just yesterday.
via Veranda

So at this point, I'm still stuck on this decision.  I really don't know if I just want to do the six-panel doors, paint them black, and be done it, or if I want to take the time to do something that's not quite so common.  Either way, my doors will be black.  I'm not indecisive about my color choice at all.  I'm just undecided on the style of door I want.  Common and easy, or artistic and custom?  That's the question.  🙂
In the meantime, I just hope the rain stays away long enough this weekend so that I can get my rolling French doors painted and finish up this project by Monday!
Addicted 2 Decorating is where I share my DIY and decorating journey as I remodel and decorate the 1948 fixer upper that my husband, Matt, and I bought in 2013. Matt has M.S. and is unable to do physical work, so I do the majority of the work on the house by myself. You can learn more about me here.