There are three weeks left in the One Room Challenge! I got behind schedule this week on the back entry and the half bathroom progress, but I did manage to get two things done. First, I did a little vanity lighting makeover, which I shared on Tuesday…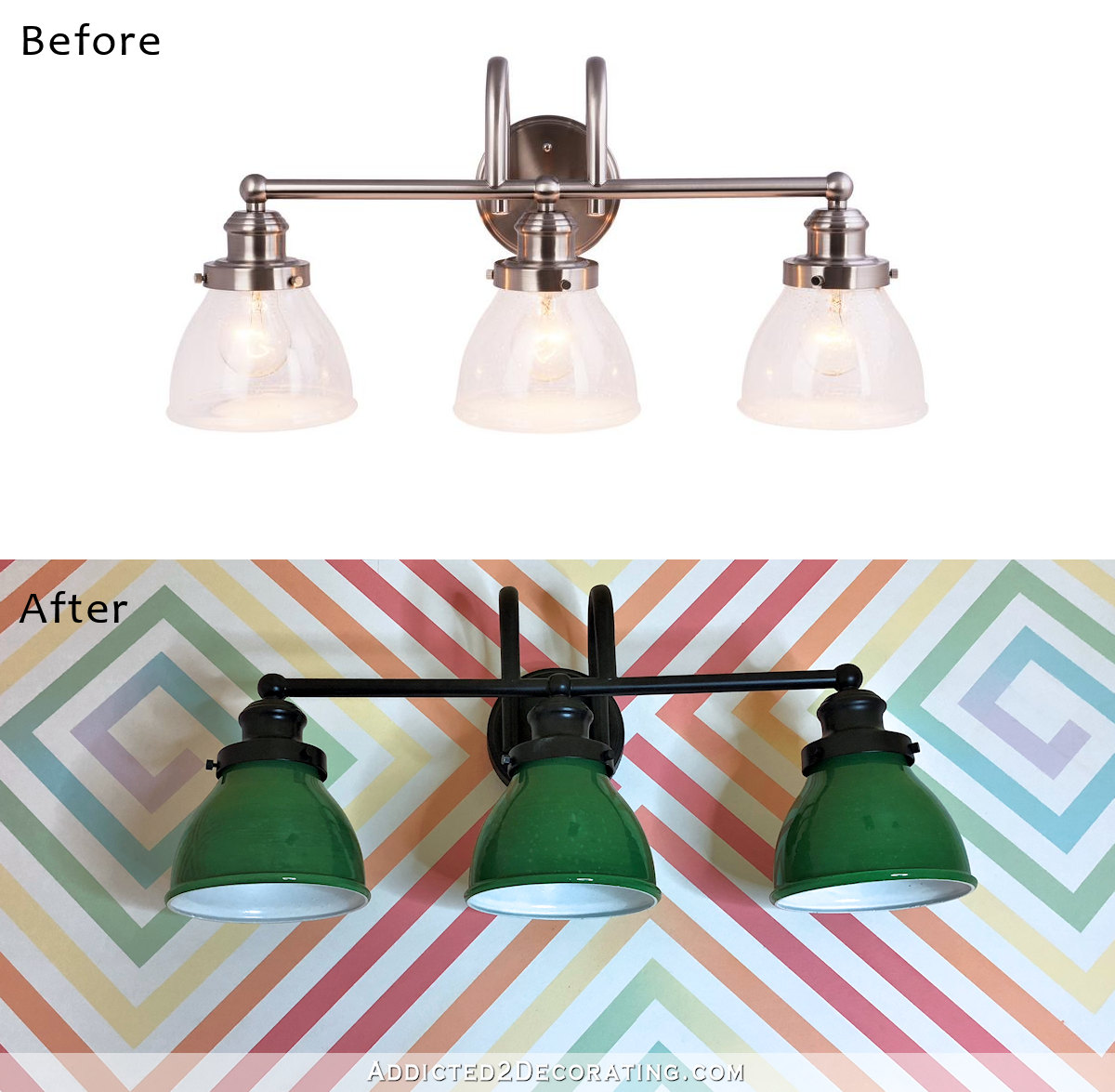 If you missed that, you can see it here…
And in addition to the light, I finally got all of the hardwood flooring installed in the back entry, storage closet and half bathroom.
I generally enjoy installing hardwood flooring. On the spectrum of easy to difficult home improvement projects, it's definitely on the easy end of the spectrum when you're working in a big, open room. But when you're working in tight spaces, like small closets and half bathrooms, it's such a pain. Having to cut around doorways and work close to walls where flooring nailers don't fit just slows down the process.
But I finally finished the storage closet floor last night, so now all three of these back areas have flooring…
The flooring along the back wall turned out nice, but the flooring along the shared studio wall looks a little rough…
I'm still not quite sure how all of this will work out. The guy who installed the HVAC a couple of years ago did such a rushed job making that plywood box that it sits on. There's nothing square or precise about it. And once I install the pocket door on the storage closet, the intake vent obviously can't be in the closet, so I'm going to have to cover that big hole in the side of that plywood box and create an intake on the studio wall.
I had originally intended to enclose the while unit in a separate smaller closet (a closet within a closet), but I've changed my mind.
A closet would require a door, and a door will need space to open completely if and when the unit needs to be serviced. Having to allow space for a door to open completely would cut down on the available storage space (i.e., I can't hang shelves where they would prohibit the HVAC closet door from opening completely). So I have an idea in mind to hide it from view when the storage closet door is open without actually enclosing it in a separate closet with a door.
And on the other side of the back entry in the half bathroom, the flooring is installed, plus I've used the full trowel wood filler on it.
I didn't bother putting it where the vanity will hide the floor…
So at least I have one room that's ready for sanding. I'm hoping to get the rest of the wood filler troweled on the other areas today, and my goal is to sand and get the floor finished this weekend.
In non-flooring-related news, I finally made a decision on the sink for the bathroom. Since this is a studio bathroom where the sink will be used for things like cleaning brushes, and maybe even things like dying fabric, I had originally planned to use a utility sink like the type you would use in a laundry room.
But after searching and searching, I just couldn't find a utility sink that I liked. They either looked really cheap, or they looked (and were) really expensive. So I finally gave up on that idea and just started looking at kitchens sinks. I selected this Ruvati 30″ x 18″ undermount stainless steel sink (I got it here)…
I have room for a 48-inch-wide vanity in here, so this 30-inch-wide sink will take up most of it. But again, that was the plan with a utility sink anyway. Now I just have to figure out how to build a vanity that will fit this sink.
It's going to be a non-standard bathroom size. Most bathroom vanities are anywhere from 18 to 21 inches deep (my hallway bathroom vanity is 19 inches deep), but this sink will require a full 24-inch vanity depth, just like a standard kitchen cabinet depth. It might look a little strange for such a small bathroom, but it'll be worth it to have this big sink in there.
Finding a faucet to go with it was a challenge. I wanted a black faucet, and again because it's a studio bathroom, I wanted it to have a pull-out sprayer to go with the huge sink. But finding one that wouldn't look huge in such a small room was harder than I thought. Most kitchen faucets are between 15″ and 18″ tall, and some are even higher than that.
But I finally found this one that's only 10 inches tall. I found it here.
The style is a little more modern than what I would normally choose, but I had very limited options for short matte black kitchen faucets with a pull-out sprayer, and this one had good ratings, so I went with it.
Now I just need to make a final decision on what vanity I want to build. Since the bathroom is so small, the sink is so big, and the vanity will be black, I kind of think something very simple like this would be the best option…
Mine wouldn't be so rustic-looking, and it would be black. But I do love the simple design and the airy look that won't take up so much space visually in the room. I'm hoping it'll visually counterbalance the fact that the vanity has to be 24 inches deep. And the only things I'd need storage for in here will be hand towels, toilet paper, and soap to clean brushes. I could put those in a basket on the bottom shelf.
I haven't made a final decision yet, and it's quite possible that I won't make a final decision until I'm standing in Home Depot to purchase the supplies needed to build the vanity. 😀 But right now, this is the direction I'm leaning.
Three weeks left. I need to pick up the pace. 🙂
Be sure to check out the other guest participants in the One Room Challenge. You can find them here.
Addicted 2 Decorating is where I share my DIY and decorating journey as I remodel and decorate the 1948 fixer upper that my husband, Matt, and I bought in 2013. Matt has M.S. and is unable to do physical work, so I do the majority of the work on the house by myself. You can learn more about me here.
I hope you'll join me on my DIY and decorating journey! If you want to follow my projects and progress, you can subscribe below and have each new post delivered to your email inbox. That way you'll never miss a thing!