Bathroom Vanity Light Makeover – From Plain To Custom
I've been searching for the perfect bathroom vanity light to go on my studio half bathroom, but I had no luck finding one that I liked, and I looked at hundreds of them. Out of those hundreds, I did actually find one that I really liked and was ready to click that "buy now" button. Unfortunately, it was out of stock everywhere except one place, and that place said that it would ship from the warehouse in eight weeks. Eight weeks? Seriously?
So I had to take matters into my own hands. I decided to find a light locally at Home Depot or Lowe's, and then customize it so that it was more "me." I started with this light from Home Depot, and then used both latex paint and spray paint to customize it. Here's a look at the before and after…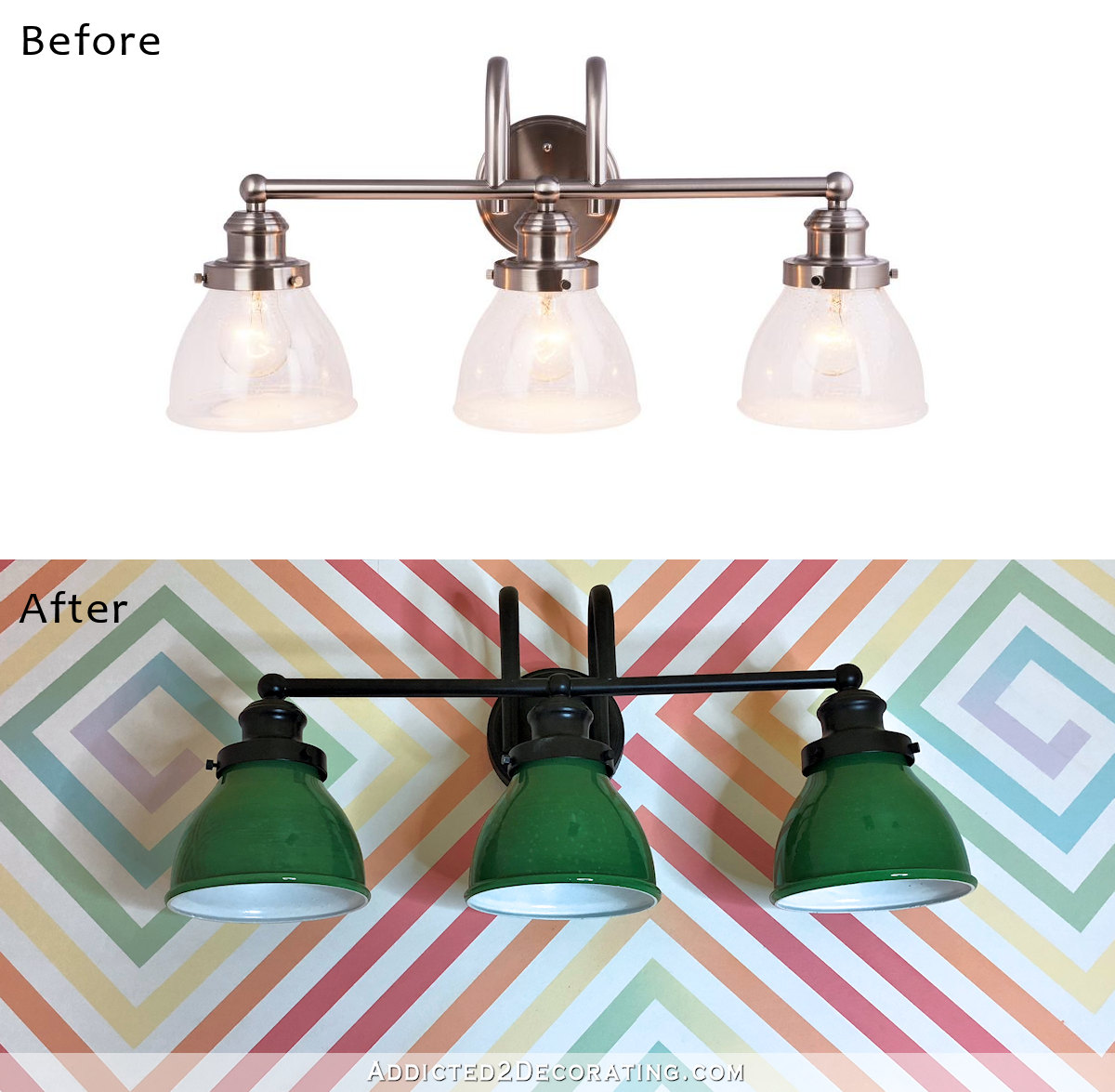 It took several attempts for me to get the look just like I wanted it, but I finally landed on this one and really liked it.
I knew that I wanted the metal parts of the fixture to be black. That decision was easy enough, so I used this spray paint in a matte finish.
The glass shades were a bit more challenging, but here's how I got the final look. First, I mixed some of the green latex paint that I used on the back entry walls (Behr Hills of Ireland) with a very small amount of white to lighten it up a slight bit. Then I painted a very thin coat of that paint on the inside of the glass shades.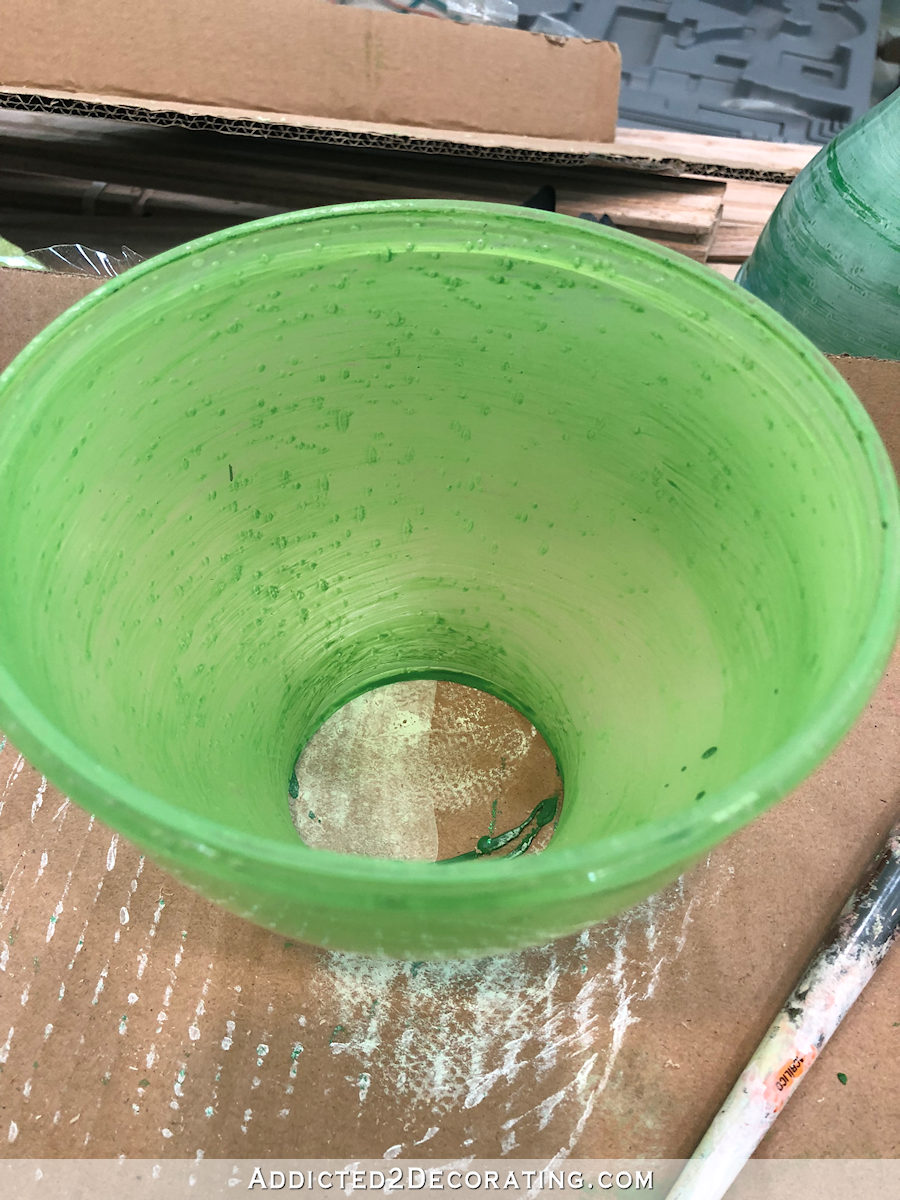 I tried to keep the brush strokes going all in the same direction, and as even as possible.
When that was dry, I used a spray paint that was almost identical in color to my back entry walls. I had to laugh at the fact that it turned out to be John Deere green.
I sprayed several coats (three, I think) of the green on the inside of the glass globes. The combination of the slightly lighter brushed-on paint and the darker spray paint gave the shades a subtle depth of colors. I thought it would be more interesting, and look more like art glass, than a single solid color.
I would have liked it even more had I not been working with seeded glass, but I had to work with what I had. And I preferred the shape of these glass shades more than the shape of the other clear ones that were available locally, which all seemed to be that very ubiquitous tulip shape.
After the green was dry, I sprayed the inside with a couple of coats of white.
This way I could have pretty green glass shades, but the light coming from the fixture wouldn't have a green cast to it.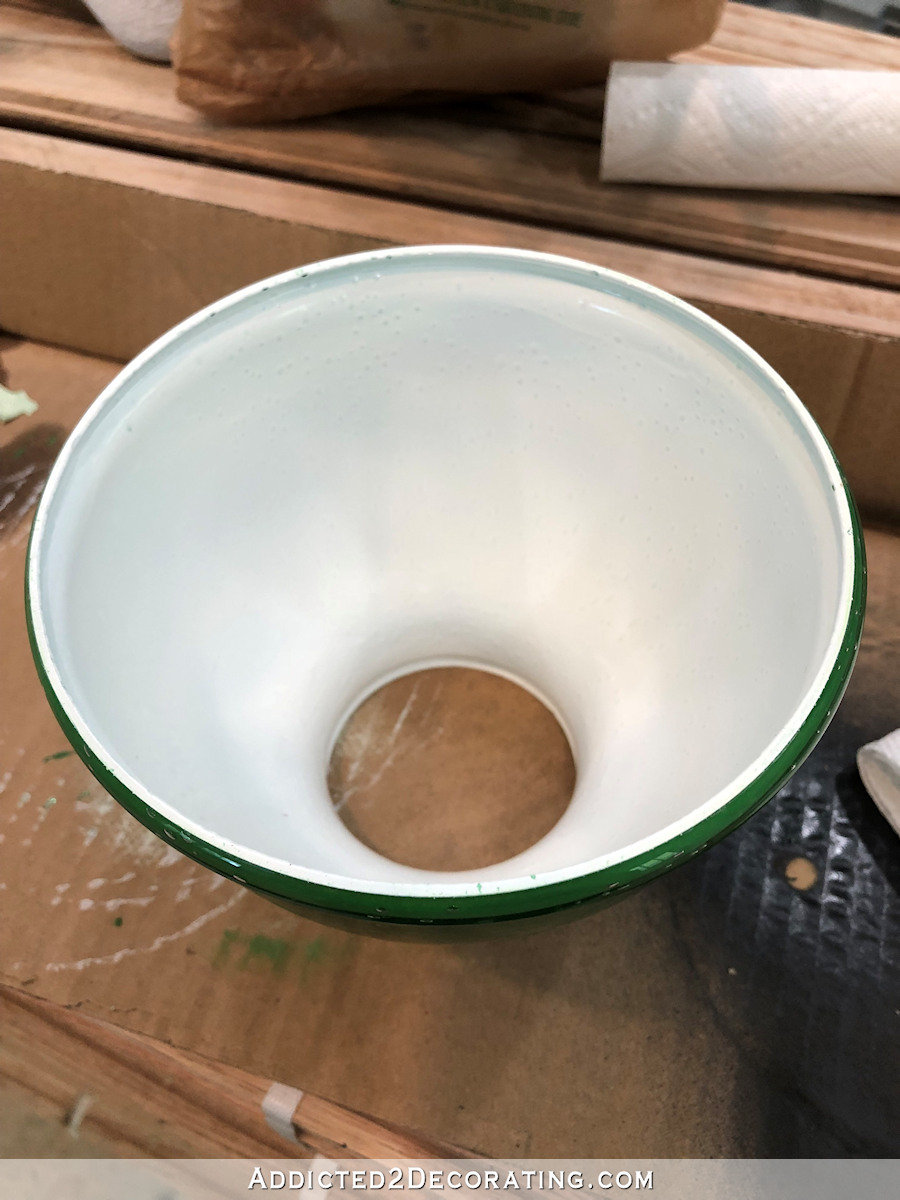 After everything was sprayed, I put the glass shades outside in the sun to "bake" for a few hours, and then when they were good and dry, I used some isopropyl alcohol wipes to clean up any overspray on the outside of the glass shades. And then they were ready to install.
I love turning something plain into something that looks custom, and it's even more satisfying when I can do it at a bargain. The closest thing I found to my light is this one with a $370 price tag…

I like mine better, and it came in at about $100 with the fixture plus the paint.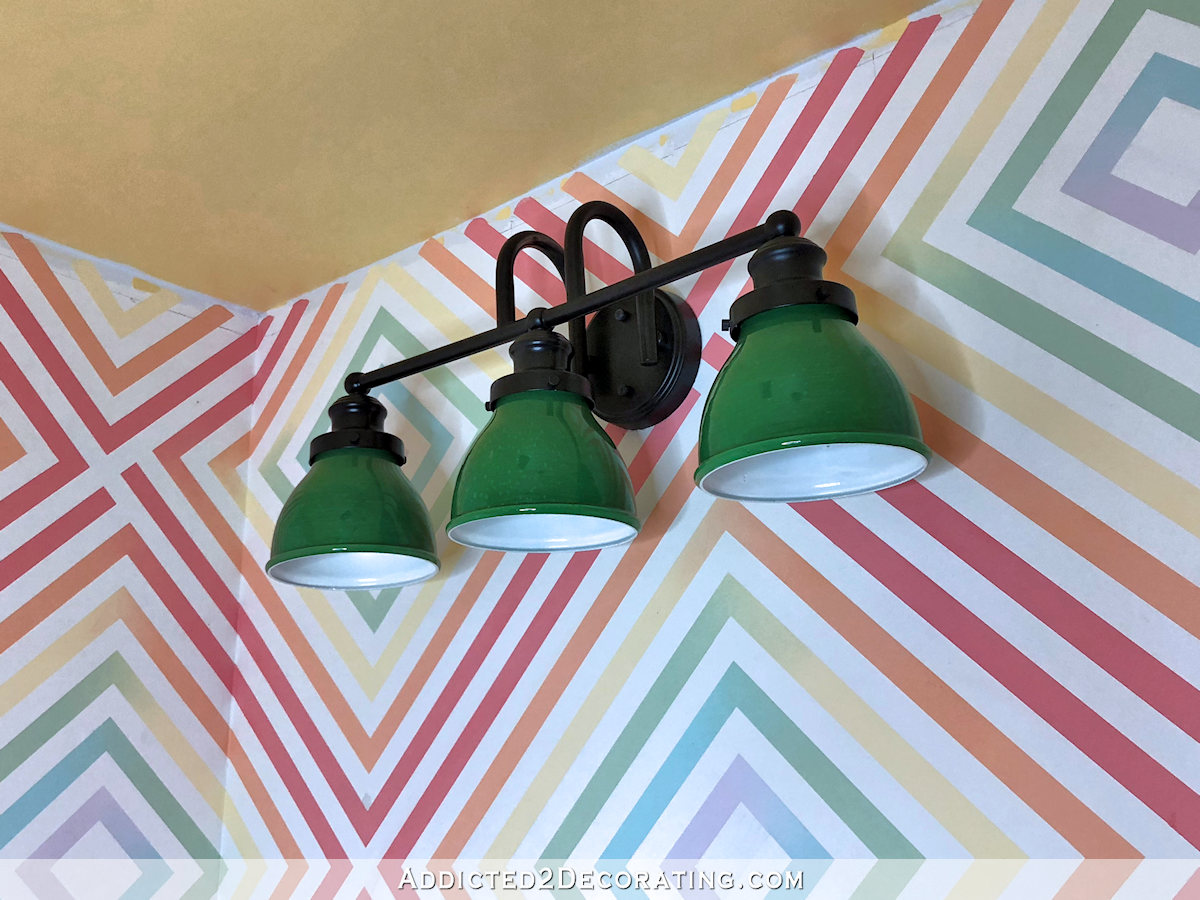 Not too shabby for a custom look!
Please note that I only ever use LED lights anymore, so heat is never a consideration for me. If you use a standard incandescent light bulb, the heat from the bulb will probably destroy the integrity of the paint over time. Also, I do expect the paint on this glass to last indefinitely just because a glass shade on a wall-mounted light fixture isn't something that's handled often. Or ever. But if you want to paint glass on an item that's handled more often, like a vase that you actually want to use regularly, you can add a coat of clear resin over the dried paint and the finish will be very durable once the resin has cured.
I'm still working on getting the flooring installed. I have the back entry finished, and I have about 2/3 of the bathroom flooring installed. The rest of the pieces are cut and just lying there, so they just need to be nailed down. It's a challenging room to work in since it's so small, and my flooring nailer is so big. Once I get to within about a foot from each end of the room, I can no longer use the flooring nailer, and I have to switch over to a regular nail gun, which isn't nearly as easy or convenient or fast to use.
But it should be installed today, and then I can work on finishing that flooring, painting the design on the back entry, and then I'll be ready for door casings. Things are moving right along!
Addicted 2 Decorating is where I share my DIY and decorating journey as I remodel and decorate the 1948 fixer upper that my husband, Matt, and I bought in 2013. Matt has M.S. and is unable to do physical work, so I do the majority of the work on the house by myself. You can learn more about me here.