Last Updated on August 22, 2016 by Kristi Linauer
Y'all, I'm about ready to pull my hair out over my stupid dining table. First, it was a green base with a stained top.
That didn't work, so I decided to go with a black base and a stained top.
That didn't work, either. (Look how orange that wood top is!! Yikes!) So I decided to take a chance and try something a little different — white with some gold accents.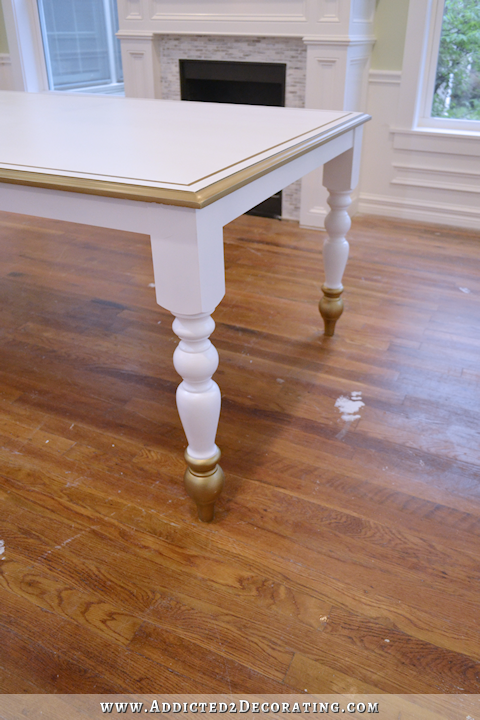 Nope. I really wanted stained wood. So I stripped that and tried staining it. Again.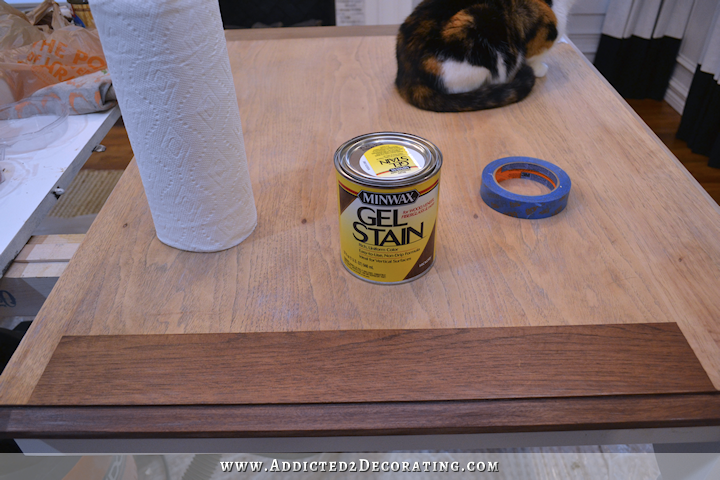 That started off great, but the more I stained, the worse it got. First, I don't care what type of stain or pre-stain conditioner, it never turns out like it's supposed to. Either the color turns a funky color once it's polyurethaned, or the color is splotchy and uneven. Second, once I decided not to use an area rug in the room, the stain on the part of the table that I had actually finished (just half of the top) clashed horribly with my hardwood floor, which has a lot of orange in it.
So this weekend, I decided to take my own advice and go in a whole different direction. I decided to go bold.
I decided to paint the thing teal.
It was a pretty easy and relaxing project, since I love to paint. I gave the whole table a quick sanding, following by a coat of oil-based primer. Then another quick sanding, and then I was ready to paint.
It turned out really pretty, but then the next day (yesterday) I decided that the top was going to need a clear coat for extra protection. So I bought some Minwax Polycrylic.
And that's when I ruined my table.
I tried brushing it on. It dried so fast that there were brush strokes all over the place. I mean, it was AWFUL. So then I tried rolling it on with one of those skinny 6-inch rollers labeled for "smooth surfaces." That resulted in the roughest, bumpiest table top ever. It looks like the entire surface has an orange peel texture, and the finish is also streaky and cloudy in areas.
So now I have to sand the top….AGAIN!!!! I'm so unbelievably frustrated with this.
I hate Minwax products. SO MUCH. Their stains are crappy and turn the wood splotchy, and now this.
And this isn't my first time having this experience with Polycrylic. Remember when I painted my buffet black?
Same thing happened then. I wanted to use a clear coat on the top to protect the painted finish. I tried brushing the Polycrylic, and it was streaky. I tried rolling it, and it was bumpy.
That was my first time using Polycrylic, so I thought maybe I just got a bad batch, or that the weather that day was having a horrible effect on it. So I dragged that heavy buffet out to my front porch, sanded the bumpy clear coat until it was smooth, and sprayed the Polycrylic on the top. EVEN THEN it turned out streaky and wouldn't dry evenly!!! But again, I blamed it on the weather.
Then I used it on the dining table after I painted it white. Again, I couldn't get it to cooperate with a brush or a roller, so I draped that entire side of the room with drop cloths, and sprayed the table top. And still, it turned out bumpy like orange peel. But again, I wrote it off to the weather.
Well, this is the third time I've used it, at a different time of the year, and with a brand new quart of Polycrylic, and it ruined my table. I suppose I could try dragging the heavy, bulky table outside to spray it. Or I could spend all that time and effort draping that side of the room in drop cloths again so I can spray it inside. But that would be a colossal waste of time and effort since I already know how that will turn out. Been there, done that.
I hate Minwax. So much. The only decent products they make are their oil-based polyurethanes, but that does me little good right now since oil-based polyurethanes turn yellow/orange.
Why, Lowe's?! Why did you stop carrying Rust-Oleum wood stains and polyurethanes?! Those were the best!!!
Addicted 2 Decorating is where I share my DIY and decorating journey as I remodel and decorate the 1948 fixer upper that my husband, Matt, and I bought in 2013. Matt has M.S. and is unable to do physical work, so I do the majority of the work on the house by myself. You can learn more about me here.
I hope you'll join me on my DIY and decorating journey! If you want to follow my projects and progress, you can subscribe below and have each new post delivered to your email inbox. That way you'll never miss a thing!