Last Updated on February 26, 2013 by Kristi Linauer
by A2D contributor Jen Webber
So many homeowners paint their ceilings white and don't give them a second thought. But your ceilings are like a "fifth wall" in your rooms. They're a great place to add texture, color, and pattern that can give your room a high-end look.
While I personally have yet to jump onto the ceiling decorating bandwagon, I've definitely been considering it lately. So I've gathered fourteen different ideas to get us thinking about painted and decorated ceilings.
A dark color on the ceiling is a great way to add a bit of drama and interest to a room. This works especially well if you have tall ceilings and lots of natural light. I'm not sure when everyone decided black was a scary color to paint walls, but it looks fantastic on this ceiling. If dark is too bold for you, you could use any dark color to really pop in a neutral room.
A brighter color ceiling would work well in a bathroom, a child's room, or just about any room. If you happen to be a bit scared of color, a soothing blue used in a small space like this bathroom may be the perfect way to ease into color.
Who knew a metallic ceiling could look so amazing? I love the whimsy that the butterflies add. This ceiling has been done with silver leaf, but a similar look could be achieved with metallic paint (available at most big box home improvement stores). This look would be great in a bathroom, a dining room, or even in a bedroom.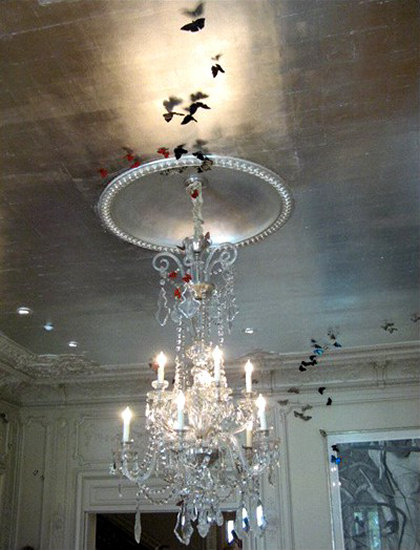 Original source unknown; image via pinterest
If you like things a bit more bright and cheerful, how about birds? This look is perfect for the ceiling of a nursery. And notice the unexpected use of yellow instead of the blue that most would expect for a sky. This ceiling and room design could be used for a boy or girl.
Stencils can also be used on stencils, as shown in this great example. If you keep the walls not very busy you can put a fun pattern up the ceiling. It definitely adds an unexpected detail to a room.
If you enjoy a more rustic, log cabin-type look, you can add a rustic touch to the room by adding recycled wood to the ceiling. The wood makes the room look so warm and inviting. Best of all, by using recycled wood you do something good for the environment and make your home rustic at the same time.
This look can work whether you have a pitched ceiling or a flat ceiling.
Stripes can work well on a ceiling for a variety of looks and styles. A yellow and white striped ceiling next to black and white walls works well in this modern nursery.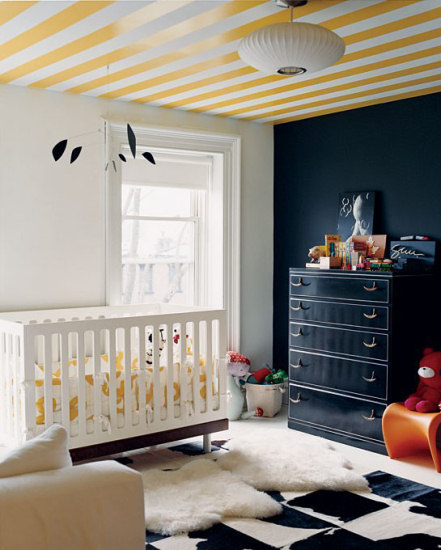 Squares on the ceiling can add a great retro twist to a room. Using lighter colors make it much more subtle and less overpowering. You could use paint or even floor tiles to achieve this look.
Wood ceilings don't have to be overly rustic. If you like a cleaner, more "put together" look, but still enjoy the warmth that wood can give to a room, then you can use all new wood stained in the same color. This is an amazing ceiling, and while most of us could never do anything quite so spectacular in our homes, a similar look could still be achieved on a smaller scale using square shapes. This would look stunning in a man cave.
Another option for a rustic look is using bricks on the ceiling. You can use the light weight manufactured bricks that are an inch thick to create this look. If you have really tall ceilings, you could also use brick wallpaper to create a similar look. From a distance, your visitors would never know it's not the real thing! If the chandelier is too formal, you could use a few pendant lights hanging down in a row for a more modern look.
Via Interior Design Daily
Bamboo on a ceiling can create a coastal or tropical look. You can use bamboo outdoors because it's weather proof, which makes it ideal for a covered deck or porch. Bamboo would also be great in a living room or anywhere in a beach cottage.
Just like a stencil, a really large-scale hand painted design can have a dramatic look in a room. Just imagine this in a bedroom, and being able to look up at that beautiful design while lying in bed! Of course, you could use this idea in any room where you want to add a bit of drama. A dining room would also be a great room for using a large painted design on the ceiling.
If you have a tray ceiling, this striped tent effect is a great way to highlight the tray ceiling. For a kid's room, you could use bright colors for a big top circus effect. In other rooms, you can keep it from having the big top circus effect by using softer or even neutral colors.
The chevron design is a big trend this year in decorating. If you like chevron, consider adding it to your ceiling! Use neutral tone-on-tone colors to keep it from looking overbearing.
As you can see, there are a number of possibilities for adding interest and detail to your ceilings. I'm definitely looking at my ceilings differently now and can see lots of opportunities for greatness. I hope you feel inspired as well!
About the author:
Jen lives in beautiful Ontario, Canada. Customer service rep by day, and a decorating addict by night. Jen loves finding new ways to make ugly things look pretty on a budget. She has a huge "to do" list, and can't wait to share the results with you! You can also check out the things that inspire her on her Pinterest boards.
Addicted 2 Decorating is where I share my DIY and decorating journey as I remodel and decorate the 1948 fixer upper that my husband, Matt, and I bought in 2013. Matt has M.S. and is unable to do physical work, so I do the majority of the work on the house by myself. You can learn more about me here.
I hope you'll join me on my DIY and decorating journey! If you want to follow my projects and progress, you can subscribe below and have each new post delivered to your email inbox. That way you'll never miss a thing!