Last Updated on October 7, 2017 by Kristi Linauer
Things are really moving along here at the house. Over the weekend, I sanded and got one coat of paint on the fireplace in the living room (aka, the living room turned dining room and now turned back into a living room). 😀 Hopefully I'll have that finished to show you tomorrow. I also bought some dining chairs for the breakfast room at an amazing sale. And because I got them at a steal of a deal, I bought new fabric for them also. I'll be painting and reupholstering my brand new chairs, and still end up paying about $20 less per chair than the original non-sale price. I also splurged on a Horchow chandelier for my living room, and it should be here tomorrow. I never shop there because the prices are outrageous, but I found what I love at 40% off + free shipping, which got it down into my "splurge" range (as opposed to their regular "not in a million years" prices). And the chandelier that was in my living room (when it was a dining room) has now been moved into the breakfast room.
Phew! Did you follow all that? 😀 Like I said…a lot going on. Oh, and my living room drapery fabric should arrive today! Woohoo!
I swear to you, I feel like a thousand pound weight has been lifted off of my shoulders, and things are finally starting to come together. And very easily so. I'm having so much fun now after struggling so much with this house over the last year-and-a-half.
Anyway, now that my breakfast room is going to be the only eating area in the house, I want to treat it more like an actual dining room. That means that a big tv hanging on the wall really isn't the first thing I want people to see when they enter my kitchen and glance into the breakfast room. So I've been looking for clever and easily DIYable ways to cover a flat screen tv that's mounted on a wall.
My favorite idea so far, and the one that I'll probably end up using, is this series of framed pictures…
…that are actually hinged together and fold back like shutters.
Of course, that tv is set back into the fireplace overmantel so that when the cover is closed, the pictures look like they're hung directly on the overmantel. My tv will just be hung on a flat wall, so I'll have to start by building a boxed frame around the tv and then mount the frames on that. It'll look a bit different, but since any view of the tv/artwork will be from straight on, I think it'll look just fine. The only side view will be if someone is coming in through the garage door, which no one ever does.
If you can find an old vintage roll up map that fits your decor, I think this is a brilliant idea. And it's probably one of the quickest and easiest ideas I've found since you don't really have to build anything. Just mount the map above your tv, and you're done. (And yes, there's a tv behind there. Click the link to see more.)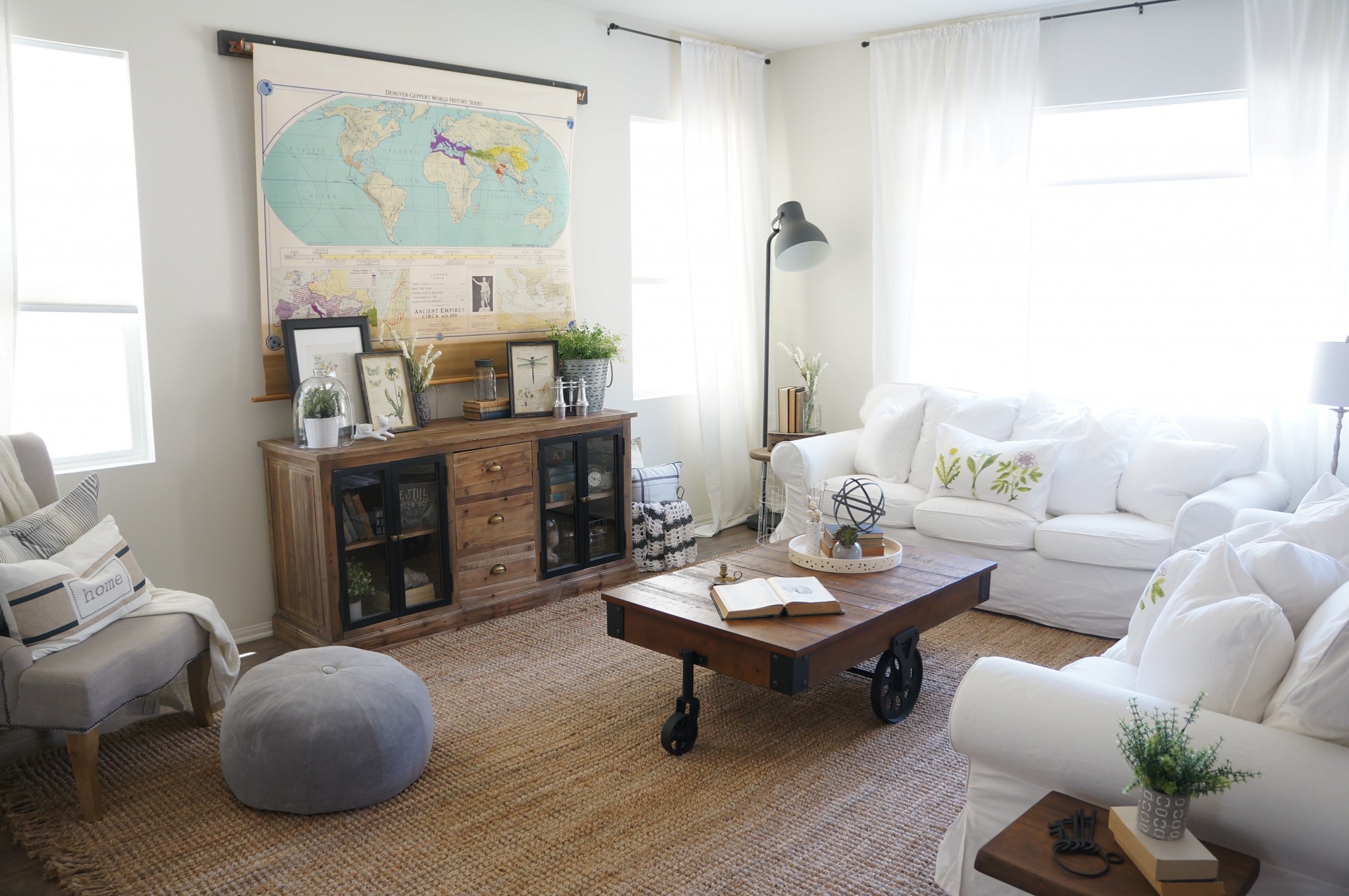 via Home Love Stories
Pottery Barn has a couple of tv covers that they sell, but I think both of them would be pretty easy to build. It's a very similar concept to building a medicine cabinet with a mirror for the bathroom, and you can find lots of plans for those online.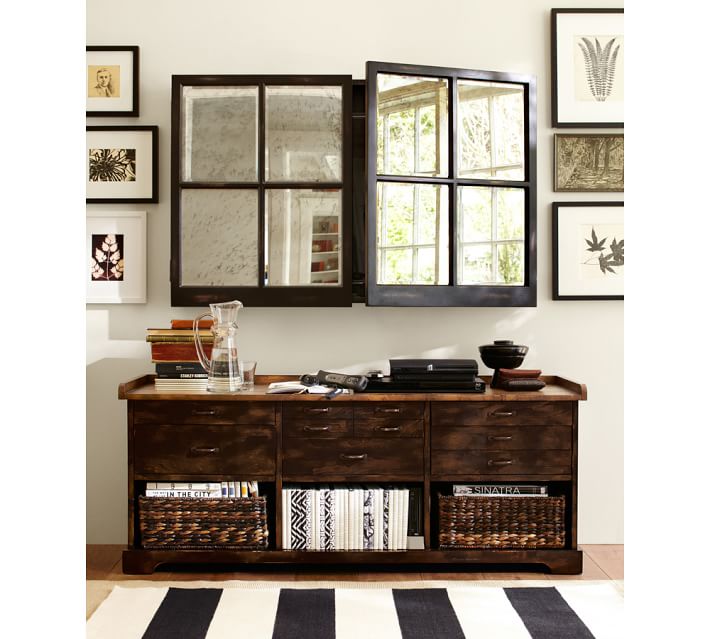 via Pottery Barn
Or you can find something completely unique, like this riddling rack, and use it as decoration for you wall and to cover your tv.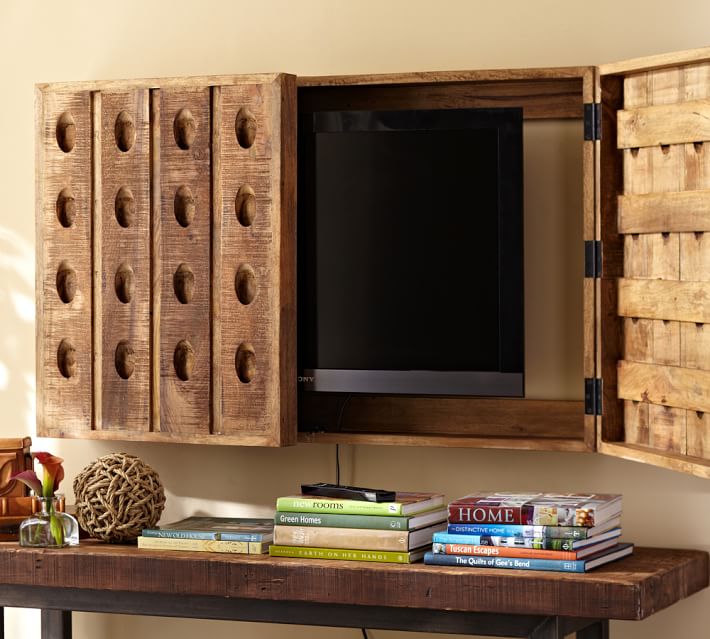 via Pottery Barn
The only thing about those previous two ideas is that it really limits what you can set on the table/console below the tv. Since the doors swing out and take up quite a bit of room, you woudn't be able to set anything tall in front of it or you'd be moving items each time you want to open the tv cover. In fact, that's something I'll have to keep in mind for the first design that I want to do as well.
This is a brilliant idea. This designer used a tapestry and had it strung like a Roman shade so that it could be raised and lowered to expose or hide the tv. I never would have thought about that, but it's such a clever idea!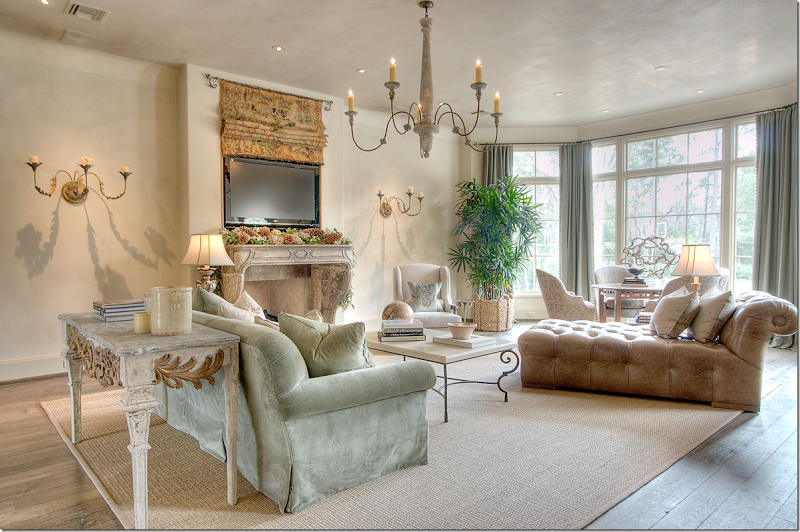 via Cote de Texas
I also like this idea of using a large art piece on two panels that slide apart to reveal the tv. And I especially like how this design hides any roller hardware under a shelf that can also be used to display decorative items. Of course this type of design takes way more room than what I have in my breakfast room.
Barn doors also take up quite a bit of room, but they do the job and look great. You can do short ones specifically to hide just a tv.
Or you can hide your entire entertainment system behind regular-sized barn doors.
And then I came across this one, which definitely wouldn't work with my traditional style home, but I love it for an industrial style space, like a warehouse-turned-loft, or an outdoor entertaining area like this. This tv has a cover that's attached to a pully system…
And it's raised and lowered by a handle over on the side.
Like I said, probably not practical for most homes, but it's a fun and quirky idea for wide open lofts or outdoor spaces.
So I'm pretty sure I want to build something that looks like the first one with a series of framed pictures on hinges. Now I need to be on the lookout for 12 super cheap but beautiful frames. With all of the holiday sales right now, surely I can find some pretty and reasonably priced frames!
UPDATE!
Instead of covering and hiding my TV, I decided to frame it! Click here to see that project and my finished framed wall-mounted TV.