Progress & Paint Frustrations
I did have quite a bit of down time this weekend, but I also worked on my kitchen cabinets…of course.  I got quite a bit done on the upper section of the wall of cabinets, but I'm just about at the end of my rope with paint problems.
When I left you on Friday, my cabinets looked like this.  The left section had two coats of paint, and the middle and right sections had one very streaky coat of paint.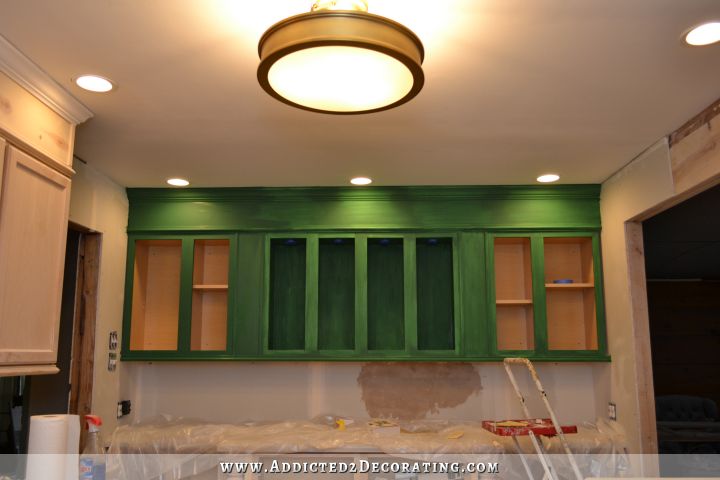 Now here's the deal.  I had one heck of a time deciding what paint I wanted to use on my kitchen cabinets.  Y'all know that when it comes to kitchen cabinets, I'm partial to oil-based paint.  It goes on so smoothly, looks gorgeous, and dries super hard.
So after considering all kinds of latex options (Benjamin Moore, Sherwin Williams, Behr), I finally decided that I wanted to stick with the tried and true oil-based paint.  So I got in my car and headed to Kelly Moore (my oil-based paint brand of choice).  But once I arrived, somewhere between my car and the order desk inside the store, I changed my mind.  I decided that I wanted to try a latex paint with a clear coat.  After all, when professionals paint cabinets, they'll often do a lacquer with a clear coat, right?  (Not all, of course.  But some use this method.  Of course, lacquer is considerably different than what I ended up doing, but I still liked the idea of a clear coat.)
So I walked out of the store not with my beloved oil-based paint in a satin finish, but with a gallon of regular flat paint (because it makes sense that a clear coat will adhere better to a flat paint) and a gallon of Kel-Thane clear coat in a satin finish.  That clear coat alone cost $85, but I was impressed with the fact that it specified on the label that it can be used over painted surfaces.  Most polyurethanes don't say that.  It can also be used on floors, so I thought that was a clear indication that it dries very hard.  (Spoiler alert:  It does dry very hard.)
So I went home and got busy painting my cabinets with the flat paint from Kelly Moore mixed in the color Derbyshire (from Sherwin Williams).  I had never used their latex paint before, and I was initially very impressed with the paint.  It went on very smoothly — as smoothly as Behr does when I add Floetrol paint conditioner to it.  But it's thinner than Behr, and I noticed that even the parts that had two coats on them still showed streaks of white primer in places.  So it would have taken a minimum of three coats.  I've never had to put three coats of Behr paint on anything.  Even when I painted white paint over the black walls in the second bedroom of the condo, I used regular Behr paint, didn't bother to use primer, and it covered completely in two coats.
Anyway, by Thursday night, I got as far as you see in the first picture.  Then on Friday, I finished up the second coat on all of the cabinets.  (Holiday or not, there was no way I could go through the whole day with those streaky cabinets staring at me.)
It was a pretty quick job and I left it at that for Friday, and then relaxed and enjoyed the rest of the day off.  Then on Saturday I headed into the kitchen and just wanted to check the durability of the paint.  I ran my fingernail over the surface of the paint pretty lightly without even putting pressure on it, and the paint scratched off down to the primer!!!
I was so frustrated.  Paint should not come off when scratched that lightly, and there I had painted my entire section of cabinets with that paint.
So I headed to Home Depot and grabbed a gallon of Behr flat paint mixed in the color Derbyshire.  Then headed home, gave all of the cabinets a quick sanding, and repainted the whole thing in Behr with Floetrol added to the paint.  It went on beautifully, and even 30 minutes after painting, I ran my fingernail over the surface to check the durability, and it was just fine.  So I scratched a little harder, and it didn't scratch off at all.  The whole section of cabinets turned out really beautifully.
Then I sprayed the doors with the Behr paint with Floetrol paint conditioner added.  For the most part, they sprayed beautifully.  But next time, I'm going to get a strainer and strain the paint as I put it into the jar of my paint sprayer because every little dried bit and blob that got into the paint clogged my sprayer.  That was incredibly frustrating.
The finish was really gorgeous, and had I used any other sheen other than flat, I might have been tempted  to just leave it alone.  But flat paint is so finicky.  You can't really touch it or brush up against it (especially dark colors like this green), because any little thing will show on the paint.
So then it was time to add the clear coat.  The part that I clear coated with a brush inside turned out quite streaky.  I was kind of afraid that that would happen.  That would happen with any brand of water-based polyurethane.  Water-based polyurethanes dry so fast that in the time it took me to get down from the ladder, move the ladder, and get back up to continue painting, the previous section has started to dry and became sticky when the brush hit it.  And that leaves unsightly streaks.
So brushing on the clear coat is not an option.  It would definitely have to be sprayed.
The good thing is that this stuff does dry super hard.  That's just what I wanted.  However, what I didn't want is that super shiny finish.  Does that finish in the picture above look "satin" to you?!  Ummmm…no.  That's at least a semi-gloss finish, if not glossy.  And if I wanted semi-gloss or gloss, I would have purchased semi-gloss or gloss.
It looks a bit more satin on the large areas of the doors, but still on the edges there's quite a bit of shine to it.
So that has been my very frustrating experience this weekend with painting.
Part of me wishes I had just followed through and used the tried and true oil-based paint in a satin finish.  That's what I used in the condo kitchen, and I always loved how those cabinets turned out.  And the paint was very durable.  The problem with oil-based paint is that it yellows over time.  So if you ever do have the need to go back and touch up a scratch or chip, there's just no way the paint in the can will match the paint on the cabinets.  But what a gorgeous finish!
See how they have very little shine to them?  That's how a satin finish is supposed to look!  And that's exactly what I wanted this time.  Instead, I got semi-gloss in a can labeled "satin."  *Sigh*
And what I hate about latex paints is that they remain sticky/tacky for so long, and they just don't dry as hard and durable as oil-based paints.  That's why I thought I'd try out a clear coat this time, but I do not want shiny cabinets.
So I kind of feel like I'm back at square one.  I've worked for days on these cabinets, and I honestly don't know what to do now.  I could try out a different brand of clear coat.  Rust-Oleum makes a matte finish water-based polyurethane that has the most gorgeous finish.  But I don't know if it would be good to use in a kitchen.  I tried it on my butcherblock countertops in the condo, and every time water dripped on it, the poly would turn cloudy.  Once it dried, it would clear back up, but it was a pain.  Of course, using it on kitchen cabinets would be different from using it on an actual countertop that's by the sink and faucet.
Or I could just start over with a completely different paint, and just be satisfied with a latex enamel paint.  That would certainly make touch-ups easier in the future, but I'm just so hesitant to use latex paint on kitchen cabinets.
*Sigh*  So frustrated.  So confused.  So ready to be finished with this kitchen.
Addicted 2 Decorating is where I share my DIY and decorating journey as I remodel and decorate the 1948 fixer upper that my husband, Matt, and I bought in 2013. Matt has M.S. and is unable to do physical work, so I do the majority of the work on the house by myself. You can learn more about me here.