Last Updated on December 24, 2015 by Kristi Linauer
After I installed the cabinets in my kitchen, I had many people ask me why I didn't paint, or at least prime, the cabinets before I installed them.  I tried to explain why I do things in the order I do them, but today I thought I'd just show you.  Of course, I'm not saying that this way is the correct way to do things.  I'm just saying that it's my way of doing things, and it makes sense to me.  And it's how I always get the very best end result possible.
But first…LOOK!  GREEN!  😀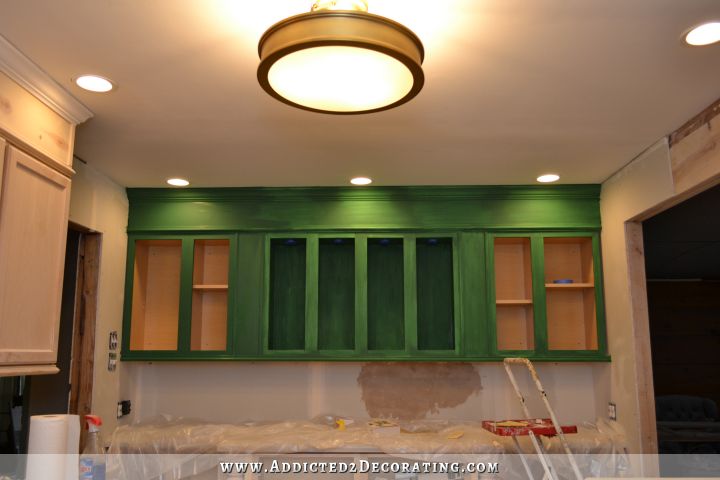 As you can see, that's far from finished.  Only the section on the left side has two coats of paint on it, and even it was in various stages of drying when I took the picture.  Everything else just has one very streaky coat of paint, but at least you can see the color!  It's called Derbyshire from Sherwin Williams, but I decided not to use Sherwin Williams paint.  (More on that later.)
And you'll probably notice that I also decided not to spray.  I'll still spray the doors outside, but I'm painting the cabinets inside with a brush.  Long story short, I was just at that point where I needed to see green paint somewhere.  But in order to spray, that would mean that all of the cabinets would need to be finished (the cabinets on the peninsula aren't finished — they still don't have feet or trim), and the room would require at least a day's worth of very precise and thorough taping, papering, and hanging plastic in order to prep for spraying.  I just didn't have it in me to do all of that.  I needed to see green now, and I didn't want anything delaying that anymore.  So I'm painting with a brush.
So back to the prep work and why I don't prime or paint before installation…
Here's how the original stock cabinets looked right after I installed them.
After they were installed, I added a ton of trim to them to customize the look.  I added trim to the bottom, spacers where the sconces will be installed, trim to the top, and tall 10-inch header on the top, and crown moulding.  So in reality, once the cabinet doors are removed, the amount of wood on that wall that belongs to the original cabinets in relation to the entire installation that needs to be painted is pretty low.  So painting, or even priming, before installation really wouldn't have saved me any time at all.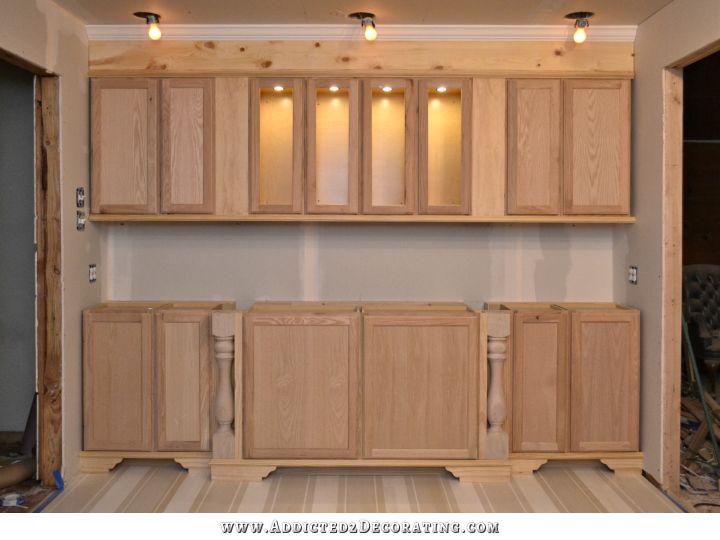 In addition to that, I'm a perfectionist when it comes to painting kitchen cabinets.  I use wood filler and caulk to fill in every single hole, gap, space, and everything else so that once the paint goes on, I'm painting the absolute smoothest surfaces possible.
I start with wood filler, and I use it on any areas that need to be sanded perfectly smooth.  This includes nail holes from trim installation, rough areas on the knots, the small spaces between the individual cabinets, and the holes left from where I actually screwed the cabinets to the wall.  (I only filled and sanded those holes in the four middle cabinets that will have glass doors on them.)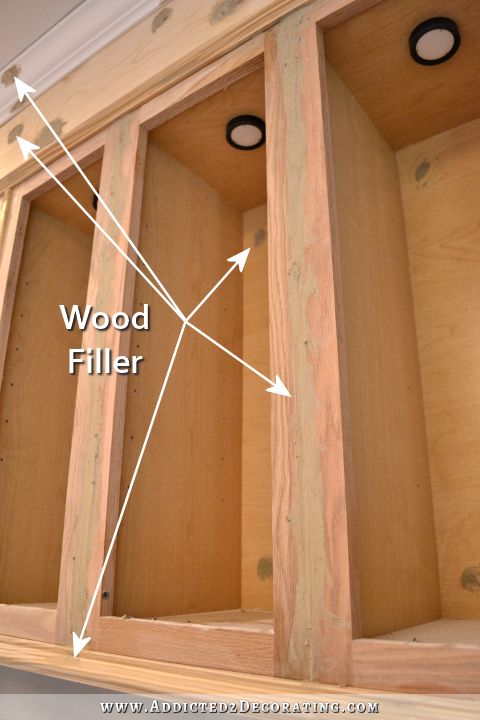 On any trim with intricate detail, I try to use as little wood filler as possible to do the job, because those areas have to be sanded by hand and getting sandpaper into those details can be a real pain.  But on flat areas like the knot holes on the header and the small spaces and uneven areas between the stiles on the cabinets, I pile on the wood filler because those can be sanded with an electric sander until they're perfectly smooth.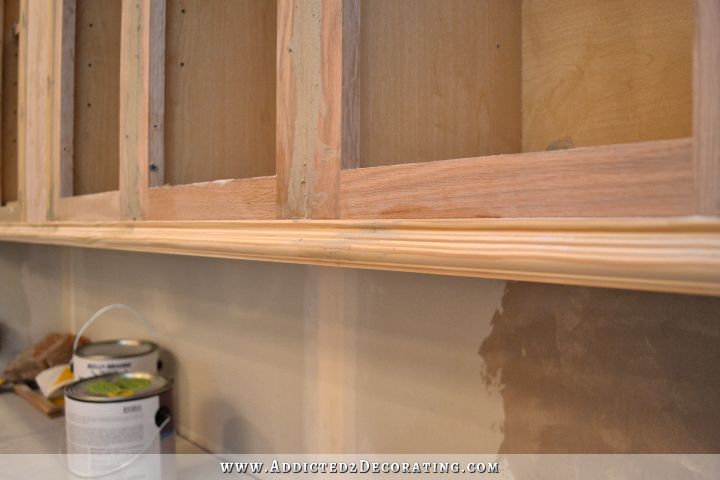 And yes, it looks like an absolute mess before sanding…
But once everything is sanded, it feels so perfectly smooth that you can't even tell where once cabinet ends and the next begins after it's painted.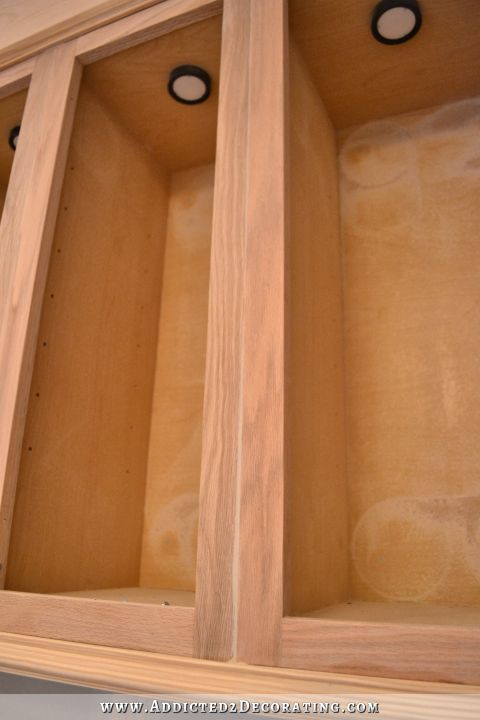 After I finish all of the areas that require wood filler (which again, is any area that needs to be sanded perfectly smooth), I move on to the areas that need to be caulked.  These are the areas where trim meets something else (ceiling, cabinets, etc.) at an angle, and it's not necessary for those areas to be sanded perfectly smoothly.  For example, where the crown moulding meets the ceiling or the header, or where the smaller trim meets the header or the cabinets.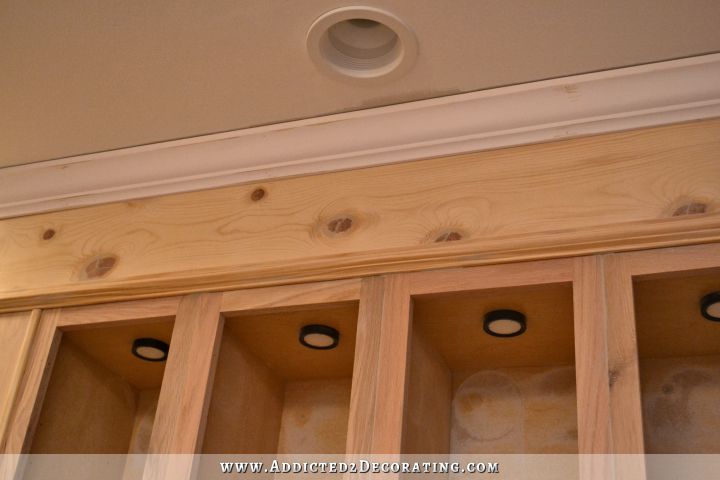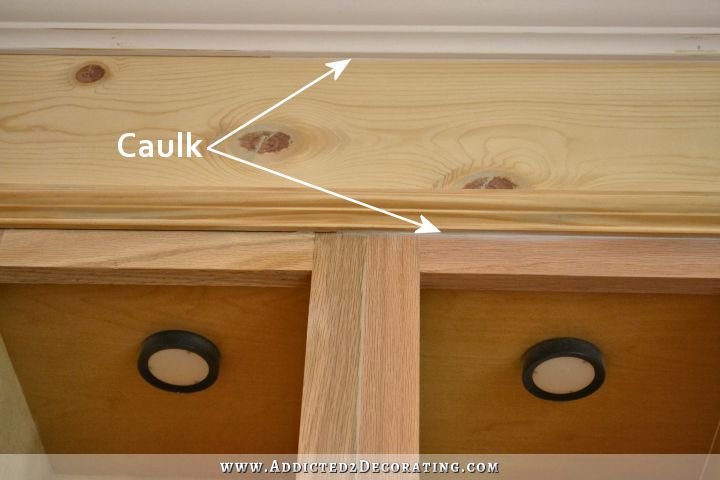 I also caulked the inside of the four middle cabinets.  Some of them had tiny gaps where the side panels met the back panels, or where the backs met the top or bottom panels, and I wanted those perfectly filled before priming.
So only after all of that prepping — wood filling, sanding, and caulking — are the cabinets finally ready to be primed.  Had I primed before installation, most of the primer would have been sanded off by this point.
My primer of choice is oil-based Zinsser Cover Stain.  I've used the water based stuff once or twice, and still had stains/knot holes bleed through.  The oil-based stuff never fails me, and it sands beautifully once it's dry.
Just one coat is generally all I need, and once it's dry, I give it a quick sanding.  When you sand, the stuff that comes off should look like chalk dust.  If it starts to roll or pill up as you sand, you need to let it dry more and then try sanding again.
So after all of those steps, I'm finally ready to paint.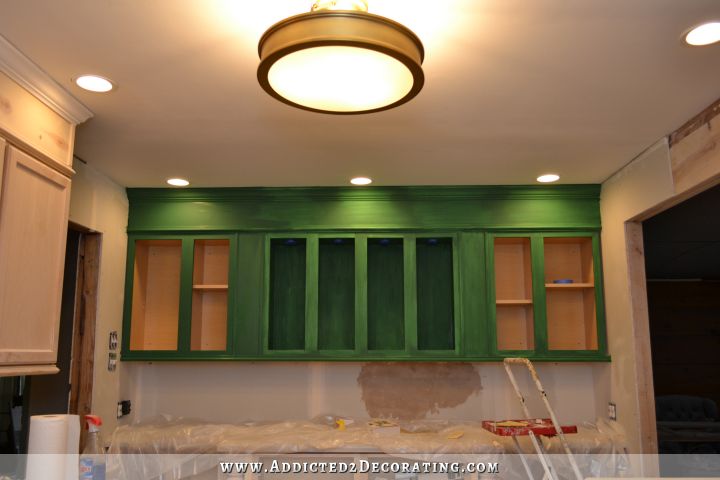 I've said before that I'm big on prep work, and you can see that I really do take it seriously.  It definitely takes quite a bit of time, but I think your final result will only be as good as the prep work you put into it.  And really, how often do any of us paint our kitchen cabinets?  Cabinet paint is one of those things that generally has to last for several years, so taking extra time to do it correctly, and get the absolute best and smoothest result possible is totally worth it to me.  And my belief that the prep work is the most important part of the process is exactly why I've never been a fan of any product that claims that it will allow you to skip any of this prep work.
I'll share more details next week, including the paint I selected and why I selected it.  And hopefully I'll have something finished to show you on Monday!  But for now, I'm going to have a relaxing and restful holiday.  🙂
Addicted 2 Decorating is where I share my DIY and decorating journey as I remodel and decorate the 1948 fixer upper that my husband, Matt, and I bought in 2013. Matt has M.S. and is unable to do physical work, so I do the majority of the work on the house by myself. You can learn more about me here.
I hope you'll join me on my DIY and decorating journey! If you want to follow my projects and progress, you can subscribe below and have each new post delivered to your email inbox. That way you'll never miss a thing!