And The Kitchen Cabinet Color Winner Is…
Gentleman's Gray by Benjamin Moore. It's actually not gray at all. It's a deep, rich, gorgeous blue with just the slightest hint of teal in it.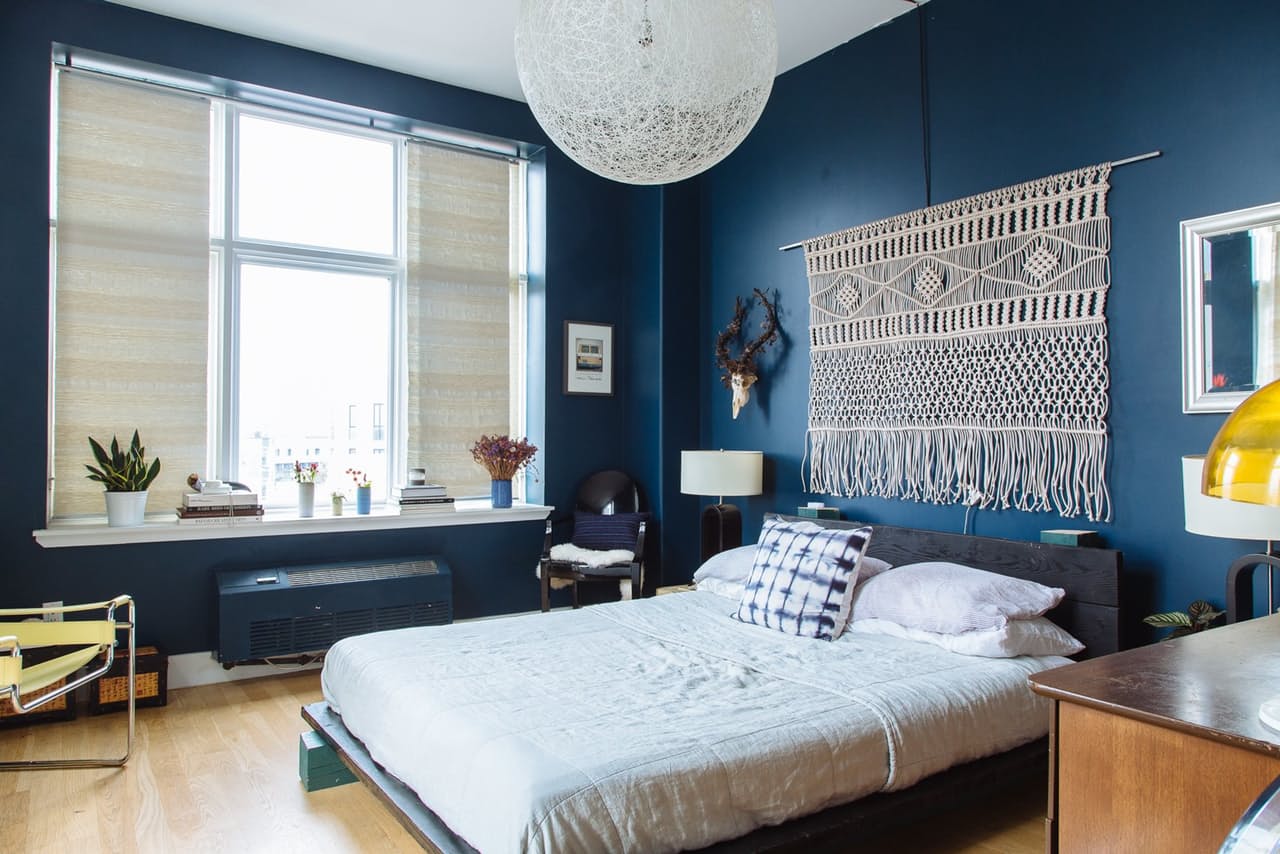 via Apartment Therapy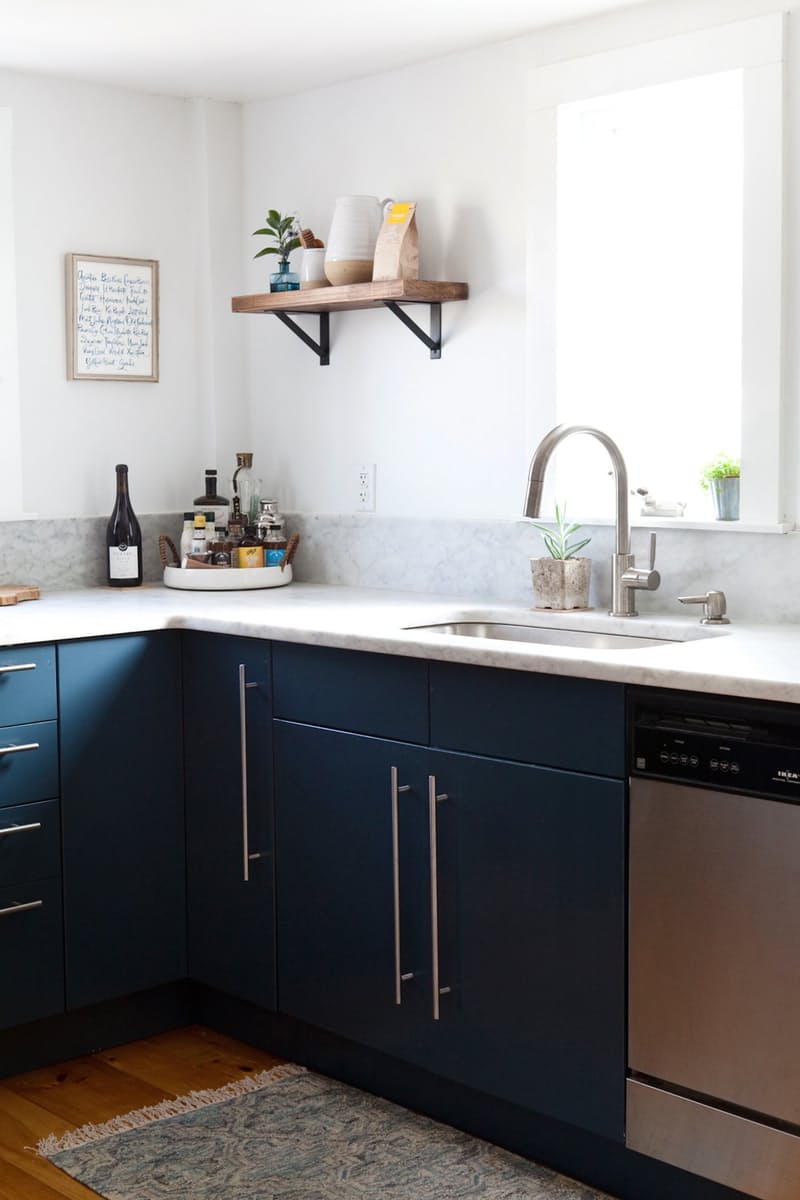 via Apartment Therapy
Isn't that beautiful?!
The funny thing is that as people started commenting on yesterday's post, I kept getting comments about Benjamin Moore's 2017 Color of the Year, which happened to be a deep, dark purple color. I had no idea I was so on trend! 😀 It really is a gorgeous color called Shadow, and they have a whole color palette of their 2017 colors that complement that color beautifully. You can see them here: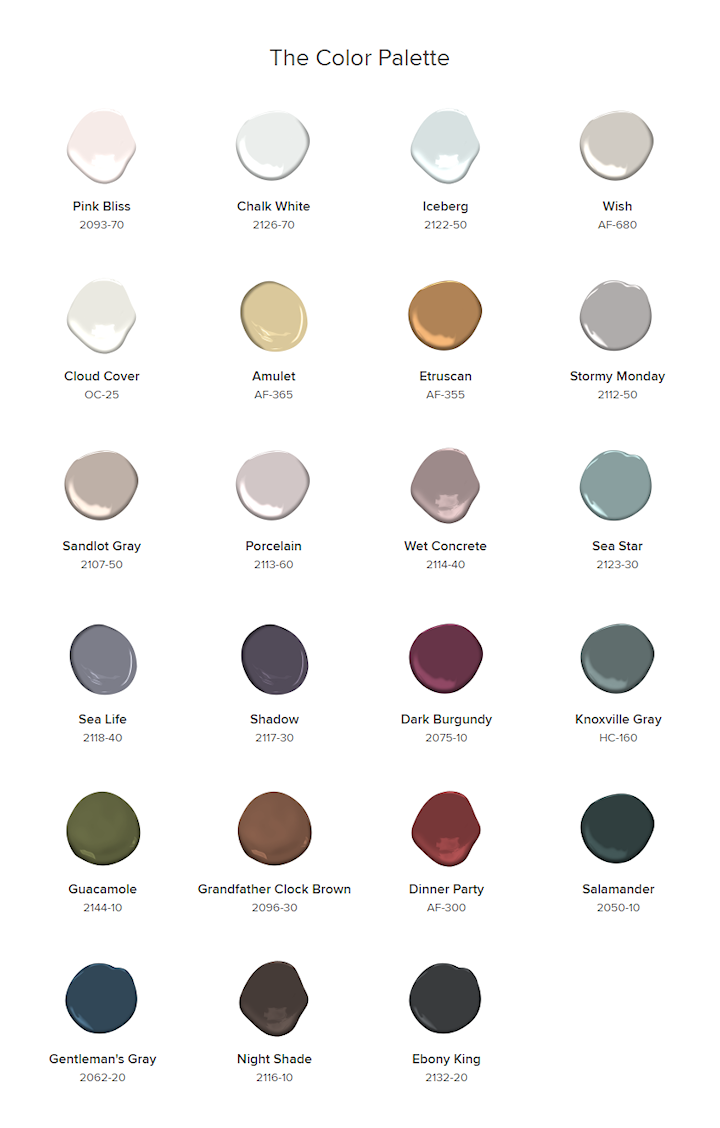 So yesterday afternoon, I headed to Benjamin Moore and picked up some samples to try out. On the paint chip, the Shadow color looked much lighter than I had anticipated after seeing the pictures online, so I also picked up the darker color just below it on the paint strip, which I believe is called Galaxy. Here's how they looked in my kitchen. Please excuse my messy countertop and floor.
And never mind that one on the far left. I was trying to get one close to the last picture on yesterday's post, and clearly missed the mark. That's way too blue, where the color on the cabinets in that photo has a lot more green in it.
Then to the right of that is Shadow (which I was clearly wrong about…it's deep and gorgeous), then Galaxy (so dark it's hard to tell there's any purple in there), and then Gentleman's Gray. The Gentleman's Gray has definitely won me over for my kitchen, but I can certainly see myself using Shadow on something else. I think the two work beautifully together. And dark blue is such a versatile color. Like someone said in a comment yesterday, it's like a pair of jean. You can put just about anything with a pair of jeans and it'll work. Deep blue colors are kind of the same thing.
With the change of cabinet color, obviously the black countertops are out. Many of you will be happy to hear that. 🙂 I will be trying to brighten up the countertops so that they're more of a true white, but I told Matt that I eventually want marble countertops (or something that looks like the whitest, brightest Calacatta or Carrara marble). Marble has been on my "dream kitchen" list for a very long time now, and I want that to be the end goal, although it might be several years before I get there.
But for now, I can paint my cabinets and see about brightening up my countertops. That should be relatively cheap. And now that I have my color, I can finish up my plan for the rest of these rooms. It's all coming together in my mind. 🙂
And thank you to those of you who pointed me towards Benjamin Moore's 2017 color palette!! It's beautiful, and will serve as a jumping off point for the rest of my plan.
UPDATE:
I kind of had a change of heart about cabinet color. Click here to see the color I finally chose, and how the cabinets turned out…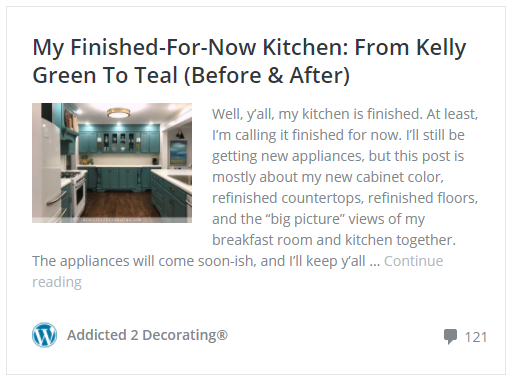 Addicted 2 Decorating is where I share my DIY and decorating journey as I remodel and decorate the 1948 fixer upper that my husband, Matt, and I bought in 2013. Matt has M.S. and is unable to do physical work, so I do the majority of the work on the house by myself. You can learn more about me here.