Progress Report: Carport and Front Porch
Things are moving right along on the carport! The last update I showed you (ten days ago), the carport looked like this…
And now it looks like this…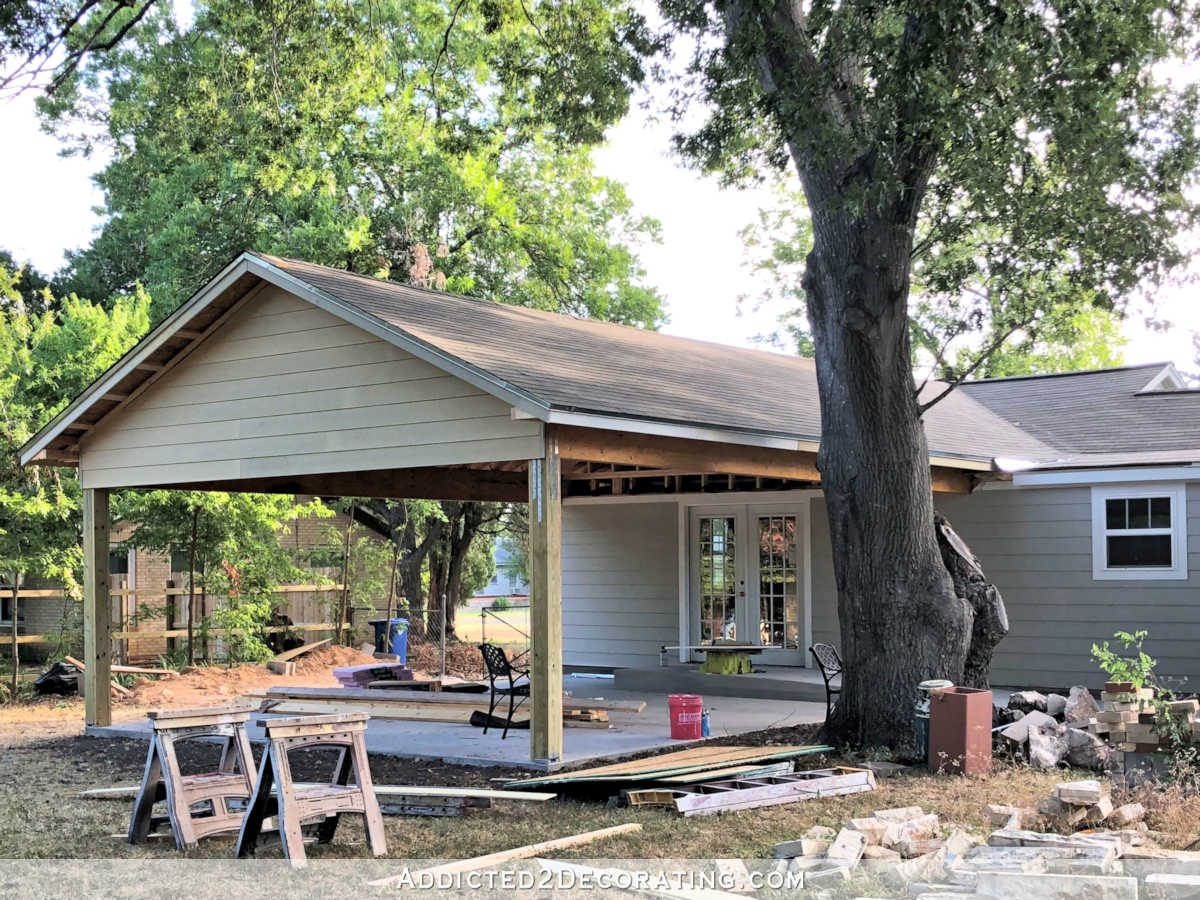 When the siding and trim start going up, you know the project is nearing completion.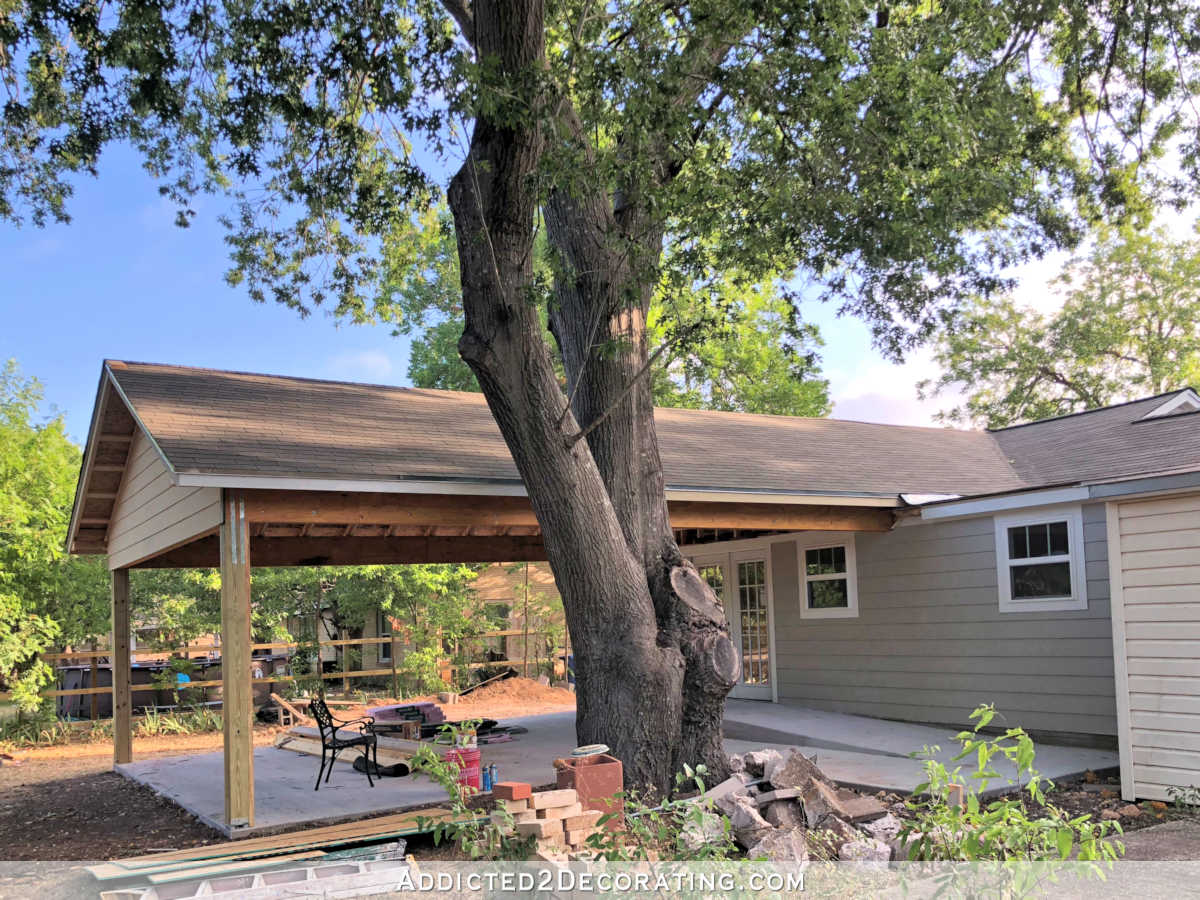 Doesn't that look awesome!?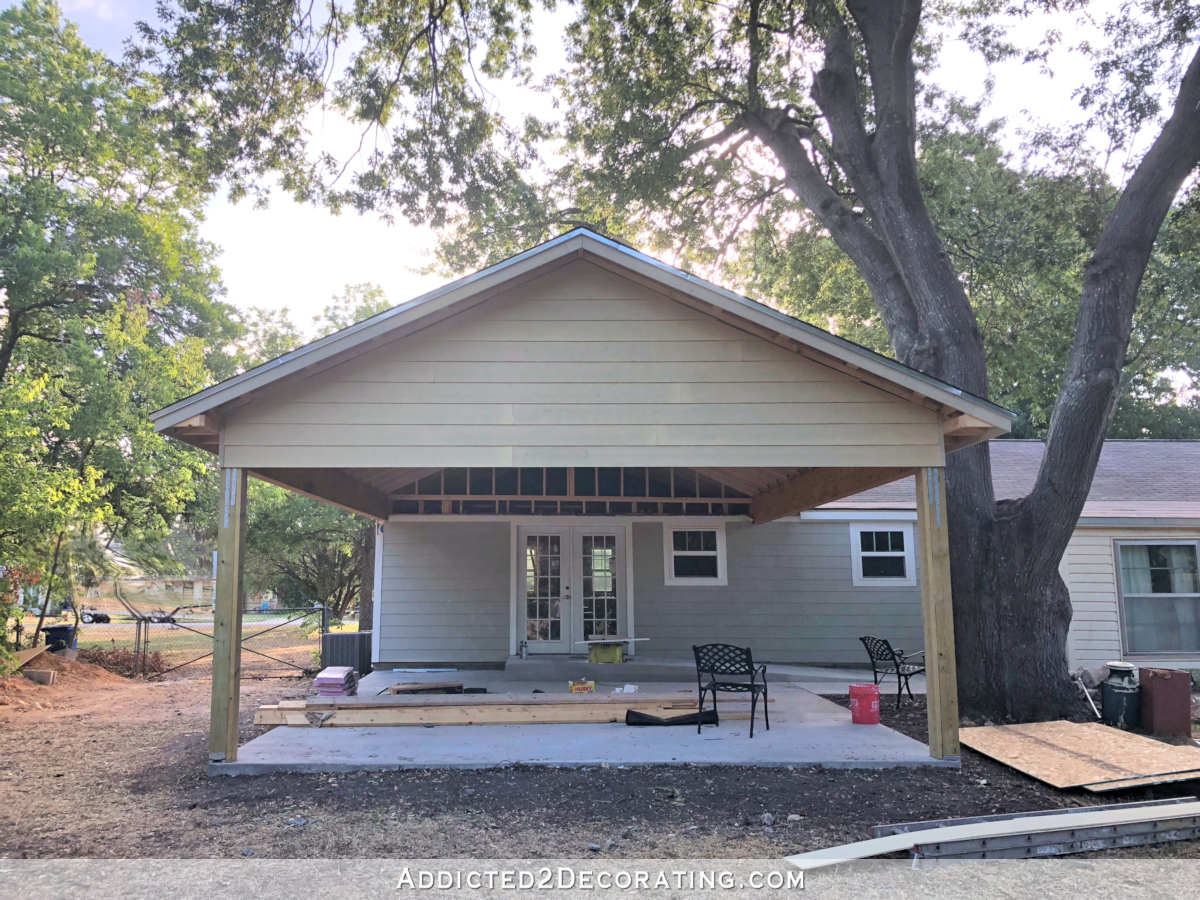 I'm so pleased with how this is turning out. Way back when I first started talking about adding a carport on the back of the house, I never envisioned that it would look this good. I envisioned some detached thing with a covered walkway between the carport and the house. So this far exceeds my original vision and expectations. I even hate calling it a carport, because that word often dredges up images of funky metal structures covering part of a driveway in front of a house, or some improperly planned and constructed lean-to type of structure stuck on front of a converted garage. The word "carport" doesn't quite do this thing justice. I'd call it "a covered patio with a shingled roof that can also double as a covered parking structure," but that's a mouthful. 😀 So I guess "carport" will have to do.
And now to the front of the house, I'm slowly making progress on the front porch ceiling.
You know how some projects seem like they'd be quick and easy, and then you get started and realize that it's going to take about four or five times as long as you thought because you failed to take certain things into consideration? Yeah. That's been this ridiculous porch ceiling.
It's not that big — about 22 feet by 5 feet. And yet, I've been working on this thing all week long. Of course, it doesn't help that the temps during the afternoon have been over 100 for most of this week, which slows my progress to a snail's pace. But I pushed through it, and finally got the trim boards installed, the nails punched in (for some reason, I had lots of nails that didn't want to go in all the way), the edges caulked, and the nail holes wood filled and sanded. And after all of that, I was finally ready to paint at about 7:00 yesterday evening.
I only got the first coat on the ceiling, and didn't even get all of that. I still have to cut in around the edges and paint the grooves with a brush.
I wasn't sure if that was enough blue to actually look blue, so I posted on Instagram for input. I think those who said to add just a touch more blue edged out those who said it was perfect as is. I did go ahead and add just a tiny bit more blue to the paint that I'll use for the second coat. Just a tiny bit, though.
And of course, now that it has paint on it, I'm seeing more areas where I need caulk. *Sigh* It's just unbelievable how much work one little porch ceiling requires.
I'm also confused about how to paint the trim. You can see that I added a 1″ x 2″ piece around the edges of the ceiling. On the side wall and the front wall of the house, I plan to paint that gray just like the siding. But on the piece that's towards the front (i.e., the street side) of the porch, I plan to paint that white so it blends in with the white parts that sit on top of the columns.
Those areas seem pretty straightforward to me. But the other side is not quite as straightforward to me.
First of all, this front part, as well as the part that wraps around the bottom and sits on the columns, should be white. There's no question about that in my mind.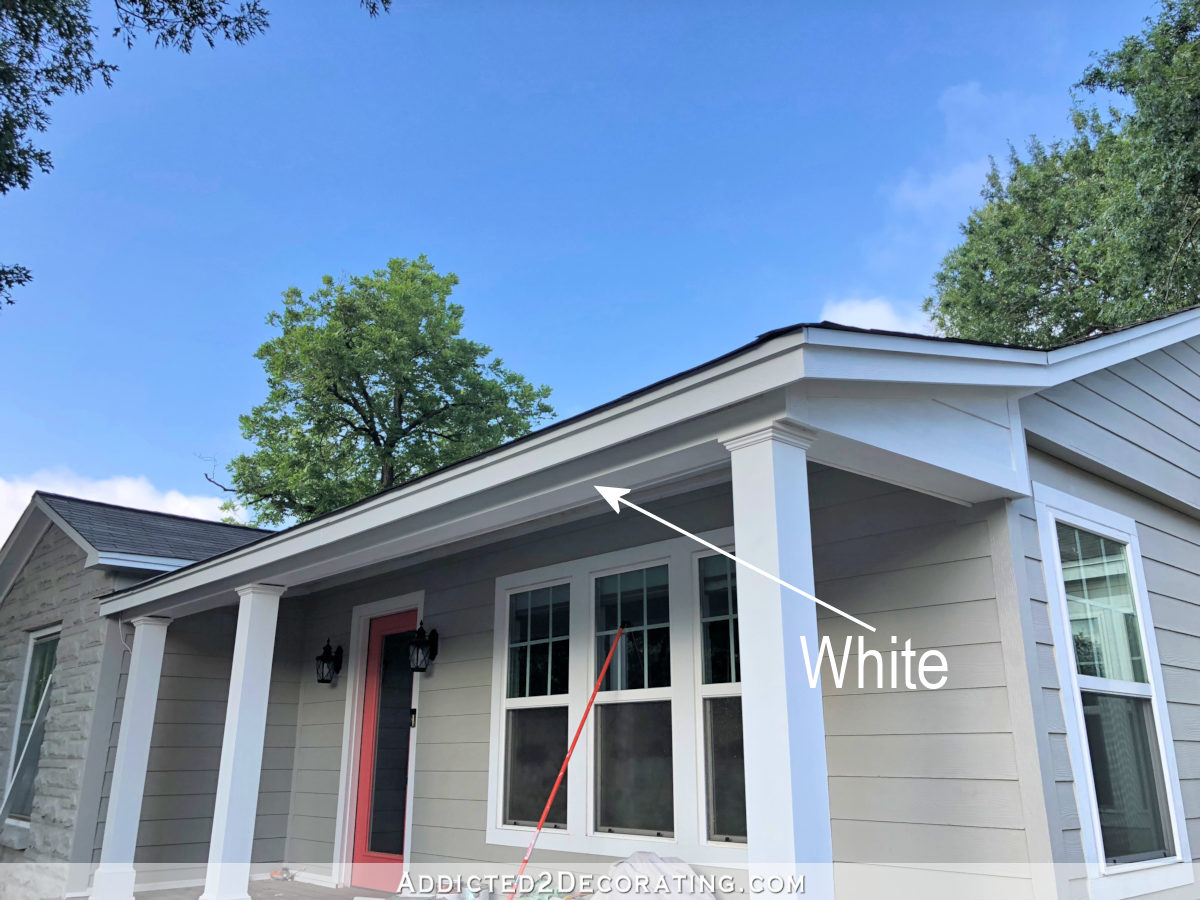 But where it gets fuzzy is this little triangle area on the side of the porch roof.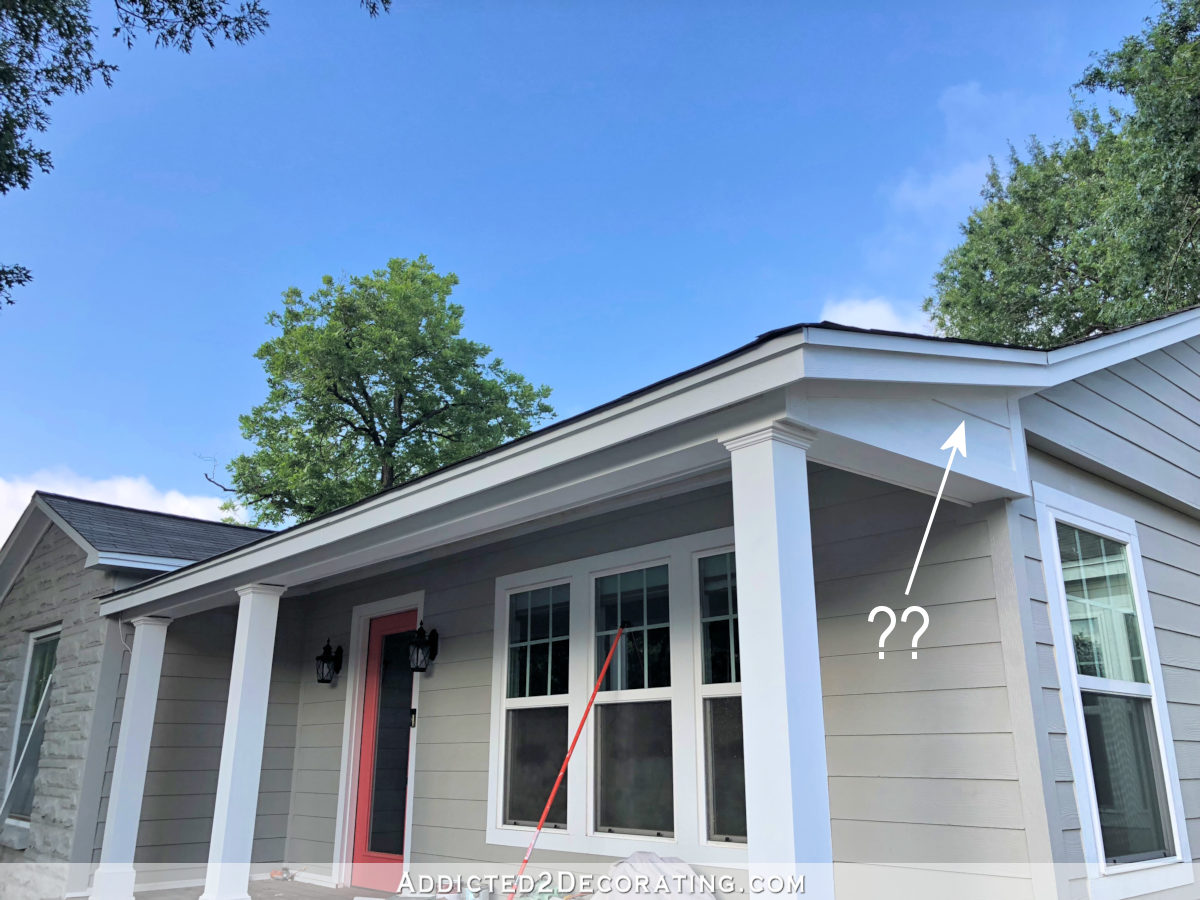 When the house as originally painted at the beginning of this year, they painted the trim pieces on the perimeter of the triangle area (all three sides) white, and then the little area inside the trim was gray. I thought that looked ridiculous, so I tried painting the whole thing white.  Frankly, I think that looks awkward as well.
The only other option I can think of is to leave the one trim board just under the soffit white, just like it is all around the house, and then paint the rest of the triangle area gray. That would include wrapping the gray around the bottom and onto the inside triangle area and right up the ceiling to match the other end of the porch.
But that seems a little strange to me because then the side part that sits on the column would be gray, while the front part that sits on the column would be white.
Aaarrrgghhh!! I have no idea what to do. I've been debating options in my mind all week, and still don't have a solution.
Although it just occurred to me that one reason those triangles might look so strange is because they have the lap siding on them. Perhaps they should have been covered with completely flat pieces (i.e., one whole triangle cut from a piece of sheet siding) and attached so that the triangle areas don't have those horizontal lines running through them. Then it would look separated from the actual house, and more like a separate front porch ceiling, and I could then paint the triangles (trim and all) on both sides white.
It also occurs to me that if I add another column (or half column) literally right up against the house, then that whole side roof section might make more sense also.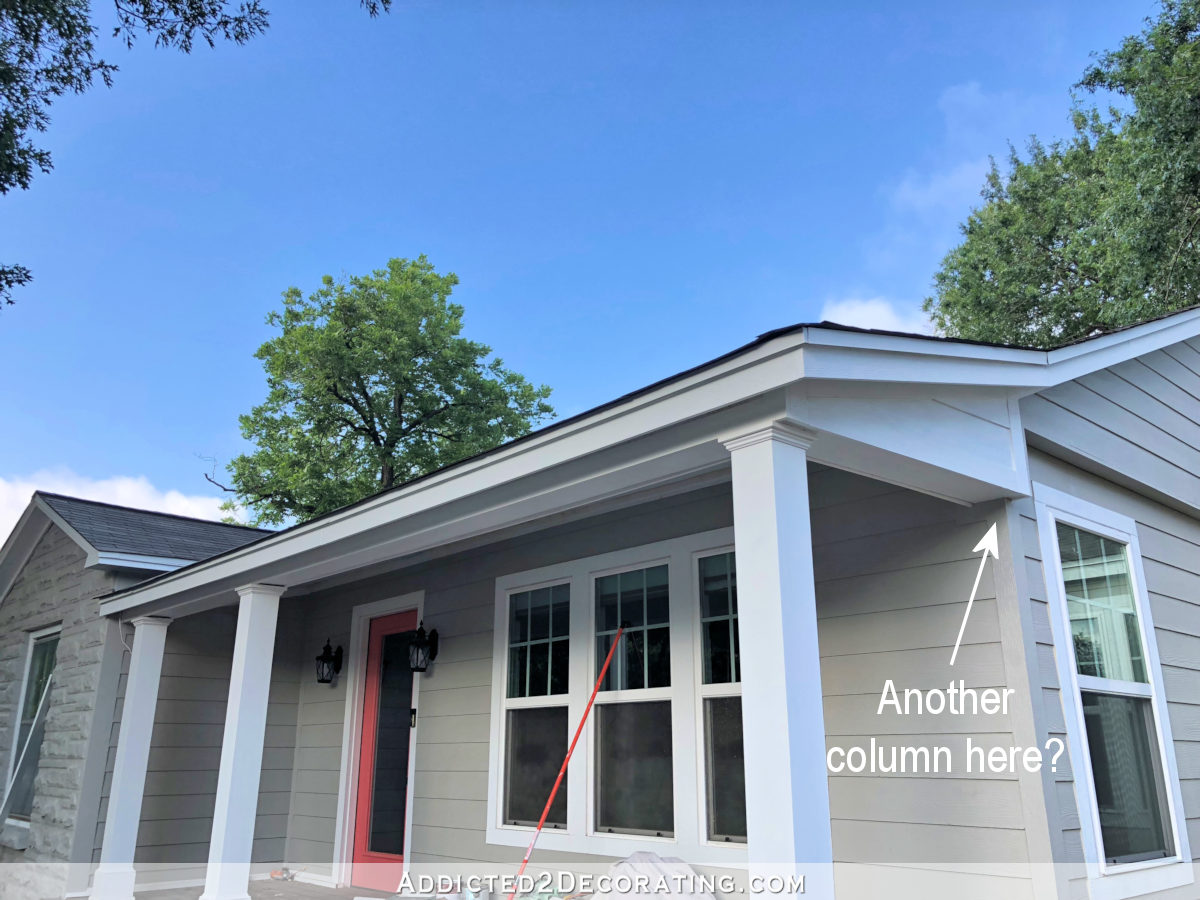 Does that make sense, or did I just make that totally confusing? Either way, if you have an idea of how to handle this, and what paint needs to go where, please share your thoughts!!
Addicted 2 Decorating is where I share my DIY and decorating journey as I remodel and decorate the 1948 fixer upper that my husband, Matt, and I bought in 2013. Matt has M.S. and is unable to do physical work, so I do the majority of the work on the house by myself. You can learn more about me here.