Well, I've determined that it's because of all of you. 😀
Okay, I guess that excuse won't fly. At least not totally. Although I do think that y'all are part of the equation (which I'll demonstrate shortly), but you are just one part of a much longer equation.
And in my defense (yes, I'm being defensive against myself right now 😀 ), I have completely finished four rooms/areas in my house.
My kitchen…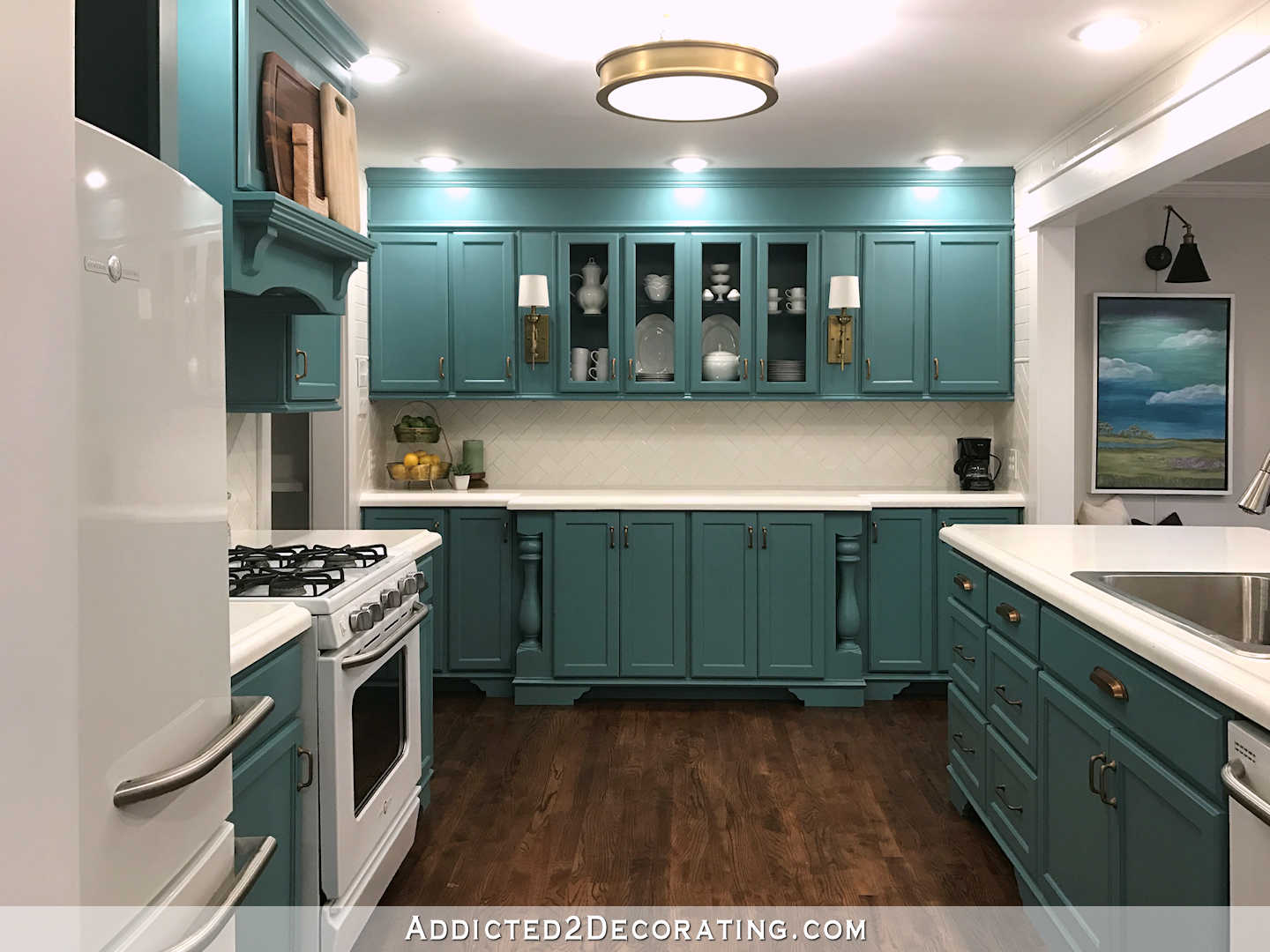 The breakfast room…
The hallway bathroom…
And the hallway…
So I do have finished rooms. And in the other areas, there's been a tremendous amount of progress — new drywall, new insulation, electrical upgrades, new plumbing throughout, refinished floors, cased openings created/moved/expanded, a fireplace added, new cabinets and bookcases, all new crown moulding/baseboards/casings, and on, and on. There's also been a room conversion, a carport add-on, a front porch makeover, all new siding, new windows and exterior doors, etc.
I mean, even if the rooms were completely empty without a stitch of furniture or accessories, the difference between what I have now and what I started out with is a day and night difference. So I'm really not too stressed about the fact that I don't have the living room, entryway, and music room completely finished.
I've had quite a bit on my plate, and I'm just one person. 🙂
But seriously, why do I seem to have such a hard time finishing these rooms? It's not just a time and/or money issue. Even if I had all the time and money in the world, I'd still have a hard time. And after giving it some thought, I think I know why. There are several reasons, actually.
I treat my house like a DIY ideas laboratory.
I have ideas. Y'all, I have thousands of ideas. I have folders and files, both hard copy and online, with ideas that I love and want to try. On top of that, I constantly have new ideas popping into my head throughout the day almost every single day. I have handwritten notes strewn about, and notes typed into my phone. My brain never stops. It's exhausting sometimes, but that's just how I am.
There are literally hundreds of ideas that I want to try just for the sake of trying them. Will they work in my house? Probably not, but some of these ideas I want to try out anyway just because. I just thoroughly enjoy the process of creating and making and testing out ideas and tweaking ideas.
My music room walls are a perfect example. I can't believe I DIYed and decorated for over a decade and had never stenciled a wall. So when I needed a new idea for my music room walls, it seemed like a perfect time to try out a stencil. Some of you suggested other things. Wallpaper (been there, done that), the birds and branches hand drawn design (I've done that, and didn't want to repeat something I had already done).
See? If an idea has already been tested in my lab, I don't really want to do it again. I want to move on to other things that I haven't tested yet.
So now I can say that I've stenciled a room.
And I can say that I have tested out my idea to enhance the look of a stencil with a Sharpie marker.
And I can confirm, for the record, that I absolutely hate stenciling walls and will probably never do it again, but I'm glad that I tried it in my lab.
Check, check, and check.
I just love trying out ideas. So many ideas.
I get completely bored with finished rooms.
Seriously, what is wrong with me? The rooms and areas that I have finished in my home aren't safe from me.
My breakfast room, for example…
White curtains? Seriously, who the heck got into my brain and told me that white curtains were the way to go? I could kick myself for that. Even that green leading edge with the pom pom trim (i.e., the only part that I like) isn't enough to spice up boring white curtains.
I'm making a promise that I won't do anything to change any of the rooms I already have finished (with the possible exception of new kitchen appliances) until I have finished the living room, entryway, music room, pantry, and my studio. But let me tell you, it takes every single ounce of self-control to stop myself from making changes in those rooms.
The white curtains in the breakfast room. The neutral breakfast room walls. The tile border in the bathroom. The bathroom countertops.
Interestingly, my kitchen is the one room that I don't want to change at all (again, with the exception of appliances). But those other rooms will only remain safe from me for so long. One day I'll give myself permission to make significant changes in those already-finished rooms. One day.
I decorate my house in a confusing, non-cohesive piecemeal manner.
I used to be an interior decorator who worked for clients and decorated other people's homes. And yes, I would finish them. 🙂
The process of decorating another person's home and the process I've used in my own home has been so vastly different that they're not even in the same ballpark.
When decorating for someone else, I would come up with a complete design plan. The customer would sign off, and I'd implement the plan. It was relatively quick and easy. My goal was to create a beautiful space according to their desires and taste, and as long as I accomplished that, I was satisfied. I'd get it done and move on to the next person.
With my own house, I do things in a very piecemeal fashion, and I think that goes back to the "ideas laboratory" issue. If I want to try a stencil, I try a stencil. I may or may not give much thought to how that will affect the projects I've already done.
So generally one idea tested out will lead to other things that I've already done needing to be changed, so it creats this endless loop of projects needing to be redone over and over.
I know this drives some people absolutely crazy, but for some reason, it doesn't bother me. Now if I were in a perpetual state of redoing structural things or things that created lots of mess (like constantly having to re-drywall because of my changes, or constantly changing out door trim or crown moulding), that would bother me. I can't live with that kind of mess indefinitely. I need that stuff finished and tools put away to maintain any semblance of sanity.
But the decorating stuff? The fluffy and pretty extras? That doesn't bother me too much, although I can say with certainty that I eventually want these rooms finished. I want them finished this year, in fact. So as long as I can still meet that goal, the redoing along the way doesn't bother me. Heck, it just gives me more opportunities to test out the plethora of ideas that I've saved up! 😀
And then there's all of you…
Oh, come on now. Y'all have to know that you feed my addiction, right? All of your suggestions are like dangling a little bag of white powder in front of a heroin addict. 😀 I'm not asking you to stop. I like them. Ideas are my addiction.
But just so you can see what I mean, just in my last two posts alone, here are your suggestions…
repaint the entryway
repaint the fireplace
replace the loveseat
move the pinwheel art and replace it with something else
make new artwork for the music room
repaint the credenza in the entryway
paint the front door another color
replace the credenza in the entryway altogether
repaint the orange lamp
replace the orange lamp with something entirely different
And those are just the ones I can think of right off the top of my head. Y'all feed my addiction. 😀
So I've determined that if I really want to get these rooms done by the end of the year (and I really do, I promise!), I'm going to have to treat those rooms as if they belong in a client's house. I'm going to have to remove emotion from the equation, and somehow tamp down my incessant need to try out random ideas and treat my home like a laboratory.
I need to create mood boards, develop and entire decorating plan, and then implement it with little or no variation from the plan. And then walk away and move on to the next project.
Does anyone actually think I can do this? 😀 I have my doubts. I honestly feel a little bit anxious even thinking about it and knowing that my decisions need to start becoming final, but I think this is the only way it will ever get done.
Addicted 2 Decorating is where I share my DIY and decorating journey as I remodel and decorate the 1948 fixer upper that my husband, Matt, and I bought in 2013. Matt has M.S. and is unable to do physical work, so I do the majority of the work on the house by myself. You can learn more about me here.
I hope you'll join me on my DIY and decorating journey! If you want to follow my projects and progress, you can subscribe below and have each new post delivered to your email inbox. That way you'll never miss a thing!