My Tiny Condo Breakfast Room Makeover – Before and After
My breakfast room is finally finished. And…well…it's bright and colorful! Nobody ever accused me of being afraid of color, that's for sure!! 🙂
It has taken me forever to get to this room finished, so let me remind you how this room looked when we bought our condo. And let me also remind you that as soon as we were handed the keys, I walked in and started snapping pictures. I didn't even take a few minutes to clear away the junk left by the previous occupants, and I was way to anxious to wait for the electricity to be turned on. So this is a truly authentic "before" picture.
You can see that it was basically a big white box. A blank canvas, so to speak. And I knew almost as soon as I walked in that I wanted to fill the space with built-ins to utilize the vertical space.
Quite a difference, huh?
Hover your mouse pointer over the picture below to get a quick view of the before and after.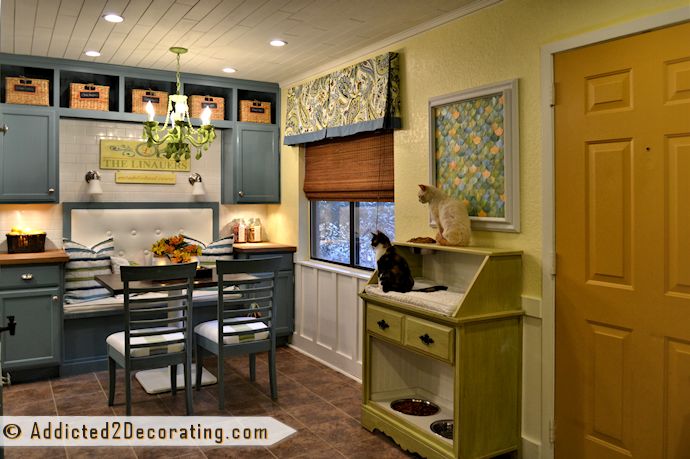 And, of course, the breakfast room is right next to the tiny kitchen. It's basically an eat-in kitchen. Here's another look at the before…
Yep…just a blank wall. In a blank room. Next to an ugly apartment-grade kitchen. There was literally nothing to see here.
And now…

And here are about 50 more pictures of the room…one for each month I've been working on it. Ha! Just kidding. It hasn't been quite that long. Almost. But not quite. 😀
Okay, I think I'll spare you the other 45 pictures. You're welcome. 🙂
If you're looking for any projects that I did for this room, you'll probably find them here. Some of these items may no longer be in the room.
[categorythumbnaillist 494]
If you have any questions about the room, I'll try my best to answer! But because I took soooooo long to get it finished, I didn't really keep great records on how much stuff cost me. But I do have paint colors and stuff like that that I'll try to add to this post very soon.
Addicted 2 Decorating is where I share my DIY and decorating journey as I remodel and decorate the 1948 fixer upper that my husband, Matt, and I bought in 2013. Matt has M.S. and is unable to do physical work, so I do the majority of the work on the house by myself. You can learn more about me here.