Today's reader question comes from Allison, who is getting ready to remodel her kitchen and wants to open the kitchen up to the living room, even if it's just a small passthrough.
Allison's Question:
We are about to remodel our kitchen and are looking for some advice.  It is a small, galley kitchen.  All of the windows you see are tall, so the arrangement doesn't lend itself to any cabinet expansion in its current state.  I would like to open up the kitchen to the living room, even if it's just a pass through style opening with no island.  I feel so closed off when I'm in the kitchen.  As you can see now, the stove/microwave vent is on that load bearing wall, so I am limited on what I can do.  This is not our forever home, but we need to update this room to sell in about 5 years.  What would your readers suggest?
The Current Kitchen:
This is what Allison's kitchen currently looks like. You can see that the wall on the left is an exterior wall with windows. That wall has the kitchen sink and refrigerator. On the right wall is the range and microwave, and on the other side of that wall is the living room. This is the wall that she wants opened up, even if just a little bit, to the living room so she doesn't feel so closed off when working in the kitchen.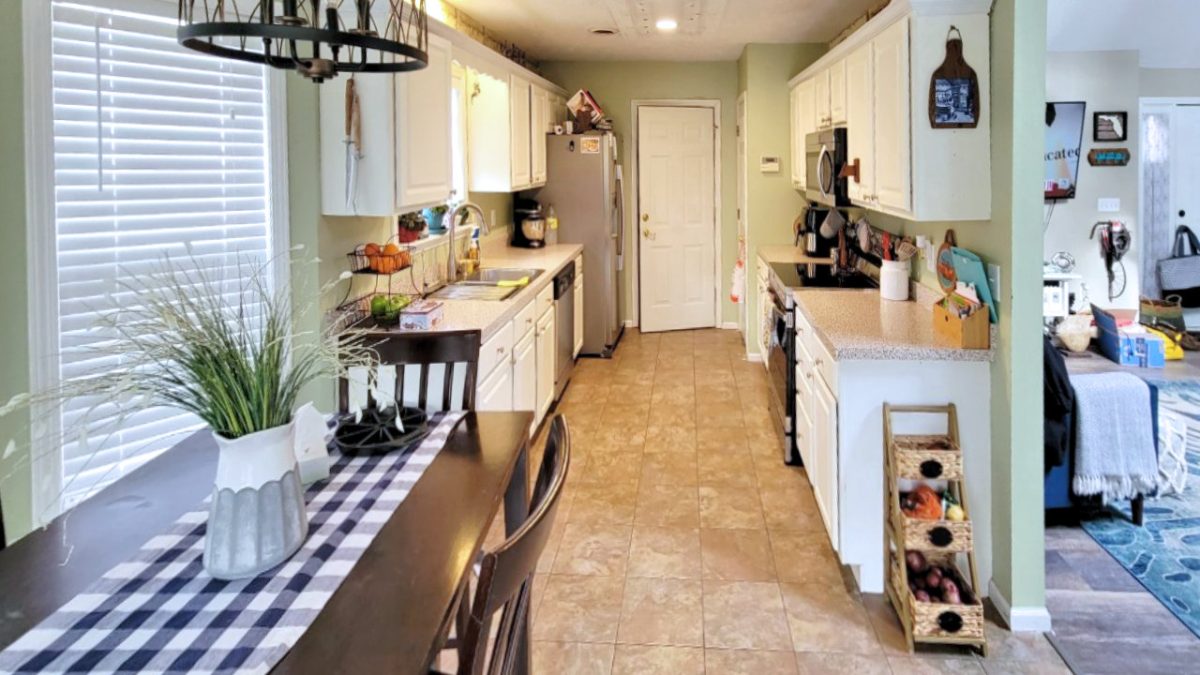 The door that you see at the end of this galley kitchen leads to the garage…
And looking back the other direction, you see an eating area with a sunroom just beyond the doors.
And this is a closer look of the wall that she wants to open up to the living room. This wall is load-bearing, and currently has the range and microwave.
Allison's home is a one-story home, and the there is attic access above this load-bearing wall.
My Suggestion:
Let me start with the caveat that I'm not a licensed interior designer, architect, or contractor. I've also never seen this house in person or climbed up into the attic to see what construction we're working with here. So while I'm more than happy to make suggestions, no one should just start tearing down walls based on my suggestions. 😀 I think that's obvious, but it needed to be stated. Anything suggested here, whether by me or by readers who comment on this post, should be talked through thoroughly with a qualified and licensed contractor, the permit office of your local municipality (where required), etc.
With that said, here's what I suggest:
First, I personally wouldn't try to do some kind of small passthrough. You're working with a load-bearing wall, so no matter what you do (unless you're just going to open up the spaces between the studs while leaving the studs, which would look really weird), you're going to have to deal with some sort of load-bearing header to transfer the load that those studs are currently holding. Even if you were just to create a passthrough on either side of the stove/microwave that's 30 inches wide, that's still dealing with at least two studs on either side, and that's almost that the entire wall anyway.
In other words, anything dealing with a load-bearing wall is going to require a whole lot more construction than just removing some drywall and knocking out a couple of studs.
So with that in mind, my suggestion is that if you're going to deal with a load-bearing wall, just go the whole distance. Take the whole thing out. I think that will not only make the design look more planned out than a small passthrough, but it will also give you the most bang for your buck five years from now when you sell your home.
If this were my kitchen, and because of the size of the kitchen, I would actually keep the current pantry, and then remove the rest of the wall.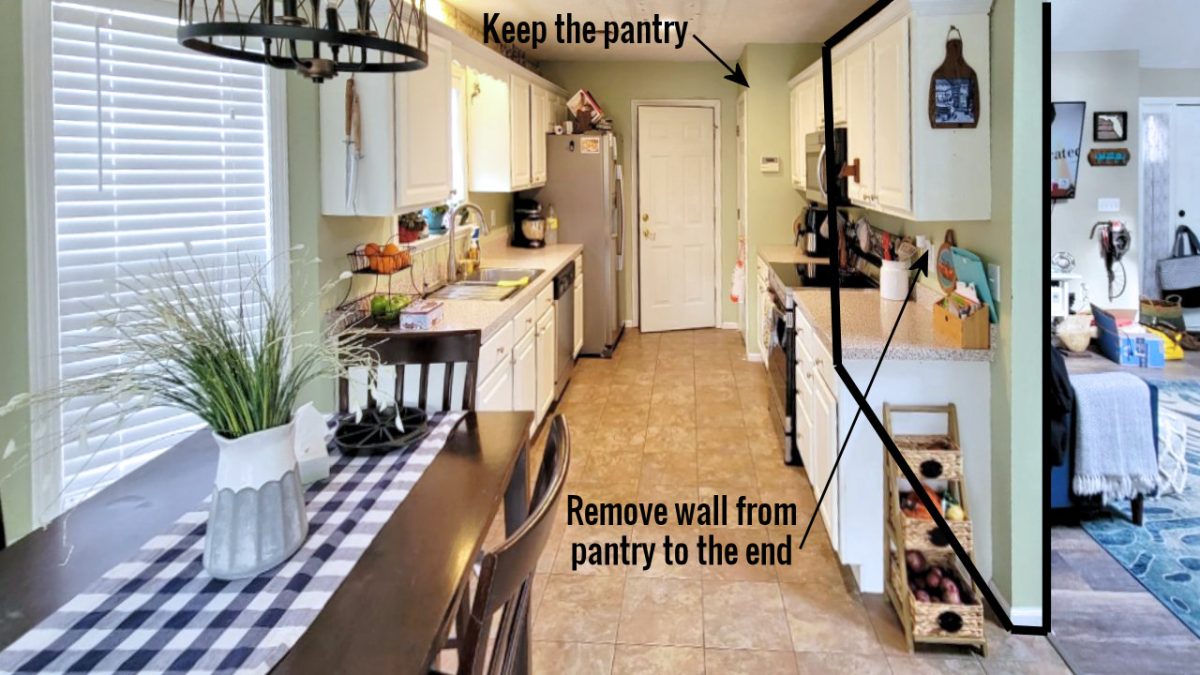 And then instead of an island, I would suggest a peninsula. If you try to put an island there, you're going to lose too much storage space, and the island would be too small. With a peninsula, the footprint of the kitchen would look almost exactly like it does now, except that the peninsula could extend just a little bit beyond where the current wall is, and you could have cabinets on the back side (i,e., the living room side) of the peninsula as well if you want to make up for the upper storage that's lost. If you add storage to the living room side of a peninsula, that means that virtually no storage would be lost. The peninsula could also include a shelf for your microwave.
In my own kitchen, I removed a load-bearing wall (an original exterior wall of the house) and built a peninsula in its place. The front of the peninsula (i.e., the kitchen side of the peninsula) is regular-depth kitchen cabinets.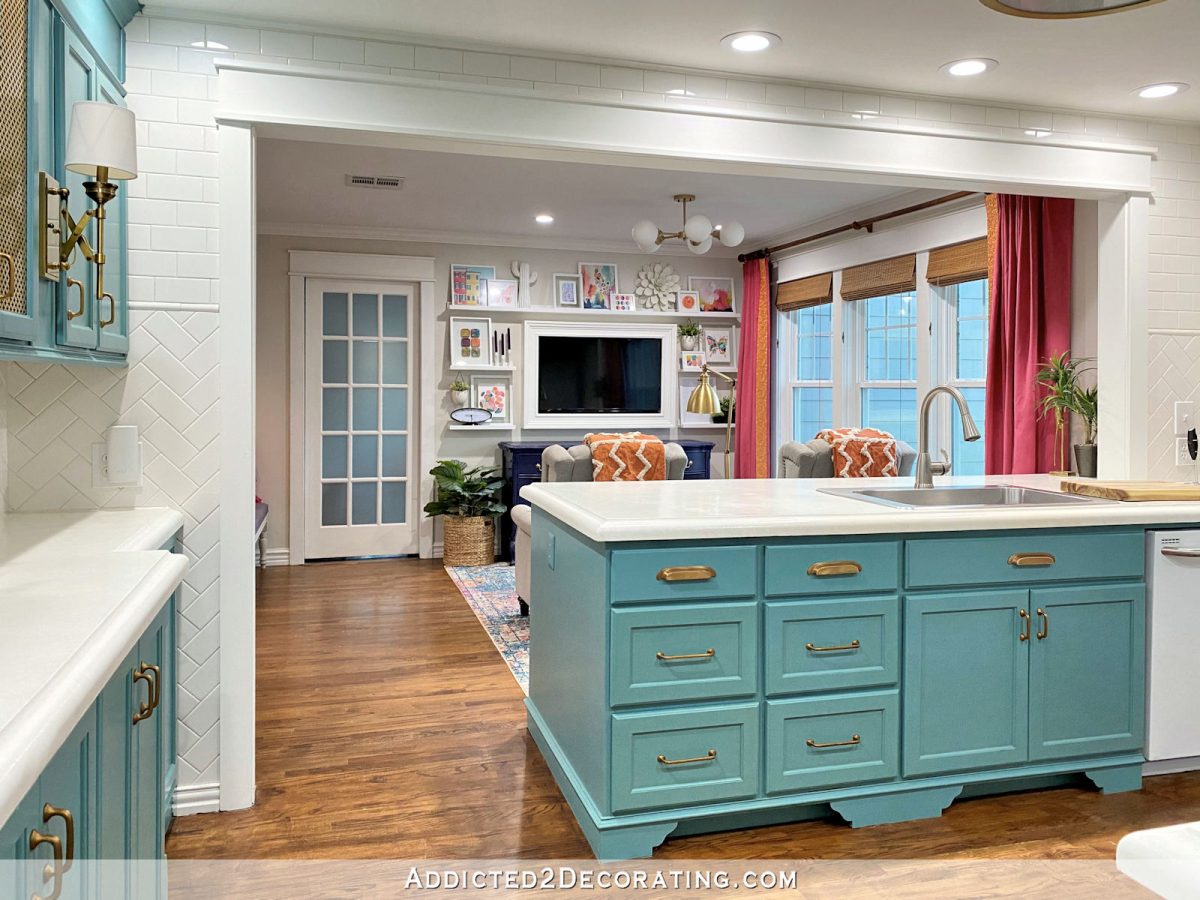 On the back side of the peninsula, I used 12-inch-depth wall cabinets. I actually use that storage for pantry items (canned goods, extra spices, etc.), but it could also be used for items (small appliances, holiday plates, etc.) that don't need to be accessed daily.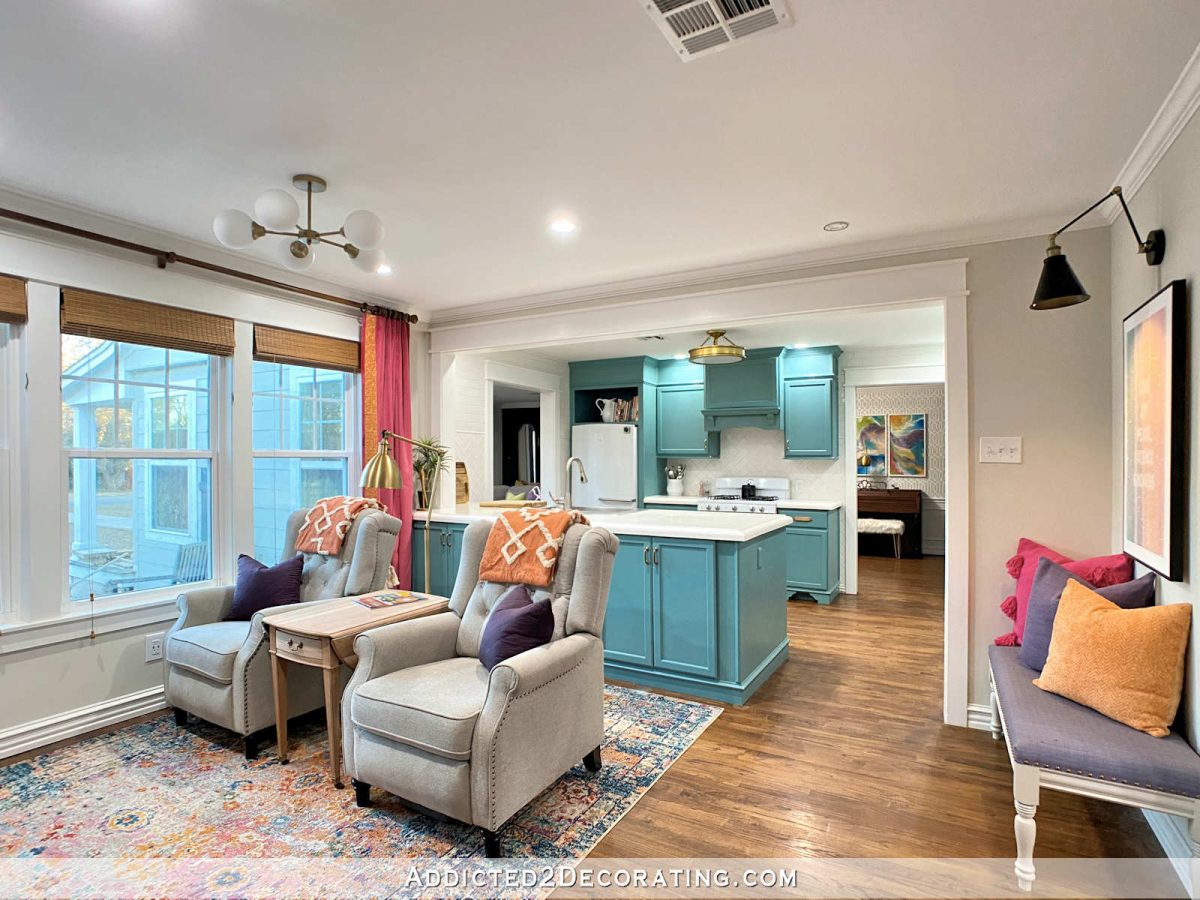 As far as that load-bearing wall goes, there are ways to deal with that, and you'll need to discuss this with your contractor.
In my kitchen, because this wall was an original exterior wall and there was no attic area to put a huge load-bearing beam, the load had to be transferred to a load-bearing header that sits below the ceiling line. I simply drywalled right over it, and trimmed it out like I do all of my windows, doorways, and cased openings.
If you have space in the attic for a large load-bearing beam, and the construction of your home/attic/roof allows for that type of construction, that means that the finished ceiling can be smooth and continuous from the kitchen to the living room, like there was never a wall there to begin with.
And in other situations, transferring that load may require not only a beam or header, but also load-bearing columns that can be incorporated into the design of the peninsula. Here are some examples from Houzz to give you an idea of what that may look like…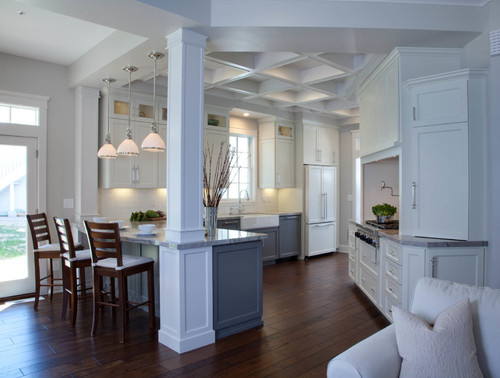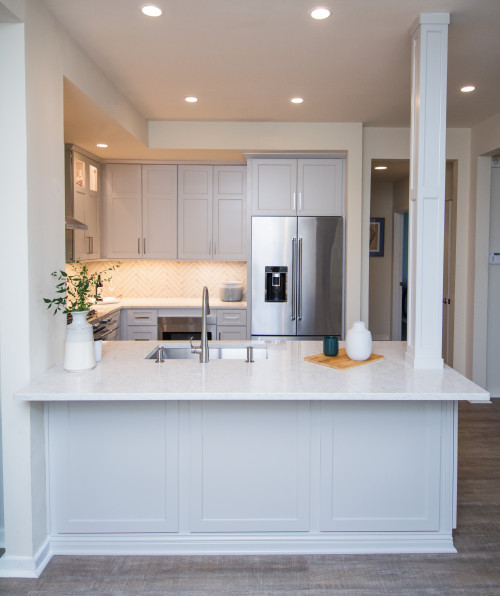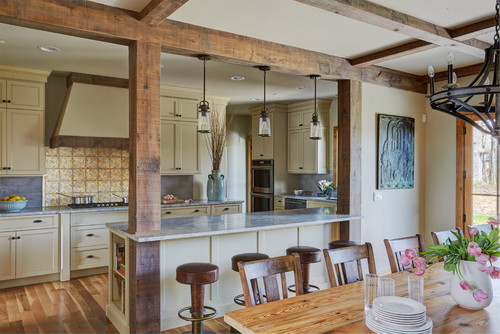 So those are my suggestions. The main takeaway: Any time you deal with a load-bearing wall, it's going to be a big project. So think big and just go for exactly what you want. If it ends up being way too costly and out of the question, then you can scale back from there with suggestions from your contractor. But don't start with small thinking, because anything you do to that load-bearing wall, even if you think it's just going to be a small passthrough, is going to take some pretty significant construction because that load has to be properly transferred somewhere, unless you're going to make a between-the-studs passthrough that's 14 inches wide. But please don't do that. 😀 Nothing would say, "I'm a DIY project!" more than a 14-inch-wide passthrough. 😀
Alright, folks! What suggestions do YOU have for Allison?
(Are you stuck with a DIY or decorating problem and want input? Click here to submit your question.)
Addicted 2 Decorating is where I share my DIY and decorating journey as I remodel and decorate the 1948 fixer upper that my husband, Matt, and I bought in 2013. Matt has M.S. and is unable to do physical work, so I do the majority of the work on the house by myself. You can learn more about me here.
I hope you'll join me on my DIY and decorating journey! If you want to follow my projects and progress, you can subscribe below and have each new post delivered to your email inbox. That way you'll never miss a thing!