DIY Framed Personalized Fabric-Covered Bulletin Board
Hello there! Well, after a very rough start to this new year, 2017 continues to kick my butt and now includes an ambulance ride to the emergency room and a hospital stay for Matt. He went to the emergency room for one issue, and then they admitted him for UTI and pneumonia — the very things my step-father was admitted for just about nine months ago. When we were sitting in the emergency room with the nurse explaining that they'd have to run blood tests to see if the infection had spread to the blood, it took every ounce of strength not to panic at the thought that that was the exact thing that took my step-father's life just a few short months ago. Anyway, everything turned out fine. Matt is home, and he's almost back to (his) normal. But I don't know how much more of 2017 I can take. Can we just skip this year and move on to 2018? I need a fresh start. A do-over.
I'm really anxious to get started on projects here at the house, but I'm determined to get my niece's bedroom finished first. She's been patiently waiting for my mom and me to finish up, and we're so close. One thing that was on her wish list for her room was a big bulletin board where she should hang her pictures and artwork that she makes, so I came up with this design for a huge personalized fabric-covered bulletin board to go over her dresser.
Here's how I made it…
Materials & Supplies:
— 1/2 inch plywood, cut to to the size of the bulletin board you want
— panel moulding with a flat back
— panel moulding with a rabbet back
— lattice
— 3/4″ 16-gauge finish nails
— wood glue
— wood filler
— caulk
— quality paint brush (this one is my favorite)
— primer
— paint (I used Behr Polar Bear in a satin finish)
— 7″ wood letters
— craft paints to paint the letters
— 12-inch cork board squares
— high tack spray adhesive (this is the only one I use)
— crib size cotton batting
— fabric of choice (I used this burlap in the Idaho Potato color)
— scissors
— painters tape
— Ook Hangman French cleat hanger
— 1/2-inch wood screws
— 150-grit sandpaper
— utility knife
Tools:
— miter saw
— air compressor (I have this set and highly recommend it)
— 16-gauge nail gun
— staple gun
— caulk gun
The Process:
I had my plywood cut to size (48″ x 56″) at Home Depot. Then I cut some pieces of panel moulding (with the flat back) mitered on the corners, and glued and nailed them to the face of the plywood to create a frame around the edge of the plywood.
Of course, that left the raw edges exposed, which isn't pretty at all…
So I covered those edges with strips of lattice, mitered on the corners, and attached with wood glue and 3/4″ finish nails.
After filling all of the nail holes with wood filler, I measured and marked the area where I wanted the actual bulletin board to go, leaving enough space at the top for the wood letters. I attached these cork tiles with high tack spray adhesive (this Loctite 300 is the best one I've found). For a permanent bond, be sure to spray both the plywood and the backs of the cork tiles, then wait a few minutes before pressing the cork tiles into place. The cork tiles can be trimmed to size very easily with a utility knife.
And then on top of the cork, I applied a layer of cotton batting. I attached this with the spray adhesive also, and then trimmed the excess around the edges of the cork.
And then on top of that, I attached the burlap by stapling it around the edges of the cork, and then I trimmed the excess.
Here's a close up of the stapled edges…
To cover the unfinished edges of the cork and burlap, I cut pieces of panel moulding (with the rabbet back), mitered on the corners, to create a frame around the bulletin board. The rabbet sat on top of the burlap just enough to cover the staples, and I nailed that moulding into place.
After wood filling and sanding all of the nail holes, and then caulking all of the corners and joints, I taped off the burlap with painters tape…
…and then gave it one coat of primer and two coats of paint.
My mom very tediously painted these amazing striped letters using the same colors in the wall mural that she painted on the other side of the room, and I glued those on with wood glue.
And after a couple of hours of dry time, it was finished!
We hung it on the wall with an Ook Hangman French cleat, but since the plywood that I used was only 1/2″ thick, I had to use different screws from the too-long screws that came in the package.
My niece was thrilled with her bulletin board. She loves to draw, so she's so excited to have a place where she can display her artwork now.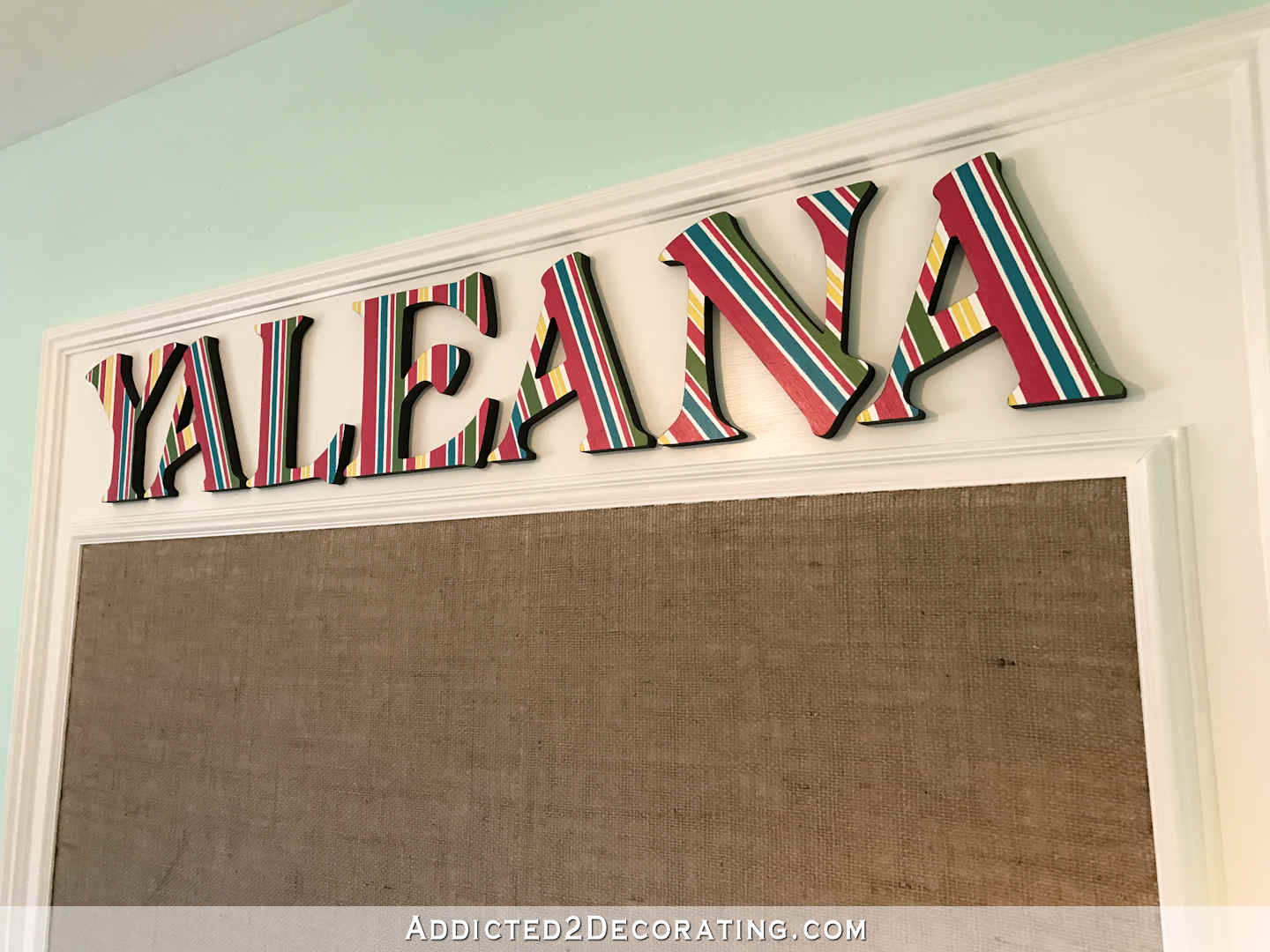 My mom and I just have a handful of finishing touches to complete, and my niece's bedroom will finally be finished!
And when I finally get to work on my office, I'm considering adapting this design to make a big calendar. Instead of cork and burlap, I'd use either a chalkboard or white board with squares marked off like a calendar. And instead of the letters at the top forming a name, I'd use magnetic paint on the plywood and removable, magnetic letters to create the names of the months. Those 7″ wood letters would be too heavy for magnetic paint to hold them, but other much lighter materials could be used for the letters. Just a thought. 🙂
Addicted 2 Decorating is where I share my DIY and decorating journey as I remodel and decorate the 1948 fixer upper that my husband, Matt, and I bought in 2013. Matt has M.S. and is unable to do physical work, so I do the majority of the work on the house by myself. You can learn more about me here.