My Finished DIY Writing Desk
Yesterday I showed you how I built a large no-frills writing desk for my studio. I didn't want any drawers or a fancy design. I just wanted a simple but attractive desk, and this is the design that I came up with…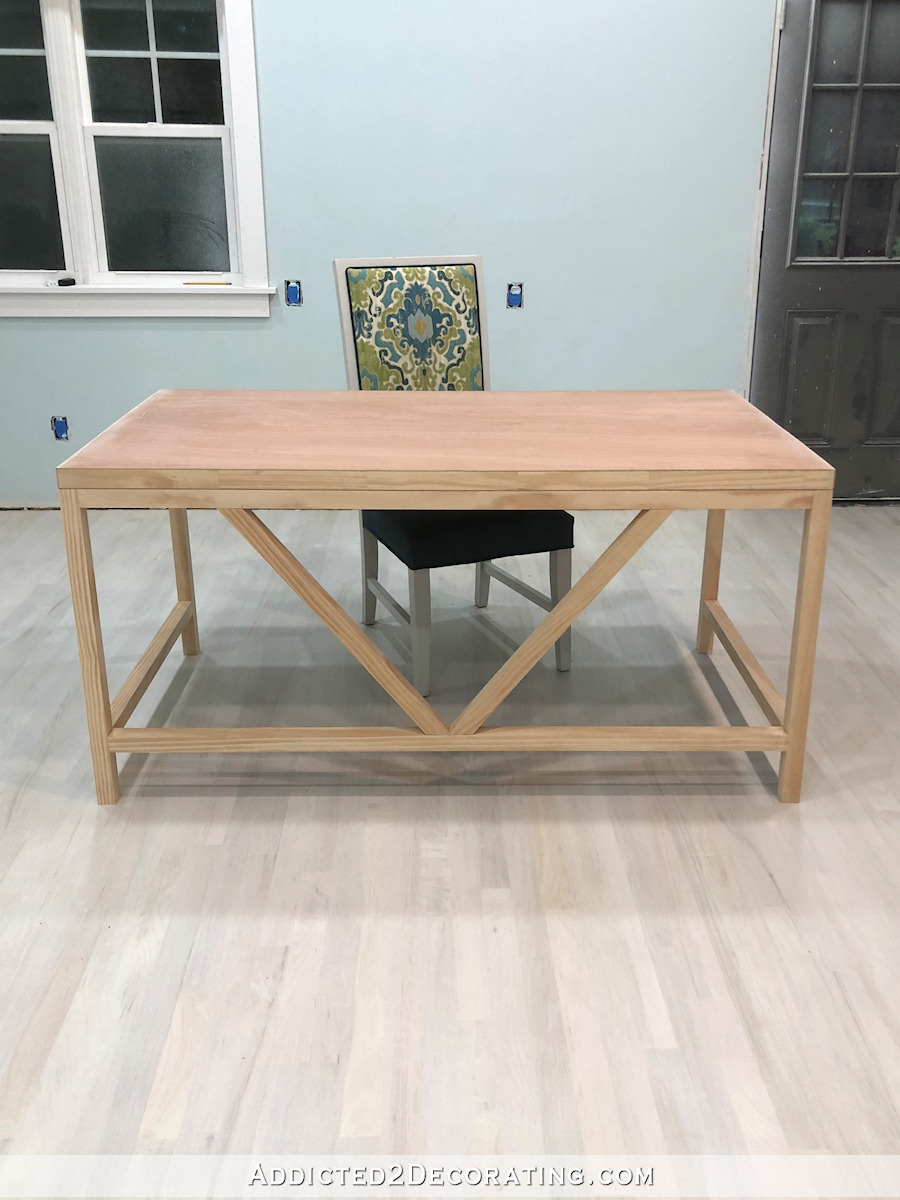 If you missed the post where I showed how I built this desk from a solid core door and a few pieces of lumber, you can find that here…
So yesterday, I set out to finish the desk. I knew I wanted a stained top and a black base. The base was easy. I painted it with Behr paint in a solid black matte finish. (When I want black, I don't use a paint swatch. I just go to the desk and ask for pure black.) Then I topcoated that with General Finishes High Performance Topcoat in a flat finish.
But the stained top wasn't quite so easy. It was such a pain to get just right, but I will admit that the pain was self-inflicted. I made one mistake after another that made the whole staining portion of this project (which should have been simple) such a huge headache. But after many hours of frustration, I finally got it looking decent. Here's how it turned out…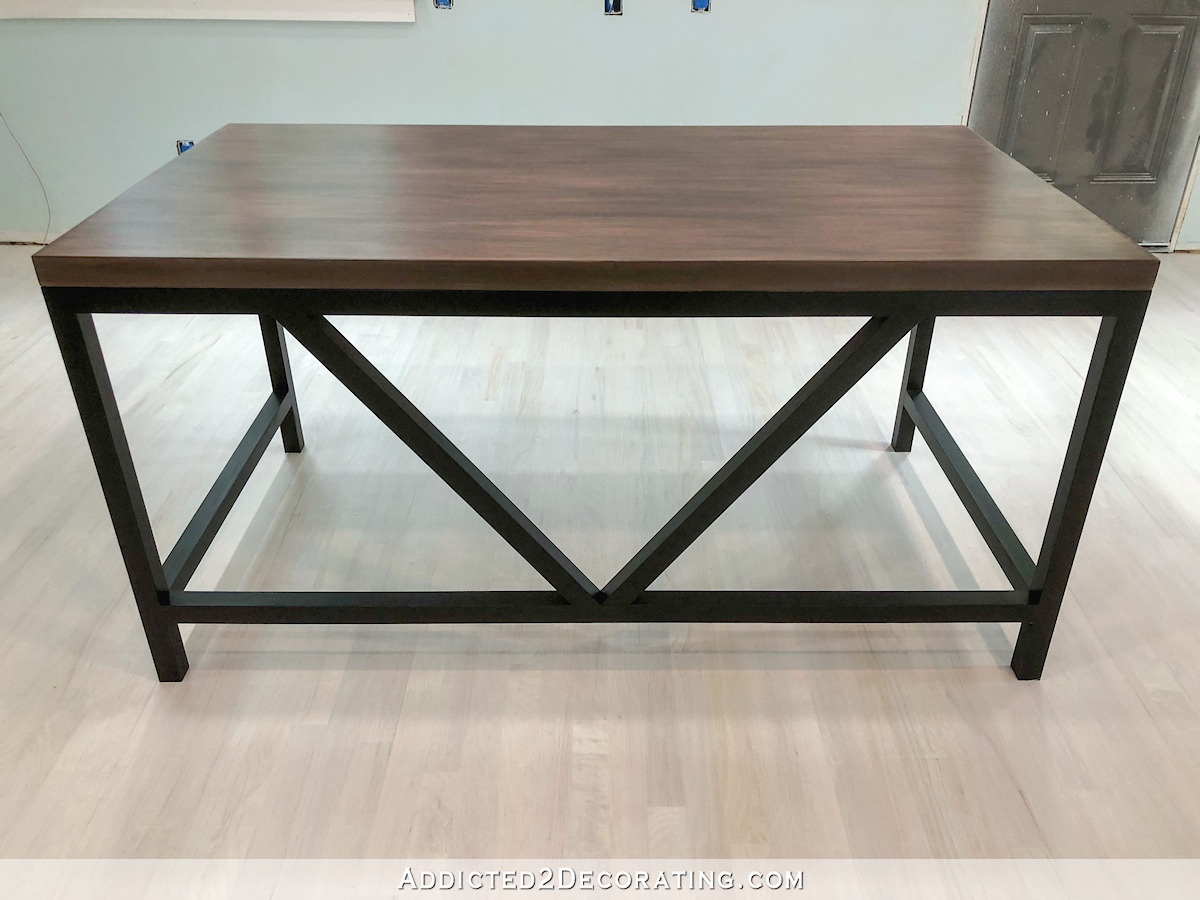 I actually really do love how it turned out. But have you ever worked on a project for hours, and it just isn't going well, and you just get tired of looking at it? And even when it turns out fine, you still feel like you just need about a week before you want to look at it again?
Yeah. That's about how I feel this morning. I really do like the final look, but my desk and I just need to take a break from each other. 😀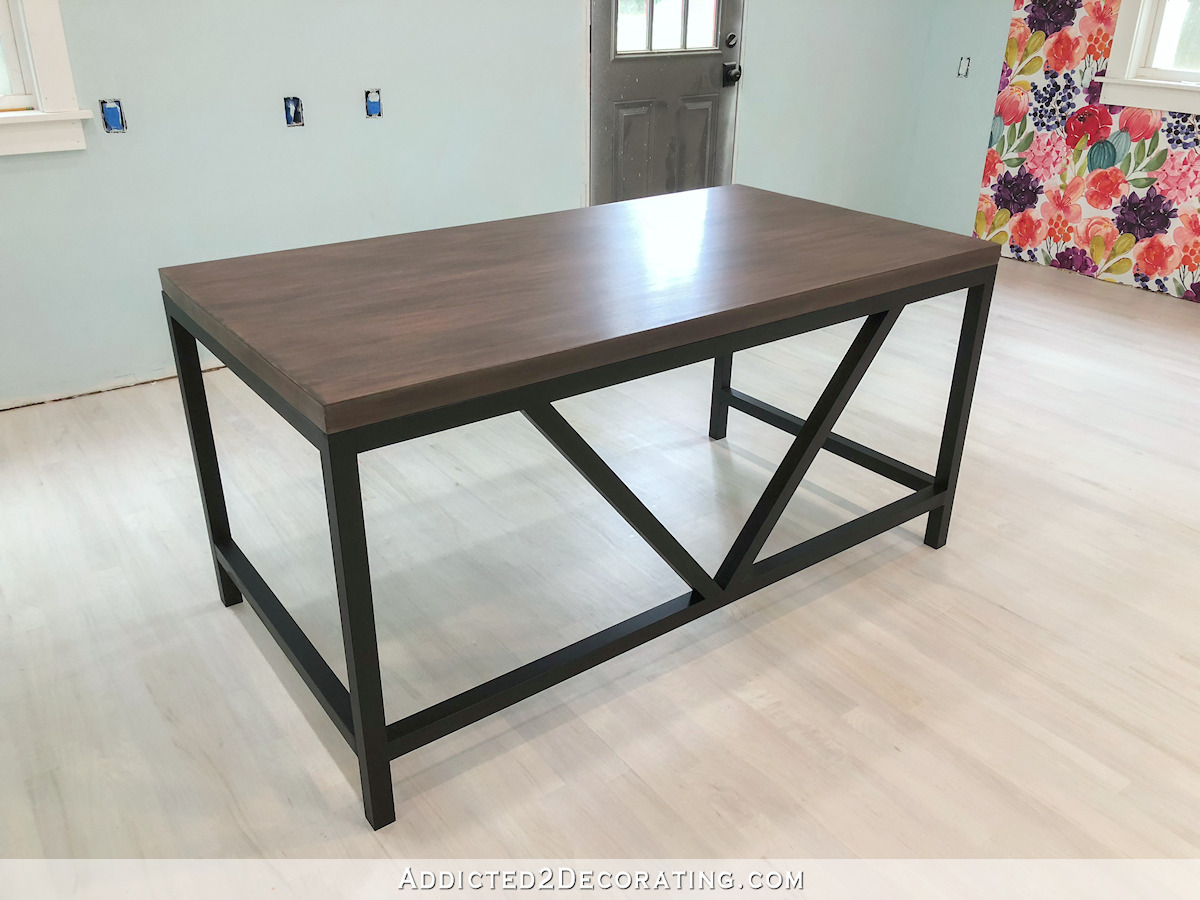 As I said, the pain was self-inflicted because right out of the starting gate, I used the wrong product, and that set the tone for the rest of the day.
The original unfinished color of the wood on the solid core door that I used for the top was very red. So I had intended to use my new staining process (minus the bleaching step) that I use on pine to get rid of the undertones that I don't like.
That means that I needed to start by staining the desktop white. I just happened to have some stain left over from the studio floor, and it's white with a bit of green tint. That's exactly what I needed to reduce the red undertones of the wood on the desktop.
The problem is that instead of grabbing the bucket with the stain mixture in it, I grabbed the bucket with the white-tinted polyurethane in it. So right out of the gate, I used the wrong thing and sealed the wood.
"No problem," I thought. "I'll just have to let that dry, lightly sand, and then use a wiping stain instead of a penetrating stain."
It was a great plan. Since wiping stain kind of sits on the surface similar to a gel stain (but much better than a gel stain) and evens out tones, it wouldn't matter that I had accidentally sealed the wood.
And that plan would have worked beautifully if I had grabbed my Old Masters Dark Walnut stain. But instead, I grabbed the can of Old Masters Spanish Oak, and oh my gosh, that stuff is dark! I mean, it's almost ebony with undertones of purple.
So from there, it was just a series of chasing bad decisions with more bad decisions.
Finally, I had to tell myself to STOP. Just…STOP. Stop and think about what will fix this. Come up with an actual deliberate plan and stop just reacting with more bad decisions. Sanding wasn't an option because the veneer layer on a solid core door is so thin that I would have sanded right through it.
So I came up with a plan, and headed to Home Depot where I purchased three different colors of Varathane stain. Their premium wood stains are wiping stains that don't penetrate the wood, but they sit on top and even out wood tones. They're really great stains, especially if you're trying to cover up ugly grain, bad undertones, or (in my case) a series of previous bad decisions.
I chose three colors — sunbleached, golden oak, and dark walnut — and I used them in that order.
I gave each coat about 45 minutes to dry, and proceeded with the next coat while the previous one was still a tiny bit tacky. I applied each coat with a 2-inch brush for oil-based paints and stain, and while I used a generous amount of the sunbleached color to cover up my previous bad decisions, I used quite a bit less of the following two colors.
So with the golden oak and dark walnut, my brush was pretty dry, while I tried to create more of a streaky (but not in a bad way) effect with color variations showing through. My goal was to recreate the look of wood grain since the actual grain in my wood desktop had been pretty much completely covered up.
It's far from perfect, but I did get it to the point where I could live with it and even be happy with it.
I let that dry overnight, and then early this morning, I put three coats of General Finishes High Performance Topcoat in a flat finish, smoothing the finish with "000" steel wool between coats. So while the "grain" of the wood top may not be exactly what I had hoped, it has an amazingly smooth, gorgeous, and buttery soft finish. Seriously, if you're still using another clear topcoat (Polycrylic…bleh!), I encourage you to just give General Finishes a try.
They don't even pay me to say that. 🙂 But after years of trying big box brands like Polycrylic, getting so frustrated with those products, and deciding that water-based poly just wasn't for me, I gave General Finishes a try, and now I swear by the stuff.
So this certainly wasn't one of those "really easy from start to finish" types of projects, but it could have been. And had I been paying more attention, it would have been. The building process was a breeze. Painting the base was easy. But the top had me wanting to pull my hair out. But considering how much trouble I had with it, I have to say that I'm very pleased with how it turned out.
Now I need a desk chair! I came so close to clicking the buy button on the green velvet chair I showed y'all the other day, but one thing that's holding me back is the height of the chair. It's only 34 inches high, which means the back is only four inches higher than the desk. I generally prefer a higher back just because I think it looks prettier. But unless I want to build or reupholster a chair (spoiler: I don't want to do either of those things), then my choices of green velvet desk chairs are pretty slim. I think it's safe to say that there's not a huge market for green velvet desk chairs. 😀
Helpful sources and products:
Want to see how I built this desk? You can find that tutorial here…
Have you seen my process for staining pine so that there are no ugly yellow and orange undertones? You can see that here…
General Finishes High Performance Topcoat — This is my go-to water-based polyurethane for general purposes. I've used it on bathroom countertops, trim, furniture, and now my desktop. And I've also used it over painted surfaces as well as stained wood. I'll never go back to the big box store brands of water-based poly after using this.
Please note: This post contains affiliate links.
Addicted 2 Decorating is where I share my DIY and decorating journey as I remodel and decorate the 1948 fixer upper that my husband, Matt, and I bought in 2013. Matt has M.S. and is unable to do physical work, so I do the majority of the work on the house by myself. You can learn more about me here.