Flooring Frustration & Floor Plan Fixes
I'm ending the week with very little progress in the studio, which has me very frustrated. But on the flip side, after reading all of your comments and suggestions on the floor plan for the addition, I've made some changes, and I'm pretty sure this is it. I feel like I've finally landed on THE best plan.
So let's start with the flooring frustration in the studio.
A few months back, I purchased a few boxes of the vinyl tile that I was planning on using for the studio floor. I selected this marble-look groutable vinyl tile.
I've been pretty excited about using this tile in the studio, and it took me a long time to finally decide on vinyl tile as the best option ford the studio.
Well, a few days ago when I decided on the design for the back entry (a herringbone with alternating marble-look vinyl tile and a darker charcoal color vinyl tile), I headed to Home Depot and got the 18 pieces of plywood subfloor that I needed to build up the height of the floor to be level with the breakfast room floor, as well as a few more boxes of tile.
But as I opened and inspected the tiles in the store, I noticed that they were two very distinct colors. Some of them had brighter white backgrounds (like the ones I had already purchased), and others had very obvious greenish undertones in the white background. GREEN.
I thought, "Well, maybe it's just the awful fluorescent lighting making it look green," and I decided to try them anyway.
Well, I don't know that they look as obviously green in the studio as they did under Home Depot's fluorescent lighting, but they do look awful. Dingy, dirty, and awful.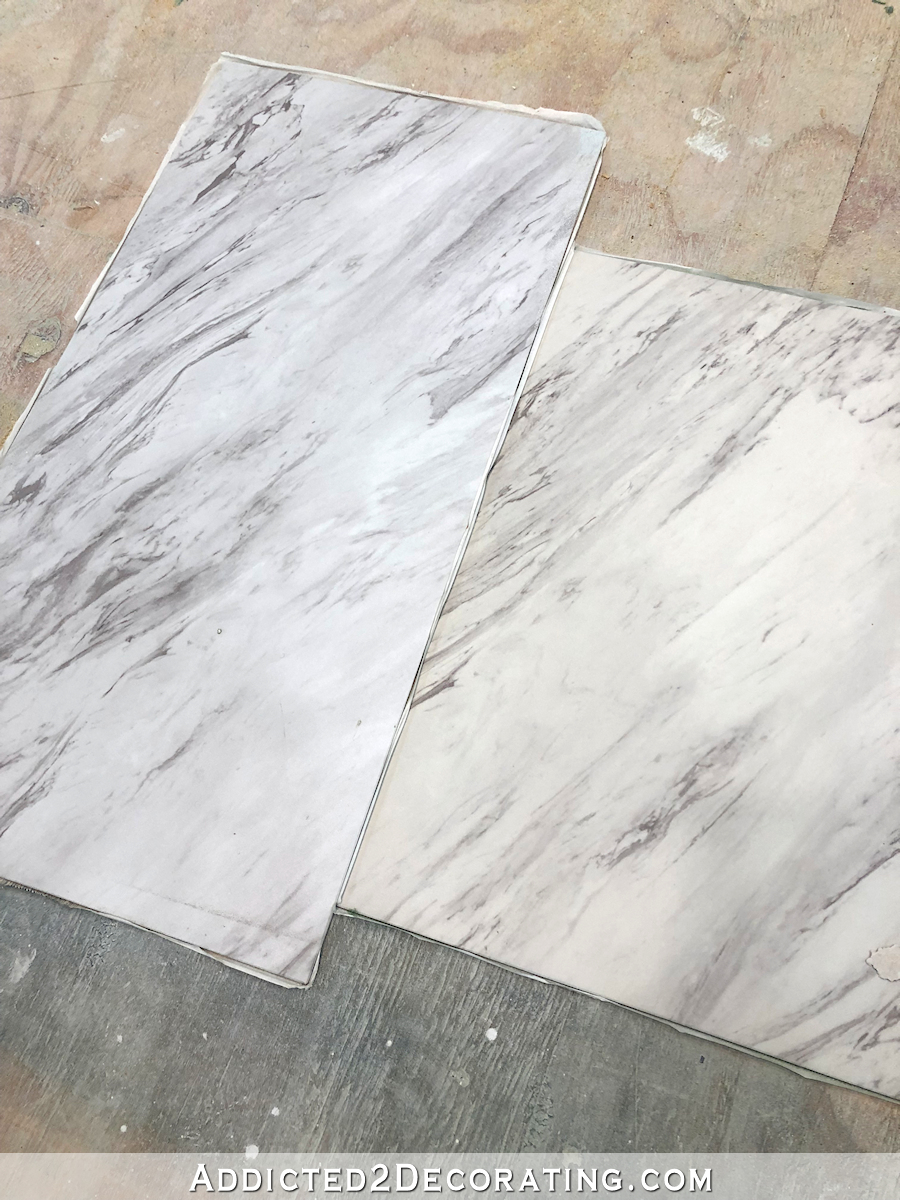 There's no way I'm putting that dingy, dirty-looking tile in my studio. And sadly, they only had a few individual pieces of the bright white background (and I looked in all three sizes), while all of the full boxes were that darker background.
So until I figure out this flooring issue, I can't move forward. There's no need in putting the extra layer of subfloor down just yet, because what if I can't find a replacement vinyl tile? If my only options now are real tile or hardwood flooring, then I'll have to take all eighteen pieces of plywood back, and either load up on the hardwood flooring, or get the proper underlayment for real tile.
I'm beyond frustrated about this. I wrestled with this flooring decision for so long, finally made a decision, felt excited about that decision, and now I'm back at square one.
Anyway, moving on to a happier topic, I read every single one of your comments about the floor plan for our addition. There was so much good input, but there was one comment in particular that got my wheels spinning. (Thank you, Rose!)
She suggested moving the laundry room so that it is right behind the hallway bathroom, and then extending the new hallway all the way back to the back wall of the house, which would allow a hallway by the master bedroom entrance with windows and sunlight coming in.
This is the image she linked that really stuck with me.
I did try that exact idea — moving the laundry room right to the back of the hallway bathroom and making the new hallway extend all the way to the back wall. But that made for a reeeaallllly long and narrow hallway that seemed to have very little purpose.
So I asked Matt his thoughts, and he said, "I've never understood why you want a hallway there anyway." After he said that, it dawned on me that many (most?) new houses today are built with a master suite that is completely separate from the rest of the bedrooms, so that's what I tried.
And y'all, I think it's perfect! This makes so much more sense to me!
Don't pay too close attention to the measurements I've assigned each room. I've made so many changes to this floor plan over the last five years that I'd be surprised if any of them are actually still accurate. 😀 But they're a good guess.
Anyway, you'll notice a few changes:
The master suite is separate from the other bedrooms. I love this because if and when we do have guests, they can feel a sense of privacy in the guest area, and won't be bothered by us.
Matt and I decided to move his future game room back to the other room, and add a door from there to the master bathroom. Since we plan on that bathroom being accessible for him, it makes sense that he'd have easy access to it and not have to make a big lap around the house to get there.
The master bathroom now has an odd shape since it will acquire the area that is now the master bedroom closet. I'm not quite sure how the bathroom will be arranged, so we might have to hire someone to specifically design that bathroom for maximum use of space, and to use that odd space in a way that looks natural and purposeful.
This new floor plan doesn't have closets in the master suite, but of course, we'll have closets. I'm still set on the idea of NOT having a walk-in closet, but I'm open to the idea of using some of the room in the bathroom as closets since that room is so big. (Big as a bathroom, that is. It's not so big as a bedroom.)
The back doors to the deck have been moved out of the family room area (yay!) and into their own separate back entry area. This allows me to have a whole wall of windows in the family room, and puts the traffic pattern back behind/around any possible living room furniture arrangement rather than putting a traffic pattern through the family room.
This eliminates the need for an additional door straight into the laundry room. The back door is still very close the laundry room if I need to bring Cooper directly in the back door and into his doggy shower.
I now have space for a coat closet. That's always convenient for guests.
I also have space for a storage closet in the master bedroom. This isn't a clothes closet. This is an area that I can use to store things like the hydraulic patient lift that I use to help me get Matt from the bed to his wheelchair and back. Matt's wheelchair can go in there when he's not using it. And there are a few other things like that that I've wished for years I had room to store out of the way when not in use, and now I'll have space for that.
And as far as the family room goes, this is pretty much exactly how I want ours arranged, with the wall of doors in the picture replaced with a wall of windows.
I'm so excited about this new plan!
Addicted 2 Decorating is where I share my DIY and decorating journey as I remodel and decorate the 1948 fixer upper that my husband, Matt, and I bought in 2013. Matt has M.S. and is unable to do physical work, so I do the majority of the work on the house by myself. You can learn more about me here.