Studio Options – Open Shelves, Bookshelves, or Closed Cabinets
My mom and I are still working away on her kitchen. I hope to have some progress to show you very soon. But as I've been making new cabinets doors for my mom's kitchen, I've been thinking different ideas for finishing my studio. I'm in desperate need of storage in that room, because until I have storage, everything will just continue piling up on my work tables and in stacks around the room.
Right now, this is how the room looks…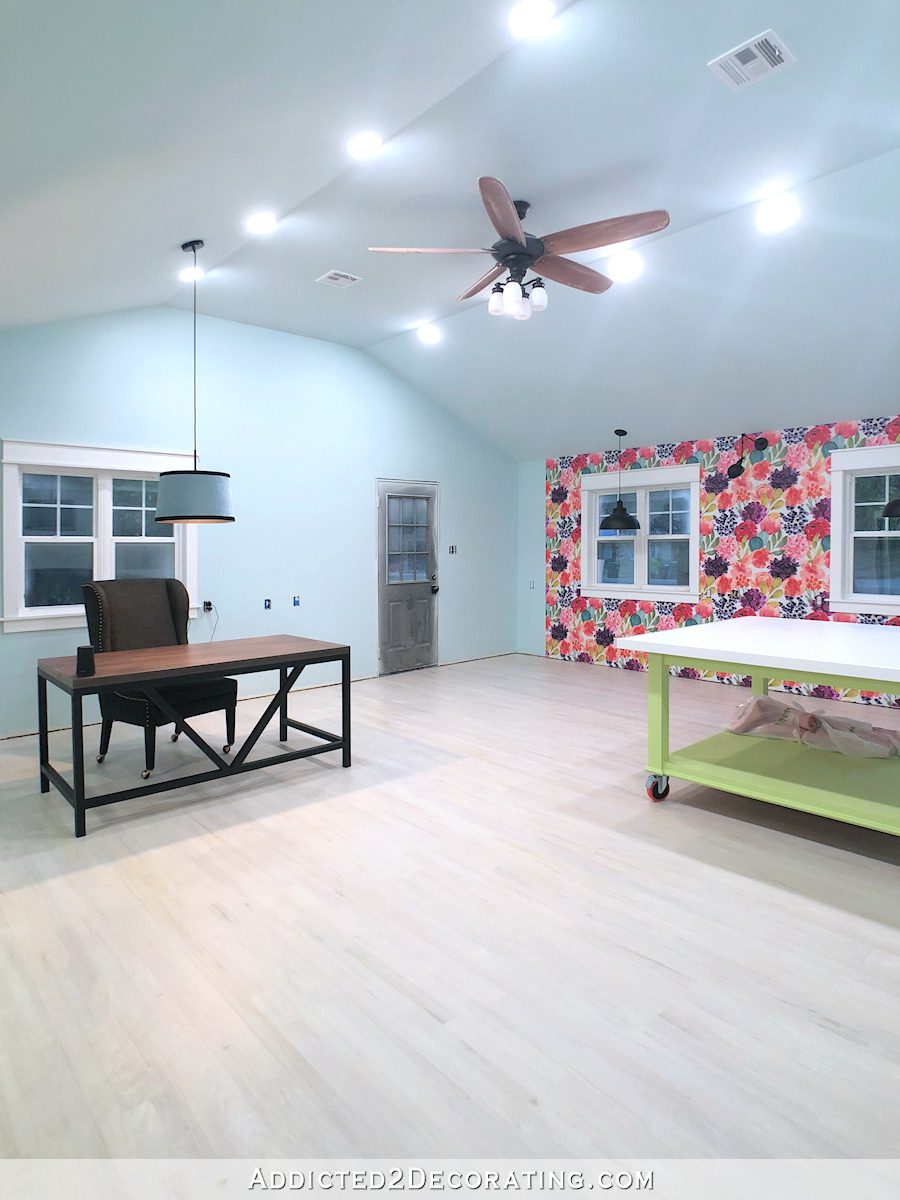 I have plans for cabinets to the left of the cased opening between the back entry and the studio, behind the desk, and then along the wallpapered wall. My plans are pretty nailed down for the desk wall and the cabinet to the left of the cased opening. But the wallpapered wall is the one that I'm not quite sure about.
My original idea was to build bookcase-style open shelves, with solid sides and backs that would be painted the same color as the cabinets.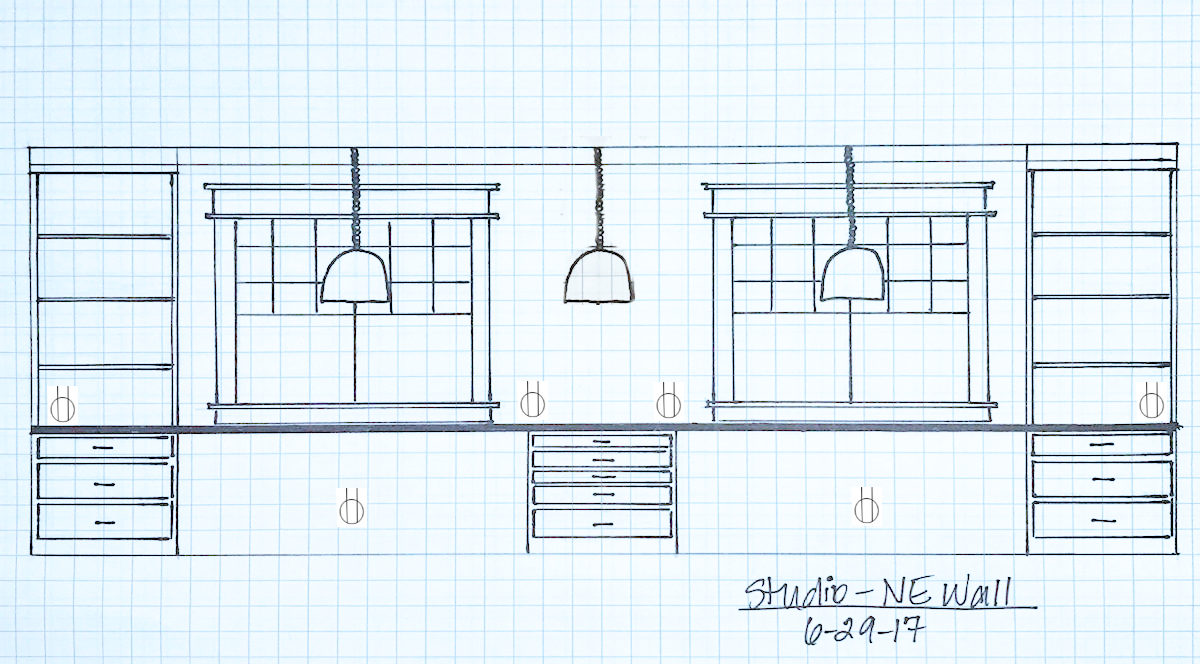 That original idea would look something like this on the mail wall, with painted walls on either side.
Since doing that drawing, I've gone back and forth between those open shelves and closed cabinets with doors.
But lately, I keep seeing more and more open shelves on wallpapered walls that are inspiring me. It all started when I saw this office from Kathryn Baugher on Instagram.
I LOVE how that looks! I like that there's not a whole lot covering up the beautiful wallpaper. So I went searching for other examples — specifically examples that didn't have the wallpaper on all of the walls, but just on the wall behind the open shelves like mine would be.
The more I see examples like this, the more I like it. And I'm also a little bit hopeful that if I have open shelves, I'll be more likely to keep things organized. Is that wishful thinking? 😀
I didn't even consider this option before because, as much as I love color and pattern, I think having that whole long wall filled with crazy colorful pattern kind of intimidated me. I was counting on the solid color bookshelves or cabinets to bring some calm.
But the more time that passes, and the more I get used to seeing that long wall covered in my happy colorful flowers, the more I get used to it. And the more I dislike the idea of covering it up.
Of course, if I go with open shelves, I'll need to buy two more rolls of wallpaper to fill in the areas that I had planned to be hidden behind the bookshelves or cabinets.
Open shelves will also give me quite a bit more countertop space. I have no idea why I need that 😀 , but I guess you can never have too much in a studio space, right?
Anyway, this is just something I've been contemplating over the last few days as I've been working on cabinets and cabinet doors. And the more I think about it, the more I like the idea of more wallpaper and open shelves.
Regardless of the direction I go, I'm so ready to get some storage in this room so I can get some organization in here!
Addicted 2 Decorating is where I share my DIY and decorating journey as I remodel and decorate the 1948 fixer upper that my husband, Matt, and I bought in 2013. Matt has M.S. and is unable to do physical work, so I do the majority of the work on the house by myself. You can learn more about me here.