The Best Upholstery Fabric To Use When You Have Cats (Plus, My Search For A New Sofa)
*This post contains affiliate links.
I bought the gray sofa in our living room back in 2019, and I bought it from a local place that buys and sells random pieces of furniture that they acquire through store closings, overstocks, etc. The great thing is that everything they sell is pretty inexpensive, and you can buy it and take it home with you immediately. So for people like myself who love immediate gratification, it's perfect. The downside is that a lot of what they sell is cheap, as in, cheaply made.
And now, two years and a few months later, my once-pretty sofa is now looking pretty frumpy. It's fine if you don't look closely at it. But when you're standing in the same room, it's painfully obvious that the cushions are sloping towards the middle (probably because the whole frame is), the fabric around the bottom is wrinkled because it just wasn't pulled tightly before it was stapled into place. And the misshapen back cushions just won't straight up. They're frumpy and lumpy and that's how they want to stay.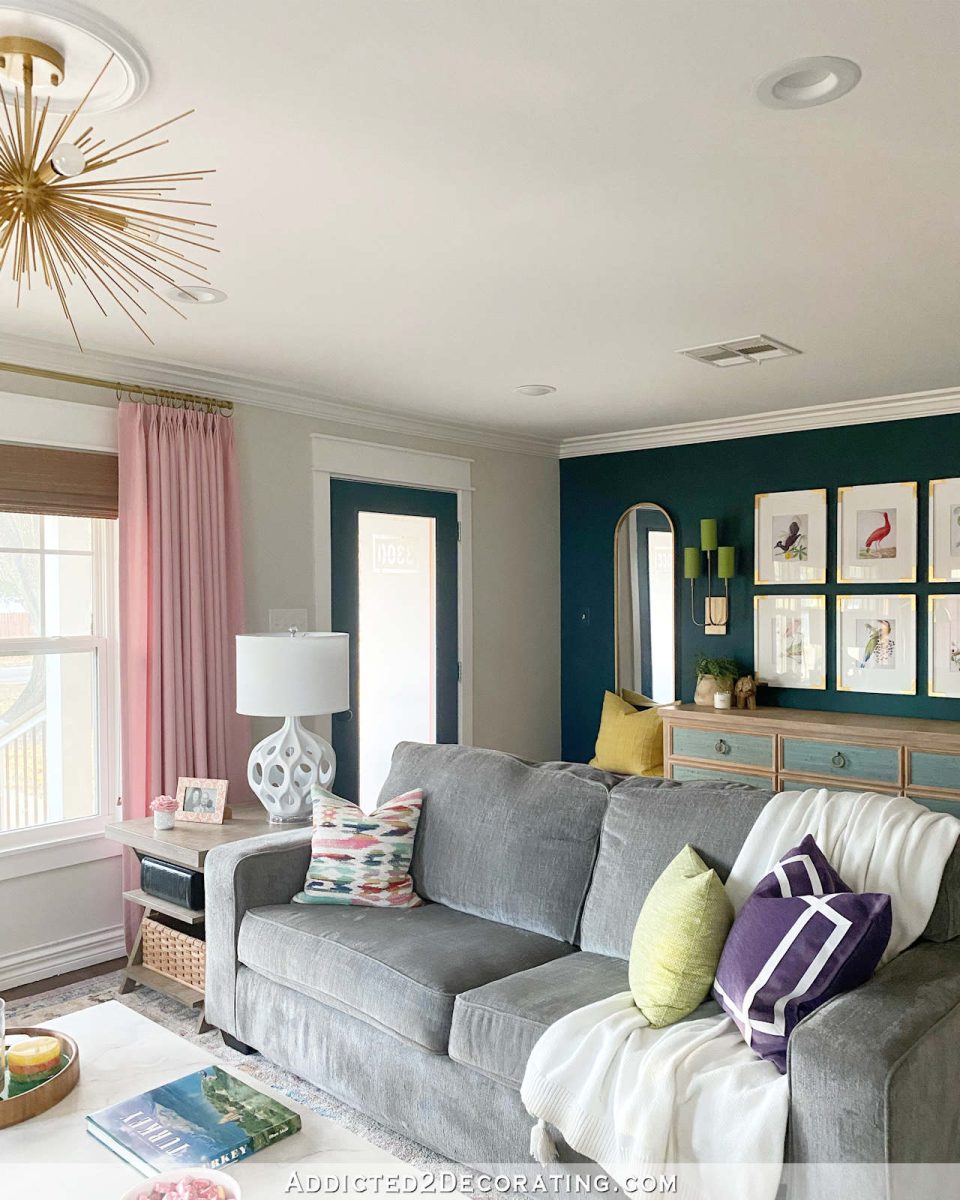 I knew the sofa was cheap when I bought it. For the price I paid for it, I knew I wasn't getting a quality piece of furniture. But I was unsure about the gray, and I wasn't sure how the size would work, either. It's an 85-inch-long sofa in a rather small room. So I decided to give it a try. I remember questioning the quality to the sales woman (I especially wanted to know if it was an Ashley, as I have sworn off of bringing any Ashley furniture into my house), and her selling point was, "Well, think of it this way. It's so cheap that if it only lasts a couple of years, you'll still get your money's worth."
How's that for a sales line? 😀 But it worked on me. I bought it and they delivered it that day. And she was right. At the price I paid for it, and the length of time I've had it so far, let's just say that I've spent way more money each year on Sonic iced tea than I did on that sofa. But the time has come for me to look for something that's built with more quality in mind, and that has a fabric that my cat Felicity won't tear up, because she has done a real number on this sofa.
Both of the back corners have rips in them from her clawing at them.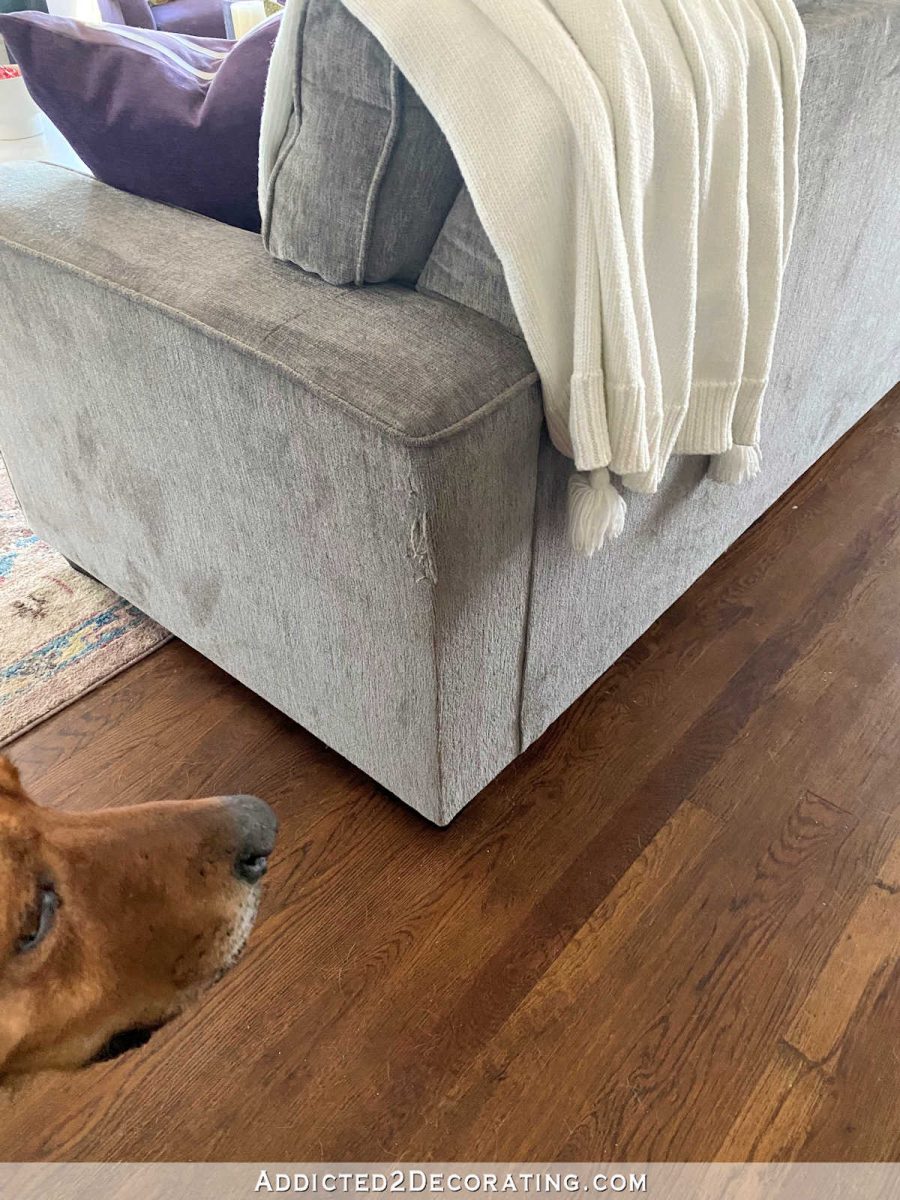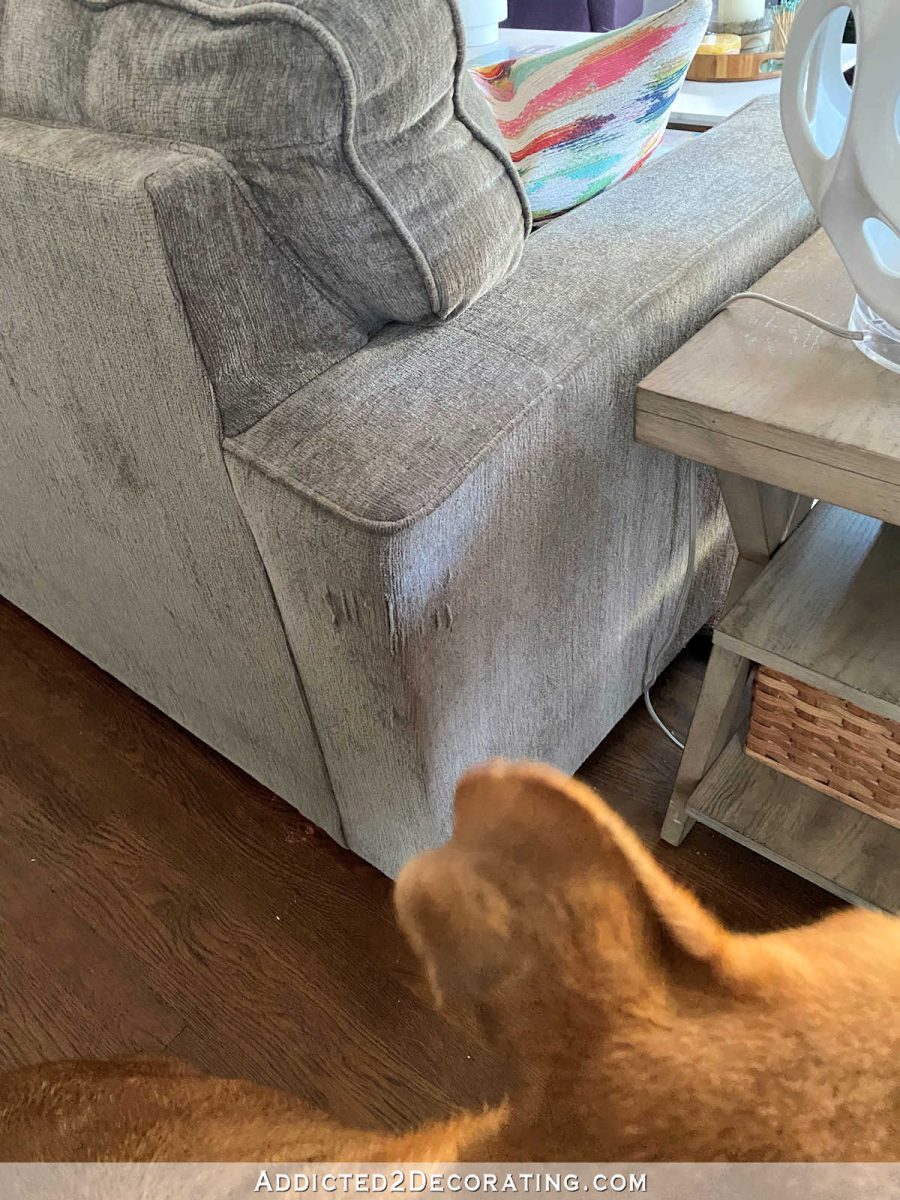 (Excuse my dog. I think he was feeling extra clingy this morning. 😀 I couldn't get him out of the way, so there he is.)
And she's done the same with the arms. I keep trimming these threads. In fact, I trimmed everything on this sofa just two weeks ago. So this is what she does in just two weeks' time.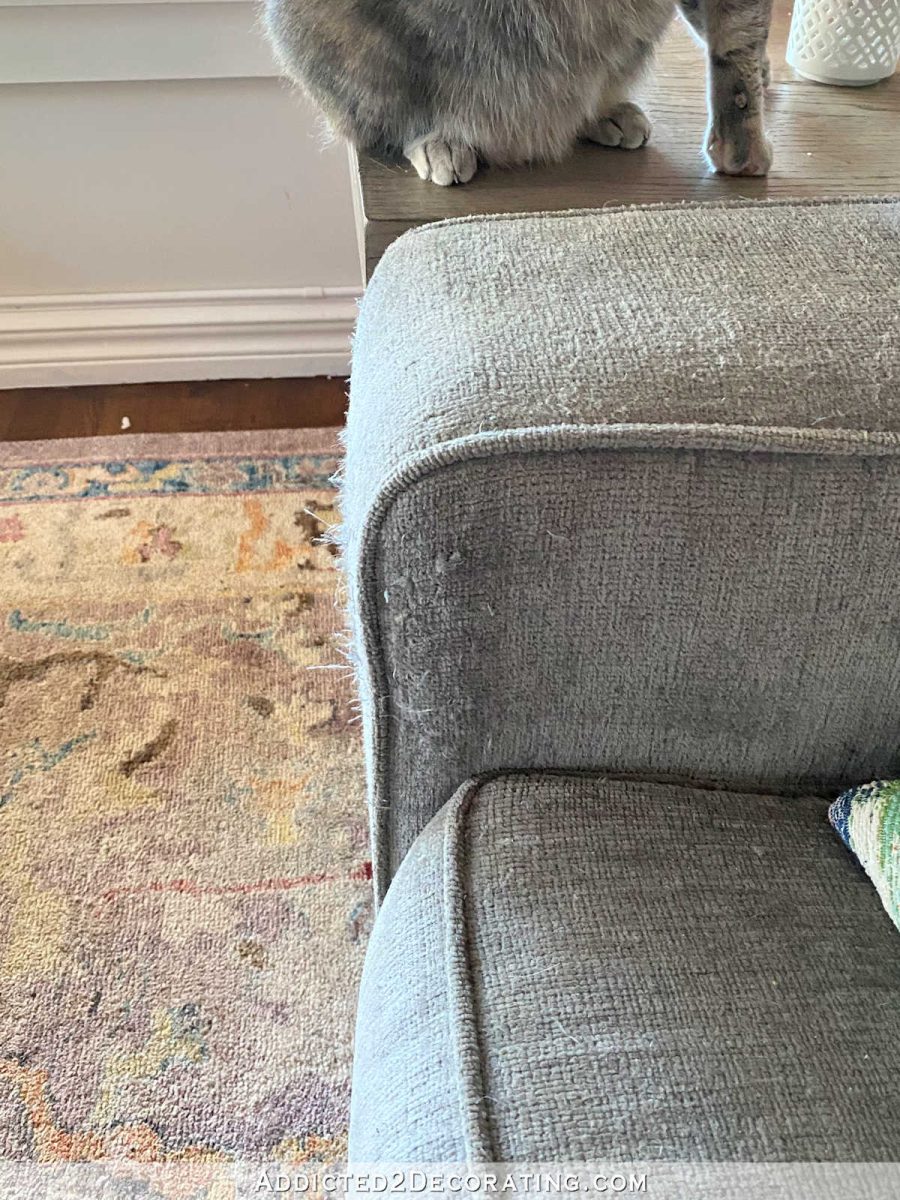 And yes, I keep her claws trimmed and filed down. I don't know how she does it. I can literally finish up trimming and filing her claws, and not two minutes later, she's shredding the sofa.
So I need to find a new sofa that is not only built with better quality, but that is upholstered in a fabric that she can't destroy so easily.
Do you know what upholstery fabric stands up to cats the best?
Velvet. It's velvet. There are also a couple of others, like ultrasuede and leather (which I realize isn't a fabric). I've just never been a fan of ultrasuede (I don't like seeing my butt print when I get up). Leather is nice, but it doesn't really go with my decor. So for me, velvet is king. In my personal, humble opinion, velvet is the best for cat owners because it's not quite as imprint-prone as ultrasuede, and I find it to be more versatile (decor-wise) than leather. And it comes in so many different colors, and you can upholster just about any style of furniture with it and it'll look good.
I already have several velvet upholstered pieces in our home. The chairs in the living room are velvet.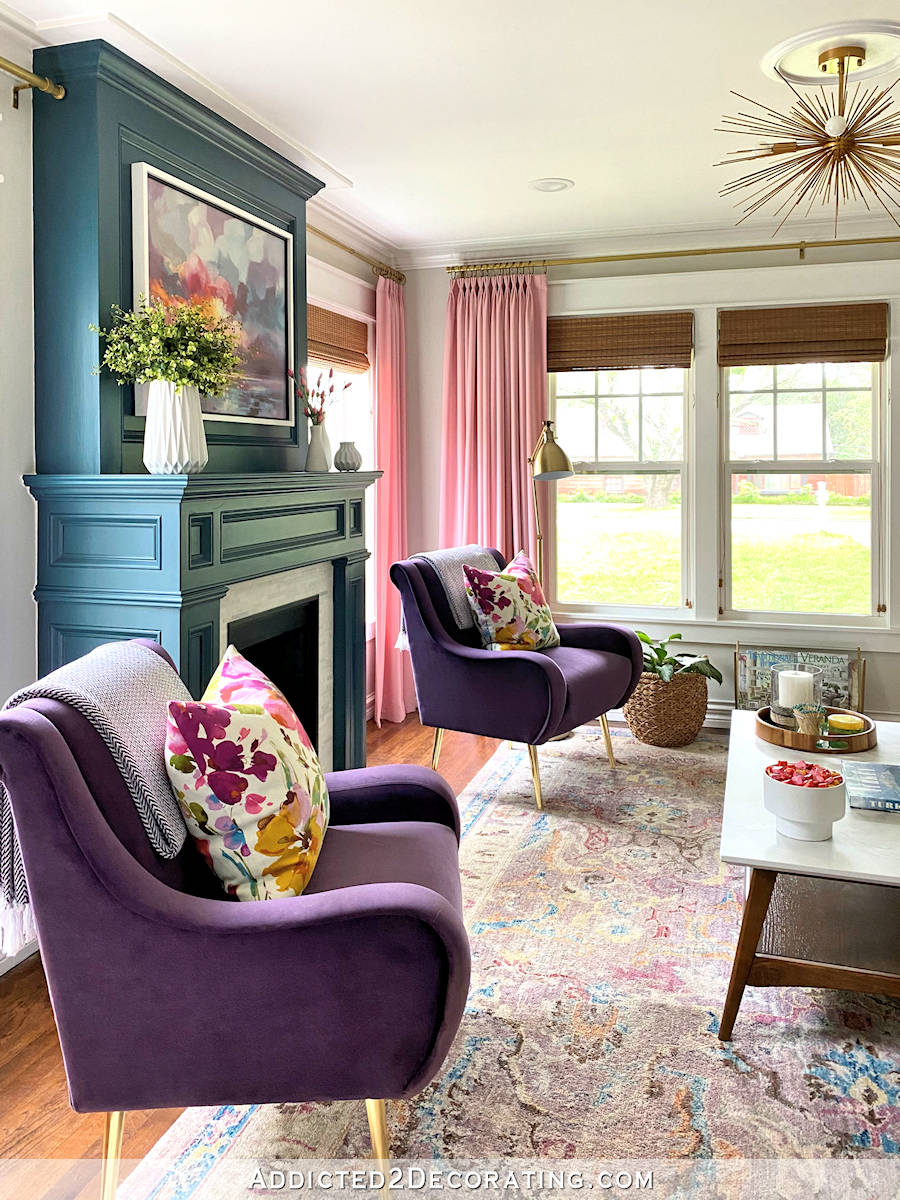 Right after I got these, I saw Felicity try to scratch on them once. Her claws wouldn't catch on anything, and she lost interest almost immediately. I haven't seen her try to claw on them since.
And the settee in the music room is also velvet.
This is Felicity's favorite spot to nap during the day, but I've never once seen her attempt to scratch at the fabric.
So as long as I trim and file her claws on a regular basis (I like to do it once a week, but sometimes I get busy and I'll go two weeks), she simply can't get her claws into the velvet fabric, and then she loses interest and heads to her scratching post. But right now, that living room sofa is way too convenient for her, and she can definitely destroy that fabric no matter how recently I've cut and filed her claws. So I've started looking for a replacement.
My top picks for velvet sofas
My main requirements for a new sofa are:
It has to be between 80 and 90 inches, but 85 would be perfect,
It has to have a bench seat cushion. I love that clean look.
It has to come in gray velvet, obviously.
It has to have a clean, streamlined look. I don't want a lot of loose throw pillows, or anything that looks frumpy or frilly. Clean lines are the key.
As far as style, anything from a clean mid-century modern to a tailored transitional style is fine. Nothing overly traditional or too starkly modern or contemporary.
Here are my top picks:
1. Jennifer Taylor Home Nicholi Sofa in Opal Gray
I love the clean look of this sofa, and I also like that it has a leg (legs?) in the middle so it can hold more weight. I'm always concerned that long sofas without support in the middle may start to bow in the middle. The fabric is just a tad darker than I had hoped, but at $1455 with free shipping, it's a good option.
2. Windsor Performance Velvet Sofa from Eastshore Modern
This one also has that clean look to it, but with a bit of a traditional twist, from the turned legs (also with legs supporting the center) to the nailhead trim accents. This one is pretty dark also, and while I was hoping for something a little lighter, this doesn't appear to be any darker than my current sofa. This one is $1022,50 with free shipping.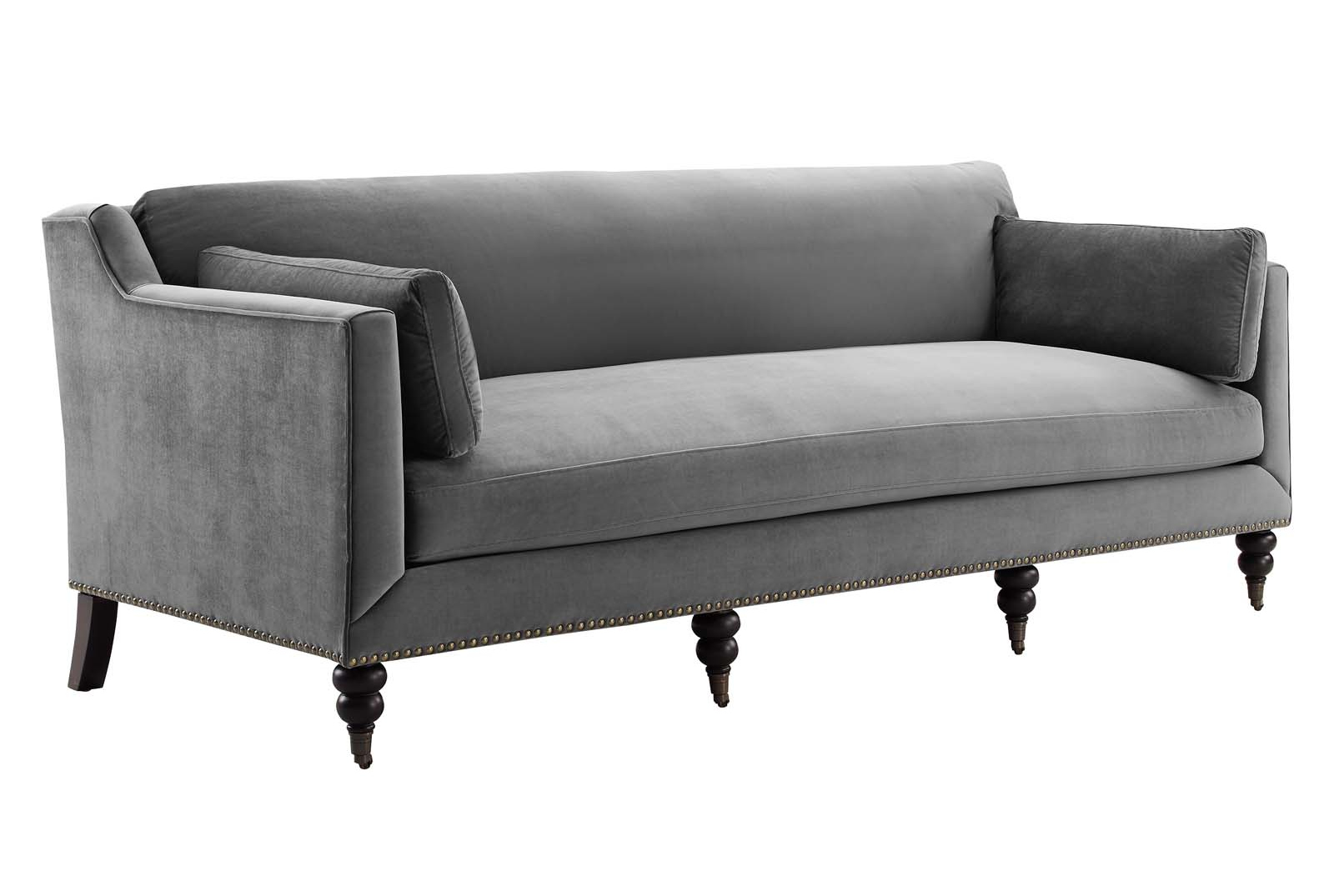 3. Napa Velvet Sofa in Concrete Velvet from Poly & Bark
This one has a more decidedly midcentury modern style to it. I've never really considered myself a fan of midcentury modern style, but I do really like this sofa. I wish the color was lighter, though. This one is $1299 with free shipping.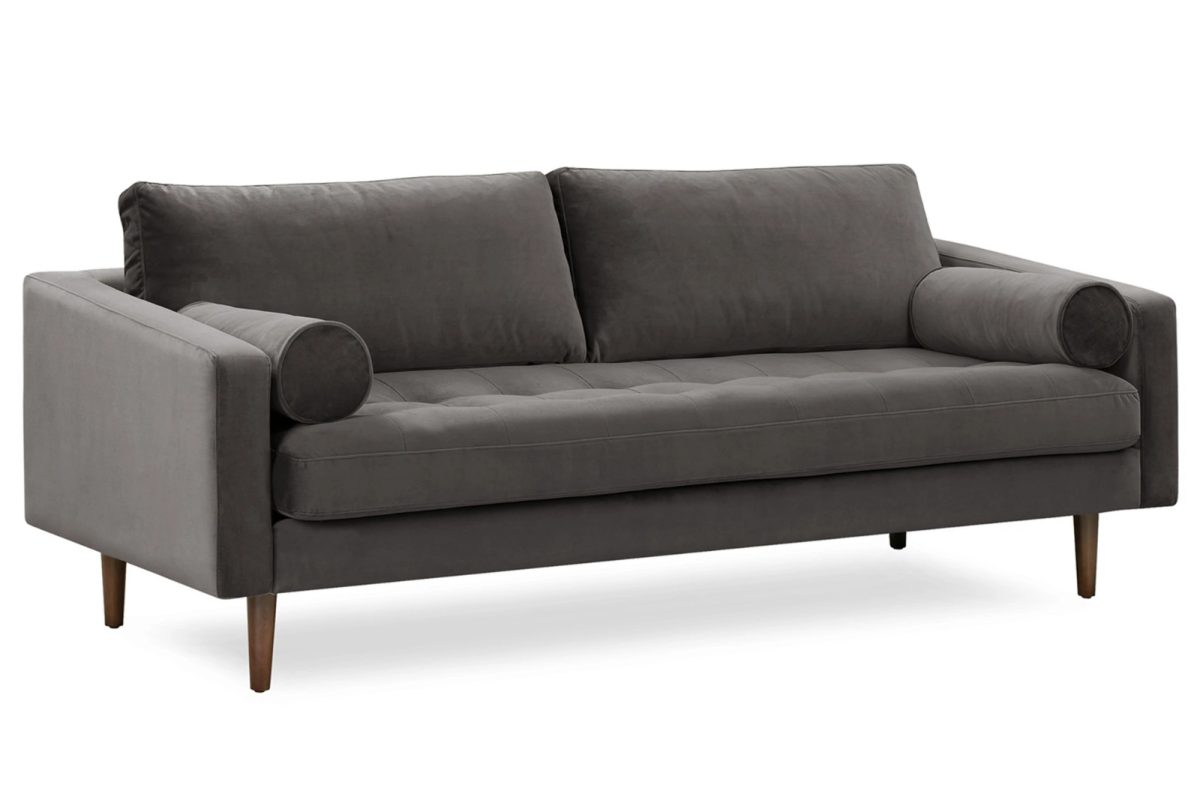 4. Rensselear Velvet Sofa in Platinum Velvet from AllModern
This is another dark gray option from AllModern. I'm not sure that I like the arms being so high, though. I feel like it might seem too enclosed. I like having an arm to comfortably rest my arm on. But at $930 with free shipping, it's definitely a good option.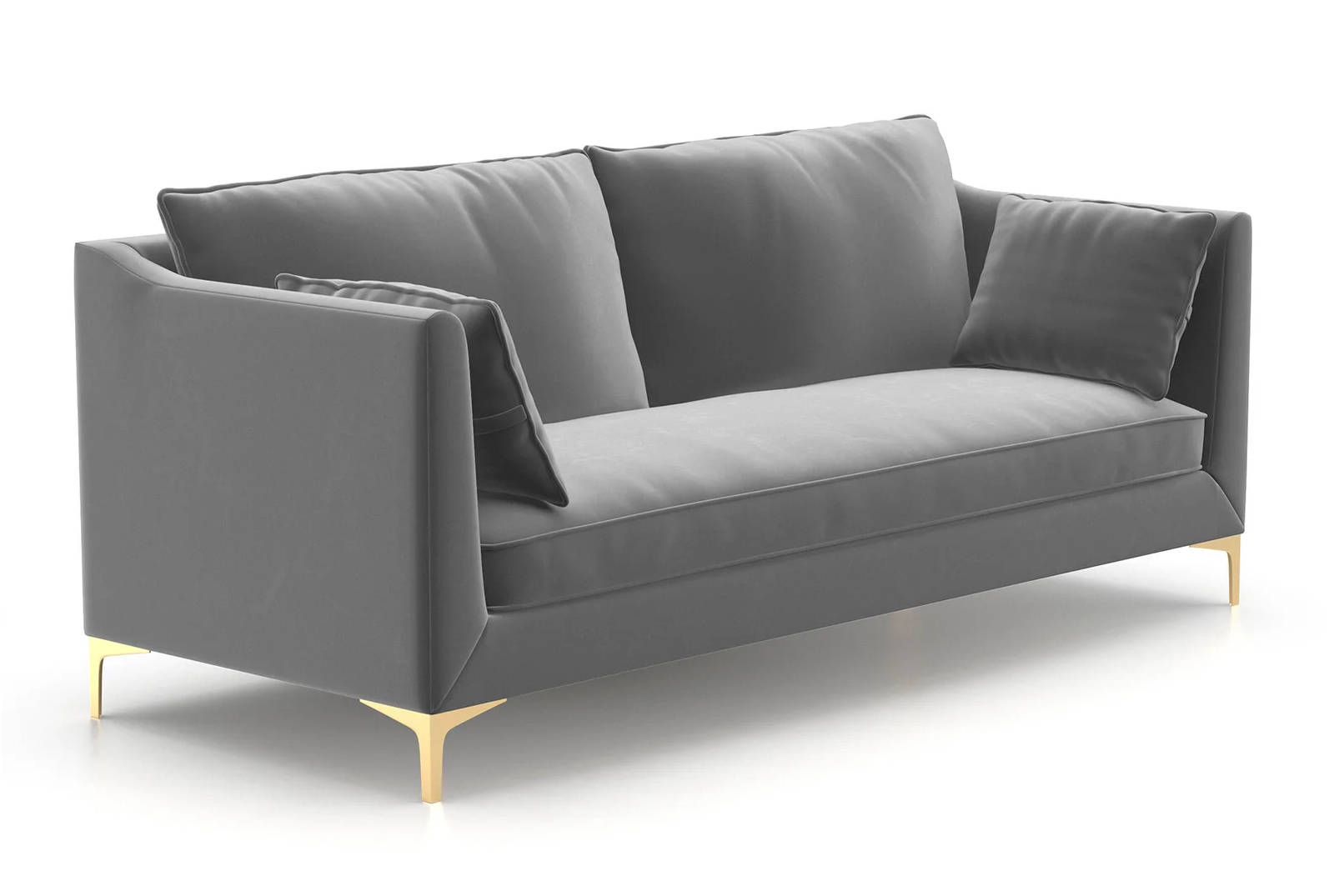 5. Caitlin Sofa in Sterling Velvet from Interior Define
These next two are my absolute favorites. They're also the most expensive. Ugh. I love that they both come in light gray, and the delicate gold feet on this one are a favorite of mine. But it also has those high arms, so it comes in second in my book. I love that Interior Define's upholstered items are customizable. You can choose the fabric, the length, the fill, etc. But at $1908.25 with a $189 flat rate shipping, that puts this as one of the most expensive options that I found.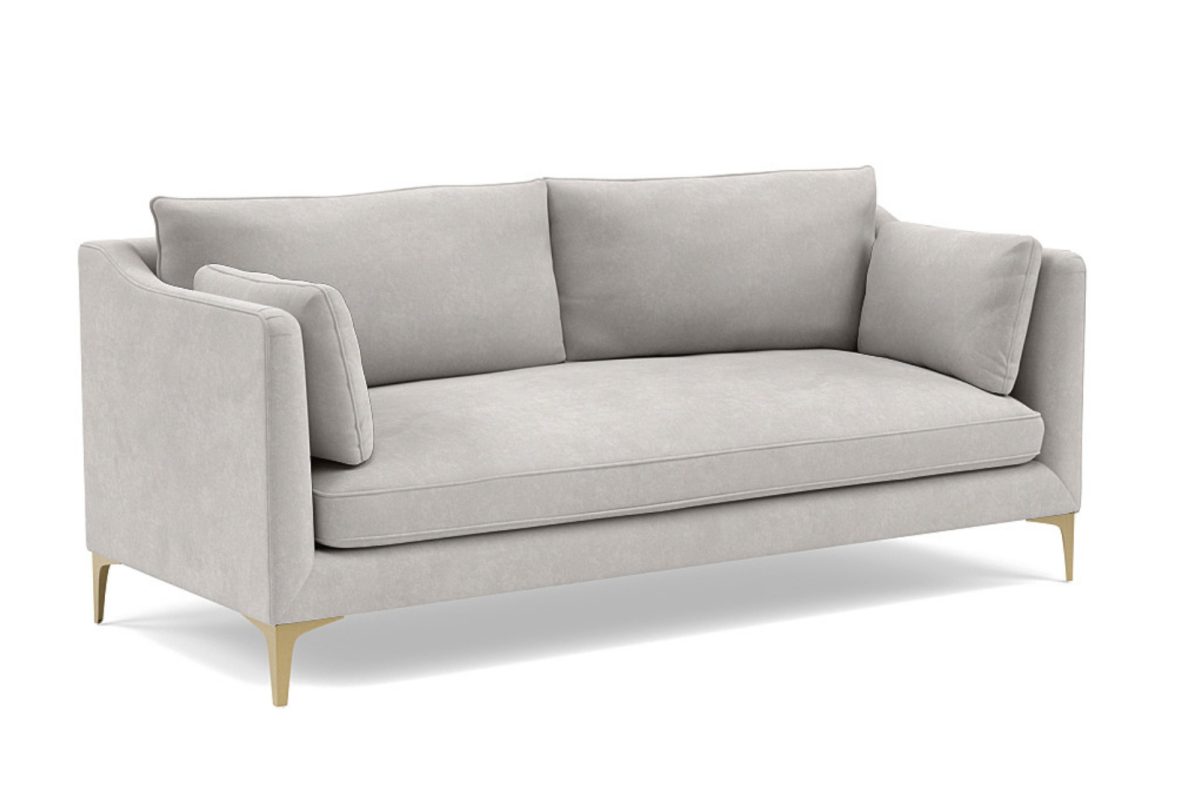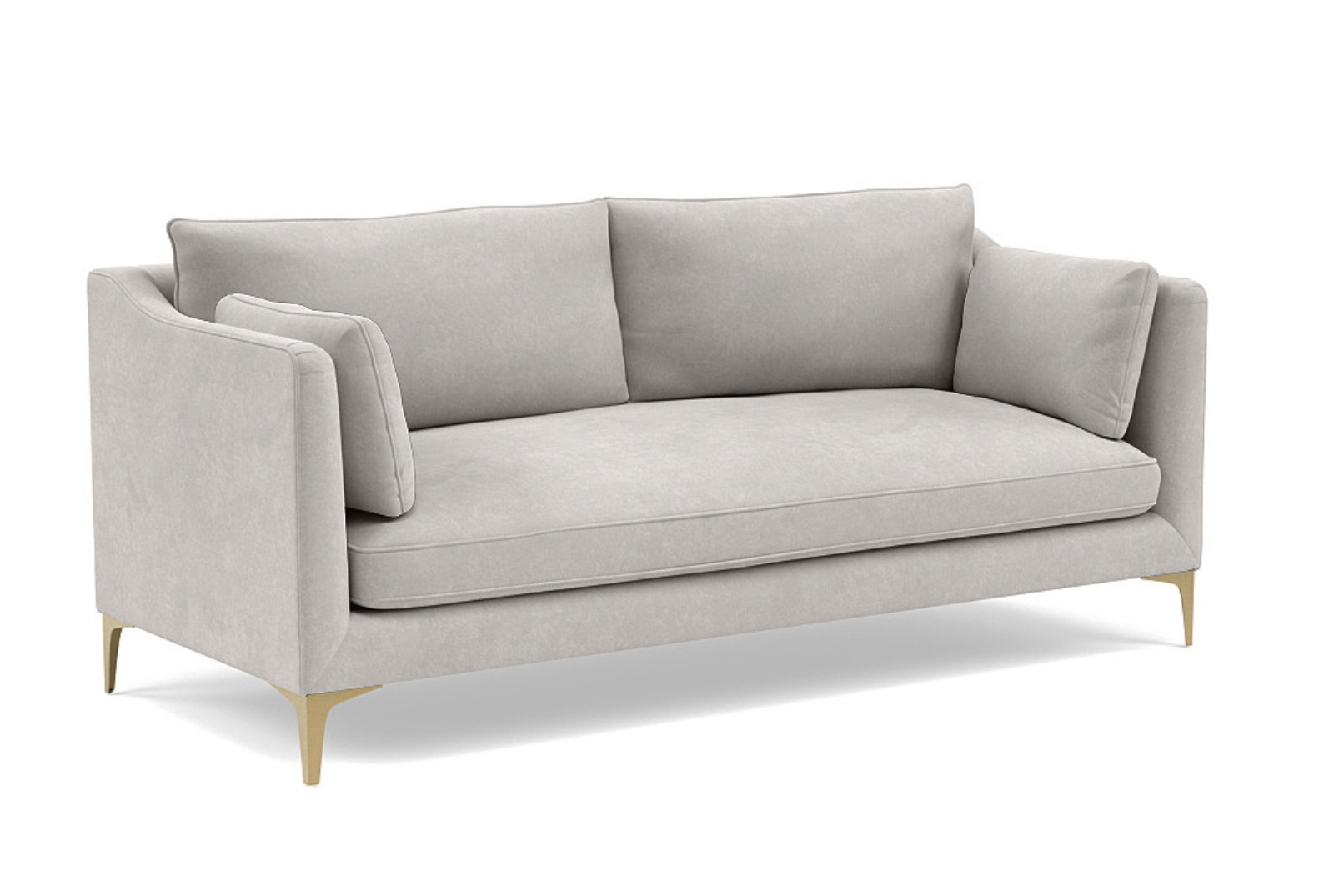 6. James Sofa in Sterling Velvet from Interior Define
And finally, my absolute favorite. I love, love, love this sofa! I love how streamlined the design is. I love that it sits right on the floor, so Felicity can't get underneath and shred the dust cover (which she has done on our current sofa, so I just removed it altogether). I love that it doesn't have legs that would compete with all of the other leggy furniture I have in the room (and neighboring room). It's just so clean and tailored and perfect in every way. But it's also the most expensive. Ugh. This one comes in at $2248.25 (for the 88″ with a flippable seat cushion) plus the $189 flat rate shipping. But it's just so perfect in every way that I may convince myself to splurge instead of choosing a cheaper option. I'm not sure yet, but it sure is tempting!!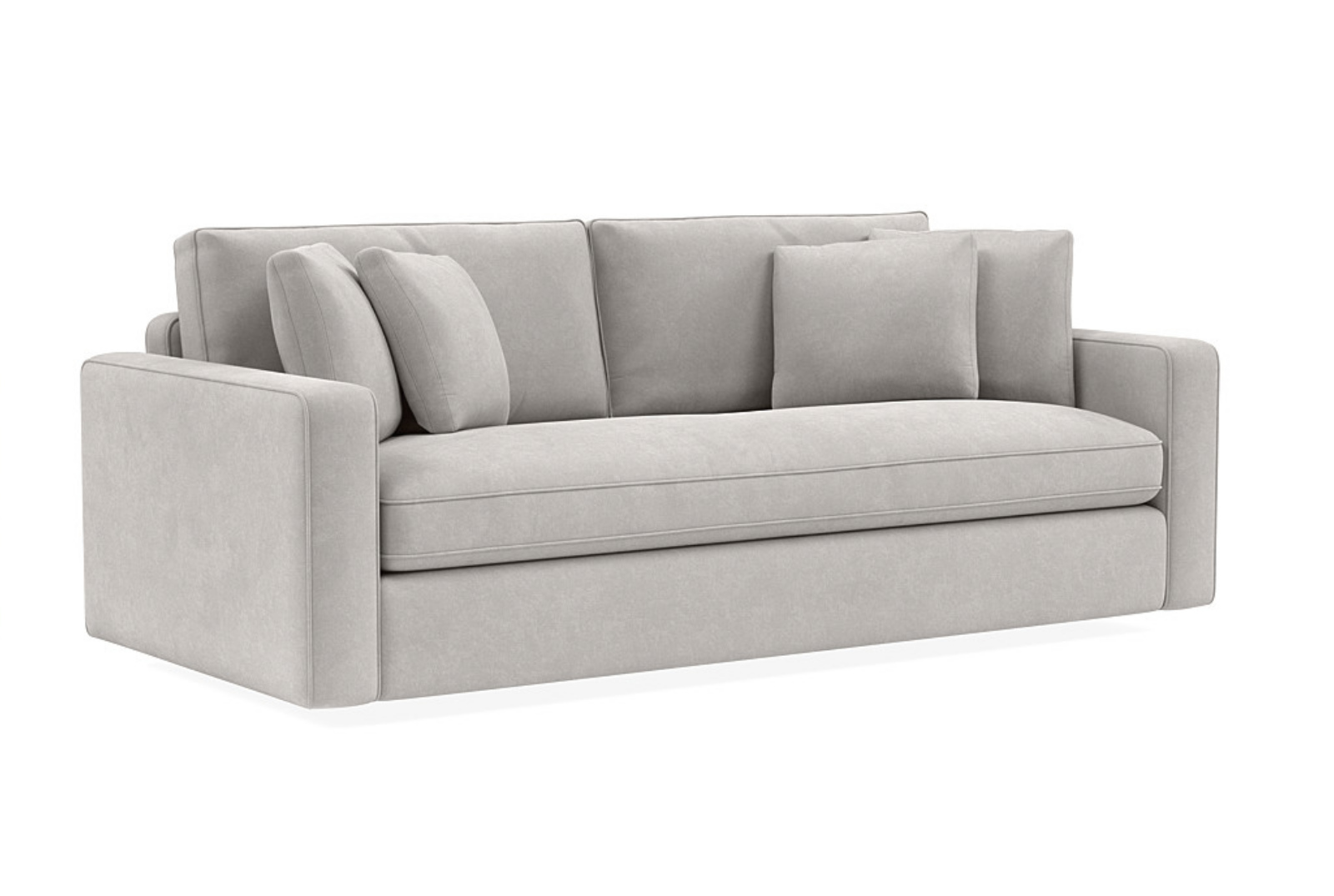 So I've narrowed down my options to those six. That's the easy part. Making that final decision is the tough part!!
Which one would you put in this room?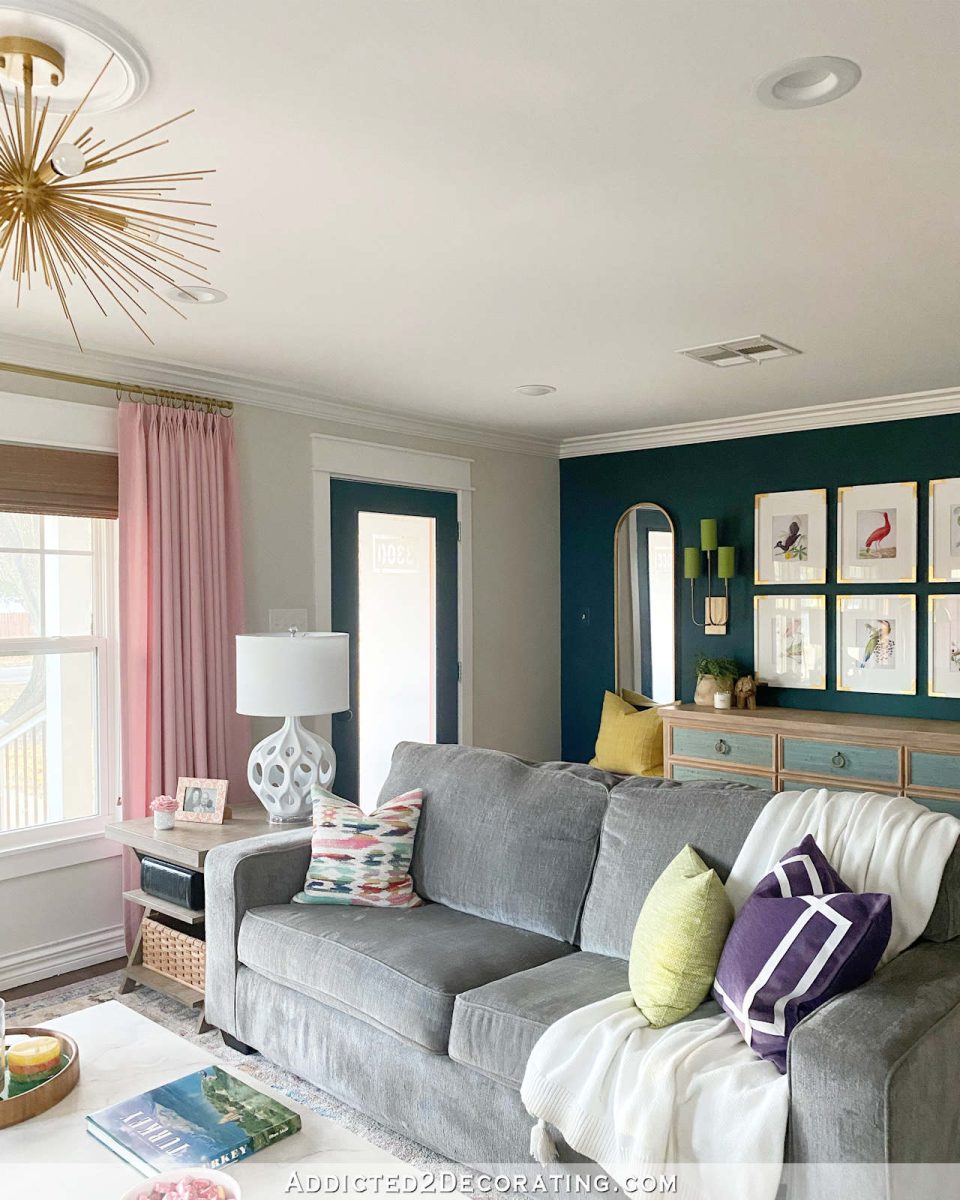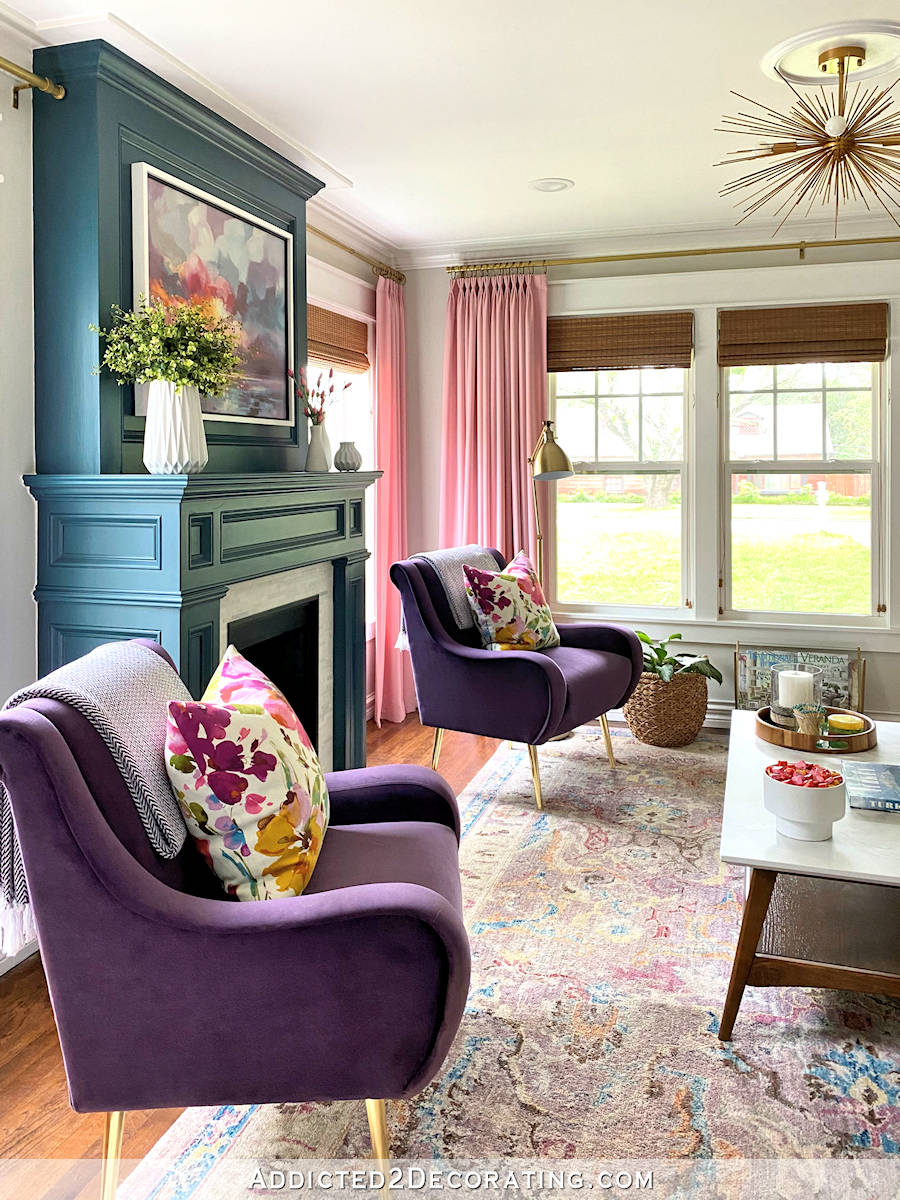 Addicted 2 Decorating is where I share my DIY and decorating journey as I remodel and decorate the 1948 fixer upper that my husband, Matt, and I bought in 2013. Matt has M.S. and is unable to do physical work, so I do the majority of the work on the house by myself. You can learn more about me here.