Last Updated on January 16, 2017 by Kristi Linauer
Last night, I got my walls in the living room and entryway primed, and then tested out six different potential paint colors. I have to say that Benjamin Moore has the most gorgeous, luscious, richest colors ever. Once I got these colors on the walls, I wanted to use all of them! As in…STRIPES! Don't worry. I won't, at least not in the living room. 😀 But I really wanted to, because I think they all look absolutely gorgeous together.
Here's how they looked last night against my one drapery panel…
And here's how they looked in the early (this) morning light…
Which one do you think complements the blue in the Tyvek HomeWrap the best? 😀
So here we go. The top one is Benjamin Moore Iceberg. It's still my favorite. I like how it gives color to the walls, but it's not so much color that it drowns out the drapery fabric.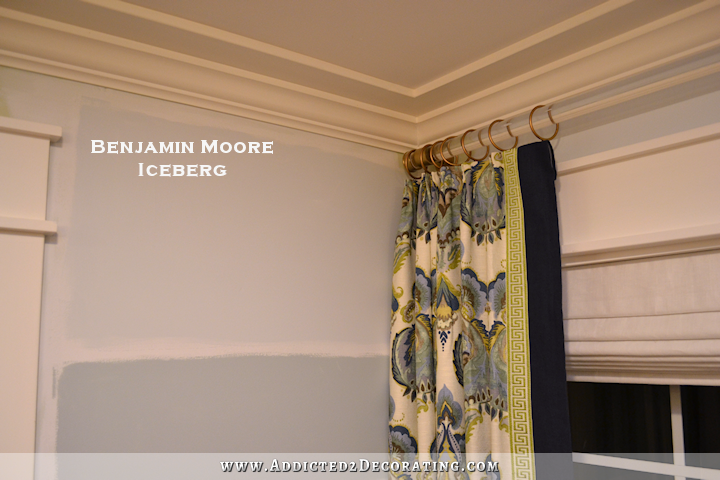 Here's a view of it in a bedroom. I like how it's blue without looking like a baby boy's room.
The next one is Benjamin Moore Smoke. It's a beautiful color, but it's too dark for my taste, and it blends with the drapery fabric just a bit too much.
Here it is in a bedroom with lots of light…
And then there's Benjamin Moore Silver Gray. This is also a bit too dark, and has just a touch of purple to it.
Here it is on the walls in this bedroom…
Both Smoke and Silver Gray are beautiful colors, but I think both would drown out my draperies. Remember the green that I originally had on the walls? So many of you said it looked wonderful with my drapery fabric, but I didn't like it at all. The reason was because it MATCHED the drapery panel, and completely overpowered it. I want a color that will let the fabric stand out a bit and offers some contrast rather than swallowing it up in some matchy-matchy scheme.
So with that in mind, I did want to try another greenish color, so I tried Benjamin Moore Dark Linen. The color looked so pale and almost neutral on the paint swatch, but it glowed on my wall. I definitely don't want radioactive walls, but I would like to find a similar yellow green that doesn't have the glowing effect to use as an accent.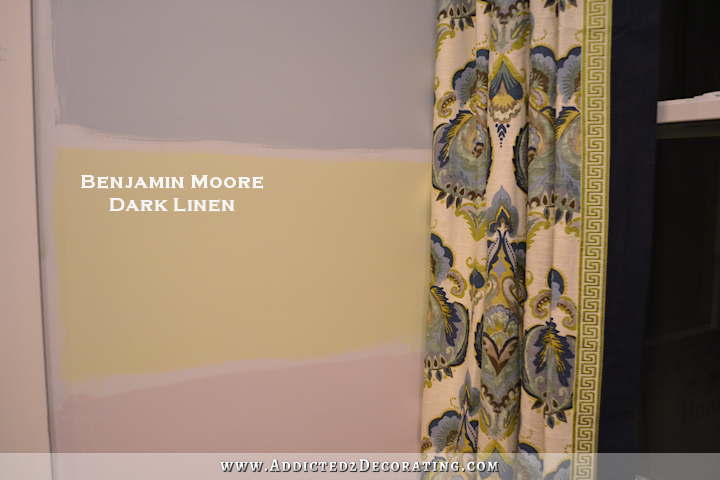 I'm guessing other people have been scared away by this color's glow because I couldn't find any pictures of it used in a whole room.
And next up is Benjamin Moore Antique Pearl. Oh my gosh, I love this color. Love it. Absolutely LOVE it. But while I want contrast, TOO much contrast just might make things look jumbled and nonsensical. I don't think there's enough of this color in the drapery fabric to make sense on the walls. But I definitely want to use it somewhere because it's gorgeous.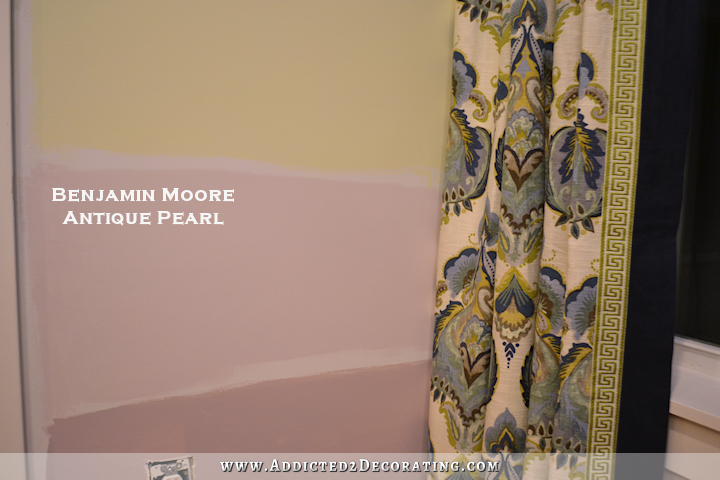 You can see it on the walls in this bedroom. I do tend to get purple overload when it's used with a bunch of other purple/lavender/lilac furniture and fabrics, but if you can visually block all of that out, it's gorgeous on its own. Interestingly, the paint swatch looks more like the room below, but on my walls, it looks like it has more red undertones than blue. But the color appears just as subtle.
And finally, Benjamin Moore Porcelain. I definitely want to find a use for this color, but just not on my living room walls.
Here's the picture of it from Benjamin Moore. I haven't seen it on my walls during the bright daylight yet, so it looks darker in my pictures.
I really do want to find a use for all of these colors in my house, and I love how they look all together. In stripes. I love stripes.
But don't worry. My living room will not have striped walls. 🙂 I think there's a clear winner here, right?