Last Updated on June 5, 2021 by Kristi Linauer
We have two huge, nice trees on our property, and both of them are oak. The one in the front is literally the sum total of our front yard landscaping right now. If we were to lose that tree, there would be nothing of value left in our front yard.
It's a gorgeous tree, and if we ever lost it, I'd cry. Seriously. Rivers of tears. This is an old picture, so the house looks quite a bit different from how it looks today and it has the leaning pecan tree that is long gone, but this is my favorite picture of our front yard oak tree.
But we also have one in the back yard, and the fate of that tree has been hanging in the balance for quite some time now because of its close proximity to the house. But it's really been called into question since the construction of the carport started.
It's not quite as big as the front yard oak tree, but it's big. Huge, even. And it's so close to the house. You can see it in this picture that I took right after we bought the house in 2013. The oak is the bigger one on the left. The one on the right is a pecan tree.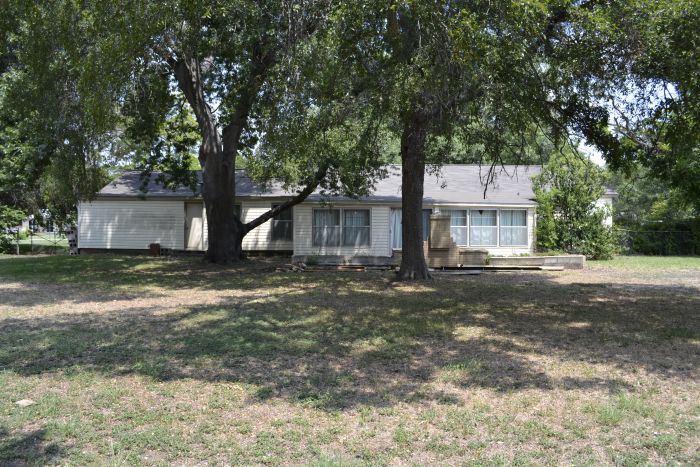 That big oak was close to the house then (it sits right at 13 feet from the back wall of the pantry), but now that we've made improvements and additions on the back of the house, that tree's personal space has shrunk considerably to the point that I was convinced the only option was to cut it down. You can see here just how close it is to the carport roof…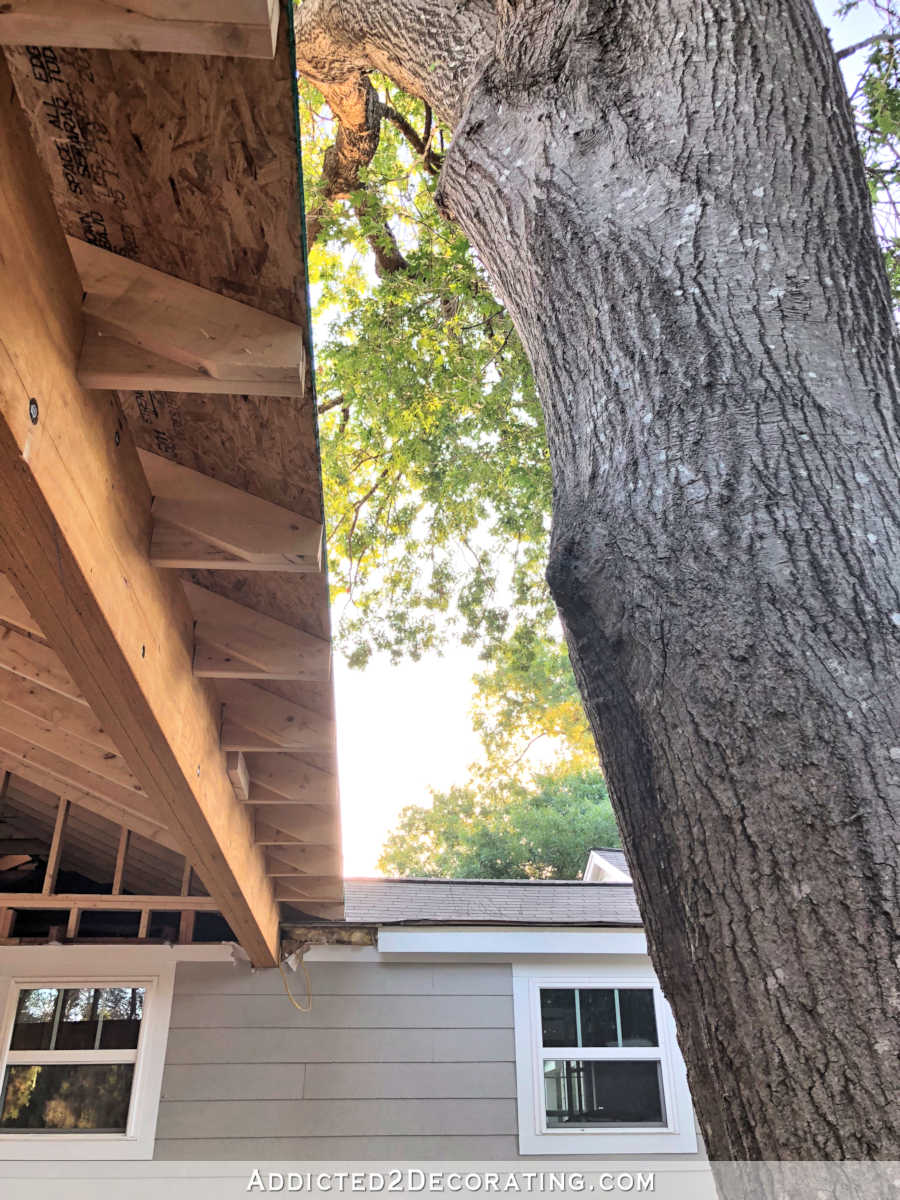 That trunk is probably no more than 20 inches from the edge of the roof.
So I called the guy who owns the company that trimmed our trees back in 2014 to get his opinion. And I'll say that I was pleasantly surprised. He did express some concern about the location of the tree, but was very opposed to cutting it down because of its age and size. So he suggested that we just give it a good trimming, raise the canopy, get all of the dead wood out of it, and then leave it and see how it reacts to its shrinking personal space.
I think that's a big difference between hiring a certified arborist who owns a tree service and hiring some guy with a truck and a chain saw. An arborist actually loves trees and wants to see them thrive. Some guy with a truck and a chain saw might just see the fact that he can charge you $4000 to chop down a huge tree. That's definitely something to consider when looking for someone to take care of the trees on your property.
They arrived yesterday morning at about 6:30 and got started, and it took them about four hours to get all set up, get the tree trimmed, and clean up. Here's how she looked before her trimming…
And here's how she looks now…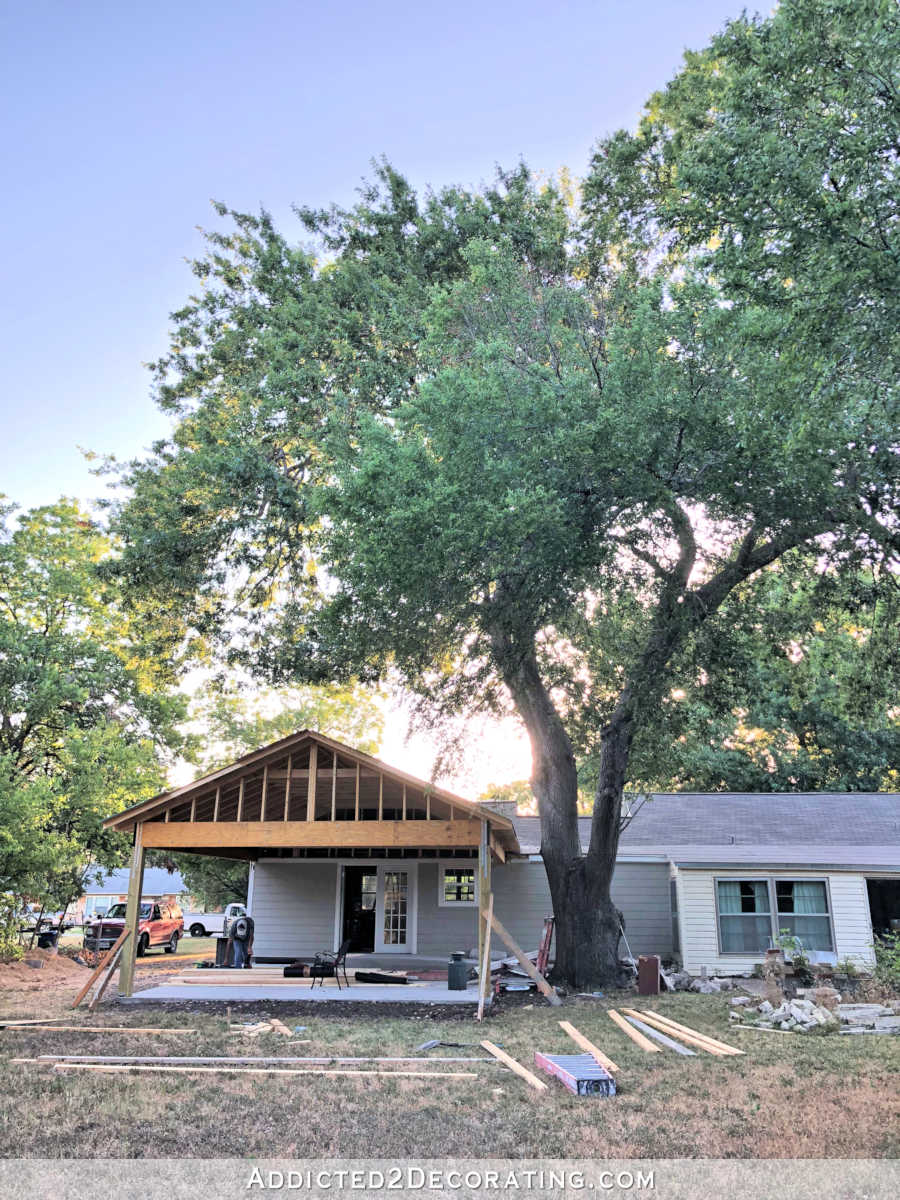 Much better! It's hard to tell where the oak ends and the pecan starts. Their branches intermingle quite a bit, and I only had them tend to the oak for now. But they took quite a bit of weight and overhang out of the tree, so it's up quite a distance from the roof of the carport as well as the roof of the house.
So the plan is for me to keep a close eye on the tree and notify him if I see anything that concerns me. And if I do see something alarming or questionable, he'll come right out and look at. In addition, we'll schedule annual appointments for him to come and look at it regardless of whether I see something concerning or not.
He pointed out two areas where I really need to keep watch on the tree. The first is this area where two huge branches have been previously cut off. The tree obviously tried to scar over these areas, but they were so huge that the tree couldn't completely heal over them.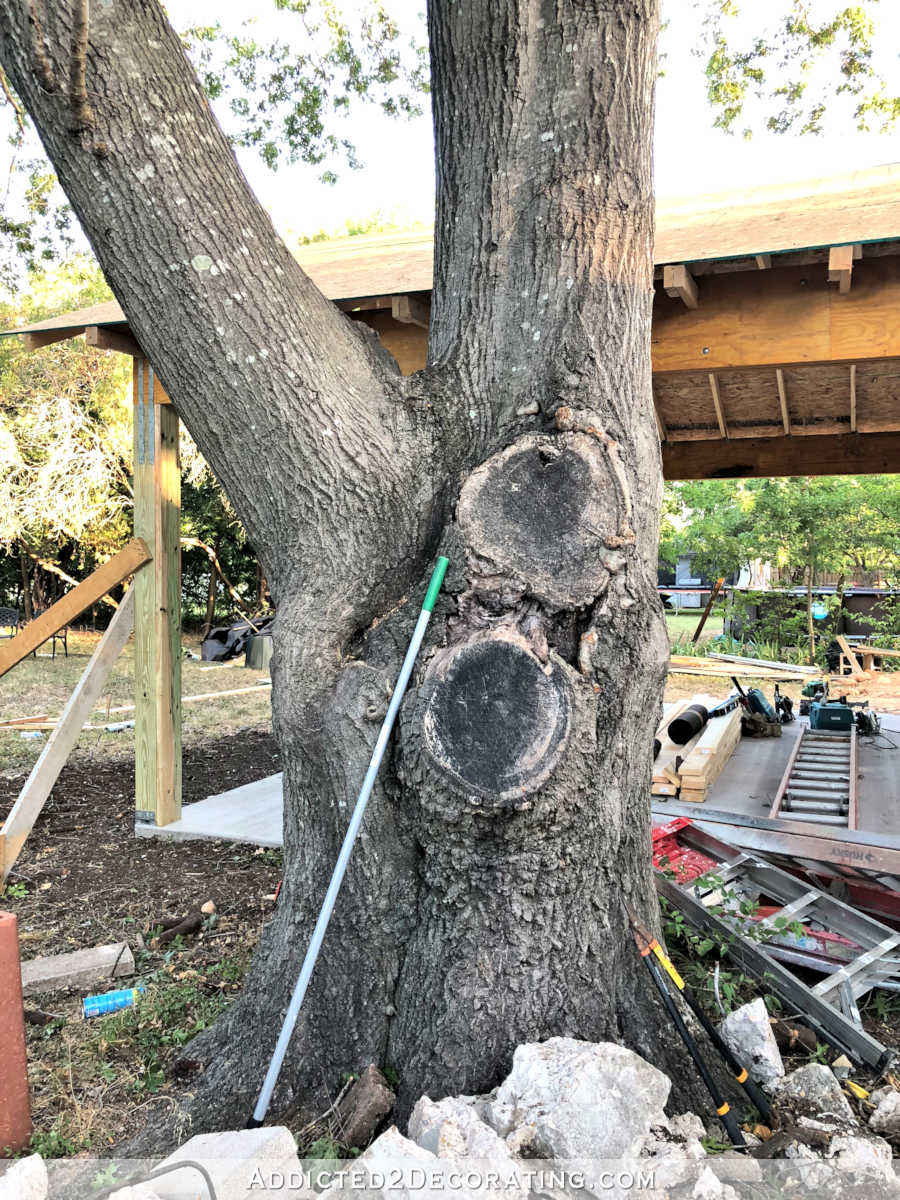 One of those was cut off before we bought the house. The other was after we bought the house, and it had to be cut off because it was growing straight towards (and almost touching) the back of the sunroom. He said if those areas start looking rotten and decayed, then that could indicate a considerable amount of decay within the tree.
The other area was this little fungus (at least I think it's a fungus) at the base of the tree.
He said that that feeds on dead and decaying wood, so if that starts to spread, then that could be cause for concern. Right now, it's just a tiny area considering how big the circumference of this trunk is, so it's not really cause for concern at this point.
And in addition to those things, he suggested that I kindly request that contractors and subs not throw rocks and broken concrete onto the trunk of my tree. I definitely need to have them move that stuff away before it does some damage.
So she lives on for another day. And probably another year. And hopefully for many years after that. The house was actually here before the tree, so I'm a little surprised that an oak tree was allowed to grow so close to the house. But she's here, and she's been here, growing and trying to thrive in this tight space, for over 60 years, so I'll do my best to help her continue on for as long as possible.
Addicted 2 Decorating is where I share my DIY and decorating journey as I remodel and decorate the 1948 fixer upper that my husband, Matt, and I bought in 2013. Matt has M.S. and is unable to do physical work, so I do the majority of the work on the house by myself. You can learn more about me here.
I hope you'll join me on my DIY and decorating journey! If you want to follow my projects and progress, you can subscribe below and have each new post delivered to your email inbox. That way you'll never miss a thing!