Last Updated on December 24, 2015 by Kristi Linauer
I couldn't bear to look at those massively overgrown boxwoods in front of the house anymore…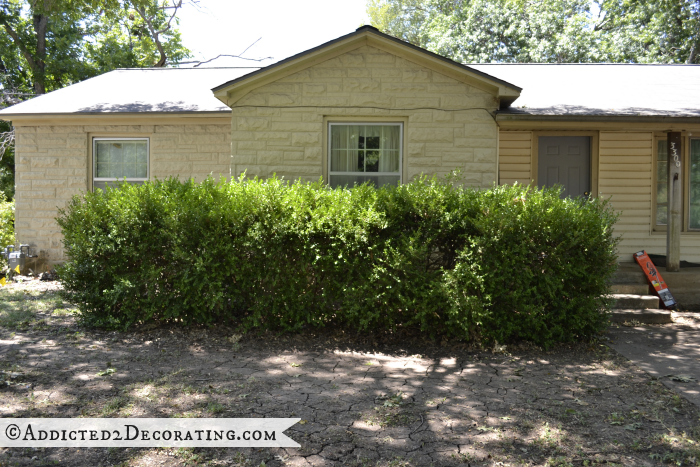 So yesterday I headed to Home Depot and purchased my first lawn and garden tool for the house…some hedge trimmers!
I spent about an hour whacking away at those boxwoods.  At first, I tried to just shape them up some, starting with cutting them shorter, cutting them away from the sidewalk, etc.  I thought perhaps I could shape them up enough that they would look nice.  Or what I really wanted to do was shape them into cute little trees like my mom's neighbor did.
But once I started cutting, I realized that that really wasn't going to be possible, so I decided to just get rid of them altogether.  Unfortunately, the hedge trimmers only got me so far.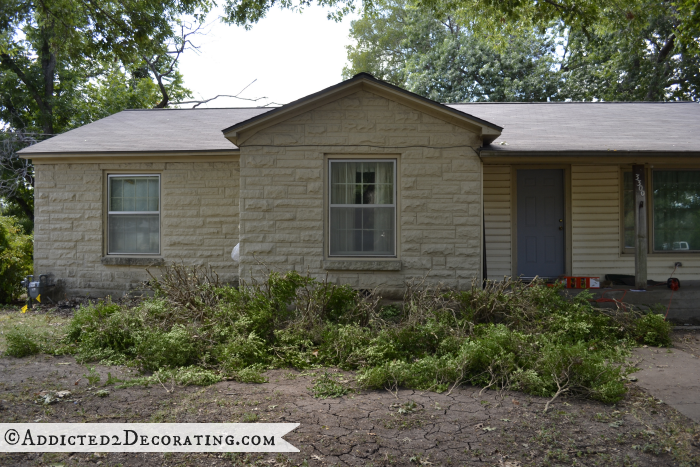 The box said that they would cut up to 3/4-inch, which was fine for removing all of the little limbs.  But once I  had those removed, there were some pretty big limbs, plus the main trunk of each shrub.  Those were several inches in diameter.
So back to Home Depot I went, this time for a chain saw.
I'm pretty comfortable with most power tools, but there are a couple that scare me — circular saws and chain saws.  So I ended up getting a small electric one that was lightweight and fit my small hands just perfectly.  That made me feel much safer than using a big, heavy, gas-powered chain saw.
And the little one did the trick.  I was able to remove all of the bigger limbs.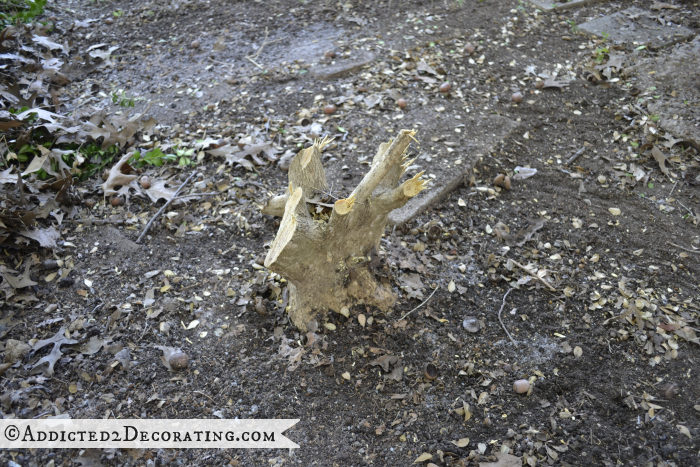 And then I cut all six of the big stumps as level with the ground as I could.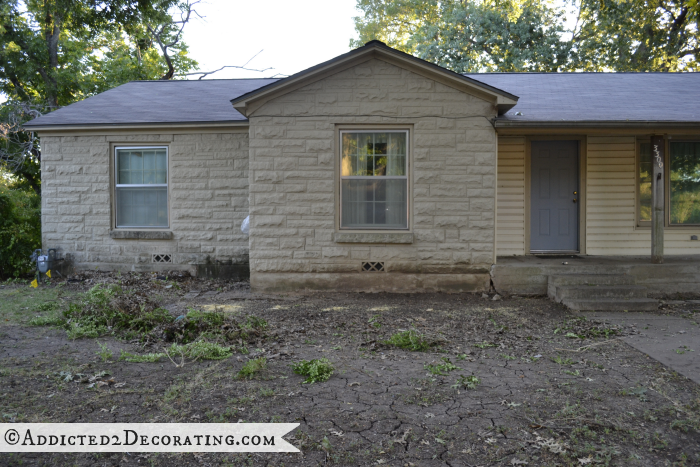 I got most of the big limbs dragged out to the curb and put them in a big pile for pickup, and then I bagged up eight leaf bags full of smaller limbs.  I still had about one bag full left, but I just couldn't make myself do any more.
I'm so glad to have it gone!  I almost feel like this house was suffocating, and everything I do to remove these layers is allowing it to "breathe".  Does that makes sense?  First with removing all of the old green carpet that was hiding the original hardwood floors, then removing the polystyrene ceiling tiles, then removing the dark storm door from the front, and now removing the boxwoods.
Here's how it started out…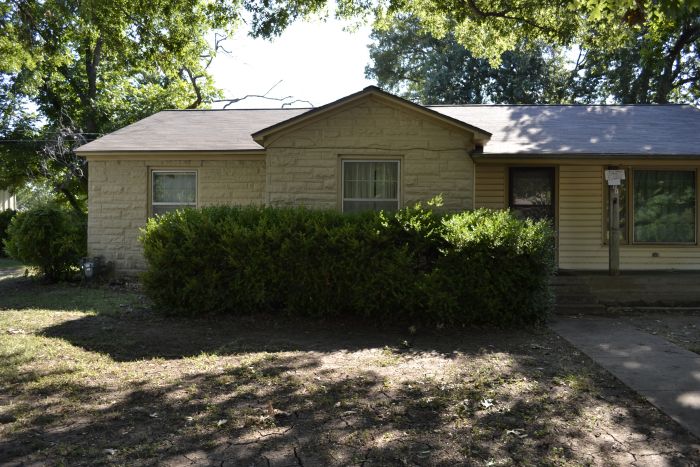 And here's how it looks now.  It's kind of a blank slate now.  (A blank slate that needs a date with a power washer ASAP!)
With the removal of the boxwood (the only source of color close to the front of the house), everything looks so blah and bland now, so I'm anxious to start adding some color and personality to this house.
If you follow my A2D Facebook page, then you may have seen me testing out different color options for the front of the house this weekend.  I started looking through all of the pictures that I've collected in my house inspiration files, and pulled some of the colors that I saw repeated the most.  Then I used my photo editing software to add the color to the house.  (Although I did a very rough and incomplete job, I think you can get the idea.)
The first one that I tried was navy blue shutters and an orangy-coral front door.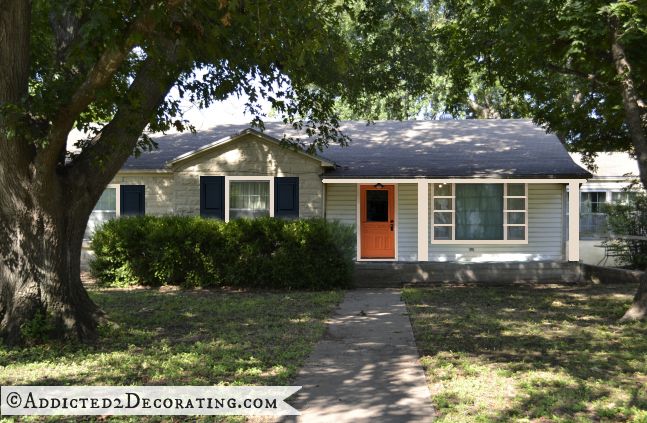 This seemed to be the crowd favorite.
Next I tried aqua-ish shutters with a black front door.
While I really liked that the shutters were light enough that I could use pretty hardware on them (and carry that hardware over onto the garage doors), these colors just felt wrong for me.  They just don't seem to fit my personality at all.
Several people suggested a yellow front door, so I tried that.
I like that one, but not nearly as much as the first one.
And last, I tried stained shutters and a stained front door.  Here's my mock up…
That mock up wasn't really conveying the idea very well.  I was going for something more like this…
This look is very "Texas", and is very common around here — Austin stone house, stained shutters, stained front door, stained (faux) carriage doors on garage.
And I think if you read that sentence again, you'll see why this isn't really working for me.  "…very common around here…"  I think if you know me at all, you know I tend to shun things that are too common.  Plus, while I do think it's beautiful, it's just not "me" at all.
I had many repeated suggestions to try a red front door.  Ummm…I can say with absolute assurance that this house will not have a red front door.  🙂  I've had a red front door for ten of the last eleven years — on our first house in Oregon, and then for the last seven years on the condo.  Red is absolutely out of the question.
So, the winner is obvious, right?  This one is definitely "me".  It fits my personality more than any other option, and that front door just makes me smile.
I headed to Home Depot and picked up three different colors to try on the front door.  I was hoping to get the samples up yesterday, but after realizing just how dirty everything is on the front porch, I realized that I was really getting ahead of myself.  I need to slow it down, do the necessary things (i.e., rent a power washer and get stuff cleaned up), and then I can move on to the fun stuff like deciding on a door color.  🙂
But it might have to wait, because this week is all about refinishing those floors!  My Waterlox will be here on Wednesday, so I need to get those floors sanded.
Addicted 2 Decorating is where I share my DIY and decorating journey as I remodel and decorate the 1948 fixer upper that my husband, Matt, and I bought in 2013. Matt has M.S. and is unable to do physical work, so I do the majority of the work on the house by myself. You can learn more about me here.
I hope you'll join me on my DIY and decorating journey! If you want to follow my projects and progress, you can subscribe below and have each new post delivered to your email inbox. That way you'll never miss a thing!