Last Updated on September 5, 2016 by Kristi Linauer
I'll be the first to admit that when it comes to decorating, this house is kicking my butt. I can seem to handle all of the remodeling stuff. The big decisions. The grand ideas. Wall treatments. Trim. Built-ins. Adding cased openings. Making existing openings wider. And on, and on. Those big picture ideas seem to come easier to me.
And then I try to decorate, and I just can't get started. Or if I do get started, it doesn't work out and I get discouraged.
I can't find the post, but I remember not too long ago writing about why I think I have such a hard time decorating my own house. I mentioned stuff like: (1) It's personal, and I'm emotionally invested, whereas when I used to work with clients, I had zero emotional investment. (2) I love way too many styles and ideas, plus I have thousands of DIY project ideas I want to try, so it seems impossible to narrow down. (3) I'm like the woman who's afraid to commit to a long-term relationship. Just as soon as I finally decide to settle on something, I see ten other ideas I like much better.
But also, I think these last three years have been a process of self-discovery and learning exactly what it is that I like.
So as I've been working in the breakfast room this last week, and dreaming about what that room will look like when it's finished, I've realized that probably the biggest challenge for me has been decorating around my kitchen.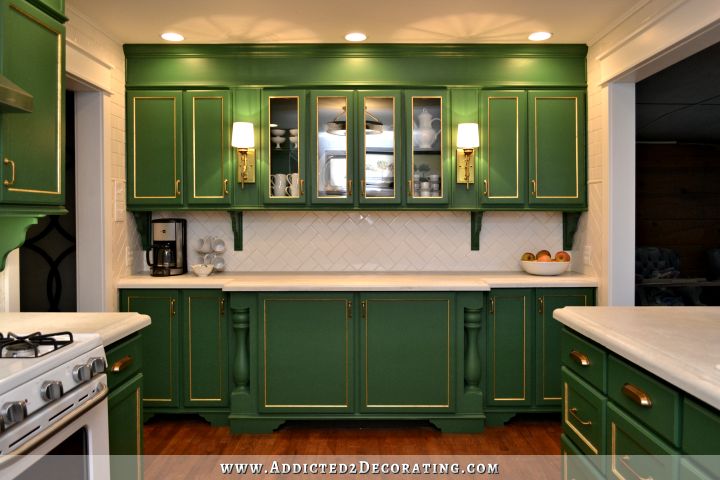 The kitchen was the first room I remodeled in this house. It's very green, and very bold, and sits right in the middle of the main "public areas" of my house, joining the breakfast room, music room, dining room, and entryway. It can also be seen from the hallway.
I'm constantly asking myself why it is that I have so much trouble decorating around this room. It's green, and green is one of my favorite colors! It shouldn't be that difficult!
Well, as I mentioned, these three years here in this house have been a journey of self-discovery and learning what my personal style is. And one thing I've learned about myself is that I love a crisp, clean look. In other words, if I'm going to use white, I want it to be bright, crisp, clean white. If I'm going to use black, I want it deep, dark, and saturated.
I don't like whites that aren't really white. Creamy white is fine, but "whites" that are actually some kind of linen or oatmeal color aren't fine with me. Like my countertops. I don't like blacks that are actually off-black, or deep charcoal, or really super dark gray. I like my colors clear, clean, and unmistakable. I don't like "muddy" colors. And I love contrast. High contrast with sharp, clean, clear colors.
I have no idea if that makes any sense to anyone other than me. 🙂 But this is what I've learned about myself, and I'm continuing to learn as I try new things.
Oh, and another thing I've learned…gold leaf doesn't do well in a kitchen. Over the last two years, the gold leaf has rubbed off my kitchen cabinet doors, especially on the cabinets near the highest traffic areas that have to be cleaned the most often, like the stove and the sink areas.
So what exactly do all of these words mean? Clear, clean, crisp, high contrast, sharp colors, etc.? Well, this is a good start…
I love just about everything about that kitchen, with the exception of what looks like a dark waxed finish on those lower green cabinets. That doesn't meet the "clean, clear" standard for me. But I do love the brightness of the kelly green color. Those colorful lower cabinets combined with the deep black countertop, the bright white backsplash, and the clean white upper cabinets all really work for me.
And as far as gold trim on cabinet doors, I think I've learned that a little goes a long way. Ever since I saw this kitchen remodel at Design Manifest earlier this year, I haven't been able to get this image out of my mind. The gold is perfect, and it definitely meets my "clean, crisp" standard.
via Design Manifest
Anyway, that's kind of where my thoughts are heading lately. My kitchen was the first room I did in this house, and I went very bold with it. I don't regret it at all, and I think I headed in the right direction overall.
But at the time, my kitchen used to feel very closed off to the rest of the house, so I didn't really feel like it was imperative that it be considered in my decorating decisions for the other rooms. But ever since I opened up the wall between the kitchen and the front of the house, the kitchen is pretty much the center of the "public" spaces in the house, and it feels even more so now that I'm working on the breakfast room. So if I stick with bold, saturated color in the kitchen, it will have to be a jumping off point for the entire rest of the house (i.e., the "public" spaces).
Like I said, I think I headed in the right direction. Bold and colorful were definitely the right choices for me. And green. Green was definitely the right choice. So I think with just a few tweaks, it'll be perfect for me. AND will be much easier to decorate around.
Which leads me to my plan…
I've decided to hold off on any more decorating decisions (or, decorating attempts…ha!) until I've finish all of the remodeling projects in the main "public" areas of the house.
That means I'll finish the big projects in the pantry and breakfast room, like building the wall to separate the two rooms, installing cabinets and storage in the pantry, getting the walls in the breakfast room drywalled, finishing the trim around the windows, installing the hardwood flooring, etc.
And then I'll finish up in the hallway and get the walls and ceiling finished, the hall tree built, and the new doors installed. In the other areas — the music room, entryway, and dining room — those things are pretty much done.
In the music room, I'm done with the big projects…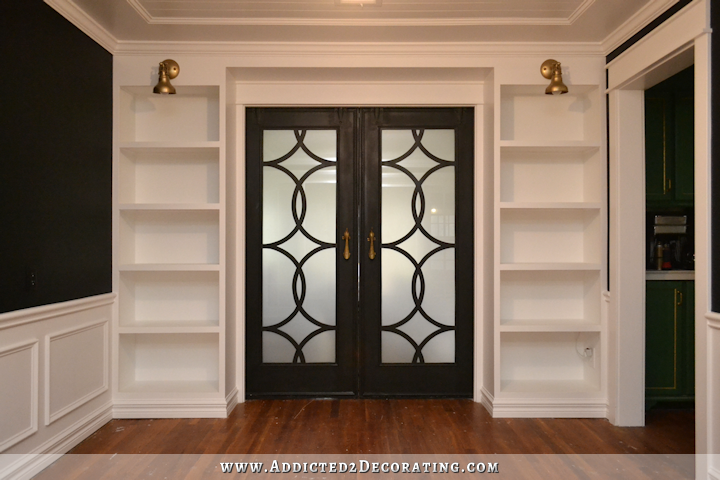 …with the exception of the final coat of Waterlox on the floor. And there's not a thing I'll change in this room. It's the perfect blank slate for me to start decorating.
The big projects are done in the entryway also…
There might be some decorating changes, but the trim, the ceiling, the floor, etc. are all done. And as far as the decorating, I can't imagine changing anything other than possibly the pillows on the chairs, and maybe the lamps. This entryway is closer to being "me" than my kitchen currently is.
And in the dining room, the big stuff is done with the exception of just a little more painting where I still have some green on the walls. Those walls will all be white.
The bathroom is finished, but there are some things about it that feel a bit disjointed to me, so there are some minor things that might need to be addressed.
So for now, and for the foreseeable future, my goal is remodeling and the big picture. Once I get all of that done, I'm going to take my time and come up with a cohesive, whole house decorating plan, or at least a whole decorating plan for these public areas including the breakfast room/walk-in pantry, kitchen, music room, dining room, entryway, hallway, and hallway bathroom.
The good news is that when I was thinking about this plan, I realized just how very little actual decorating I've actually done in this house. Most of what I've done has been the remodeling, "big picture" type stuff, like building a fireplace, redrywalling the walls and ceilings, adding architectural detail and trim, building bookcases, ripping out old cabinets and replacing with new, etc. In the scheme of things, the actual decorating I've done has been just a small percentage.
And of course, I'm not saying I'm going to ditch those decorative items. The black and white curtains are sticking around, although if I find that they work better in the breakfast room, I'm perfectly fine moving them in there. The buffet, the birds & butterflies "wallpaper," my black walls in the music room, etc., will all be part of the big plan.
I think in the long run, this plan of attack will be much better, and will result in a much more cohesively decorated house. And waiting until after the remodeling type projects are finish to really dig in and start decorating will also give me way less time to spend on Pinterest, Houzz, and change my mind about things once I actually get started on the decorating. 🙂
Addicted 2 Decorating is where I share my DIY and decorating journey as I remodel and decorate the 1948 fixer upper that my husband, Matt, and I bought in 2013. Matt has M.S. and is unable to do physical work, so I do the majority of the work on the house by myself. You can learn more about me here.
I hope you'll join me on my DIY and decorating journey! If you want to follow my projects and progress, you can subscribe below and have each new post delivered to your email inbox. That way you'll never miss a thing!