Last Updated on October 8, 2017 by Kristi Linauer
I mean, if that's not an exciting title, I don't know what is! 😀 But seriously, this was a major project in the breakfast room, and I'm so excited to have it finished.
First, let's have a quick recap. After I removed the green carpet from this room, this is the floor I was left with — asbestos tiles on top of a cracked and unlevel concrete slab…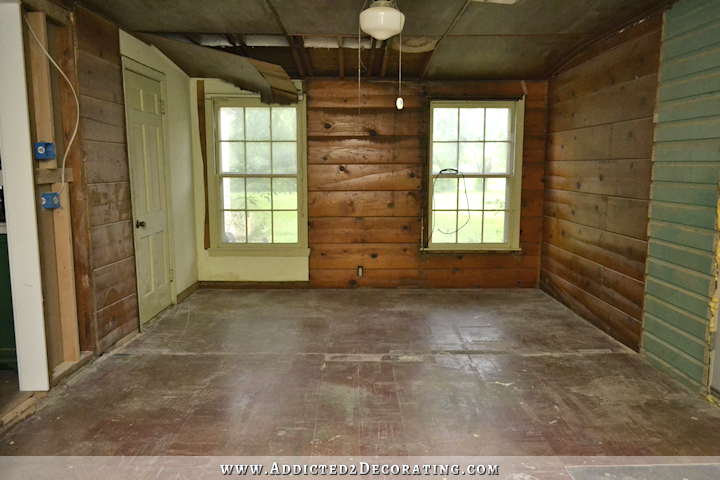 So to get the concrete slab level, and also to cover over the cracks, I had some concrete guys add a layer of new concrete over the top of the slab.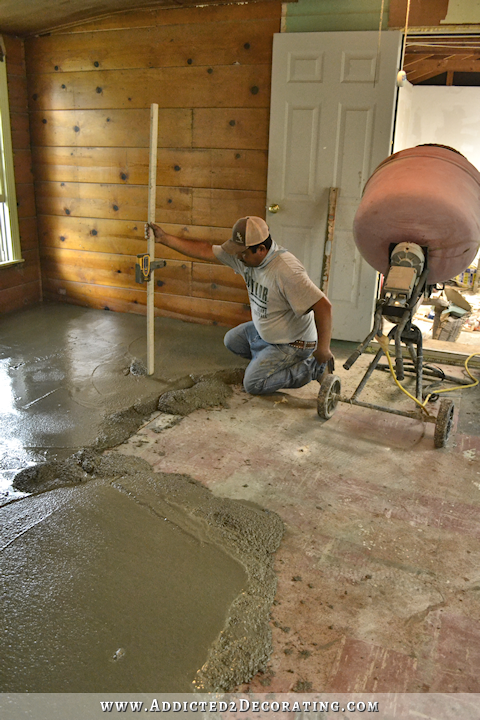 You can read more about that, and even watch a video of the process, here.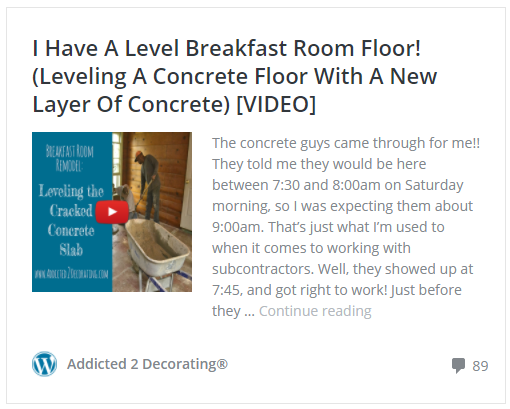 So for the last couple of weeks, I've been walking on a new level concrete floor in the breakfast room.
And while that progress was thrilling to me, it was far from finished. So this past weekend I got busy on the next step, and yesterday my brother came over and helped me with the hardest part.
So let me back up and explain my thought process here, and tell you how I decided to do things the way I did them.
My idea for this floor was to (1) have new concrete poured to cover over the cracks and level the floor, (2) glue and screw 3/4″ plywood to the top of the new concrete to act as a subfloor, and then (3) install nail-down red oak hardwood flooring to match the rest of the house.
And then somewhere along the way, some of you started asking, "But what about a moisture barrier? Won't you need that over the concrete before you put your flooring down?"
So I did some research and asked around, and indeed, I did need a moisture barrier.
I considered the moisture barriers that come in sheets and roll out onto the subfloor. That wouldn't work for me because then I'd lose the ability to glue my plywood to the concrete.
I considered using a moisture barrier between the plywood and the hardwood floor, since the rest of the house has tar paper between the subfloor and the hardwood floor. But the difference is that the rest of the house is on a pier and beam foundation, so the subfloor can "breathe" from underneath. If I put plywood on top of concrete, and then put a moisture barrier on top of that, I was afraid I'd be creating a mold breeding ground if moisture ever did find its way between the concrete and the moisture barrier.
Then I remembered that I had seen a similar process (i.e., plywood subfloor over concrete slab for nail down hardwood flooring) over on Little Green Notebook a while back, so I searched and found the method they used.
As it turns out, they used a troweled-on adhesive that also acted as a moisture barrier. So I headed to Home Depot to find that adhesive. The only one I found was around $150 for a 3-gallon container, and according to the spread rate, I would need one whole container plus just a little bit of a second container. And unfortunately, it didn't come in single gallon containers. That meant that I'd be spending $300 on adhesive, and I'd have a huge amount left over.
But price wasn't the only issue. I was also concerned that the product was actually made for gluing down hardwood flooring on top of concrete, and it said it could be used for flooring up to five inches wide. Well, my pieces of plywood were considerably wider than that, so I didn't really want to use a product that wasn't made specifically for huge pieces of plywood subfloor.
So I searched for other options, and that's when I came across RedGard. I've used RedGard before on the bathtub surround in my hallway bathroom remodel.
RedGard is a moisture barrier that you paint on with a brush and a roller, and yes, it's red. Actually, it goes on pink, and it turns red when it's dry. It's not cheap either — about $130 for a 3-gallon container. But according to the spread rate, one container would be sufficient for my room. And then I could use regular subfloor adhesive, which is MUCH cheaper, for the plywood.
But what really sold me on the RedGard for this room is that it's not only a moisture barrier, but it's also a crack prevention membrane. I had already been told that the new layer of concrete would surely crack, and in fact, it was already developing some hairline cracks. But the hope is that even if it cracks, it will remain level. But a crack prevention membrane would certainly help! So it sounded like the perfect solution for me. I'd have a moisture barrier, plus a crack prevention membrane, and once it was really good and dry, I could use a much cheaper adhesive that's actually meant for plywood subfloors to glue the plywood down.
So I grabbed one 3-gallon container and got to work. First, I used a paint brush to apply the RedGard around the edges of the room.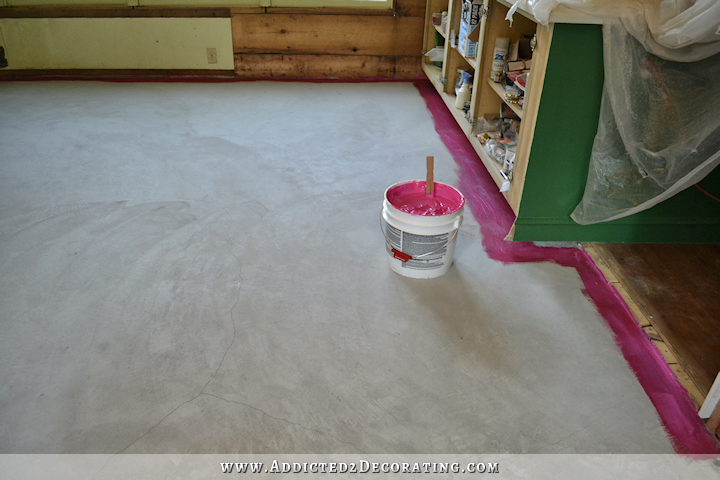 And I also used my brush to put a little extra on the hairline cracks that had formed in the new concrete.
And then I rolled it onto the rest of the floor using a 3/8″ nap roller.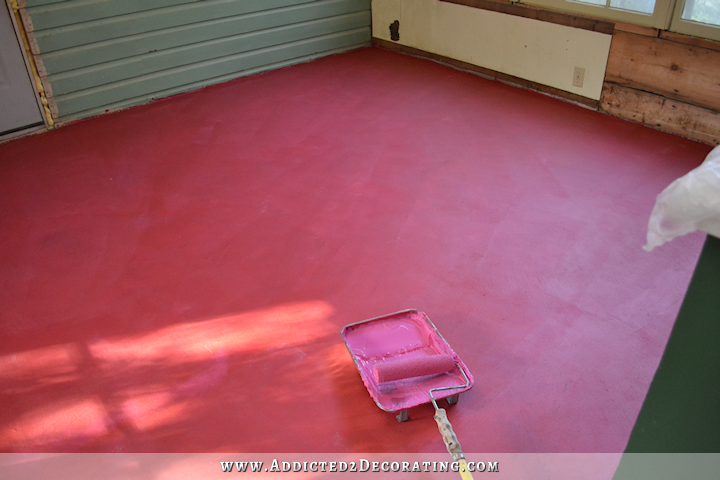 The first coat dried incredibly fast, literally within minutes. The second coat took longer — about two hours. When it's pink, it's still wet. When it's all red, it's dry.
I bought the plywood before I made the decision to use RedGard, so it was already all stacked at the back of the room, and there was no way I could move 12 sheets of 3/4″ plywood by myself, so I just had to paint around it.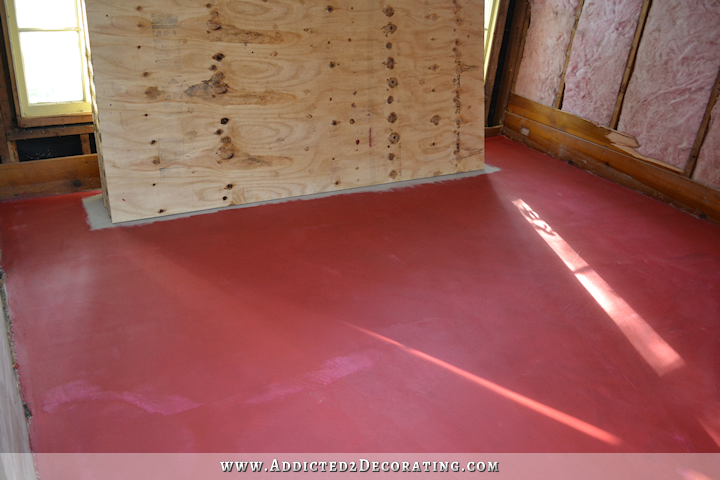 It all worked out fine, though. As we uncovered that area while we were installing the plywood, I was able to get two coats on that area as well.
So yesterday, my brother Rod came over and helped me install the plywood. It was hard work, but went really smoothly.
I used this adhesive from Home Depot…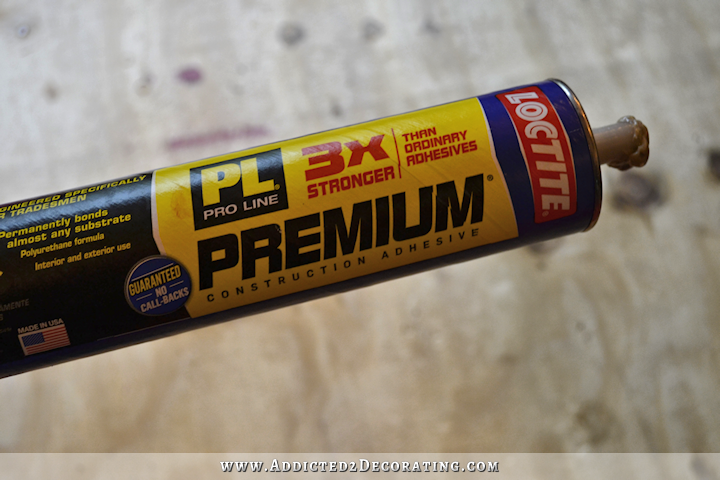 And I bought the large 28-ounce tubes. I used one tube per full sheet of plywood.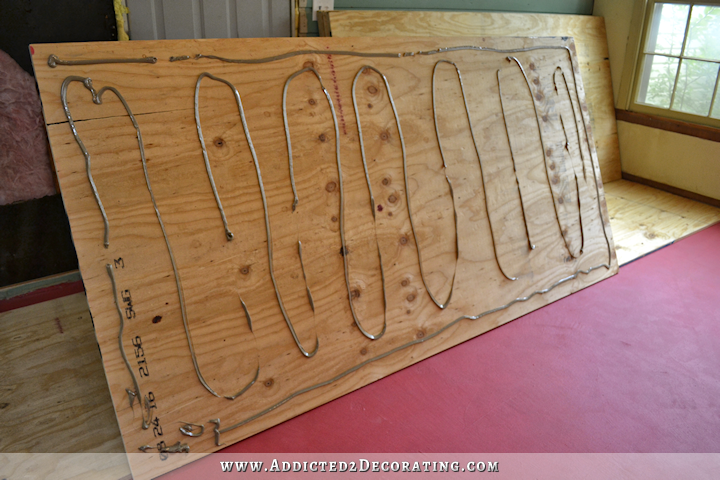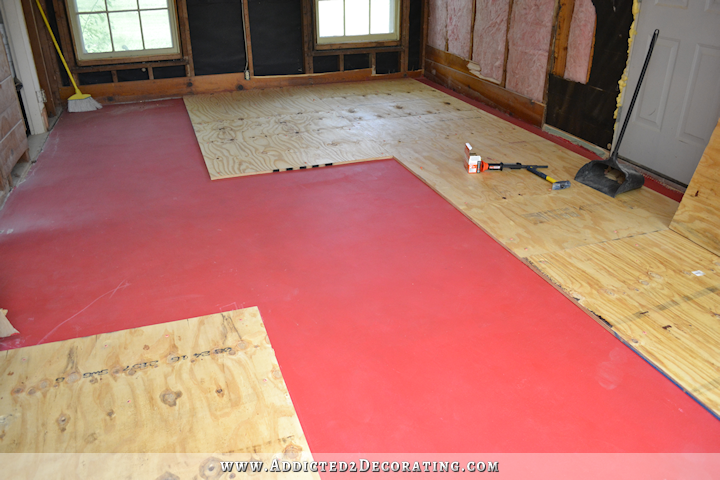 And then as each sheet was put into place, I used a Ramset powder-actuated tool to drive nails through the plywood and into the concrete.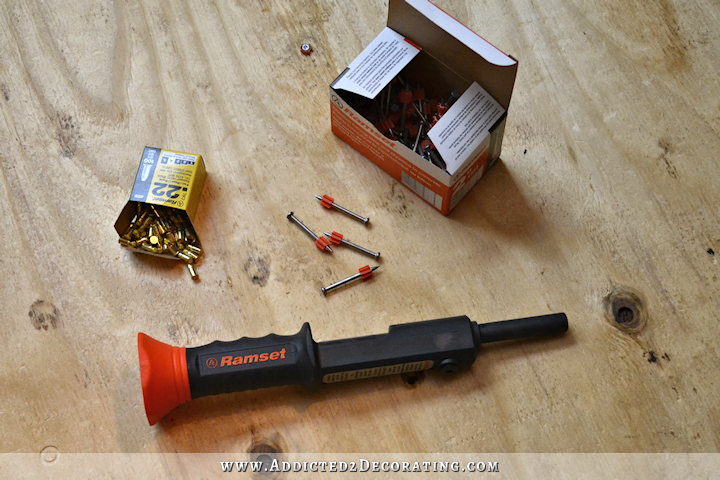 I'm not gonna lie. That tool scared me at first. I mean, it actually uses gun powder in a .22 gauge shell to drive the nail with such force that it goes into concrete. The first few were scary, but I got used to it pretty quickly. If you use this tool, just be sure that you read the directions, and yes, take the online "licensing" exam. I thought it was really pretty silly, and mostly common sense stuff, but its still a good reminder that you're using a very dangerous tool. And definitely use eye and ear protection during use.
Home Depot sells various models of this tool, starting at the low end $27 model, and going up to something like $300. The one I bought (pictured above) is the cheapest one they had, and it worked perfectly. It's the kind that you have to hit with a hammer (the more expensive ones have a trigger), and I found that if I used my 2.5-pound blacksmith hammer that I bought during the bathroom remodel to break up the tile floor…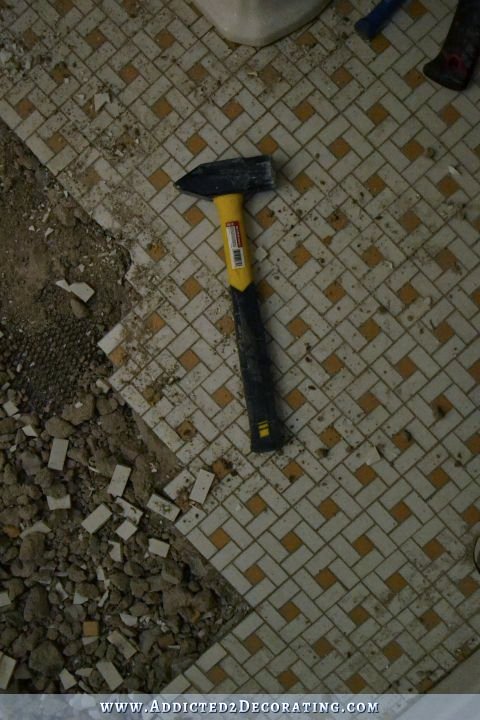 …the hammer did all of the work and saved my arm from having to swing a hammer so hard. And since the hammer head on a 2.5-pound blacksmith hammer is about three or four times the diameter of a regular hammer, I had fewer misses than I would have trying to hit the button on top with a much smaller hammer head.
Anyway, it took us from 8:00am to 3:30pm, with about an hour for lunch, but we got it done! This room is far from square, so all of the pieces around the edges requires special cuts with the circular saw to get them to go in, but we got it done.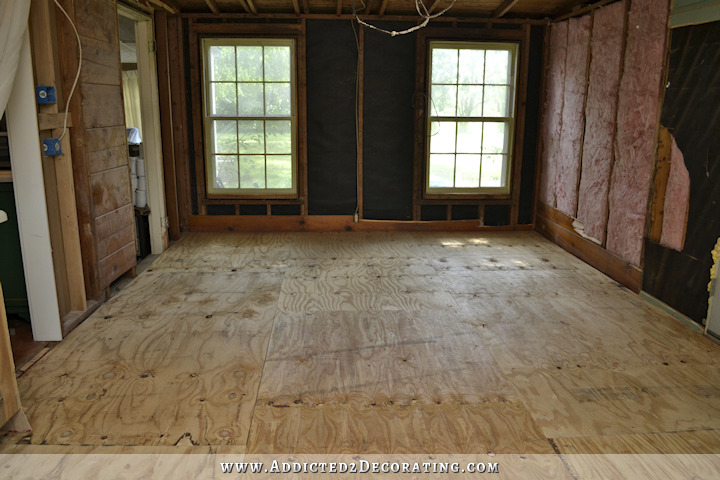 I know it doesn't look like much now, but the exciting part is that this room is now ready for hardwood floor!!
We staggered the plywood pieces. I've highlighted the seams in this photo to show you the pattern we used.
And now, this plywood subfloor is level with the 1 x 10 plywood subfloor under the hardwood flooring in the kitchen. I just need to seal those cracks with something, and then I'll be ready to continue the hardwood flooring right into the breakfast room and pantry!
This was a huge project, and it feels so good to have it DONE! Now I'm one step closer to the pretty stuff. 🙂
Addicted 2 Decorating is where I share my DIY and decorating journey as I remodel and decorate the 1948 fixer upper that my husband, Matt, and I bought in 2013. Matt has M.S. and is unable to do physical work, so I do the majority of the work on the house by myself. You can learn more about me here.
I hope you'll join me on my DIY and decorating journey! If you want to follow my projects and progress, you can subscribe below and have each new post delivered to your email inbox. That way you'll never miss a thing!