My progress on the bathroom started out pretty strong, but in these last couple of weeks, things have really slowed down to a crawl. And the home gym progress has been stalled since before the work on the bathroom started. That's not a horrible thing. The last two years have changed my outlook on things considerably, and I've come to realize that spending all hours of the day, day in and day out, working on a house isn't really all that life should be about. So this year, I've tried to make a point of spending more downtime with Matt, as well as spending more time outside the home on things that interest me.
But now here we are in the second half of October, sliding very quickly towards the holidays and the end of the year, and the bathroom and home gym are far from the finish line. And I would love nothing more than to have both of these rooms either finished, or very near finished, before the end of this year.
So it's time to buckle down and really get focused again. When I was working on the walk-in pantry and had a hard time focusing and getting things done, I resorted to a system of posting my progress each day so that y'all could hold me accountable to staying focused. I might have to do that again, because if I continue at the current pace, the finish line will be about six months out on these rooms. And that's not acceptable. Both of these rooms will greatly increase the quality of our lives, so there would be a big payoff if I buckle down and focus right now to get these rooms done as quickly as possible.
It's a bit overwhelming because here's what the home gym looks like right now…
Yep. It's basically become a dumping ground for tools, extra materials, and an actual junk pile. And of course, you'll always find a Sonic cup graveyard in the vicinity of any big project I'm working on. 😀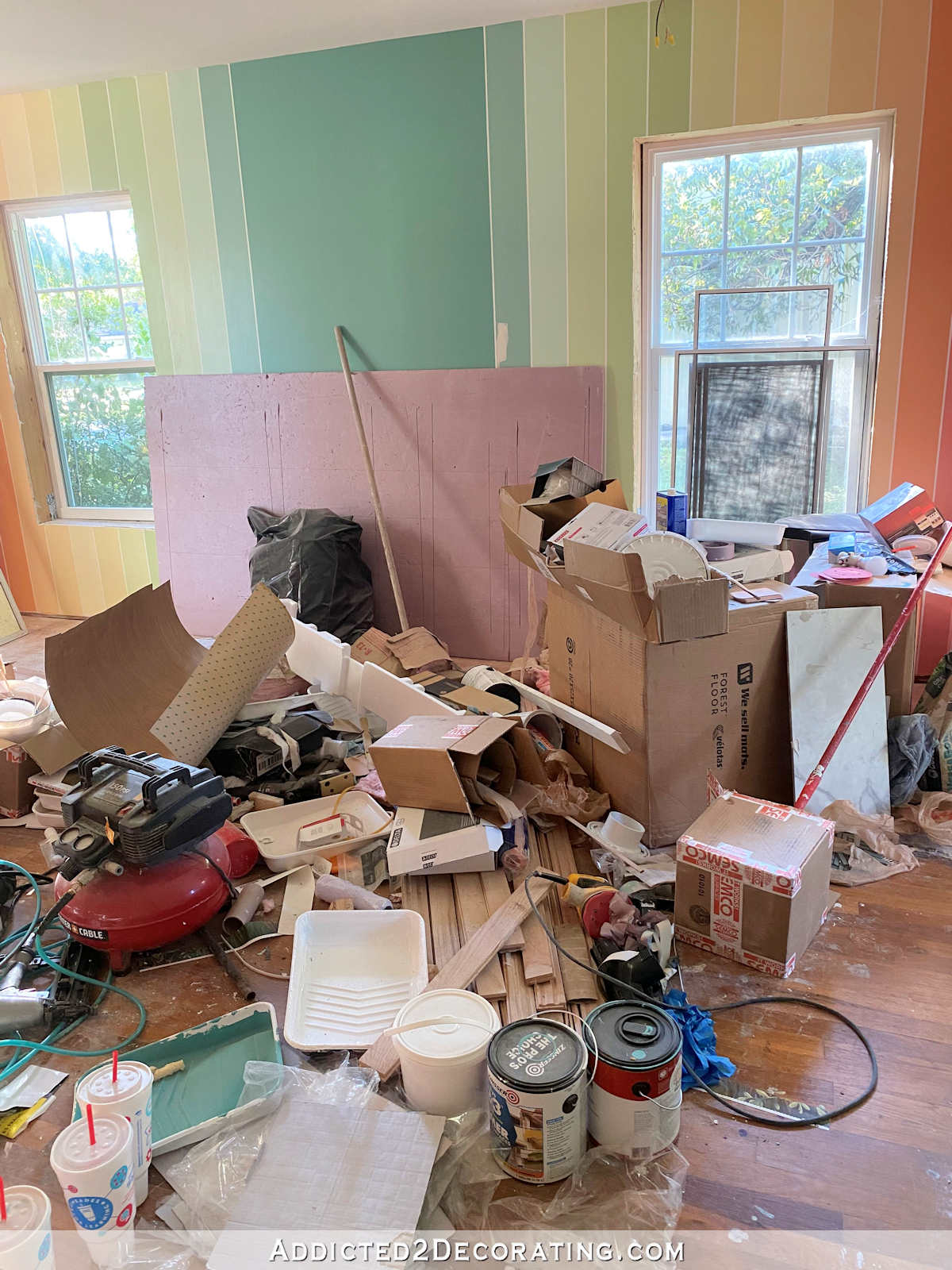 And even though I try to convince myself that this doesn't affect my work on the bathroom, I'm pretty sure I'm lying to myself. Even though this isn't the room I'm working on at the very moment, I do have to navigate this mess to get to the bathroom, and I often have to sort through this to find tools that I need. I can't navigate a mess like this day after day without it having some sort of impact on mental state, which will naturally affect my work.
And on top of that, my WaterRower is scheduled to ship next Tuesday, and as of right now, I have no place to put it. That's unacceptable.
As far as the bathroom progress goes, things really came to a halt after I finished the tile on the shower floor. I still haven't done any clean up on that floor, which means I haven't grouted it either. So far, the only tile that's done is the shower floor and two rows of tile on the bathroom floor. Ugh.
That large tile is so frustrating to work with, and after finishing the shower floor, my hands were torn up by that mortar. I've done quite a bit of tiling in my life, and never have I had mortar tear up my hands like this mortar did. My left hand was in so much pain that it was actually swollen, and my skin still isn't back to normal.
I'm not quite sure what to do about that. The thin disposable gloves don't help because they last through about two tiles before they tear, and the thicker gloves really hinder my ability to feel to make sure the tiles are level with each other, and they also get too filled up with mortar to be helpful.
So I've been avoiding the rest of the tile because of that. It's just NOT a fun job to do at all. But I also refuse to hire it out, so I just need to get in there and get it done. I think once I get past the next row, which includes a tile that will have to be cut to go around the tub drain, the rest of the floor should be much faster because the only tiles I'll need to cut are the ones against the wall. And those are simple straight cuts.
So that's the status of these rooms right now. I'll admit that I'm overwhelmed, but at the same time, I'm determined. I need some accountability, and I need to find a way to motivate myself to really buckle down so I can get these rooms done by the end of this year. It would be so nice to have the bathroom done ASAP, and then to be able to begin 2022 with an awesome and functional home gym.
Addicted 2 Decorating is where I share my DIY and decorating journey as I remodel and decorate the 1948 fixer upper that my husband, Matt, and I bought in 2013. Matt has M.S. and is unable to do physical work, so I do the majority of the work on the house by myself. You can learn more about me here.
I hope you'll join me on my DIY and decorating journey! If you want to follow my projects and progress, you can subscribe below and have each new post delivered to your email inbox. That way you'll never miss a thing!