I've now gotten two more quotes on trimming the six trees closest to the house — two red oaks, three pecans, and one cedar elm — and I'm absolutely astounded at the huge difference.
If you'll remember, the first person gave me a quote of $10,705 to trim these six trees, with the bulk of that (about $4,500) going towards my gorgeous, huge, 100-year-old red oak tree in the front yard. He said it not only needed to be trimmed, but it also needed to be cabled.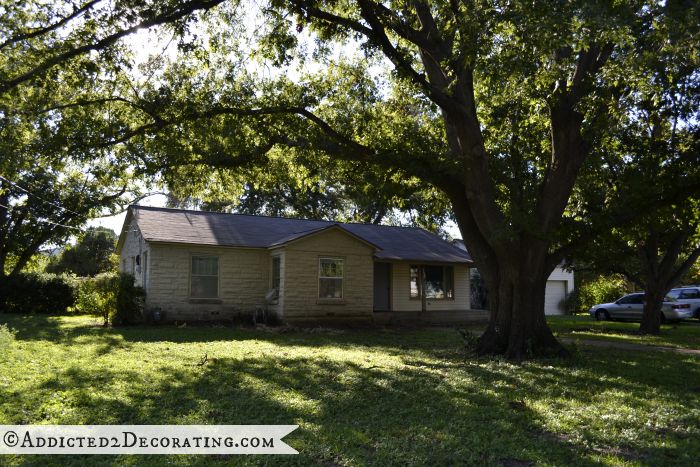 So on your advice (as well as that of my family members, who also thought that quote was insanely high), I called two other places, both found via this website. (And thank you so much, Shelley, for giving me that link!!)
So here's the comparison:
Quote 1: $10,705.00
All six trees trimmed, plus cabling the oak tree in front, and all debris hauled away.
Quote 2: $2,500
All six trees trimmed and all debris hauled away.
Quote 3: $1,850
All six trees trimmed and all debris hauled away.
Company #3 wins my business, but interestingly I had decided that even before he gave me his quote.
After we had talked a while, walked around the yard, and he explained to me everything that needed to be done (which was identical to the other two, with the exception of cabling the oak tree that the first one insisted was necessary), I just left him alone for a bit while he worked on his quote.
While I was waiting, I decided that if his quote was within $1000 of the quote the day before (up to $3,500), that he was getting my business. I just really liked him, he was very knowledgeable, confident in his information without coming across as cocky like the first guy, took the time to explain things to me and answer my questions, and I just felt really comfortable with giving him my business. So it was just an added bonus that his quote was the cheapest of the three.
And thanks to all of you, I knew what questions to ask. He's a certified arborist who carries the appropriate insurance, plus each of his workers has workman's comp.
He even took the time to explain to me that, regardless of who I hire, it is vitally important to ensure that every worker on my property is properly insured AND has workman's comp. And he explained to me WHY those things were so important.
Here's the funny part…
After he handed me his quote and I asked him about a few more things, I told him that he was actually the third person who has given me a quote. I told him there was a huge difference in prices between the first one and the second, and that the first one had quoted me $10,705 for this job.
Without even skipping a beat, he said, "Ha! Let me guess. Brian Williams."
I was a bit stunned, and said, "Yes! That's exactly who it was!"
He didn't seem shocked in the least, and actually told me that he hears this on a very regular basis.
So for those of you in the Waco area, please do be aware that paying over $10,000 to have six trees trimmed is definitely NOT the norm for this area. 🙂 I honestly have no idea how Brian Williams gets any business in this area, but evidently he does. From suckers who don't do their comparison shopping. (And yes, that could have been me had y'all not encouraged me to shop around!!) 🙂
On another note…
I apologize for the lack of DIY lately! It's like I finished my floors, and then fell off the grid, right? 🙂
I feel like I'm kind of in a holding pattern right now. We're waiting for our fridge and bed to arrive so that we can move into the house. And this condo feels like it's getting smaller and smaller with each passing day, so I find it very difficult to actually get any work done here while we're still living here. Plus, my website business has really skyrocketed in the last month!! I'm so thankful, because y'all know how much work our house needs, so I definitely need the money! But being so busy with that leaves precious little time to actually get projects done.
I'm hoping that as soon as we get into the house, things will start to pick up again, and I'll start getting some projects done!!
Addicted 2 Decorating is where I share my DIY and decorating journey as I remodel and decorate the 1948 fixer upper that my husband, Matt, and I bought in 2013. Matt has M.S. and is unable to do physical work, so I do the majority of the work on the house by myself. You can learn more about me here.