Last Updated on October 7, 2017 by Kristi Linauer
Once I finally had a clear vision of where I'm heading with my living room (more elegant and traditional with a few contemporary and modern touches), I knew that my fireplace needed some work.  For those of you who may be new around here, I built my living room fireplace from scratch at the beginning of this year.  You can find all of those details here.  It's an electric fireplace, so while there's no real fire, it does put out heat.  We used it quite a bit last February.
But the fireplace looked like this…
The fireplace that inspired my design was this one that had a contemporary look to it…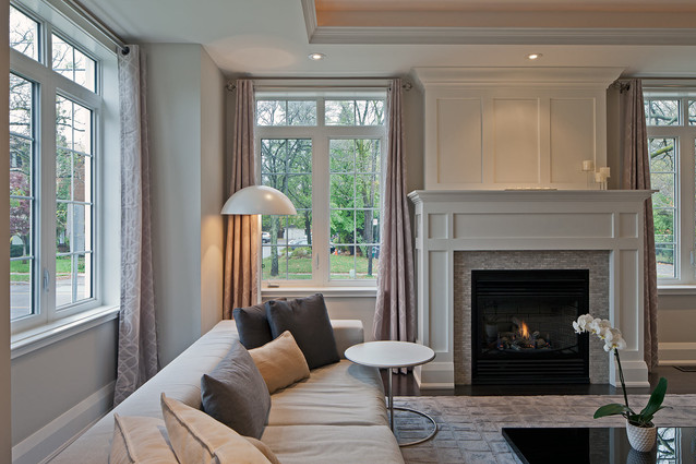 Contemporary Living Room by Toronto Photographers Peter A. Sellar – Architectural Photographer
But when I put the stained wood mantel on mine, it took on a more Craftsman look.  I liked it, but it just didn't fit in with the new direction of my living room.  So I spent the last three days adding trim (lots and lots of trim), wood filling, sanding, caulking, priming, and painting…
…and now my fireplace looks much more traditional.  It'll go so much better with what I have planned for the walls!
Except for the mantel, which I replaced completely, the rest of it really was just a matter of adding lots of trim.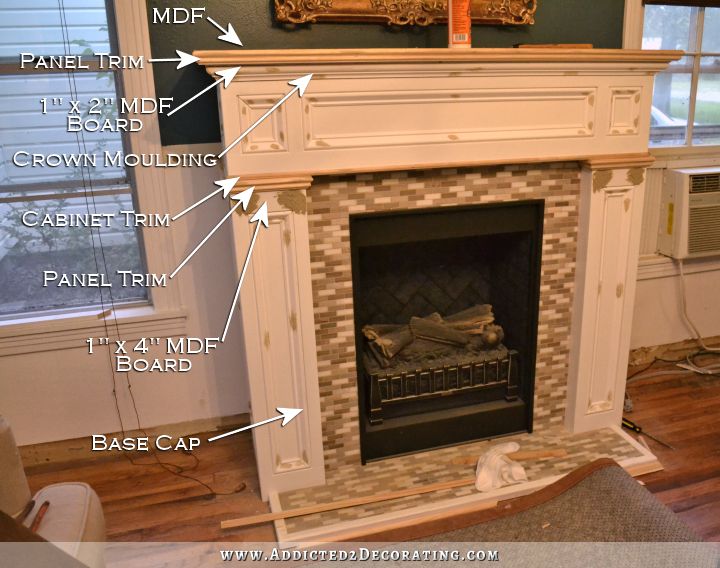 For the main trim around the frames, I used base cap trim.  This is the stuff that's made for dressing up plain baseboards, like if you have a house with simple 1″ x 4″ boards as baseboards.  You can use base cap trim to dress those up so that they look like fancy baseboards.  And then I added a little panel trim, cabinet trim, and crown moulding.  The purpose of the 1″ x 4″ MDF board at the top of the side frames is to create a full frame on the sides once the panel moulding was added.  Without that, the side frames would have only had three sides rather than four.
So, just a little detail on these trims.  My Home Depot has two types of panel trim.  One has a rabbet on the back, and the other is flat.  For this, I used the one that's flat.  This trim is sold by the linear foot.  They also have two sizes of trim labeled cabinet trim, and these are sold by the whole 8-foot piece.  I used the smaller of the two.
The total cost of this makeover was about $80.  Trim adds up!  Especially when you need over 50 feet of base cap, plus other types of trim.  But I think this will work much better in my living room.  The original fireplace would have stuck out like a sore thumb.
But the new one will look right at home in my new living room.
And here's a look at the before and after side-by-side.
And all it took was just a little trim.  🙂
UPDATE:  After looking at the pictures of my fireplace makeover, I decided that the stone tile also needed to be changed a bit.  I didn't want to remove and replace, so I decided to try toning it down with paint first.  The tile is a stone (I think different types of marble) mosaic, and it was unsealed.  (This is key, as this process never would have worked on sealed stone mosaic tile.)  I used regular Behr latex paint in an eggshell finish, painted over the whole thing, left it to dry overnight, and then today (Saturday) I sanded it down using 15o-grit sandpaper until it looked like I wanted it to look.  Here's how it turned out.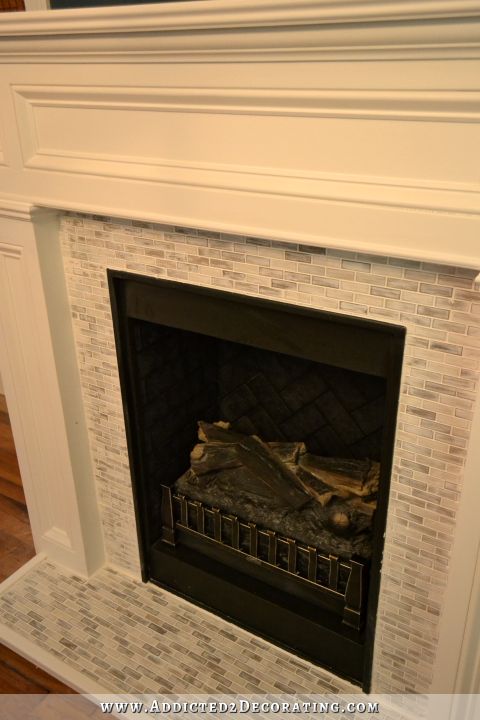 The more subtle look will fit the new style of my living room much better!
And here's another before and after view, now with the new and improved tile.
Addicted 2 Decorating is where I share my DIY and decorating journey as I remodel and decorate the 1948 fixer upper that my husband, Matt, and I bought in 2013. Matt has M.S. and is unable to do physical work, so I do the majority of the work on the house by myself. You can learn more about me here.
I hope you'll join me on my DIY and decorating journey! If you want to follow my projects and progress, you can subscribe below and have each new post delivered to your email inbox. That way you'll never miss a thing!