Well, I don't think the wall mural is going to happen in the guest bedroom. I've made two attempts, and neither one of them worked out.
On the first one, I wanted to do something inspired by the Urban Outfitters mural that I shared in this post. I just loved the pink mountains and the trees.
It started off okay. I knew I would never get mine to look as amazing as the actual wallpaper mural because I'm pretty sure the artist who did that one didn't paint with latex wall paint. But I needed to cover a 14-foot wall, so using any kind of artist paint was out of the question.
Anyway, it took forever to get the mountains to have anything even resembling that soft look of the inspiration wall mural…
Trying to blend and soften and keep the paint wet enough to do those things is so incredibly difficult with latex wall paint. I used Floetrol, as well as some Liquitex Slo-Dri Blending Medium that is used with actual artist paints (but wall paint is acrylic, so I took a chance). But even with those things added, it was still drying too fast to get any really good blending accomplished. I did the best I could and then moved on to the trees.
This is where I decided to abandon this whole idea. I started with the little light-colored trees at the back…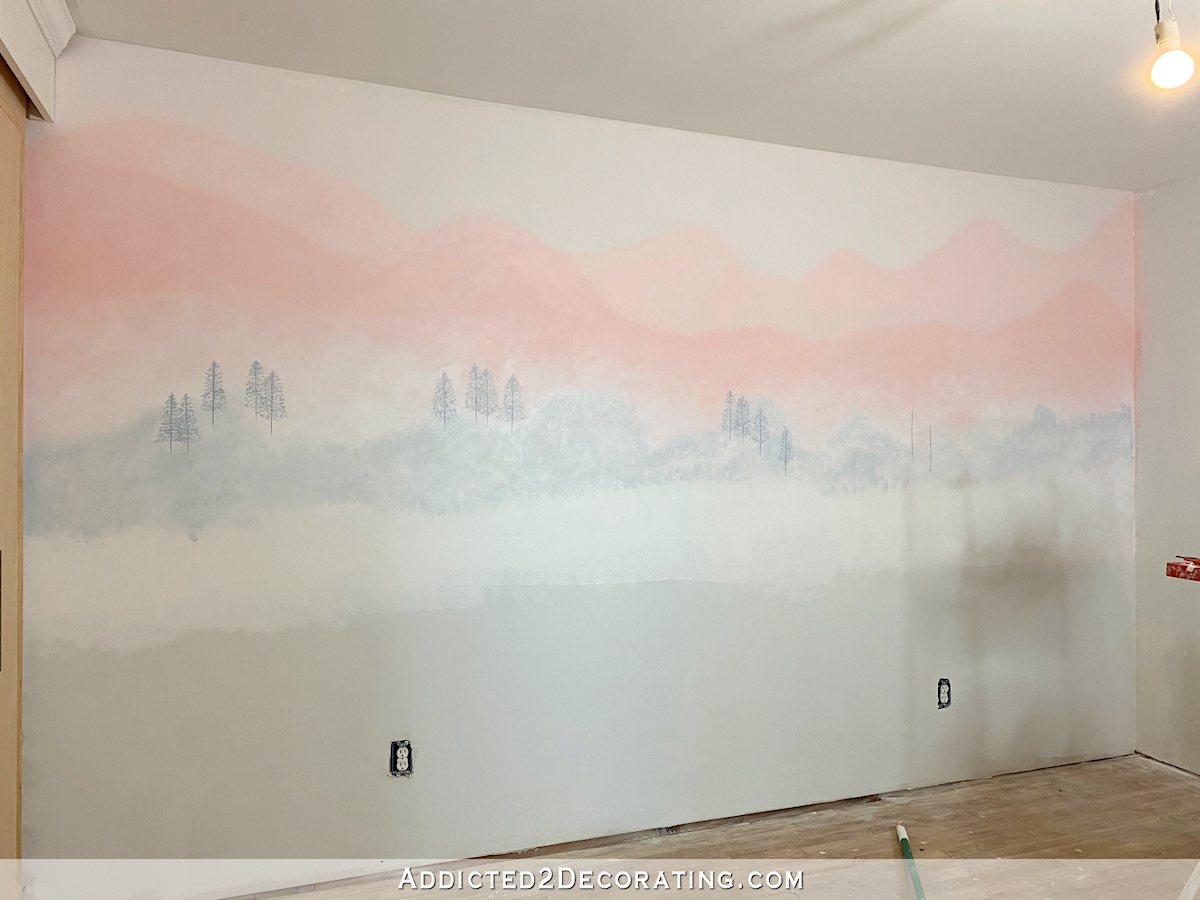 And as I painted those little trees, and realized the sheer number of tree layers I'd need to work up to the big, dark foreground trees, I realized that I just didn't care about this mural enough to put that much time and effort into it. I mean, if I had really loved it at that point, I would have continued. But I was already kind of meh about it, so I just didn't have the motivation needed to put hours and hours and hours of additional work into it.
So then I decided to stick with a simpler idea and do something inspired by the ombre mountain mural from Etsy that I shared in this post.
I definitely would have had more luck with this one had I just copied it exactly, including the color. But I had this idea in my head that I wanted to use some fabric from my stash for the headboard. It's this blue velvet that I originally purchased for the breakfast room dining chairs…
I've kept it in my stash because it's such a gorgeous fabric, but as you can see, it's way more blue and less teal than the ombre mountains wall mural. So I had some paint color matched to the fabric to use for my mural.
I did a little sanding and then painted right over the first mural, starting with the sky. Because I had my mind stuck on pink, I decided to do a pink and white sky. I absolutely loved it when the paint was still wet…
And of course, I'm just talking about this top area…
But as it dried, it got darker and the white disappeared. Unfortunately, I didn't notice it until after I had painted the first row of mountains because I was too distracted with trying to get the right light grayish blue color. But that was also a miserable fail…
I had started with my original dark blue color that I had color matched, and I added just a little of that blue to lots of white, and then to tone it down and make it more of a grayish blue, I added some black. But no matter how much I mixed and tweaked that color, it still looked like something that belonged in a child's room.
And then I stood back and finally noticed that my soft pink and white sky had turned almost all pink, and a much darker pink at that, and I finally decided to call it quits.
So now I'm back to the drawing board. I think it's time to abandon the idea of having a feature wall of any kind. I just need to get this room done, probably with solid-colored walls all around. I can always add an amazing piece of artwork above the headboard.
Anyway, I'm disappointed that it didn't work out, but I'm not disappointed that I tried!! But now I'm on to other plans. I'm just not quite sure what that is at the moment. 😀
Addicted 2 Decorating is where I share my DIY and decorating journey as I remodel and decorate the 1948 fixer upper that my husband, Matt, and I bought in 2013. Matt has M.S. and is unable to do physical work, so I do the majority of the work on the house by myself. You can learn more about me here.
I hope you'll join me on my DIY and decorating journey! If you want to follow my projects and progress, you can subscribe below and have each new post delivered to your email inbox. That way you'll never miss a thing!