Guest Bedroom Progress (Plus A Sneak Peek At My Purple Chair)
Y'all, I've totally found my mojo again. For the first time since I finished my mom's kitchen (which you can see here if you missed it), I dragged out my tools yesterday and got busy on the guest bedroom. I didn't do anything huge — just a bit of nailing on some trim, tightening some screws, etc. — but it felt so good to get back to my tools. And it was so energizing! So much so that I worked until about 11:00pm last night, and even then, I didn't want to stop. If it weren't for Matt telling me that it was time to close up, I probably would have worked until the wee hours of the morning.
By looking at the room, you'd never guess that I worked that long, though. The closets need a lot of finishing details, so there's not a whole lot of difference between the "before" and "current" view of them. But I did manage to get all of the nail holes and cracks filled with wood filler, and I got quite a bit of sanding done as well.
I also got those top shelves removed and the nail holes patched. If you'll remember, when I built the closets, I originally put these shelves in the top…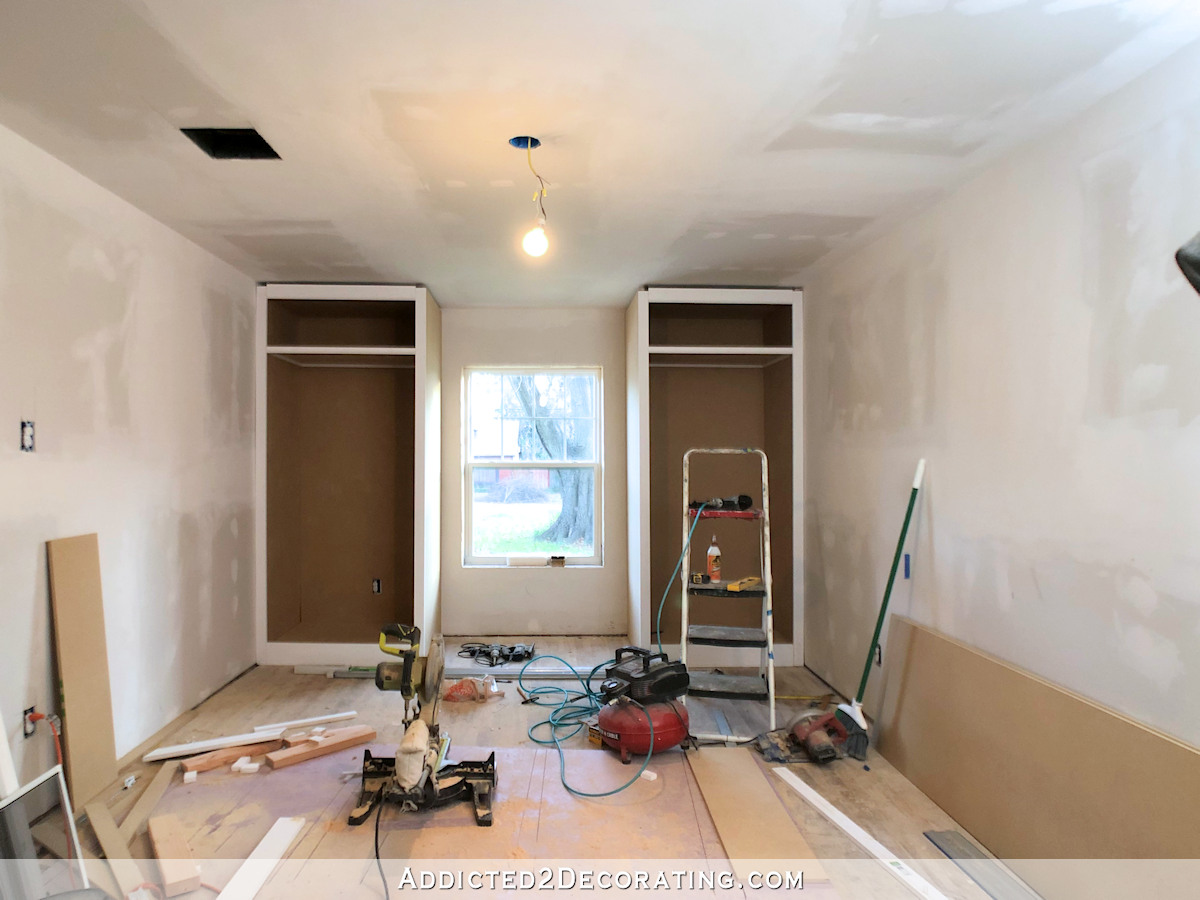 But then I decided to do sliding doors instead of swing doors, and those required hardware that went all the way across the width of the ceiling in front of the closets. And because I wanted a clean look without hardware showing, that required a header in front of the track. And because I wanted the header to be tall enough to cover the hardware on the doors as well, that header had to come down further than I had anticipated.
And that made those upper shelves pretty much useless. So yesterday, I removed them, and now I'm back to having two wide-open closets that can be configured in a thousand different ways.
I haven't quite decided how I'll configure these. Other than the bars for hanging clothes, I'll probably keep it very simple without building in a lot of permanent shelving. If any specialty storage is needed, I'll just use organization items that I can purchase and insert into the closets. That way I'm not stuck with anything permanent, and it can be altered easily for whatever I may need these closets for when we're finished using this bedroom as our main bedroom.
As far as the accent wall goes, I've made a decision. I've abandoned the idea of doing any kind of ombre or mountain or watercolor design. Instead, I'm going to do a more simple blue and gold "wallpaper" design.
The wall color will be this dark blue that I had color matched to the velvet that I'm going to use for the headboard…
I failed to get a picture of the velvet with the wall color before I sanded down that patch of color, but this will give you an idea…
Velvet is one of those fabrics that has a very obvious nap to it, so if you turn it one way, it's one color, and if you turn it the other way, it's a different color. In the case of this velvet, one way is very light, and the other way is very dark. I haven't decided which way I'll use it yet. Obviously the dark will blend in with the wall, and the light will give some contrast. I'll have to wait until I get the wall finished to see which one looks better.
But speaking of the wall, my vision is to do a dark blue and gold design. I had originally thought of doing a simple geometric design like this…
And while I love that (and still may end up doing something like that), I think a line drawing of flowers may be more my style. I found this, and it's kind of reminiscent of the design I did a while back on the entryway wall…
But you'll have to imagine that last wallpaper with a dark blue background and the flowers in gold. So at this point, I'm still not 100% sure which direction I'll go, but I'm leaning towards the flowers.
So it's not much, but that's the progress on the guest bedroom. I'm just so excited that I feel like I'm back in the swing of things. I so enjoyed working yesterday, getting my hands on my tools again, and making some progress on that room. At this point, I just want to get the room finished. While I do want to figure out that accent wall (I really don't want the entire room a solid color), I'm wanting to make a decision and get it done without getting bogged down in the details.
So now on a completely different topic, I wanted to show y'all a sneak peek of the purple chair that arrived for the living room!! I'll wait until the other one gets here (should be next Monday) to show you the chairs in the room, but for now, here's a peek…
I can tell you that the picture does not do it justice. It's probably the most gorgeous purple I've ever seen — not too red, not too blue. And the fabric is gorgeous. It's a polyester velvet, which is my second favorite velvet only to silk velvet, so it has just a slight sheen to it that is so beautiful.
And as soon as I put the chair together (I just had to attach the legs), I turned away for no more than five minutes to get the huge box out of the way, and then I turned back around to this…
Yeah. That should go well. 😀 So if any of you have had success with any of those pet hair remover gadgets, I'd love to hear about it. I'll definitely need one!! I have one of those big sticky rollers, but I just hate having to continually buy refills, and I don't particularly like how fast the sticky sheets lose their stickiness. So anything that doesn't use sticky sheets would be preferable.
Addicted 2 Decorating is where I share my DIY and decorating journey as I remodel and decorate the 1948 fixer upper that my husband, Matt, and I bought in 2013. Matt has M.S. and is unable to do physical work, so I do the majority of the work on the house by myself. You can learn more about me here.