DIY Painted Hardwood Floor – Offset Striped Design – Finished!
*This post contains affiliate links.
My guest bedroom painted hardwood floor with the offset striped design is finally finished! I got three coats of clear coat on the floor on Tuesday, left it alone to dry for about 24 hours, and then installed the shoe molding yesterday afternoon. If you missed the first part of this project, you can find that post here…
And here's how it turned out…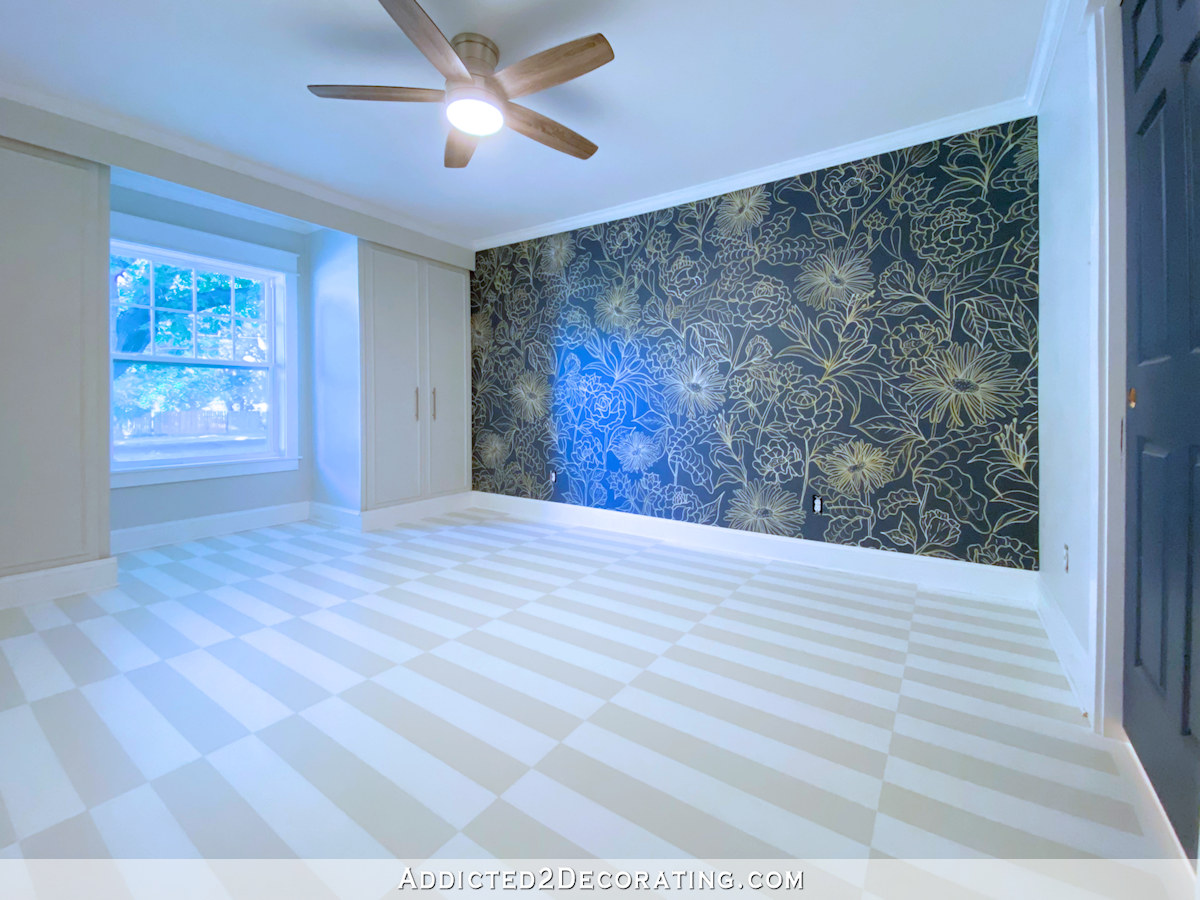 I explained in the previous post how I marked and taped off the stripes, so you can find those details there. (Find the link at the top of this post.) After getting all of the stripes painted, I went back and did any necessary touchups, and then let those dry for a couple of hours. Then I was ready for the clear coat.
To clear coat this floor, I used Varathane Water-Based Polyurethane Floor Finish in a matte finish. To apply it, I used a 5-inch stain and waterproofing brush, and I attached it to the end of an extension pole.
I simply dipped the brush into the can of polyurethane, and brushed it right on to the floor. There were no other materials or tools needed other than a can of poly, an old towel that I placed the can on (so that it didn't scratch the floor as I scooted it across the floor), a brush, and an extension pole. I did a total of three coats — two coats the first day, letting the first coat dry for about five or six hours before adding the second coat, and then a third coat the next morning.
The can of polyurethane is labeled "matte", but in my opinion, the finish is actually more of an eggshell. It has a very slight sheen to it. But it's such a nice finish, and it's so easy to apply. This is the exact same clear coat that I used on the studio floor, and it's still holding up strong even with my 95-pound dog playing in there almost every day.
I'm very pleased with the finished floor, although if I had to do it again, I'd choose to use the Benjamin Moore Classic Gray mixed at 75%, or possibly even 50%, so that it's not identical to the wall color.
But it's done, and there's no way I'm going to go back and redo anything. That's just something to keep in mind if I ever do another painted floor and use the colors already in the room.
And of course, once the bed, nightstands, dresser, and other items are in the room, the floor will be a whole lot less prominent. It'll just fade into the background like an area rug would.
I'm going to give the floor a few days to cure. The instructions say to wait three days before subjecting the floor to normal use.
In the meantime, the golden yellow velvet fabric arrived for the upholstered bed, and I'm very anxious to get started on that. Also, I ended up finding some nightstands that I really liked, so when I saw them go on sale, I decided to go ahead and purchase those instead of building my own. Those are arriving today, and I'll share them with you as soon as I can get them put together.
But I think I'll be building a dresser because the only one I've found that I really like, and that fits all of the specs that I want (number of drawers, measurements, style, color) is a $1600 dresser at Ballard Design. There's just no way I'd pay that much for a dresser for a guest bedroom, even though we'll actually be using this as our main bedroom for the foreseeable future. But I think I can make something similar at a fraction of the price. So that will be a fun project coming up soon!
Addicted 2 Decorating is where I share my DIY and decorating journey as I remodel and decorate the 1948 fixer upper that my husband, Matt, and I bought in 2013. Matt has M.S. and is unable to do physical work, so I do the majority of the work on the house by myself. You can learn more about me here.