Last Updated on December 24, 2015 by Kristi Linauer
The other day when I shared that I was taking my living room in a new direction, a few of you mentioned that a velvet sofa would look great in there.  Honestly, I had never even considered a velvet sofa, so I got onto Pinterest and Houzz and started searching.  And oh my!!  I'm hooked on this idea now!
So when I went to look at fabrics the other day, I was trying to work in a velvet sofa that would go with my dark teal ottoman, and ended up choosing a chocolate brown.  It was pretty, but I kept going back to those Pinterest and Houzz pictures, and the sofas that I really liked the most were the sofas in the various shades of greens and blues.  They're so gorgeous!  And a bit dramatic.
via Elle Decor Espana
And I'm nothing if not dramatic!  😀
Okay, maybe not.  But I do love these rich, saturated colors on these sofas.
via Stephen Knollenberg
So that means that my ottoman will need a bit of a makeover as well.  I already have plans to "neutralize" it (it's actually becoming a coffee table), and I'll be reusing the tufted teal top on another project.  I'm a little bit sad about not having that teal tufted ottoman in the living room, but it's all in an effort to make way for a bold velvet sofa — the foundational piece around which my entire "new" living room will be decorated.
Contemporary Living Room by Atlanta Interior Designers & Decorators Smith Boyd Interiors
And right now, my plan is to reupholster the sofa I have.  I like the style, with the English rolled arms, and it's a very sturdy, heavy, well-built Thomasville sofa.  I'll be reconfiguring the cushions a bit, because I really like sofas that have just one long seat cushion, and one long bolster along the back, like this green sofa…
Transitional Bedroom by San Anselmo Architects & Building Designers Jennifer Robin Interiors
So now my hardest decision is choosing between blue/teal or green.  Every time I think I have my mind made up to go with a gorgeous dark blue or teal…
Eclectic Living Room by Seattle Interior Designers & Decorators Mint Home Decor
…then I see an amazing green that makes me change my mind.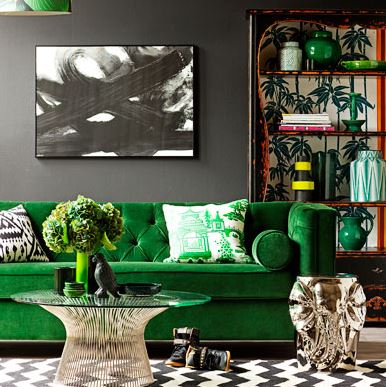 via NineMSN Real Living
Or I could just go with turquoise…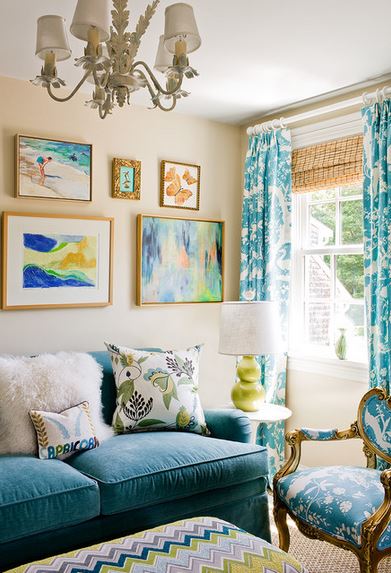 Transitional Family Room by Milton Photographers Michael J. Lee Photography
Okay, probably not turquoise, although that sofa is beautiful!  I really do think I'll go with dark blue/teal.  This teal sofa is so pretty, but I like my teals to be more on the blue side than the green side.
via Boca do Lobo
Since my kitchen is so predominantly green, I really don't think I want my living room to also be predominantly green.  Dark teal with some green accents to tie into the kitchen would be perfect.
And for those of you who may have missed my update on Friday, I made some further modifications to my fireplace by painting (yes, painting) the stone mosaic tile.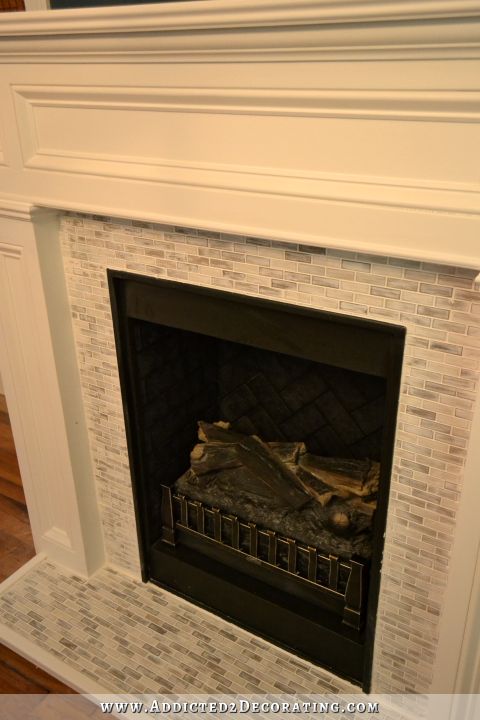 You can see more, including the final before and after of the fireplace with the "new" tile, in the update at the end of Friday's post.
Addicted 2 Decorating is where I share my DIY and decorating journey as I remodel and decorate the 1948 fixer upper that my husband, Matt, and I bought in 2013. Matt has M.S. and is unable to do physical work, so I do the majority of the work on the house by myself. You can learn more about me here.
I hope you'll join me on my DIY and decorating journey! If you want to follow my projects and progress, you can subscribe below and have each new post delivered to your email inbox. That way you'll never miss a thing!