Fireplace Makeover (Plus My Paint Color Trial and Error)
After reading every single comment that y'all left, and considering every bit of input that y'all gave me about my fireplace, I finally made a decision about what I wanted. It was clear that the dark gray wasn't working…
The #1 suggestion was to paint it a lighter gray with purple undertones. I considered it. I really did. But I kept having flashbacks to this awful misstep…
Wow, that was horrible. So when it came down to it, I just couldn't bring myself to do more gray. Heck, I'm still having a hard time adjusting to a gray vanity in my bathroom (as several of you predicted). I certainly didn't want to put a color that I'm still not sure I even like on something so big and front-and-center as my fireplace.
I actually fell into the camp with those of you who liked the drama of a dark fireplace. The gray wasn't working, but the dark factor actually works for me. I really considered purple, as in, a really dark, velvety purple. I tried a sample of some that I had on hand (Benjamin Moore Shadow, I think it was), but it was purple overload. With purple as the predominant color in the rug, purple curtains, and a purple fireplace, it was just too much.
So the next natural choice was teal. Really dark teal. I had some Benjamin Moore Gentleman's Gray on hand, which is more of a true blue, so I mixed a bit of green in it (some sort of Kelly green that I had on hand) to make a beautiful, dark teal. Then I had it color matched at Benjamin Moore. Here's the formula for the paint color I used.
FYI, this is the same teal that I used on my sample board as an exterior shutter color option. 🙂
My initial plan was to try an idea that several of you had to just use color from the mantel down, and then paint the upper part the wall color, and the crown moulding the trim color.
I was so excited about that idea. It would give me the best of all worlds — the color that I so enjoy, and the perfect contrast to the light recliner that sits by the fireplace, while keeping the top light and bright. In my mind it worked, and I was certain that I would love it. So I got to work and got one coat of paint on all three sections, and…
I hated it. I mean, I really hated it. I hastily threw those lengths of drapery fabric over the rods to see if that helped matters any, but it didn't. I just hated it. (I really can't say that enough.) But hey, at least I tried it so that I would know for sure! What I saw in my mind was definitely NOT what was happening on the actual fireplace.
But I absolutely LOVED the dark teal color. I had been wondering just how I was going to bring teal into this side of the room to balance out the big teal grasscloth wall just opposite the fireplace on the entryway wall. Well, this was clearly my answer — a completely teal fireplace.
So I got the whole thing painted teal, and then decided I wanted new mosaic marble tile on the surround. And then I decided that this fireplace is never going to look real without a little hearth of some sort.
I tried the hearth idea before, but I built it up on a piece of 3/4″ plywood, and it was just too thick. And my goodness, that tile was busy! I was so disappointed because that tile was so much lighter than that right out of the package, but it turned dark as soon as I grouted and sealed it. I made a couple of bad decisions on the original fireplace.
So this time I not only used much lighter, brighter marble tiles that were more uniform in color, but I also placed the hearth tiles directly on the floor rather than placing them on a plywood platform. So rather than being over an inch off of the floor like the original hearth, this time they're only 3/8″ from the floor. I also framed the hearth with oak quarter round (instead of pine trim like I used last time) and stained it the same color as the floor.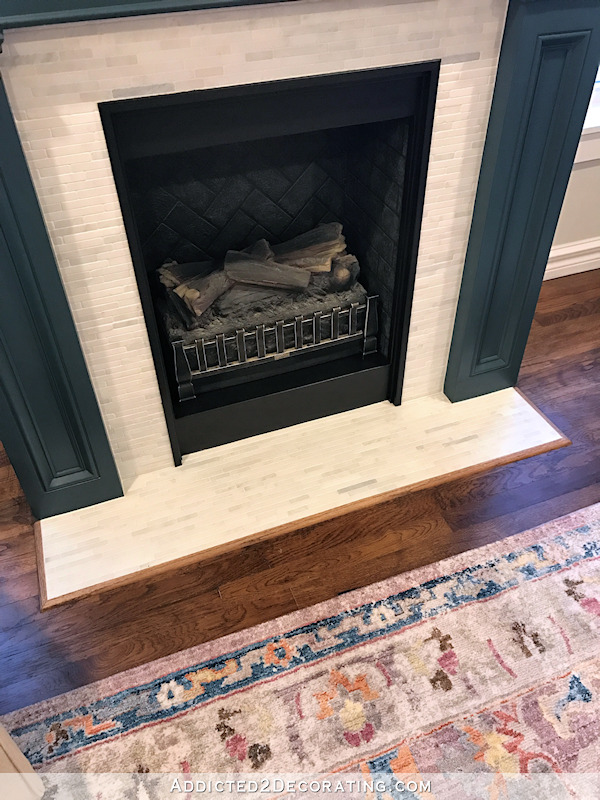 And on the fireplace surround, I installed the new tiles directly over the old ones.
I did the whole thing using SimpleMat Tile Setting Mat, which is basically a double sided sticky sheet that you use to adhere the tiles. I needed eight square feet for the fireplace and hearth, so one box did the trick.
So here's how the whole thing turned out — my dark teal fireplace with new marble mosaic tile surround and hearth…
This is the picture that I took of it last night when I finally got all of my project mess cleaned up…
And here's how it looked this morning in the early morning light…
This teal makes me happy. And I love how it balances out the teal grasscloth wall that's just directly opposite the fireplace. The room feels more balanced to me now.
And because I'm all about the "before" pictures lately (I've had so much fun going back and looking at those these last few days!), here's how this corner of the room started out…
In other news, the trim for my new drapery fabric arrived, so I have everything I need and can get started on them! I'll probably wait until a rainy day to do that. But today is supposed to be sunny and warm, and my brother is coming over in a couple of hours to help me get started on the front porch. I'm very excited because I think the sagging roof is actually going to be an easy fix. I hope to have some progress to show you tomorrow.
Addicted 2 Decorating is where I share my DIY and decorating journey as I remodel and decorate the 1948 fixer upper that my husband, Matt, and I bought in 2013. Matt has M.S. and is unable to do physical work, so I do the majority of the work on the house by myself. You can learn more about me here.