Last Updated on October 8, 2017 by Kristi Linauer
With the exception of a few minor details, my bi-fold closet doors that I used as double doors are finished!  They're perfectly private (no gap between the doors), and yes, they lock.  🙂  So just ignore all of the unfinished projects surrounding the door (obviously including the unpainted drywall), and take a look at how my doors turned out!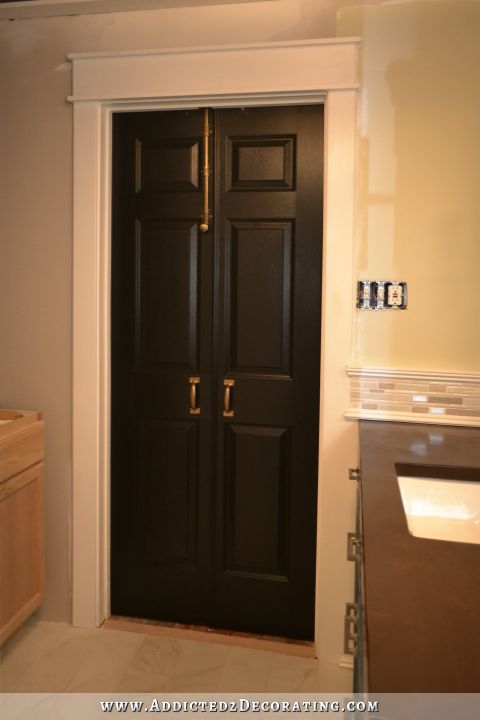 If you missed the first part of this project, where I actually built the jamb and installed the doors, you can see those details here.
These work perfectly.  I did have some issues on Wednesday when I removed the doors to prime and paint, and then they wouldn't close when I reinstalled them.  So yesterday I solved that by removing one of the doors and trimming off just a tiny bit from the inside edge using my table saw.  I also added a 5-degree bevel to the edge.  I thought I would have to do both doors, but just doing the one allowed them to close perfectly.
In order to cover up the gap between the doors and give complete privacy, I added this trim to the inside edge of each door.  It's glued and nailed to the face of the door, and extends about 3/8-inch to cover any gap that is between the doors.  I added a strip of that moulding to the bathroom side of the right door, and the hallway side of the left door.
There's actually a specific type of trim made just for this purpose called T-astragal, but I couldn't find it locally, and I didn't want to order it online and wait for it when I knew I could achieve the same thing with this cabinet moulding.
And so that the doors can be locked when the bathroom is in use, I added this surface mount bolt lock in antique brass to the door.  And yes, that lock cost more than the doors.  😀  The trim added to the inside of the door on the right prevents the doors from being opened when the bolt lock on the left door is engaged.
I know that the first question that many of you will have is, "Can Matt reach the lock?"  I actually don't know (I didn't get it installed until late last night), but I doubt it.  And I'm fine with that.  The last thing I want is for Matt to be behind a closed and locked door where I can't get to him if he needs me in an emergency.  So he's not really allowed to lock doors with him on one side and me on the other.  He'll manage just fine without locking the doors, and if we have guests, I'll make sure that he has complete privacy.  🙂
I debated whether to use brushed nickel hardware on the door, to match the bathroom, or whether to use antique brass, to match…well…pretty much the entire rest of my house.  (I love my brass, but for some reason, I'm still partial to brushed nickel in bathrooms.)  I finally decided that since these doors remain open most of the time, and they're actually part of the hallway, to go with antique brass door hardware.  That made sense in my mind.  🙂  I couldn't find any handles that I liked, and the spaces were too small for regular door knobs, so I ended up going with these inexpensive door pulls, and I sprayed them with a coat of Rust-Oleum Antique Brass spray paint.  I also painted the door hinges to match.
You'll notice in the pic above that I have some holes to fill in the doors at the top, as well as in the stop at the top of the doorway.  I had originally installed two magnetic closures on the doors, but I removed them.  They were incredibly strong, and would have been fine if these doors were being used on a pantry or closet (i.e., somewhere where people don't see the magnetic closures from the inside, and where the doors generally stay closed).  But since these doors remain open when the bathroom isn't in use, the white plastic-encased magnetic strips attached to the door stop, and the square metal pieces attached to the doors, just really looked tacky and cheap.  Plus, I decided that they weren't really needed since I have the bolt lock.  So I still need to fill those holes and touch them up.
This project turned into a real pain, and was much more involved that I had hoped it would be, but I'm so glad I did it.  The whole reason I decided to go this direction in the first place is because these double doors, when they're open, make the bathroom look so much bigger.  So mission accomplished.
And no, my walls don't look like that.  Since I have no light in my hallway, my camera distorts all of the colors.  My walls don't glow, and my vanity is much darker, richer teal than that.  🙂
But yay!  I have working, locking doors that offer complete privacy!  Next on my "to do" list — the linen storage (and possibly taking ten minutes to install a new hallway light).
Addicted 2 Decorating is where I share my DIY and decorating journey as I remodel and decorate the 1948 fixer upper that my husband, Matt, and I bought in 2013. Matt has M.S. and is unable to do physical work, so I do the majority of the work on the house by myself. You can learn more about me here.
I hope you'll join me on my DIY and decorating journey! If you want to follow my projects and progress, you can subscribe below and have each new post delivered to your email inbox. That way you'll never miss a thing!