Last Updated on February 14, 2019 by Kristi Linauer
I spent most of my time yesterday in the attic chasing down all but two of those old black wires, disconnecting, reconnecting as needed, and getting rid of as much as I could. I still have two more old black wires that are (or were) feeding power to something in the storage room at the back of the garage. As soon as I chase down those wires today and get rid of them, that entire side of our house — garage, storage room, breakfast room, pantry, kitchen, dining room, entryway, music room, hallway, and hallway bathroom — will all have updated wiring with no old, brittle, frayed wiring in sight. That just leaves our bedroom, Matt's game room, and my office that have the old wiring. It will be such a relief when all of that stuff is finally gone!!
But yesterday wasn't all about wiring. I also got the framing in place for my new pantry window! The widow hasn't been installed just yet, but you can at least see the placement and get an idea of what I have planned.
It's a 32″ square window that will be centered on the doorway, and there will be cabinets and a coutertop below. Of course, you have to imagine it with those old windows gone. If you have a hard time picturing that, I've edited the following photo to help you out. 🙂
And now I'm at a critical point. I have to decide where I want any and all lighting and switches so that the new electrical can be run to those areas. And in order to determine that, I kind of need to know how I want this room arranged.
So I've been trying to plan it out in my mind, with the help of Houzz, of course. 🙂
I do know that on the back wall (i.e., the window wall), I want lower cabinets with a countertop, and then either closed cabinets or open shelves above. While I won't have a sink in mine, I'm thinking something like what you see on the right side of this photo…
What I'm having trouble deciding is if I want the lower cabinet/coutertop/upper cabinet configuration to be the entire width of the 12-foot wall, or if I want it to be just in the center (maybe 48 inches wide) under the window so that it's the main view through the glass doors, and then use the four foot sections on either side for more pantry-like open storage, kind of like you see in on the left side wall in the pantry above.
So I guess I'm thinking that my pantry will be a cross between a butler's pantry where I store my nice china and other nice serving pieces that I don't use regularly, and a regular pantry where I store food and seldom-used small appliances and things like that. And naturally, I want the butler's pantry portion to be what's visible straight through the glass doors framing the window. I want the view (at least the straight-on view) to be really nice like this one, but I'd have a window where they have the open shelving in the middle…
So my main decision right now is how wide I want to make the pretty section. The entire twelve foot length of the wall, or just a center four-foot section?
I do know that I want my side walls to be mostly, if not all, open storage. I really love the look and style of the full wall of open storage in this pantry
.
And then somewhere in there, I want a full upright freezer. I haven't found what I'm looking for just yet, but I'm hoping to find a counter depth freezer so that it doesn't jut out into the room too far. I'm also thinking that the right end wall might be the perfect place for it.
The pantry is 12 feet by 8 feet, so that side wall will have plenty of room for a freezer plus quite a bit of storage shelves around it.
I just need to make a decision about that back wall. I think what I'll probably end up doing is keeping the closed, pretty cabinets in just the center four-foot section under the window. But I'll continue the countertop the entire length of the wall with counter-depth storage underneath, but I'll leave the storage on either side open. That way I can have deep shelves for appliances like my juicer and juice press, and I can get to them without having to open cabinet doors. And then I'll also do open shelves on the upper walls of those sections, but they'll be 12 or 14 inches deep for smaller items.
See? It helps me to write about these things! It helps me to think through option and form a plan in my mind. 🙂
---
---
Update:
My pantry is finished! Want to see the entire project from start to finish? You can find every single post about the pantry build right here…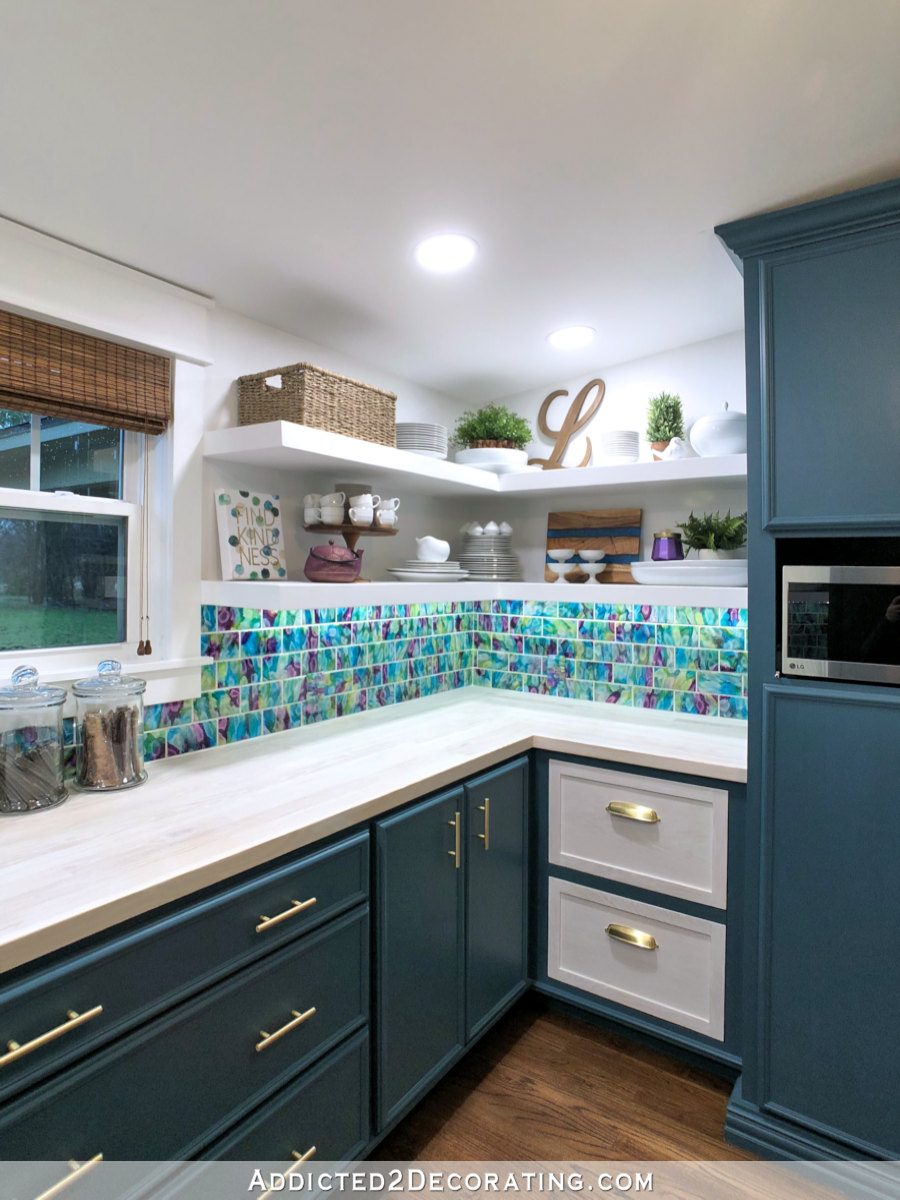 You can see more pictures on the before and after post right here…
Addicted 2 Decorating is where I share my DIY and decorating journey as I remodel and decorate the 1948 fixer upper that my husband, Matt, and I bought in 2013. Matt has M.S. and is unable to do physical work, so I do the majority of the work on the house by myself. You can learn more about me here.
I hope you'll join me on my DIY and decorating journey! If you want to follow my projects and progress, you can subscribe below and have each new post delivered to your email inbox. That way you'll never miss a thing!