20+ Ways To Repurpose Old Windows (Upcycled Window Projects)
When the window installers removed my old dining room windows last Friday, I initially told them to go ahead and haul off the old windows.  Then I had a change of heart. I couldn't bear the thought of seeing those old windows be thrown into the landfill (which I'm certain is where they'd be headed if they hauled them off for me), so I got online and started looking at different ways to repurpose old windows.   There are so many amazing ideas out there!  These barely scratch the surface, but here are a few of my favorite ideas:
1. Make a headboard
DIY headboards don't get much simpler than this, and you can hang as many windows as you want to really make a statement.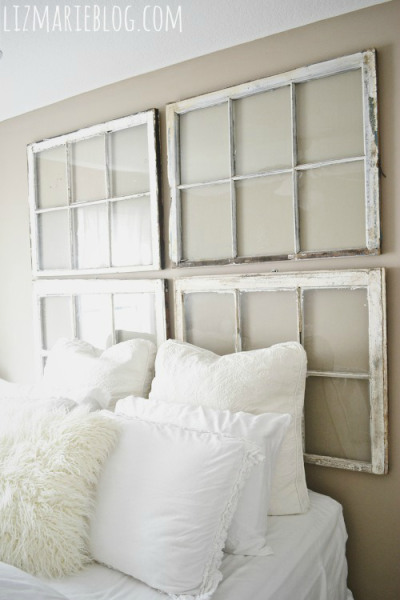 via Liz Marie Blog
2. Turn a window into a corkboard
I really love this design using corks from wine bottles, but if you're not a wine drinker/cork collector, you can use sheets of cork available at craft stores.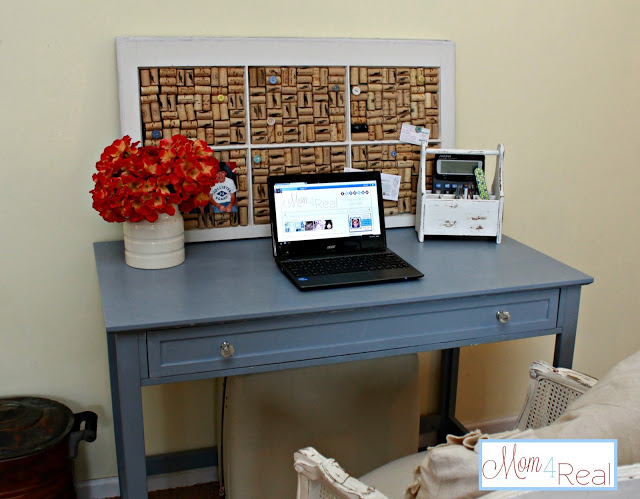 via Mom 4 Real
3. Use windows as a space divider
Hanging old windows is a great way to add definition to open spaces, and this idea can be used inside as well as outside.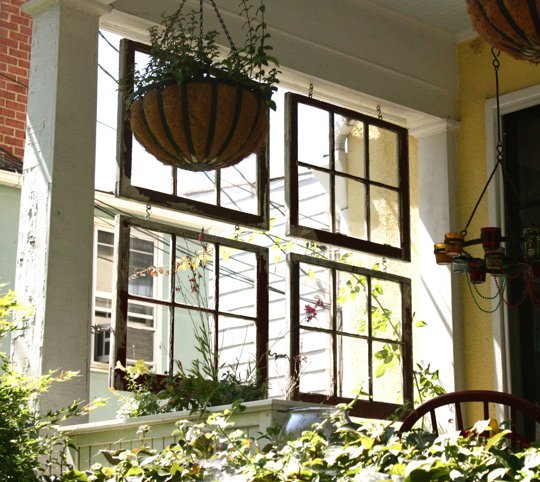 via Apartment Therapy
4. Incorporate a window into a fence design
An old window adds interest to this garden fence, but I can also imagine small windows being incorporated into a standard privacy fence.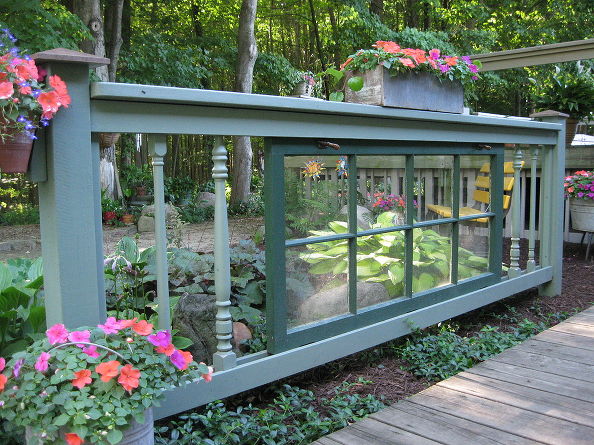 via Hometalk
5. Use windows as doors on a cabinet
Adding old windows to a bookcase or DIY cabinet design turns it into a beautiful and unique curio cabinet.
via Knick Of Time Interiors
6.  Build a mini greenhouse
I love this design for a mini greenhouse to store outdoor plants for the winter.
via Simply Country Life
7. Make a chalkboard calendar
Replace the glass with panels of MDF covered in chalkboard paint, and you have the perfect calendar or days of the week to-do list.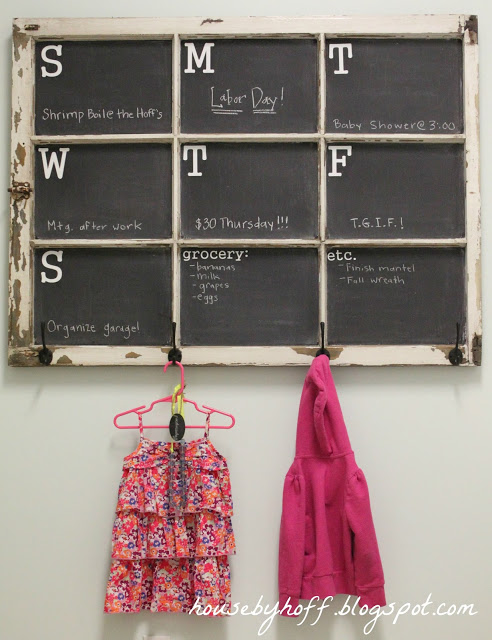 via House By Hoff
8. Create a family command center
If you need more organization than just a calendar, this command center is the perfect design.  It includes a mail organizer, weekly menu, calendar, and an area for lists.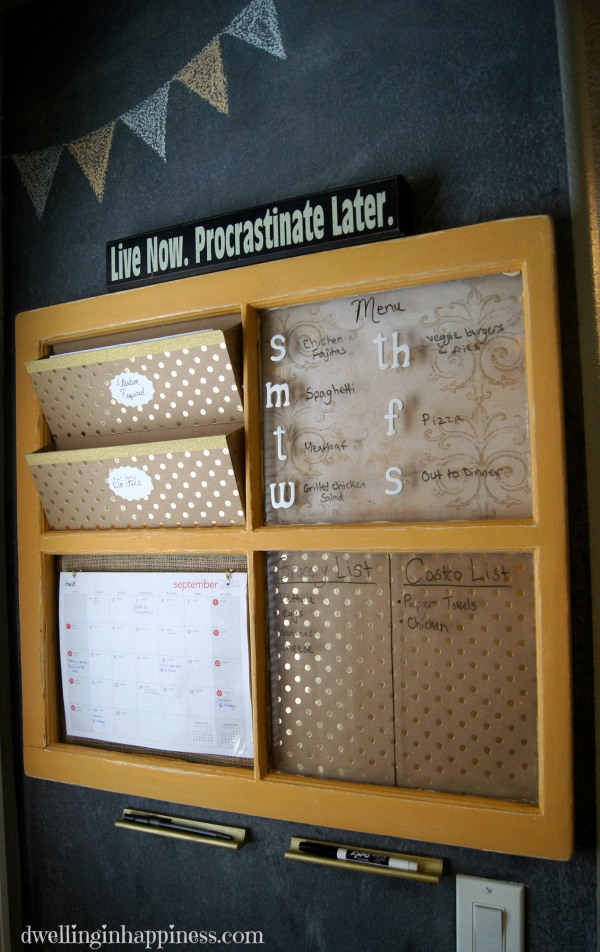 via Dwelling In Happiness
9. Create a mini garden house
I have no idea if this serves any purpose other than being decorative, but this mini garden house is one of my absolute favorite ideas.  It's the cutest thing, looks easy to build, and can be decorated for the seasons.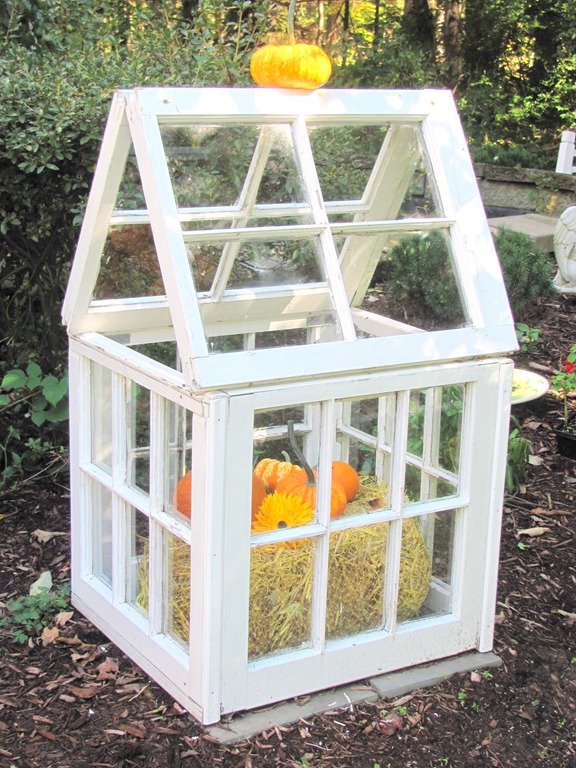 via Crafts a la Mode
10. Use windows in a kitchen island design
This is another favorite idea of mine.  Too bad I have no room for a kitchen island!  The windows really make this island look special and custom.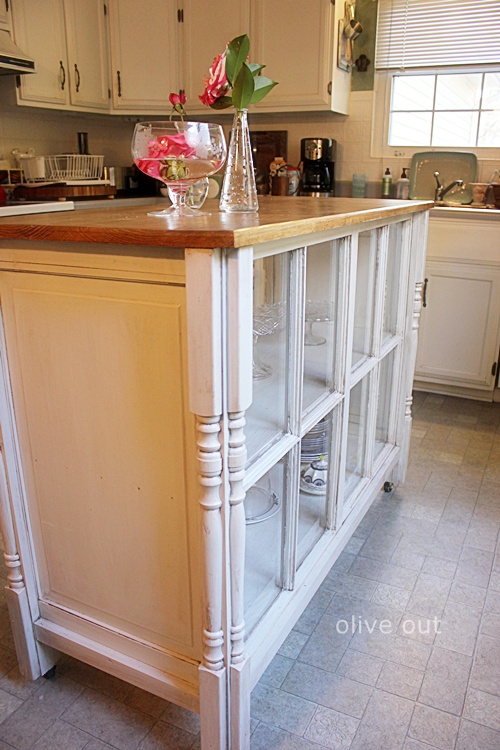 via Olive Out
11. Make stained glass artwork
Actual stained glass takes quite a bit of practice, and probably many years to master.  But you can fake it with an old window, pieces of colored glass, and clear silicone caulk.
via Houzz Gardenweb forum
12. Turn a window into a coffee table
I've seen many different window coffee table designs, but Marty's is not only one of my favorites, but I think hers was the first coffee table I had ever seen made out of a window.  The top opens so that the decorative items inside can be changed out.
via Marty's Musings
13. Make decorative window boxes
I love this idea for adding interest to storage buildings, fences, or other outdoor areas that need a little bit of dressing up.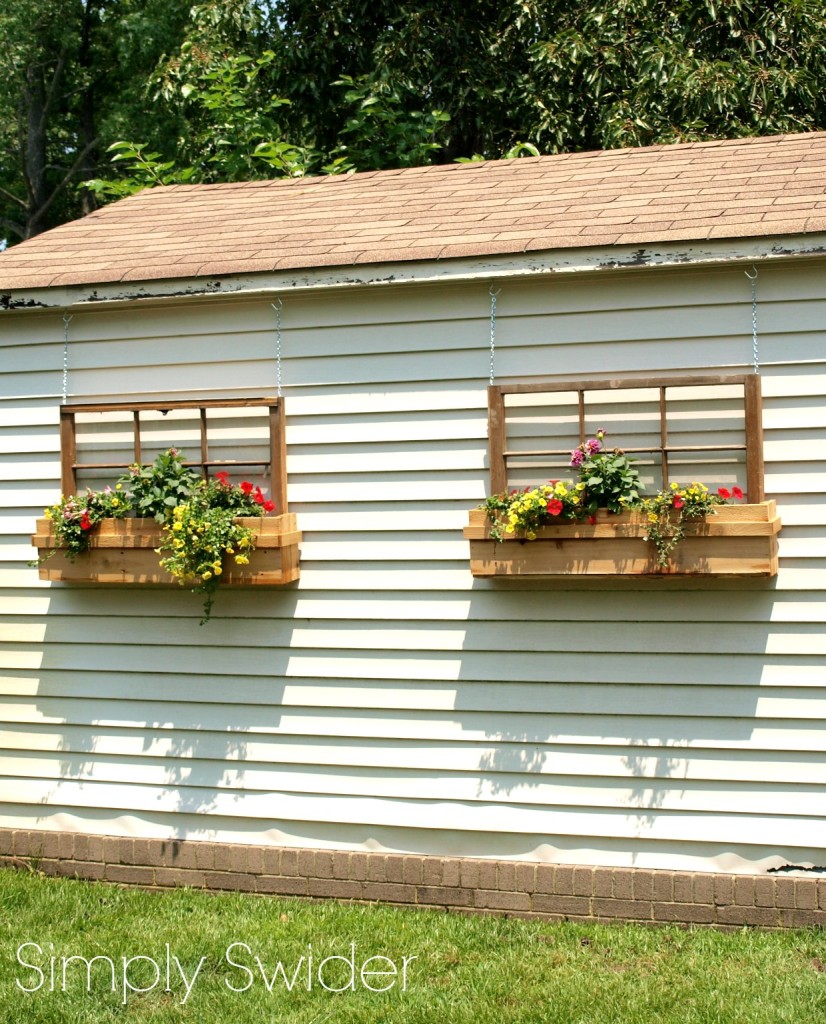 via Simply Swider
14. Make a bathroom wall cabinet
This bathroom cabinet is so pretty, and perfectly shows off the items inside.  But if you don't have pretty items to fill your cabinet, you could always change out the glass for mirrors, and it would be practical not only as storage, but also as an extra mirror, which is always a bonus in a bathroom.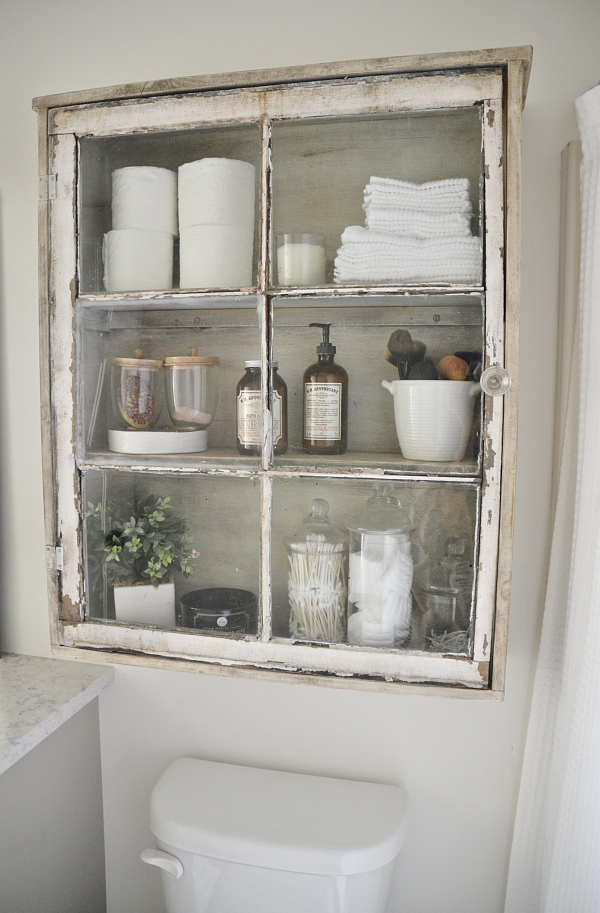 via Liz Marie Blog
15. Use a window to frame a family portrait
I've seen all kinds of windows used as frames for artwork and pictures, but this design using one large photo to fill up the whole window (rather than individual photos for each pane of glass) is my favorite.
via Domestically Speaking
16. Turn a window into a shadow box
Shadow boxes are very simple to build, and this one takes it up a notch with the addition of lights inside.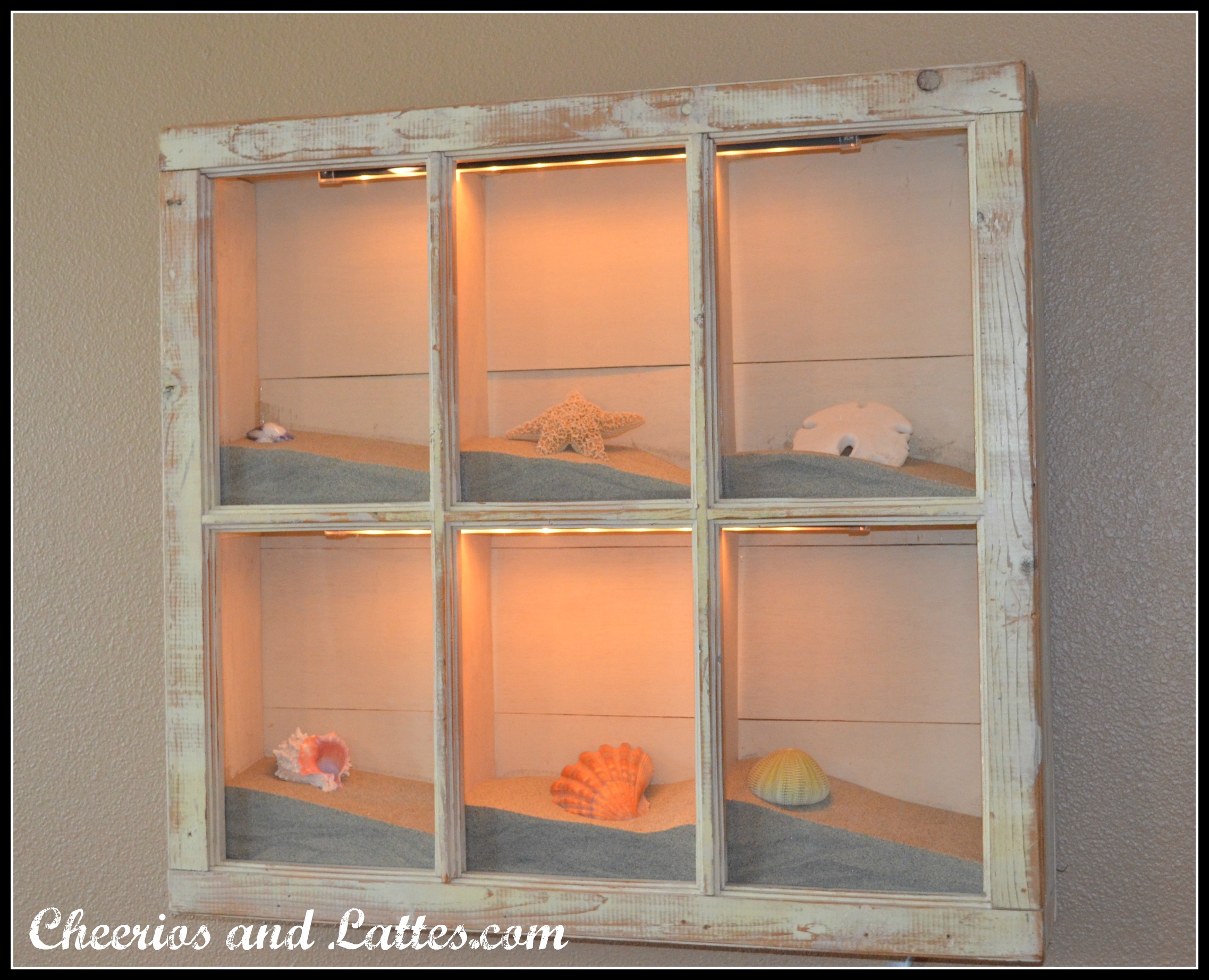 via Cheerios and Lattes
17.  Use as a backdrop for artwork
This is a brilliant idea for making your artwork appear larger than it is.  If you have a piece of artwork that you really like, but it's not quite large enough for the space you want to display it, layer it over a much larger window to make the whole thing more in scale with your wall or mantel.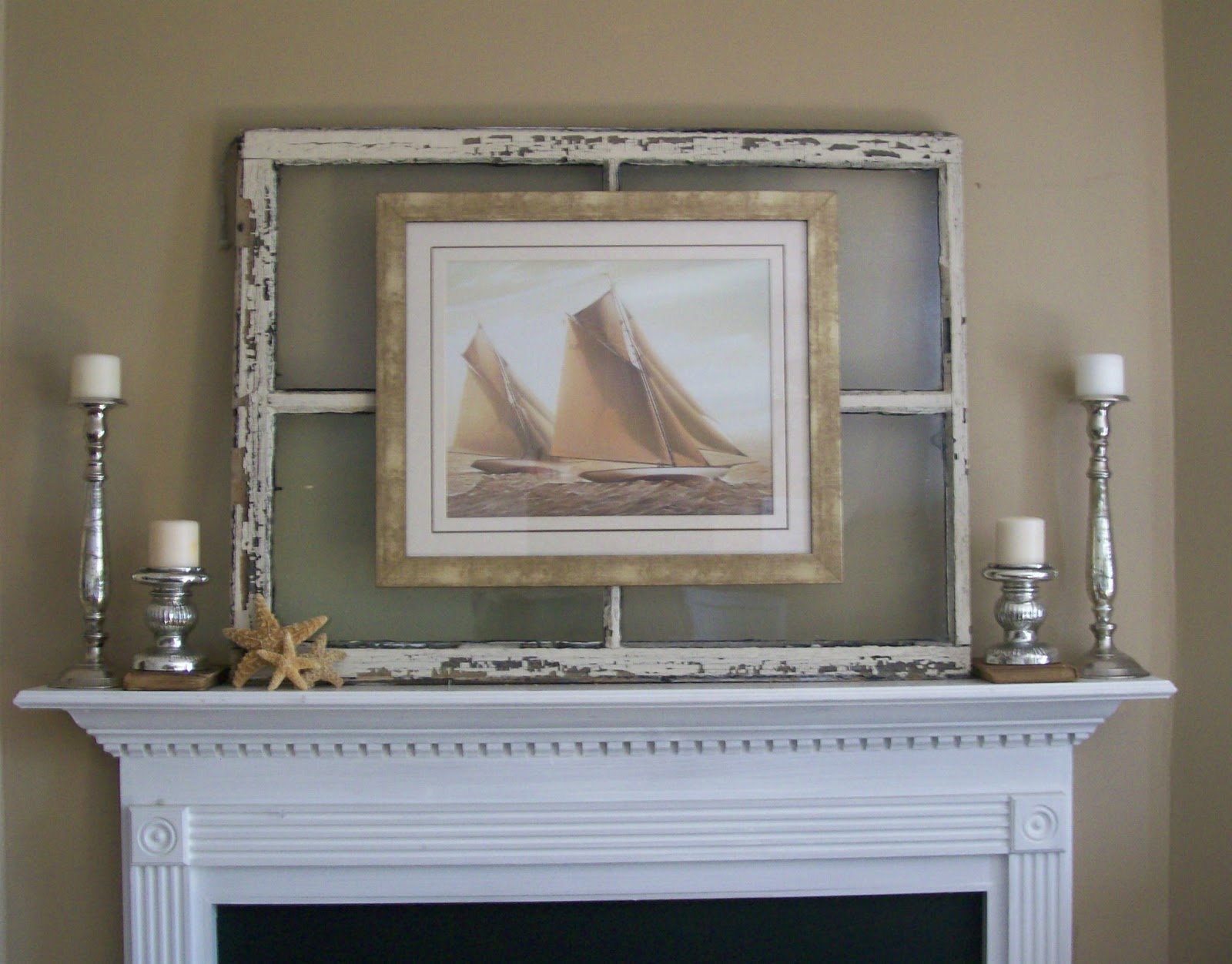 via Walnut and Vine
18. Build a greenhouse out of old windows
This is my absolute favorite idea, and this is what I'm hoping to do with my old windows one day.  I'll have to wait until I have all of my windows replaced (five down, twelve to go!), and I'll probably have to collect a few more before I can do this, but this is my goal.  There are so many design ideas for old window greenhouses online, so I'm not quite sure just yet what I want mine to look like, but I have a while to plan it.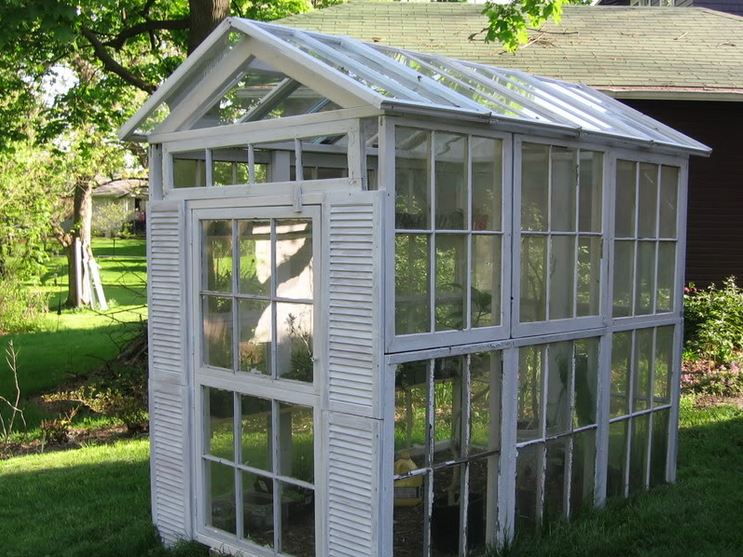 via Houzz Gardenweb forum
19. Turn an old window into a decorative wall mirror
This is a simple and elegant idea, and makes the perfect mirror for any entryway.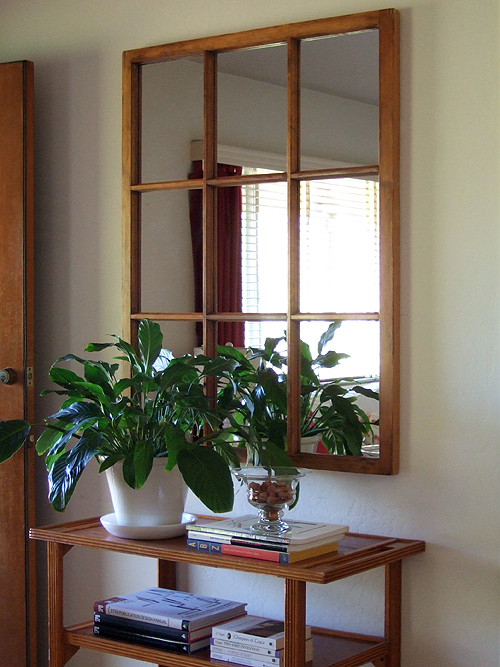 via Crafty Nest
20. Turn a window into a fireplace screen
I never would have thought of this idea, but it's brilliant!  The only challenge might be finding the perfectly sized window, but if you can find one, it makes a beautiful fireplace screen.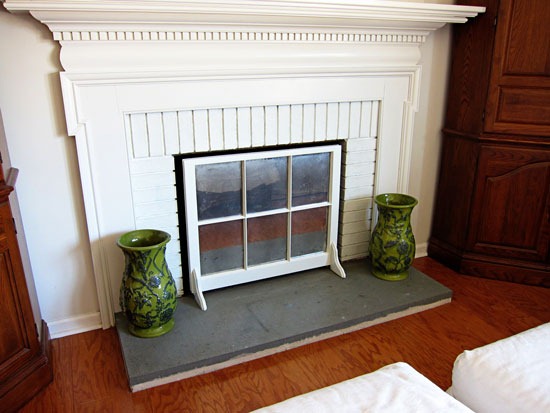 via In My Own Style
21. Build a movable window wall
A temporary, movable window wall is great for providing definition between spaces, especially in a small home where you don't necessarily want solid walls to block sight lines. The window wall defines spaces without closing off rooms from each other and making spaces feel smaller.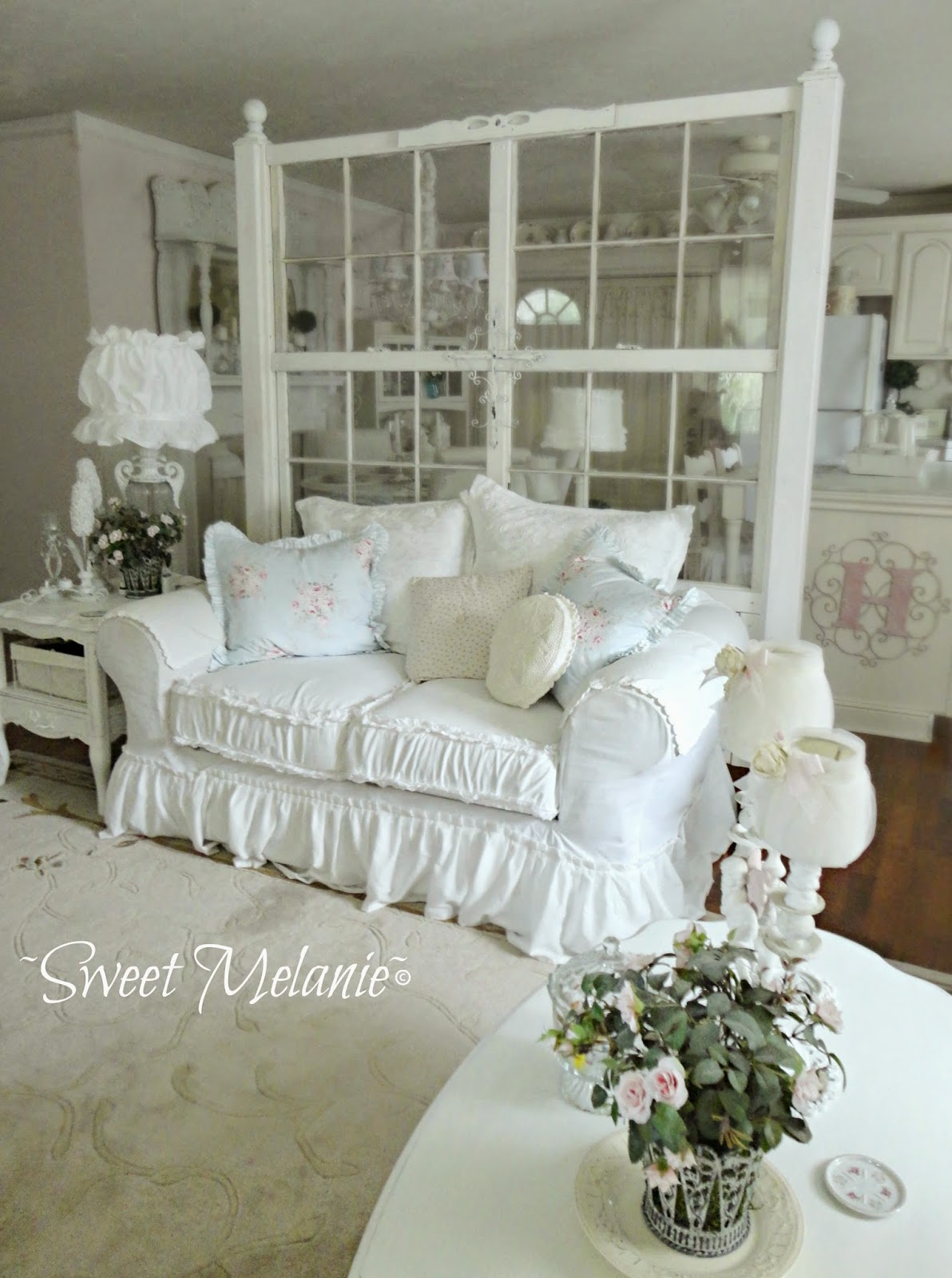 via Sweet Melanie
What ideas have you come across for old windows that I've missed?  There are quite a few of these ideas that I'd love to try myself, but for now, my plan is to save mine up for a greenhouse.  That's the goal, at least. 🙂
Addicted 2 Decorating is where I share my DIY and decorating journey as I remodel and decorate the 1948 fixer upper that my husband, Matt, and I bought in 2013. Matt has M.S. and is unable to do physical work, so I do the majority of the work on the house by myself. You can learn more about me here.