Last Updated on December 24, 2015 by Kristi Linauer
My window installers were able to come a day early! They arrived at about 8:30 yesterday morning, and were able to install four of the five windows yesterday. They're supposed to be back this morning to do the last one if the weather holds out long enough. We're supposed to have severe weather for the next three days or so, and are currently under a flash flood watch until Sunday morning. It's probably not the best timing for installing a new window, but I'm praying the rain clouds hold off just long enough!  😀
I was going to wait until they were all installed and trimmed out to show you, but I just can't. I'm way too excited about this!! I have been looking forward to this moment for a very long time now.
Remember how that other company said that my front windows would have to stay in the same configuration because the two vertical pieces were structural?
Well, thankfully they were wrong!  I can't even express how excited I was to see those front windows be taken out of there.  The left casement window was completely painted closed.  The middle solid window had a storm window on it that had this awful blue tint to it. And as I told you the other day, the right casement window would open only if I turned the handle just enough to release the latch, and then went outside and pried it open the rest of the way with my fingers.  To close it, I had to turn the handle to catch the latch, and then go outside and bang the window with my fist to get it to close completely.
It took quite a bit of cutting and prying to get those front windows out, but they finally got them out.
Those vertical pieces on the original windows were structural (the other company was right about that part), but there wasn't any reason at all that they couldn't be moved.  Here's the new framing allowing for three windows of equal width.  Each new vertical piece is made of two pieces of 2″ x 6″ lumber nailed together.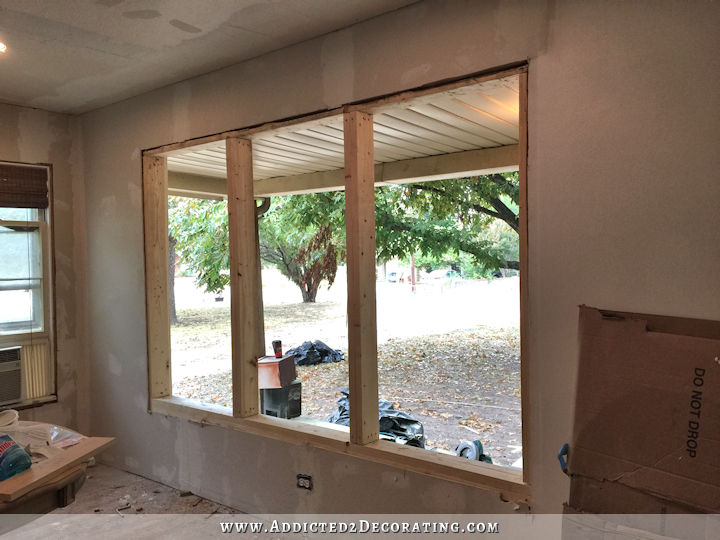 And here are my new front windows!
I was originally going to do a 6-over-6 design, but at the last minute, I decided to go with a 6-over-1 design.  I didn't realize that that decision would save me a little money (about $20 per window), and I really do love that solid bottom glass.  These are single hung windows with half screens.  I've never had this kind before, and I was a little worried about how the half screen would look, but I actually really love it.
The lumber yard where I ordered them (which is evidently the go-to lumber yard for most of the local builders) doesn't carry brands like Anderson or Pella, and after I told the guy that those were the brands I had been looking at, he recommended these.  He said they're a step up from the ones that most of the local builders use.  They're heavier, higher quality, and come with a lifetime warranty, whereas the standard builder window that he sells in our area is lighter, not as sturdy, and comes with a 10-year warranty. The brand is called Showcase, and evidently they specialize in windows for Texas and the Gulf Coast.
Anyway…
Seeing those old front windows go, and the new ones installed, was definitely the most exciting part of my day.  But only slightly less exciting was seeing this window go.
From the day we moved in, I've been staring at a window unit air conditioner in that window. I was so glad to see both the broken window, AND the window unit A/C, be taken out!  And as I suspected, the wood underneath was rotted, so they had to replace that before installing the new window. That is EXACTLY the reason that I wanted everything taken out, reframed, and new build windows installed rather than having replacement windows installed.  With replacement windows, none of that framing is even exposed, much less replaced.
So, by the end of the day, I went from this…
…to this…
What an amazing difference new windows make!  They have totally transformed the look of this room. I'm so anxious to get these trimmed out and finished!
And guess what! Now that we have windows that actually open and close very easily, Matt and I both agree that we don't actually need a front door that allows a breeze in. I've been living for two years with windows that don't open, and have had it ingrained my my mind that I need a screen door (or something like that) to let the breeze in during the spring and fall.  With my new windows, that's no longer needed!  I'd still love to have that one door with the "window" that opens on hinges.  I think that design is beautiful and unique. But if it turns out to be way out of my price range to have something like that custom made, or way beyond my DIY skills to make it myself, I won't be too disappointed about it now.
Oh, and to those of you who said that I could certainly install my own windows…I now agree with you.  🙂  Now that I've seen it done, and I've seen how simple the process is (the process, but not necessarily the work itself), I feel very confident that I could install my own windows with an extra pair of helping hands.  I don't know that I'll actually do it myself in the other rooms, just because it's nice to let other people do some of the work sometimes. (Same reason I don't learn how to do plumbing beyond the basics.) But at least I know I could if I needed to. 🙂
Addicted 2 Decorating is where I share my DIY and decorating journey as I remodel and decorate the 1948 fixer upper that my husband, Matt, and I bought in 2013. Matt has M.S. and is unable to do physical work, so I do the majority of the work on the house by myself. You can learn more about me here.
I hope you'll join me on my DIY and decorating journey! If you want to follow my projects and progress, you can subscribe below and have each new post delivered to your email inbox. That way you'll never miss a thing!