As of this morning, the new sidewalk from the street to the front porch is finished! And I can't believe how much a simple sidewalk can transform the front of a house.
Remember what it looked like before? It was narrow, old, cracked, and had low spots where it flooded every time we got a hard rain.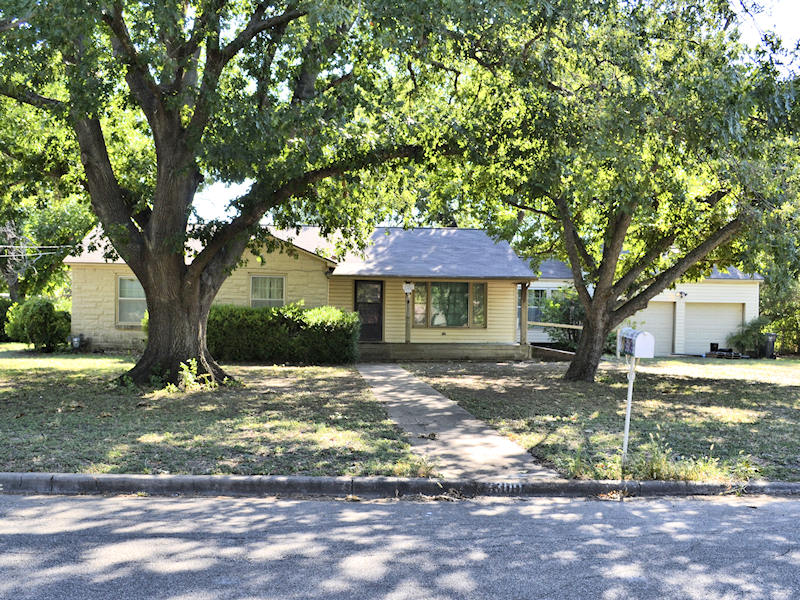 And now, it looks like this!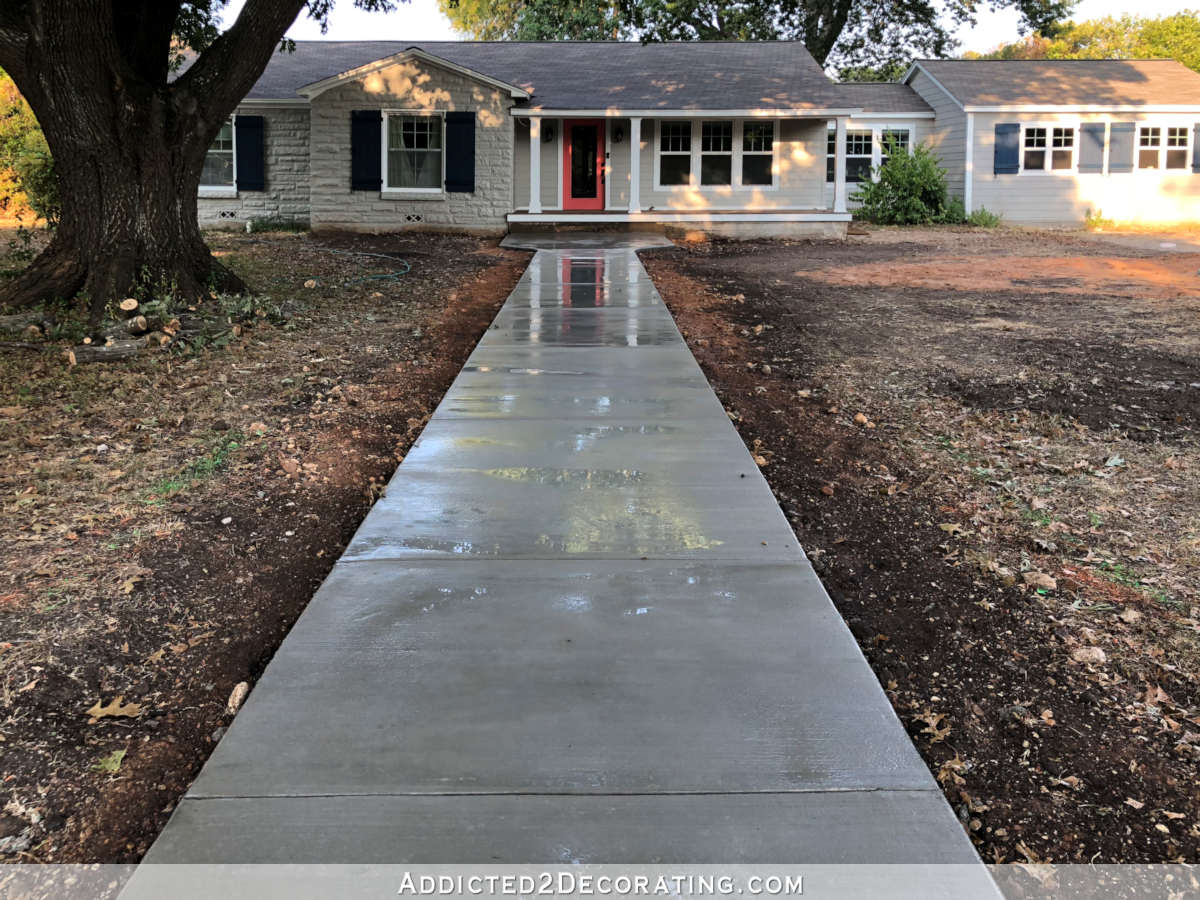 I took that picture right after they removed the forms early this morning and then wet the concrete down. I wasn't quick enough to get the pictures before he grabbed the hose and started spraying it with water, so I'll get better pictures later.
In the end, I decided to go with just plain concrete with a broom finish. I had hoped to have exposed aggregate, but the city requires that the first seven feet from the curb be plain concrete, and I just couldn't imagine having seven feet of plain concrete and then the rest exposed aggregate. So plain concrete it is, and to be honest, I'm perfectly fine with that. It's the easiest to maintain and keep clean with a pressure washer, and I'm incredibly happy with how it turned out.
The whole process started last week when the old concrete sidewalk, steps, and flower garden border were torn out. It was fascinating to watch! I love watching demolition. 🙂
The most surprising part of that process was watching the flower garden border being removed. I couldn't believe how thick and deep this thing was! It was almost as if it was originally intended to be a foundation perimeter and not just a flower garden border. It was so heavy and thick that he had a hard time breaking it apart.
But finally, it was all gone.
Then on Tuesday, they started setting the forms for the new sidewalk, and on Wednesday they added all of the rebar.
Interestingly, the original sidewalk that was removed didn't have a single piece of rebar or reinforcement of any kind. This one, on the other hand, is thoroughly reinforced and tied into the porch foundation and the curb with rebar.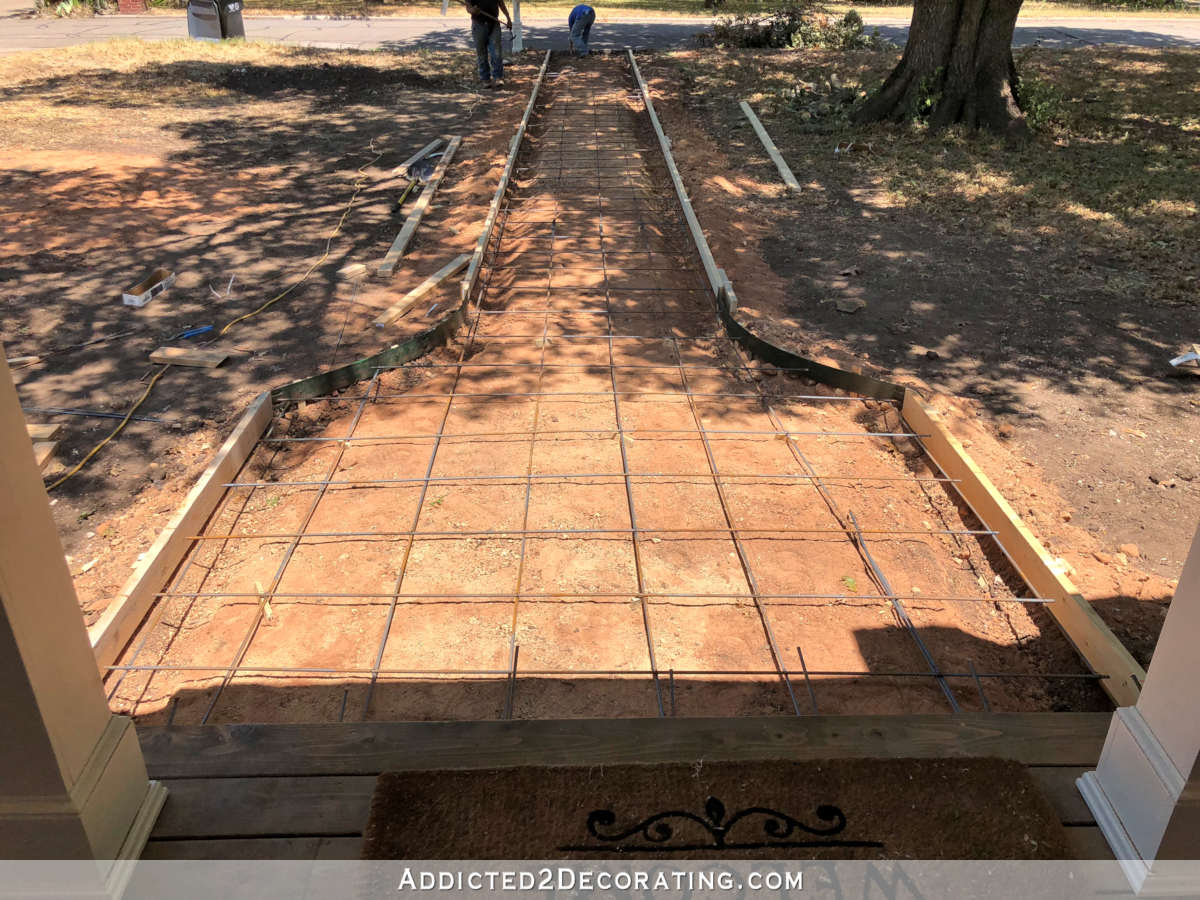 And finally yesterday, it was time for the new concrete. Peeve was as intrigued by the process as I was. 😀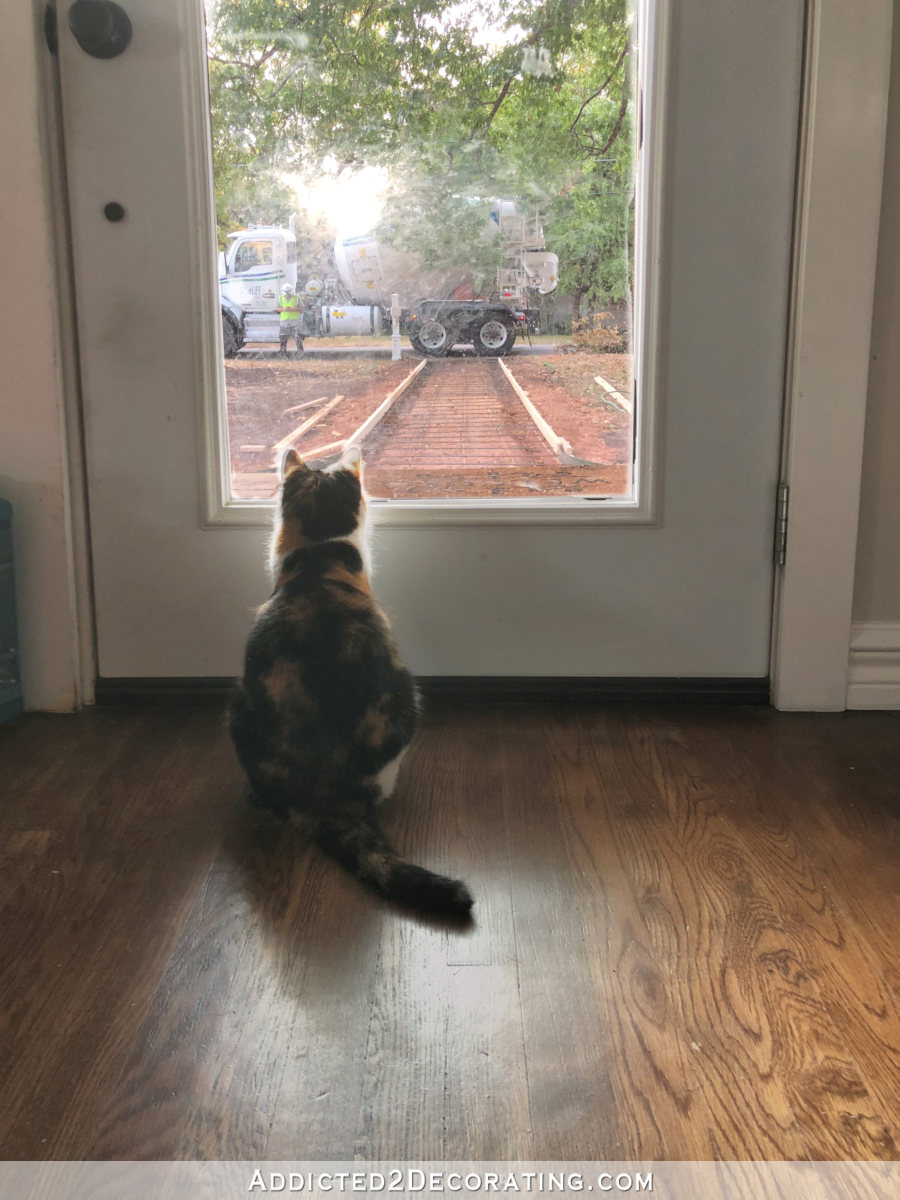 I don't know why, but I just love watching concrete being poured.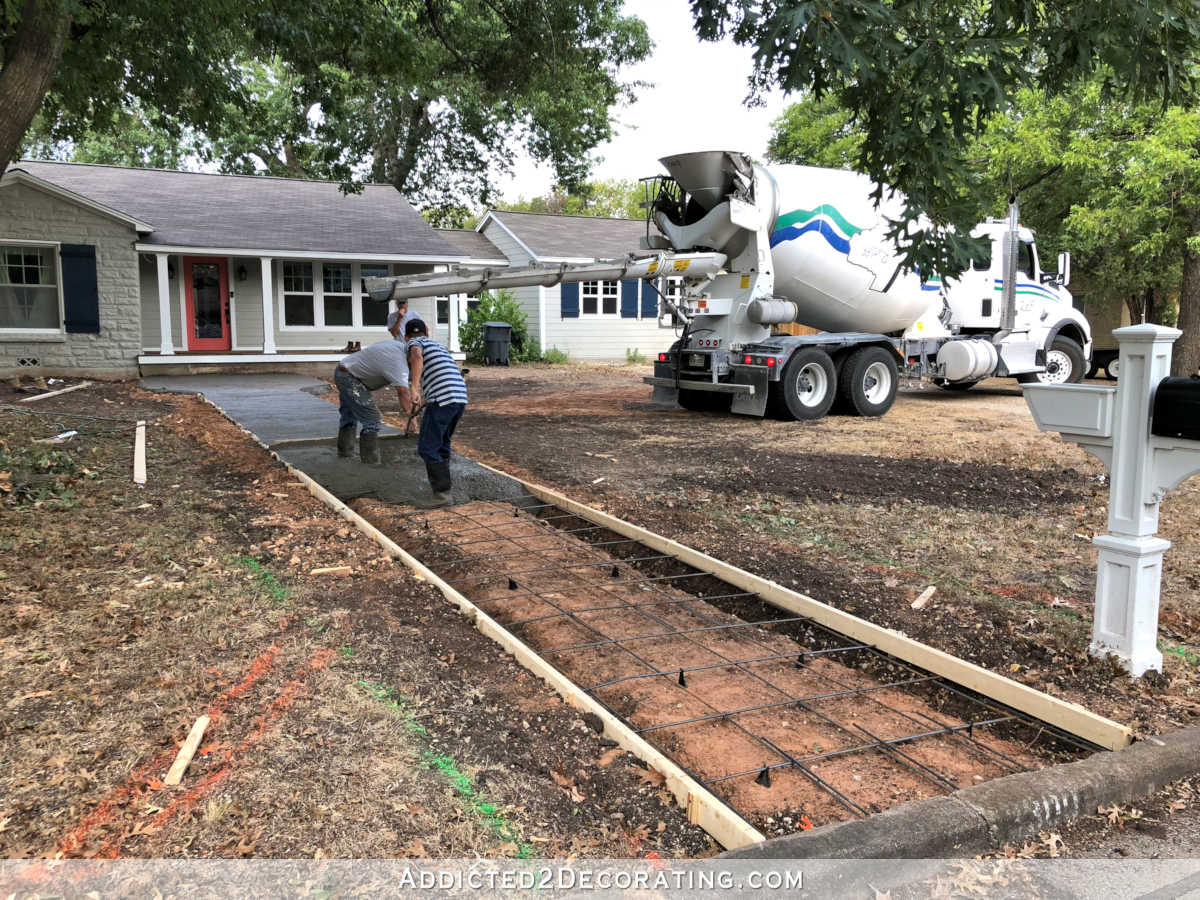 And they got about two feet from the curb and ran out of concrete. 😀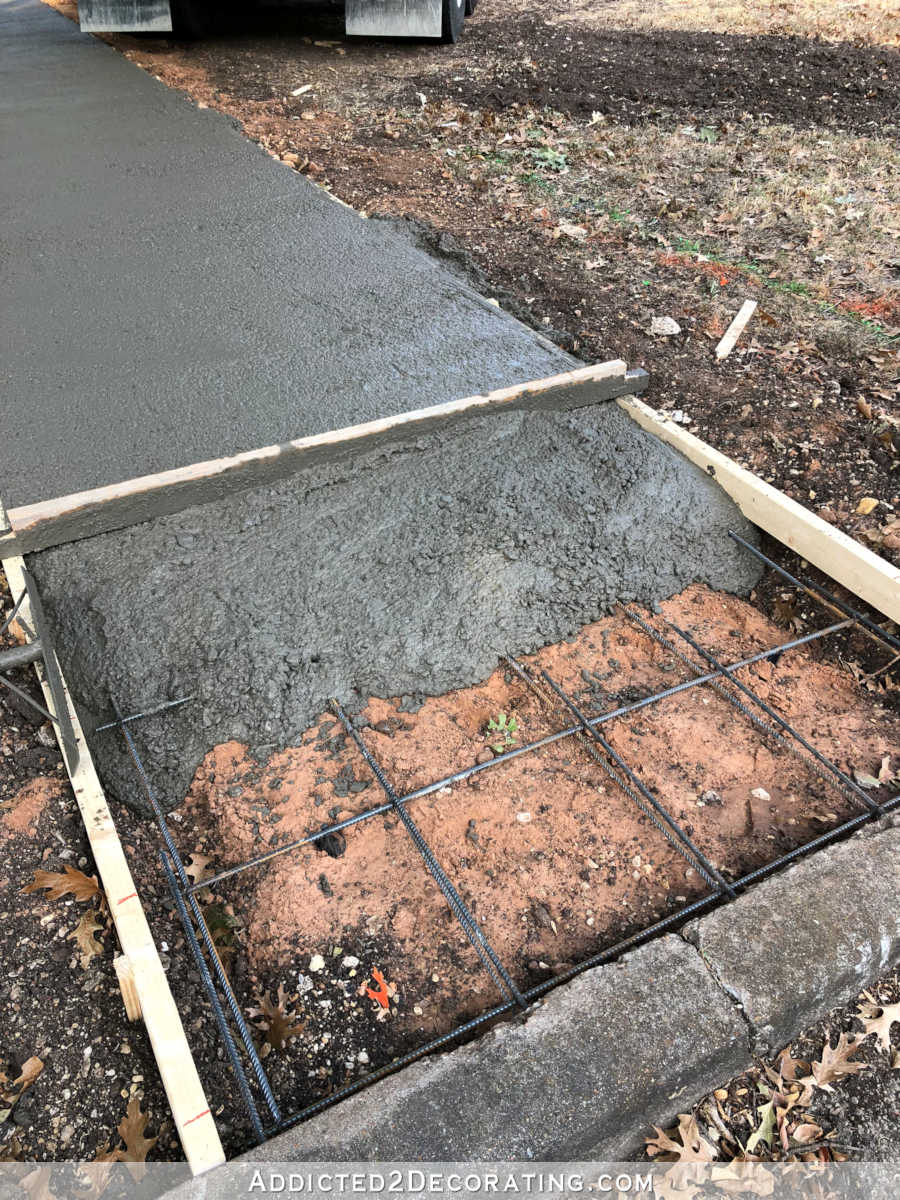 They had to make a quick trip to Home Depot (I think) for some extra bags of concrete to finish up. I was concerned that it wouldn't match, but Crispin (the main concrete guy) is a genius. He shoveled the concrete from the truck into a pile, mixed and poured the bag concrete into the empty section, and then smoothed the pile of concrete from the truck on top to ensure that it would all be the same color. Isn't that brilliant? I don't think I would have thought of doing that. I would have just panicked. 😀
But it all worked out perfectly, and I just love this new sidewalk. The two curves on each side will eventually veer off into additional sidewalks — one that will meet the driveway close to the studio portico door, and another that will go the other direction, around the side of the house, and to the back yard. My goal is to have sidewalks all the way around so that Matt can get all the way around the house easily.
But those will have to wait. As far as concrete goes, the driveway is our top priority now, and that will cost a small fortune. So for now, I'll just enjoy my shiny new front sidewalk and plan my new, wide front steps.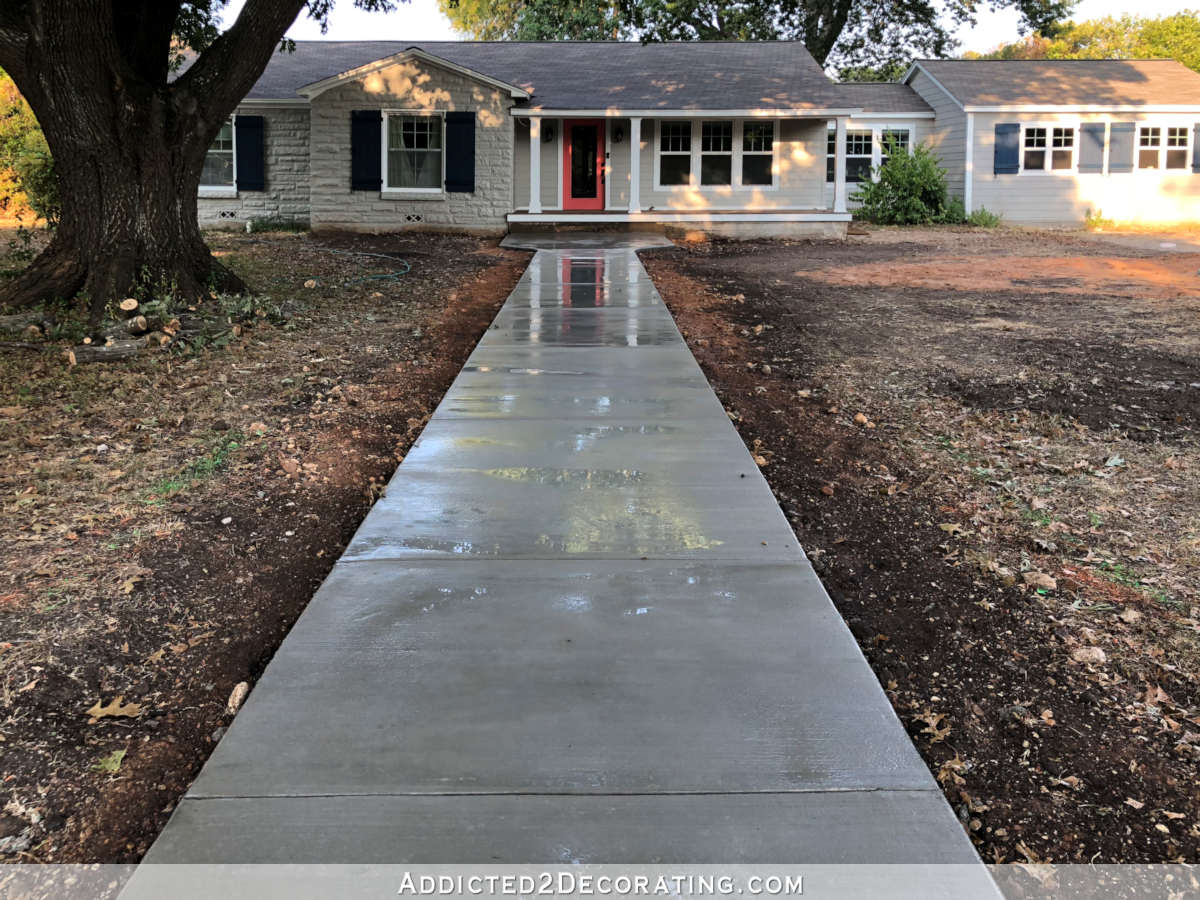 Addicted 2 Decorating is where I share my DIY and decorating journey as I remodel and decorate the 1948 fixer upper that my husband, Matt, and I bought in 2013. Matt has M.S. and is unable to do physical work, so I do the majority of the work on the house by myself. You can learn more about me here.
I hope you'll join me on my DIY and decorating journey! If you want to follow my projects and progress, you can subscribe below and have each new post delivered to your email inbox. That way you'll never miss a thing!