How To Build A DIY Console Table (It's Finished!)
This DIY console table took me much longer than I thought it would. The basic build went relatively quickly, but the finishing took way longer than I had anticipated. But finally, it is finished!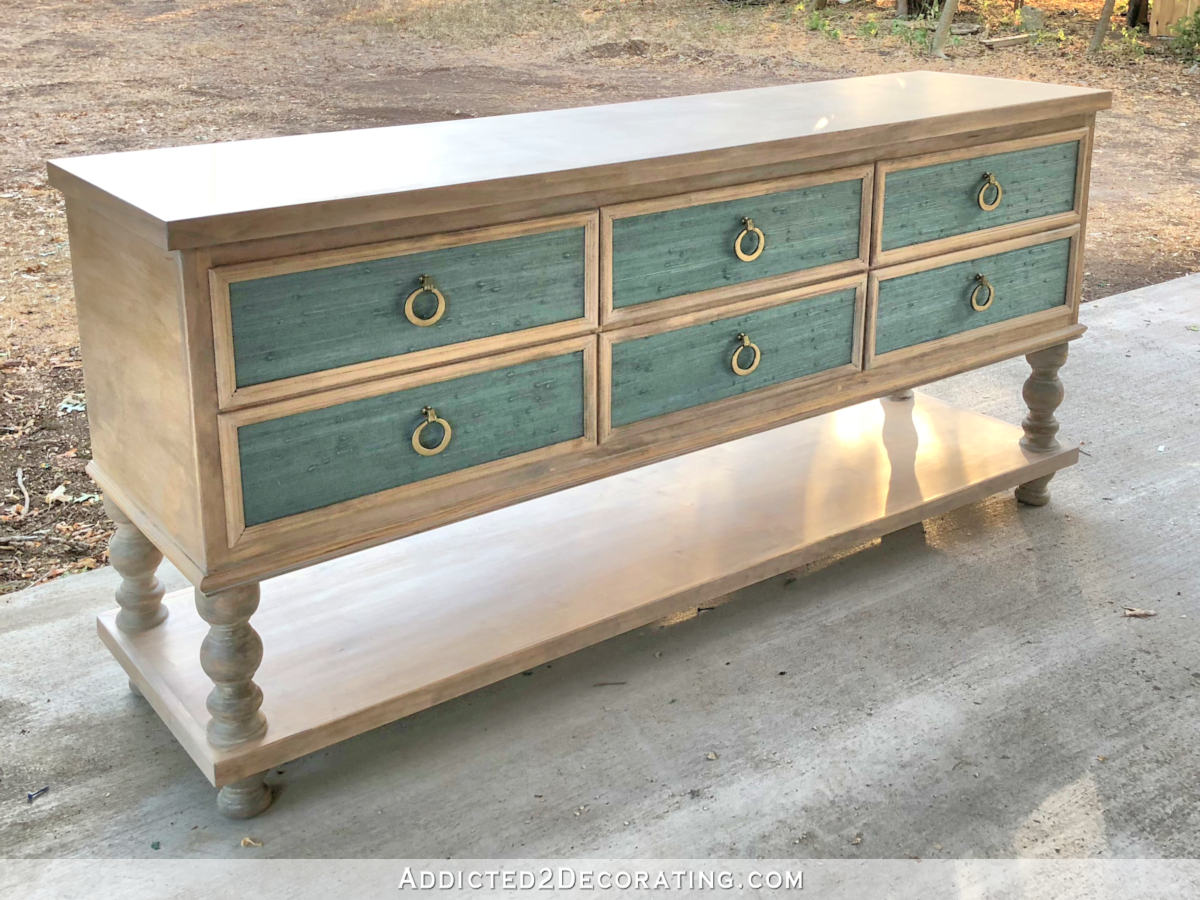 If you missed the previous posts on this DIY console table project, you can get caught up here:
At the end of Part 2, the console table looked like this…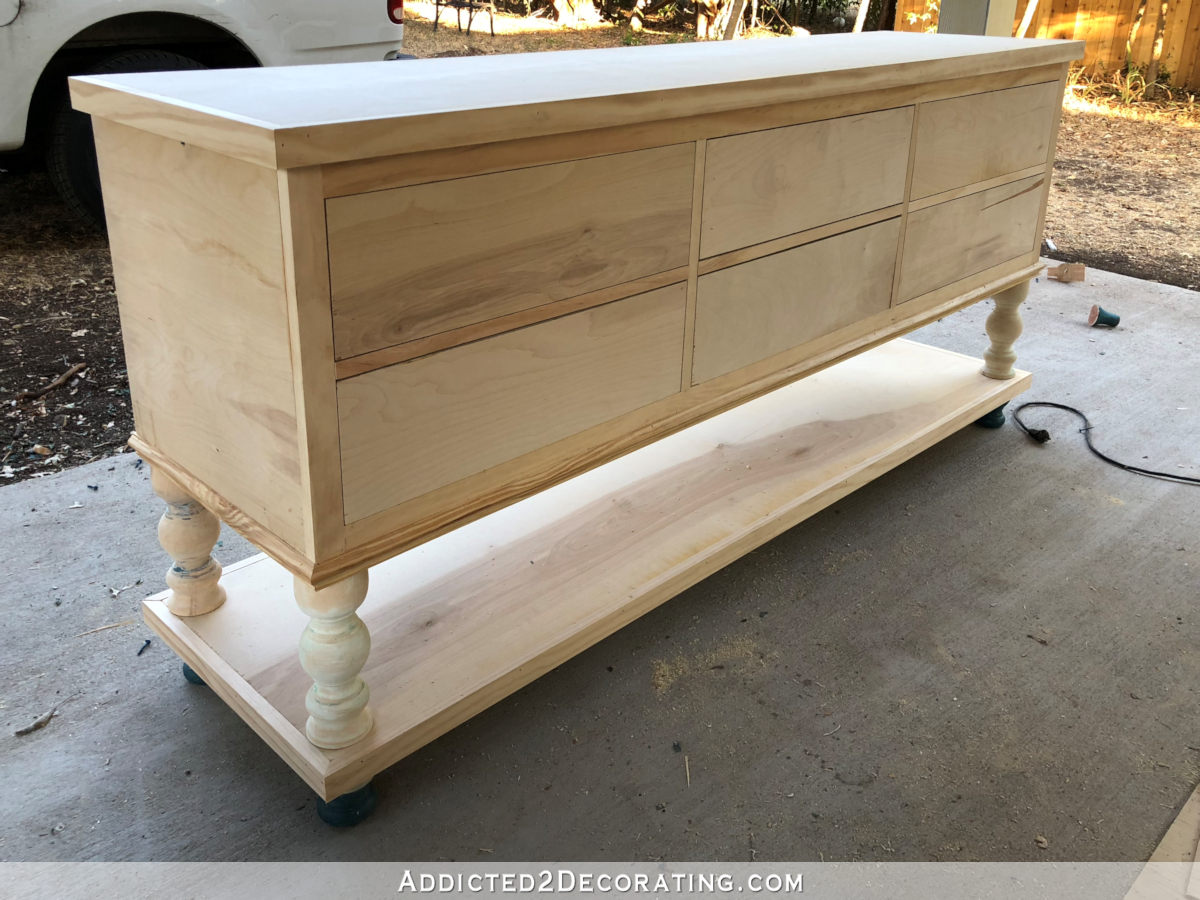 To finish the table, I started by filling all of the cracks, joints and nail holes with wood filler. I accidentally bought the wrong kind (the kind that's pink when it's wet), but at least you can see it better in photos.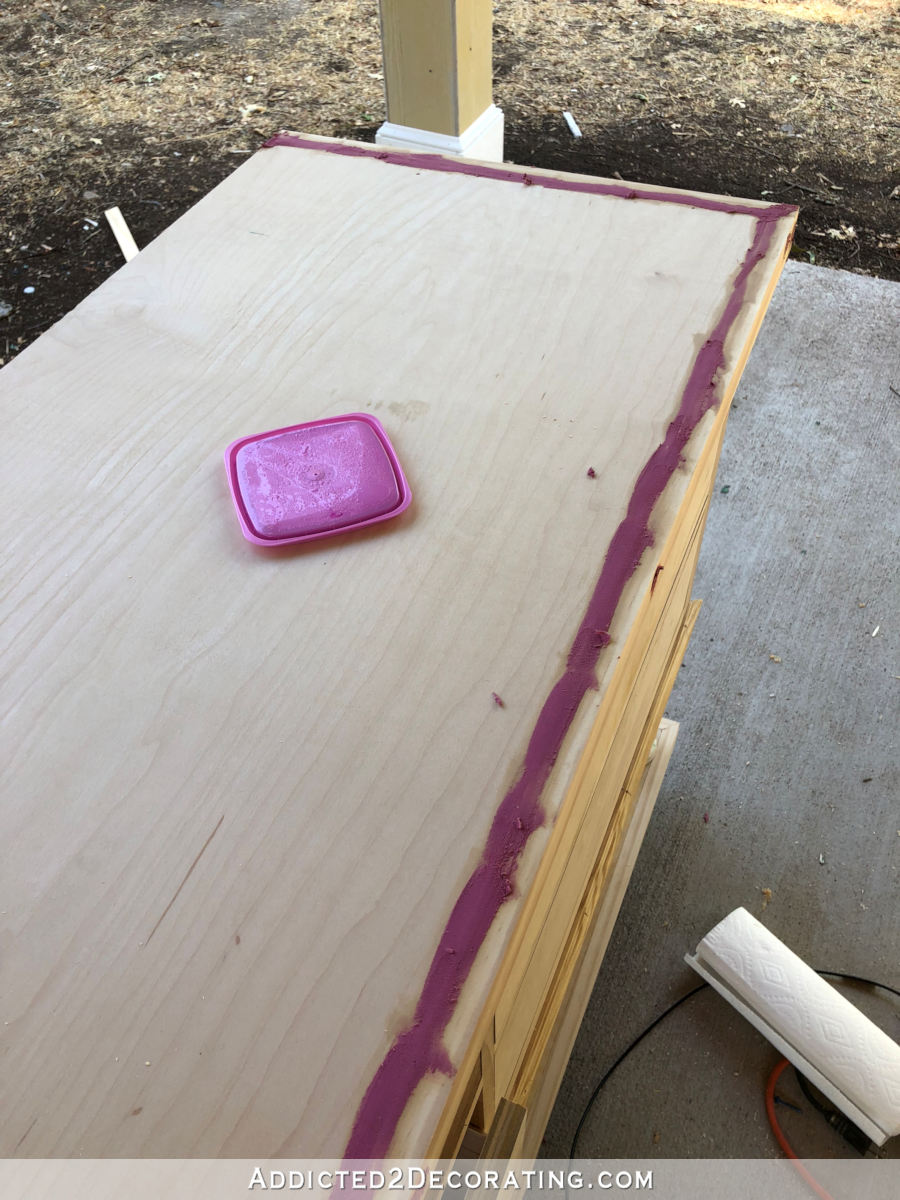 As you can see, I use wood filler very liberally. Since it shrinks as it dries, I like to build it up when I apply it so that it can be sanded as smoothly as possible without having to reapply after it dries and shrinks.
I also used it to fill in where the legs meet the lower shelf.
If I were planning to paint the piece, I would generally fill in areas like this with caulk. But since I was planning to stain, I had to use wood filler.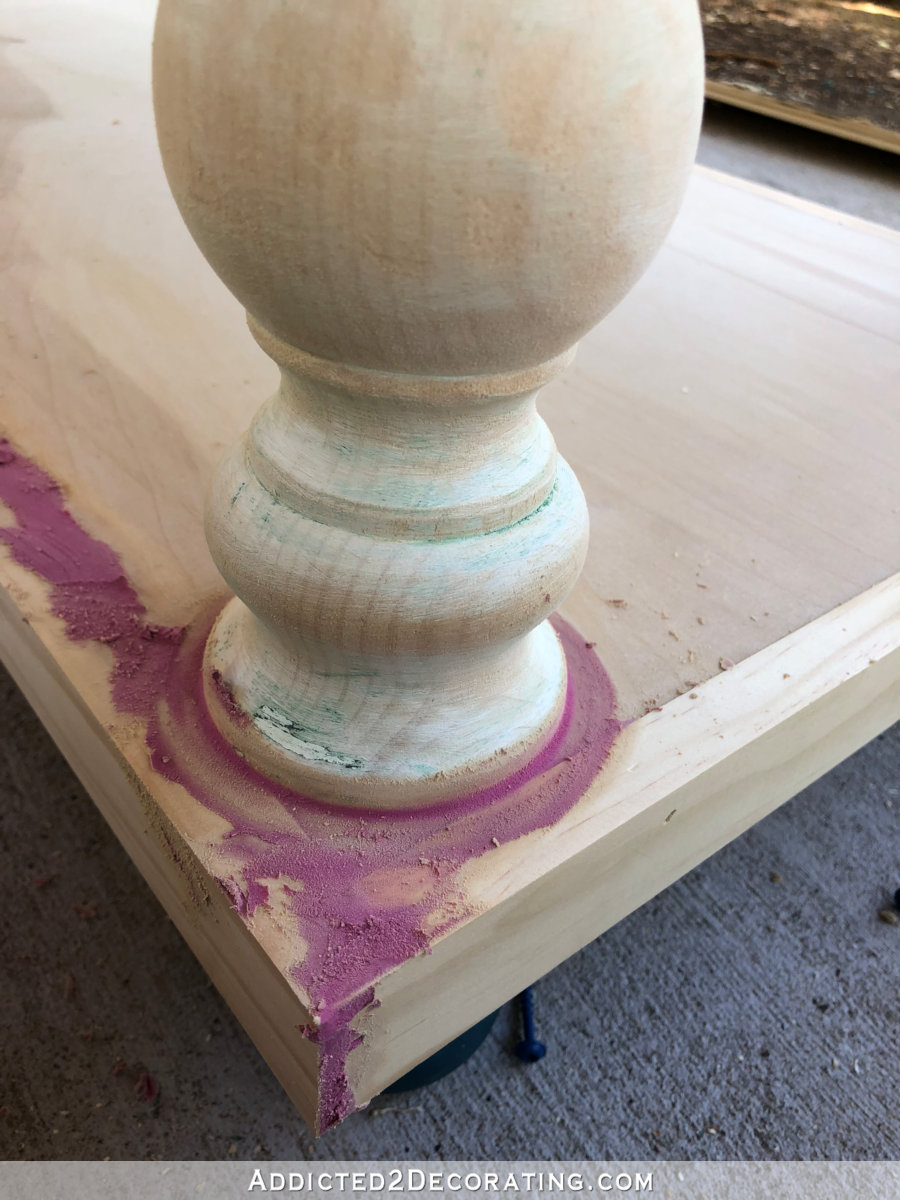 Once all of the wood filler was dry and sanded smooth, I stained the whole thing with Varathane wood stain (oil-based) in Golden Oak.
I wiped it on with a rag, left it for a few minutes, and wiped off the excess. And I'm so glad that Home Depot now carries this brand! It's so far superior to Minwax. This DIY console table is made with birch plywood on the top and lower shelf, and the rest is pine. And yet, you can see that the Varathane wood stain turned it all the same color. I was amazed. And relieved.
I gave the stain about an hour to dry, and then used Briwax liming wax, which is a white wax. (I found mine here.)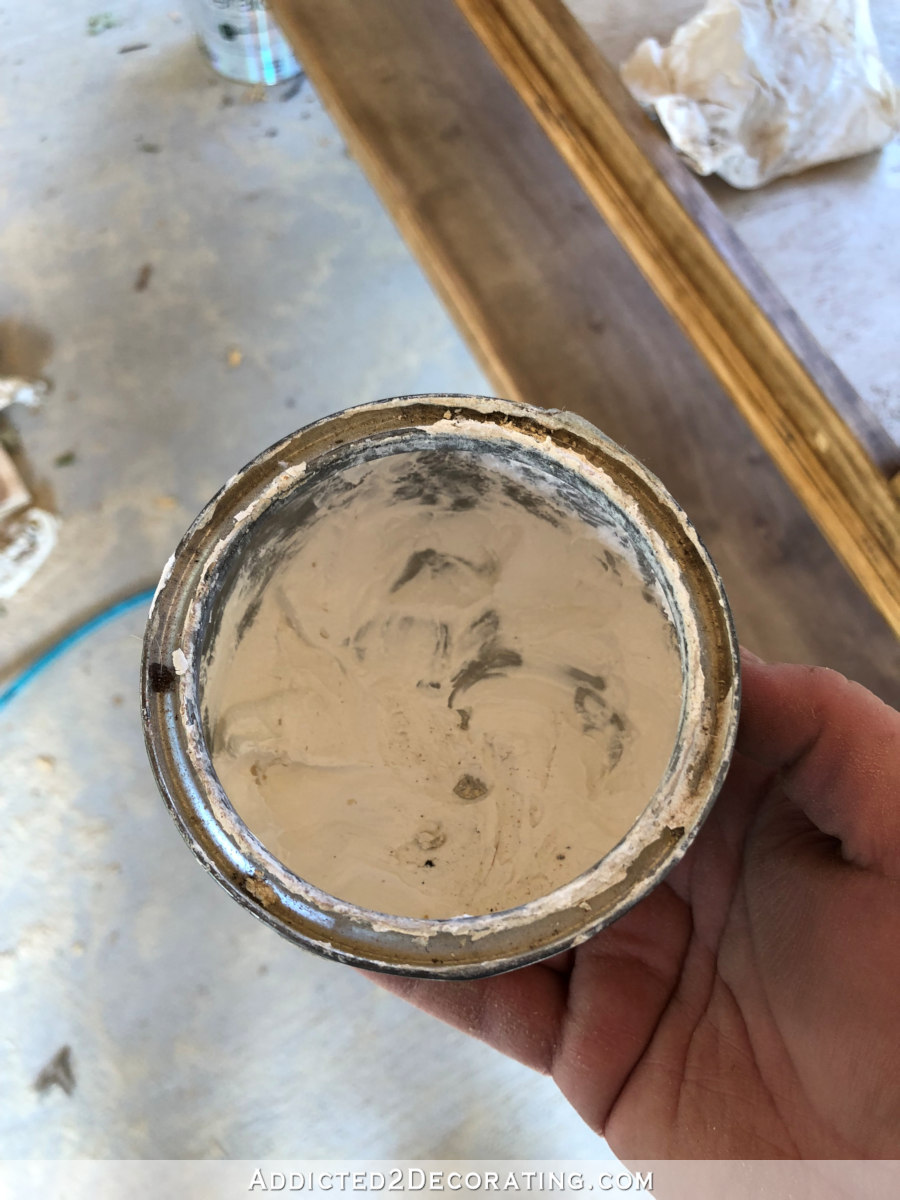 I covered the entire thing, working on one large section at a time and applying the wax with a white cloth. And then after about an hour, I buffed it with "000" steel wool. You can see the difference it made here…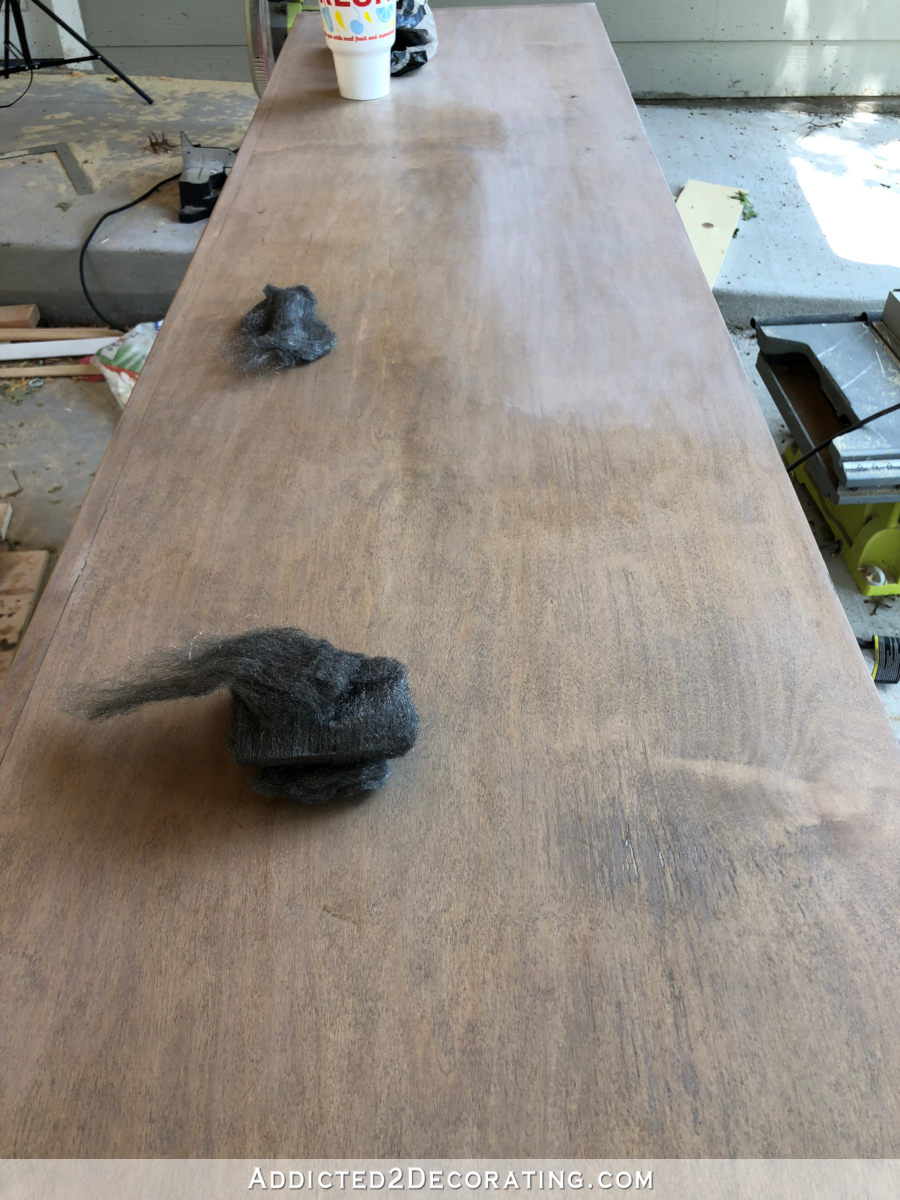 Obviously, the brighter, whiter areas are waxed but not buffed. The darker areas have been buffed with the steel wool.
With that done, I worked on the drawer fronts. First, I covered them with the grasscloth that I had leftover from the entryway wall. I applied it using wallpaper adhesive, and when it was dry, I trimmed it with scissors.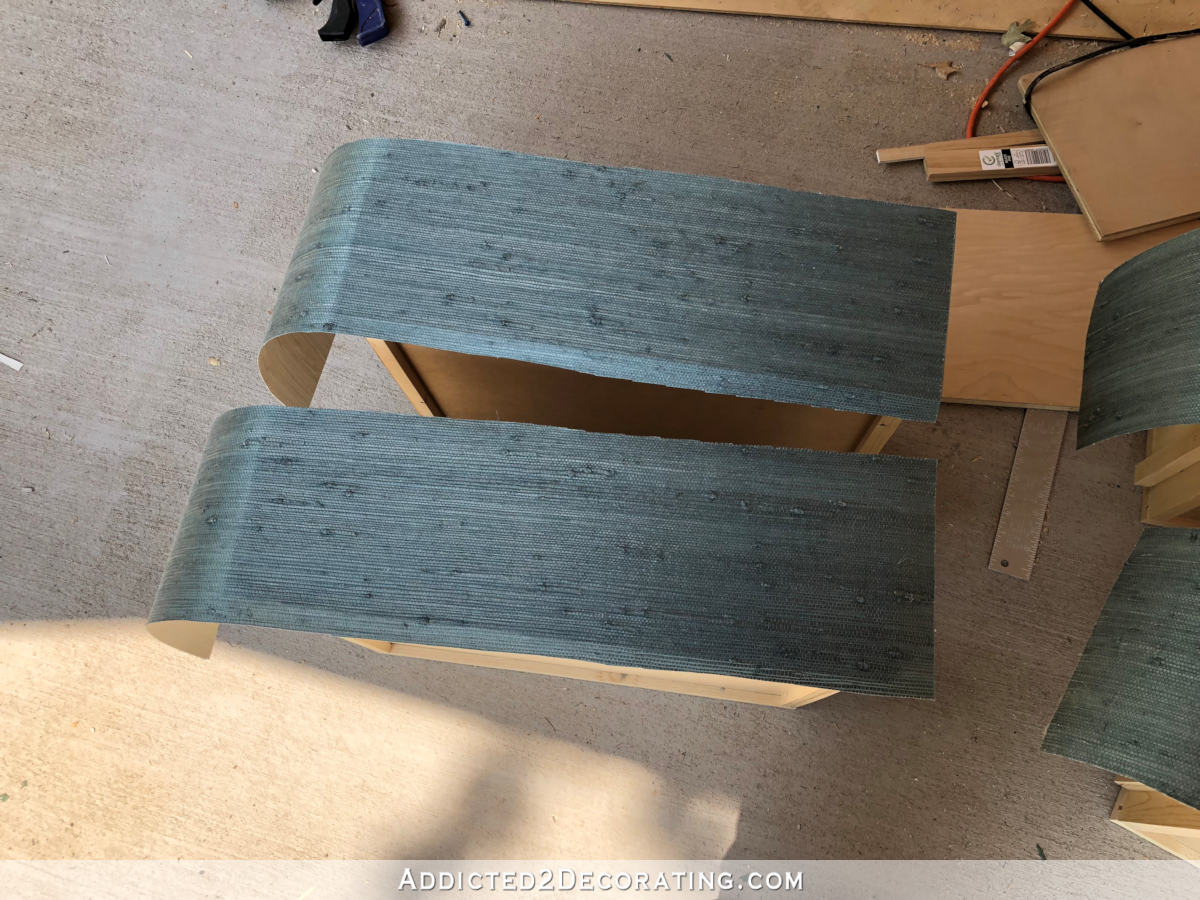 At this point, this is how they looked.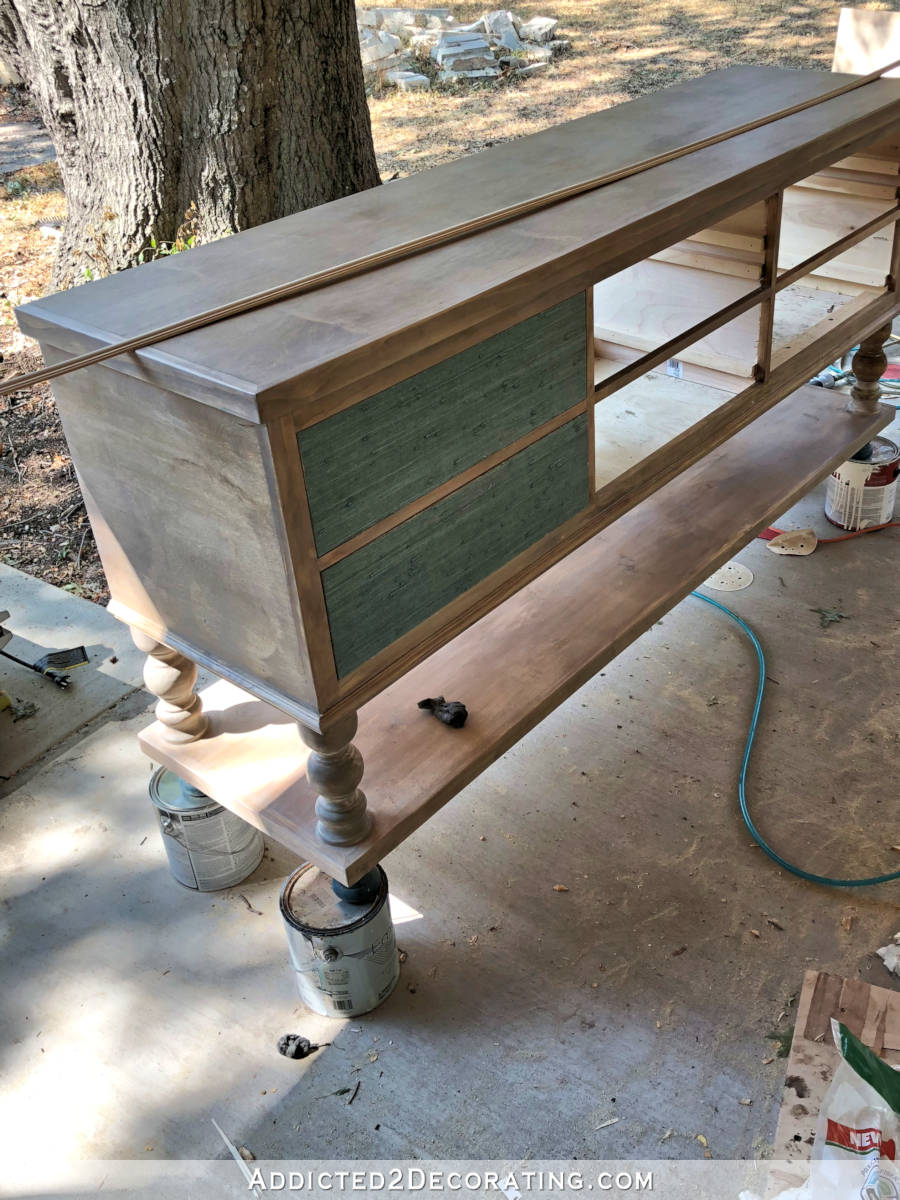 They needed one more touch to be finished. Using a medium-sized cabinet trim (sold at Home Depot in eight-foot lengths), I made frames to fit around the drawer fronts, allowing a 1/4-inch overlap on all four sides. I didn't want to use nails on these, so I just assembled them with wood glue and handled them very carefully until they were attached to the drawers.
I finished these frames the same way I did the rest of the table — stain, wax, buff with steel wool. And then I was ready to attach them to the drawers.
Rather than centering the framed on each drawer front, I instead attached them in relation to each other so that they would be lined up as perfectly as possible on the front of the console. I did this by inserting all of the drawers, and then taping the frames in place, making sure they all lined up with each other with equal spacing.
Once I had the placement for each frame marked with painters tape, I attached each one with wood glue and clamps.
I needed one final touch to finish the DIY console table — the perfect pulls. I decided that I wanted ring pulls, but after searching and searching, I nearly gave up on finding some that I actually liked and that were big enough and didn't cost a fortune. I finally came across these at Hobby Lobby. I'm pretty sure that these are the only ring pulls that exist in Waco, Texas, and they just happened to be the right size. But the color and style wasn't exactly right.
But both of those problems could be easily remedied. As far as that art deco style goes, I just flipped them over and used the back sides, which are smooth and simple in style. And for the color, I gave them a coat of this spray paint…
That was much better, but they still needed a little something, like a backplate, where they attached to the drawer.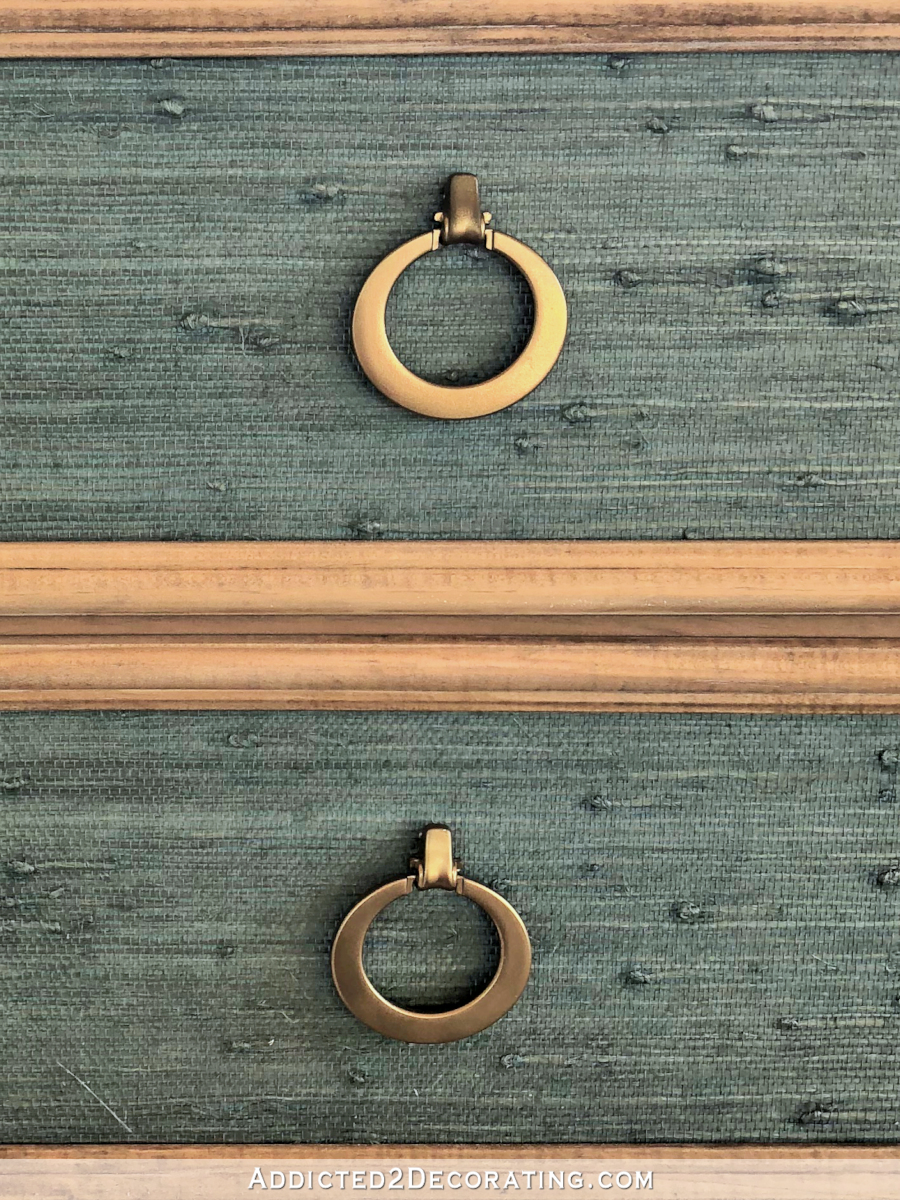 So I headed to Joann Fabric and walked up and down almost every single aisle trying to find something that would work. I was certain that I would find what I needed in the jewelry-making section, but surprisingly I found what I needed in the notions aisle. Can you tell what these are?
They're pieces of snaps. The package came with something like 24 pieces that all combine to make snaps (something I've never used, so I can't even tell you exactly what these pieces are). There were seven of these specific pieces in the package, and they happened to be exactly what I was looking for.
It's a small detail, but it's one of those small details that I think makes a difference. You can see here the pull with the backplate on the top, and the pull without the backplate on the bottom.
And with that, my DIY console table was finished!
I'm very pleased with how this turned out. When deciding on the finish, I knew I wanted something light and natural rather than a painted finish.
I tried a couple of other finishes, including a stained finish coated in polyurethane with white pigment. That looked awful and plastic. But this buffed wax finish turned out much closer to what I envisioned.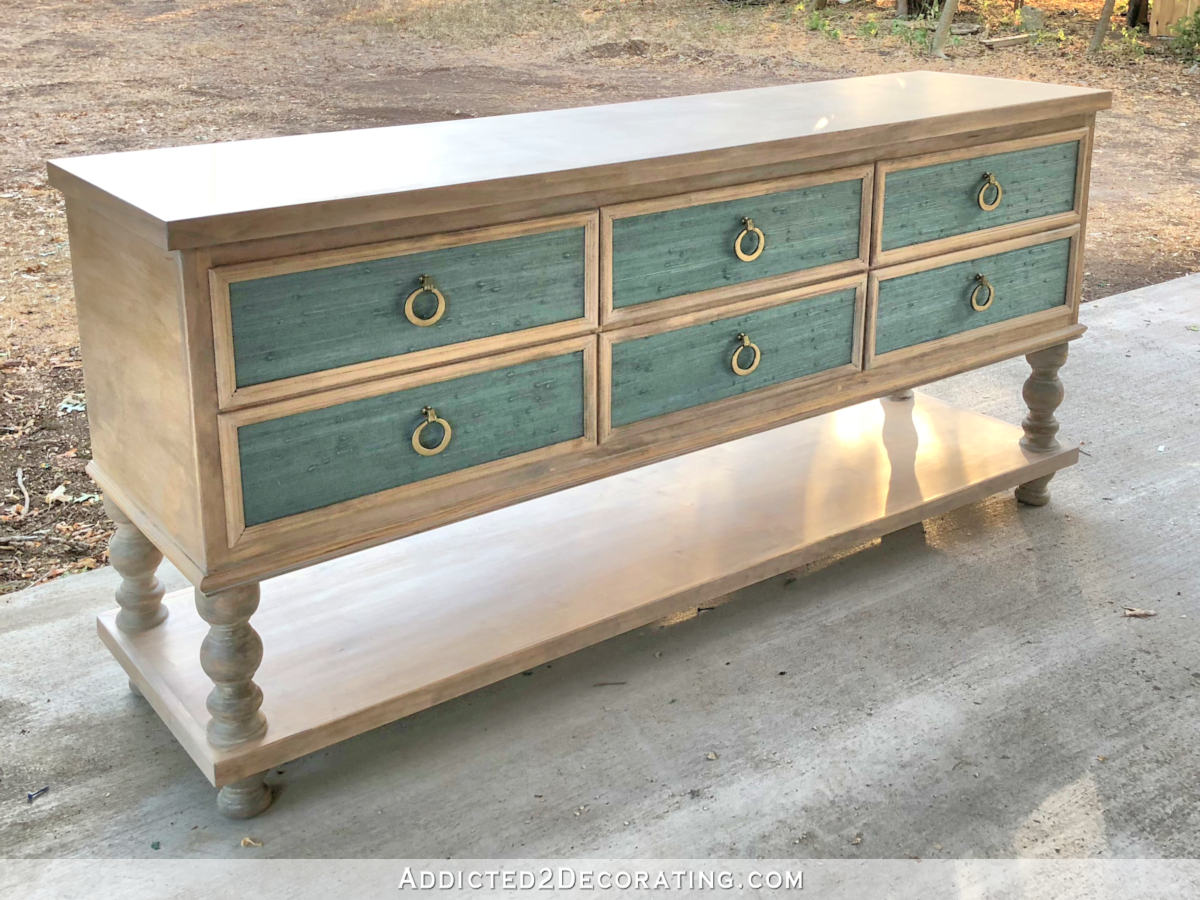 And because the whole thing has been buffed with a fine steel wool, the surfaces are incredibly smooth.
Now just know that if you ask me where it's going, I'll ignore your question. 🙂 You'll see soon enough. But I have a feeling that you could easily guess. 🙂
Want to save this DIY console table project? Don't forget to pin it!
Addicted 2 Decorating is where I share my DIY and decorating journey as I remodel and decorate the 1948 fixer upper that my husband, Matt, and I bought in 2013. Matt has M.S. and is unable to do physical work, so I do the majority of the work on the house by myself. You can learn more about me here.