What Will Happen To My Blog When I'm Finished With The House?
I've mentioned repeatedly lately (because I'm just so excited about it) that I'm finally starting on the last interior room of our house (my studio), and when this room is done, I will have officially finished all of the interior rooms of our home. And every time I mention that, I get a lot of questions from people asking me what I'm going to do with my blog when I'm finished with the studio. It seems as if a lot of long time readers are thinking that once the studio is finished, I'll be closing down the blog.
Well, that won't happen. Let me assure you that while I'm almost officially finished with the interior of our house, there will still be plenty to do after that.
Let me give you a quick rundown of where things stand as of today, and where things will be heading.
The Studio and Studio Bathroom
This room is a big project, and includes not only the main room, but also the studio bathroom. I would really like to get this done by mid-August of this year (our 10-year anniversary of purchasing this house), but I'm not placing bets on me actually meeting that goal. That's less than four months away, and there's a ton of work to be done in these rooms.
The Hallway Bathroom
Just because the inside of the house will be officially finished after I finish the studio, that doesn't mean that I won't go back and make some changes to some rooms. I recently had a person ask me in a comment, "Don't you ever get tired of redoing projects that you've already done?" My response was, "Perhaps you missed the name of my blog." 😀 No. I will never get tired of redoing, tweaking, trying out different ideas.
So with that said, I've previously mentioned several changes I want to make in the hallway bathroom.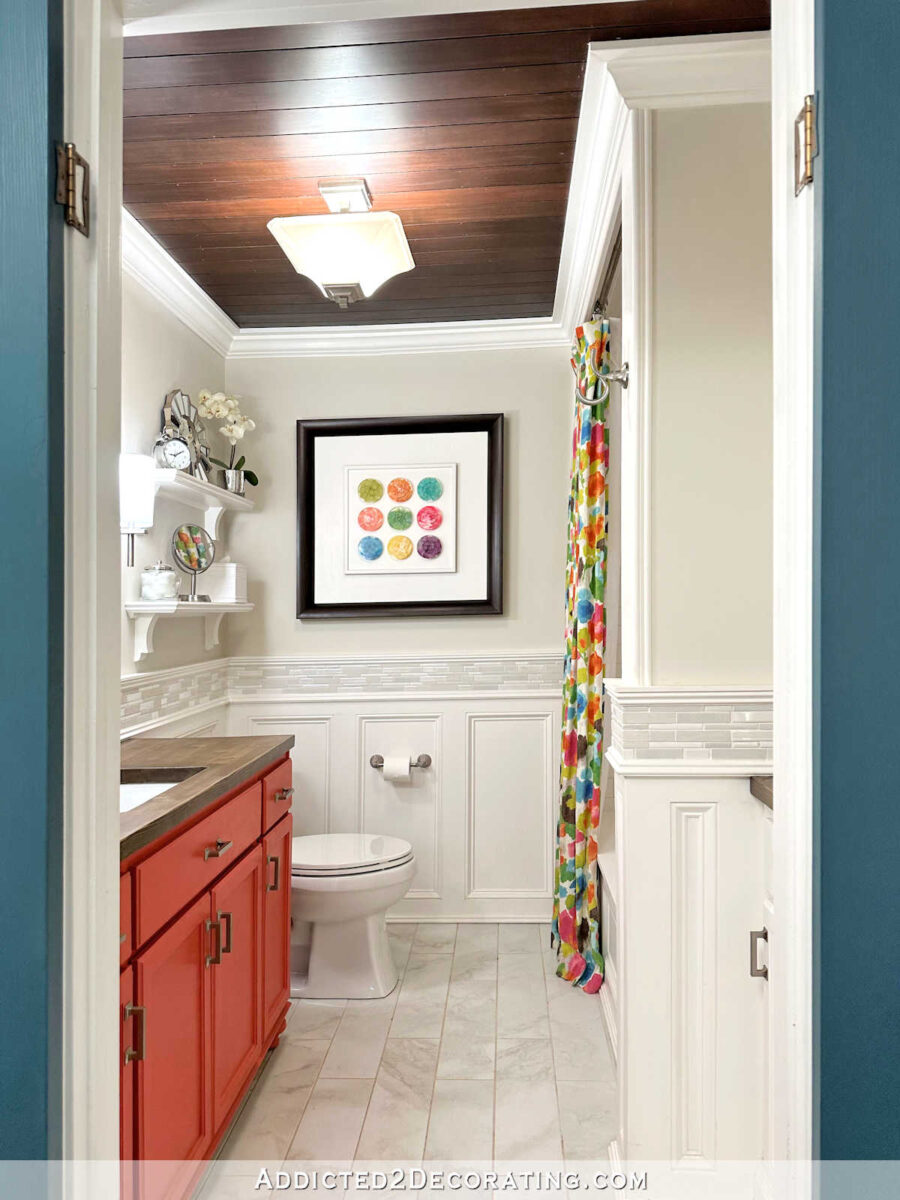 Those include (1) new countertops, (2) new accent tile, (3) new sconces, (4) new shower curtain, (5) new plumbing fixtures, and (6) new vanity color.
The Guest Bedroom
There are still several changes I want to make to this bedroom, most of which I'm pretty sure I've already mentioned in previous blog posts.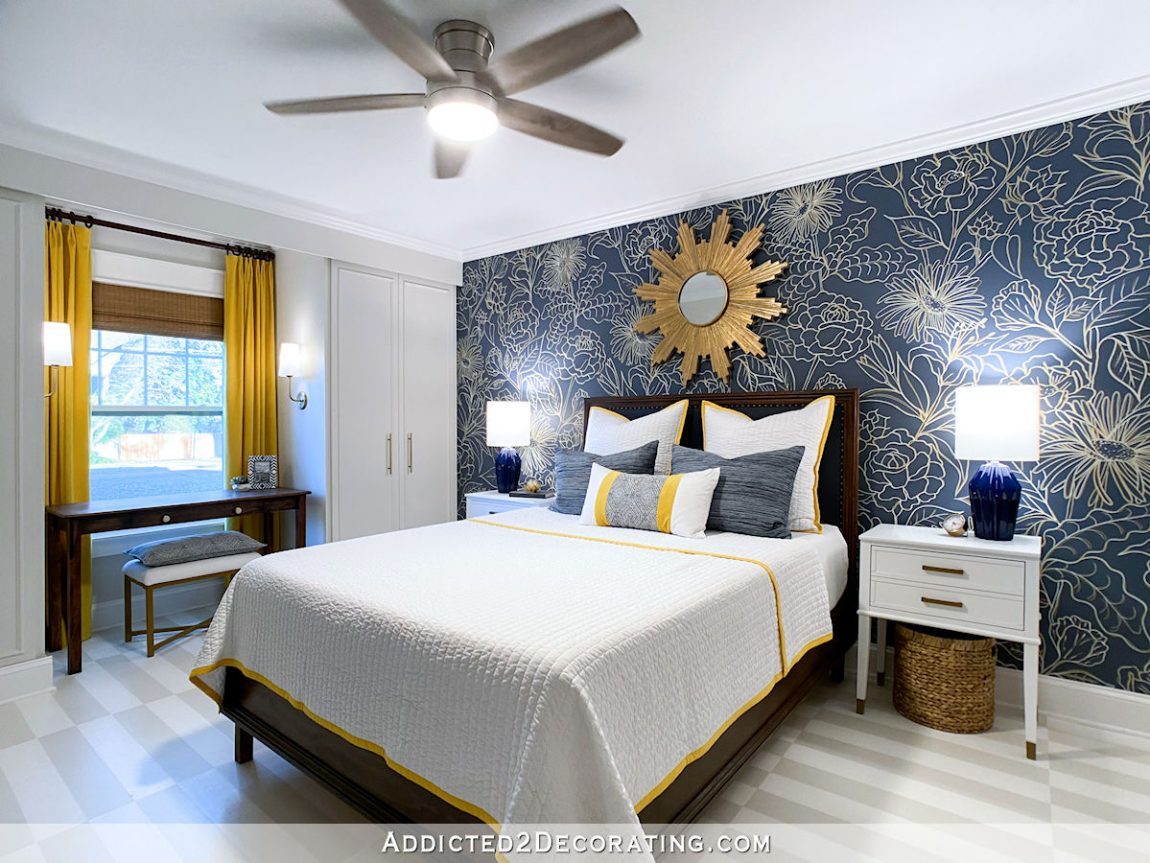 The main project in here will be the walls. From that view above, I love how the room looks. But I don't ever see the room just from that view. I see the room from this view…
And after living with the room as it is for over two years, and actually using it as our temporary bedroom, the walls just feel unfinished to me. So I'm going to continue the hand-drawn flower design around on the upper part of the other two walls, and then add white wainscoting to the bottom of all three walls.
In addition to the walls, I also need to build a frame for the bed. The original pretty wood frame that I use in here ended up not working out when we switched our regular bed for an adjustable bed at the suggestion of Matt's physical therapist. So for two years now, the bed has also looked unfinished, and pretty much looks like it's floating. You can kind of see what I mean in the picture below…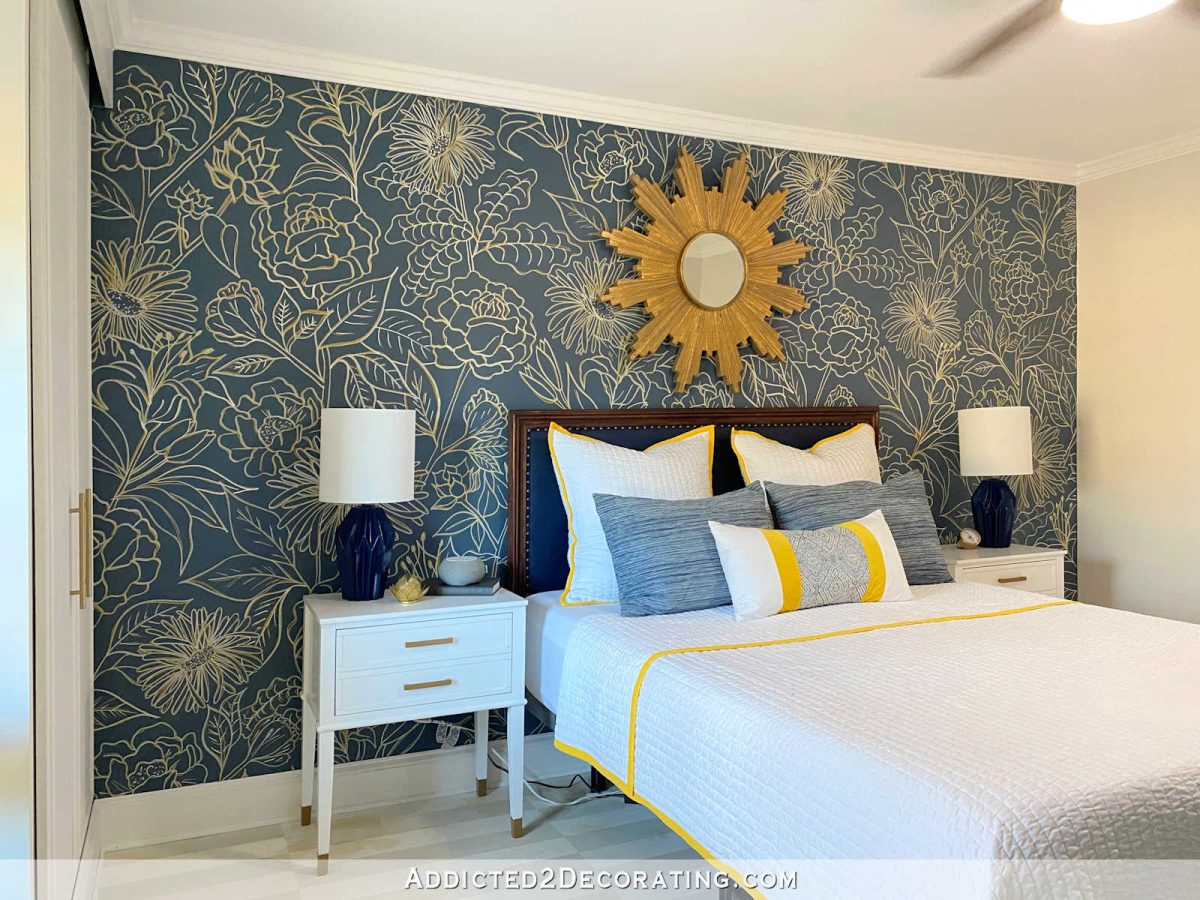 And finally, I'm just not sure if I'm a yellow person. I tried it out in here because I just happened to have the yellow velvet on hand and decided to use that for the windows. And while I think the yellow looks nice with the blue, I'm just so much more of a pink/coral person. So that might be getting a change, but I haven't decided for sure yet.
The Kitchen
The kitchen was the first room that I remodeled after we bought the house, so it's been a while!
That doesn't mean that I'm ready to completely remodel it again. But I have some things I want to do in here. For example, how long now have I said I want to get rid of the dishwasher? A long time! I still plan to do that, but that project has yet to move up to the top of the priority list. It will eventually, though.
I also want to get rid of the concrete countertops and replace those with quartz. I don't know when that will happen, but I'm so done with concrete countertops. They served their purpose when we couldn't afford a higher quality solid surface countertops, but after almost ten years of dealing with stains on concrete, I'm done. I long for the day that I can get rid of them.
The Addition
I know we've talked about this for so long now that it seems like it will never happen, but it will. Every time Matt and I start to think it's time, something happens (like the economy crumbling, or banks collapsing) that makes us very unsure about doing something so big right now. But it will happen. And once it does happen, I'll have a family room, bedroom, and laundry room to finish.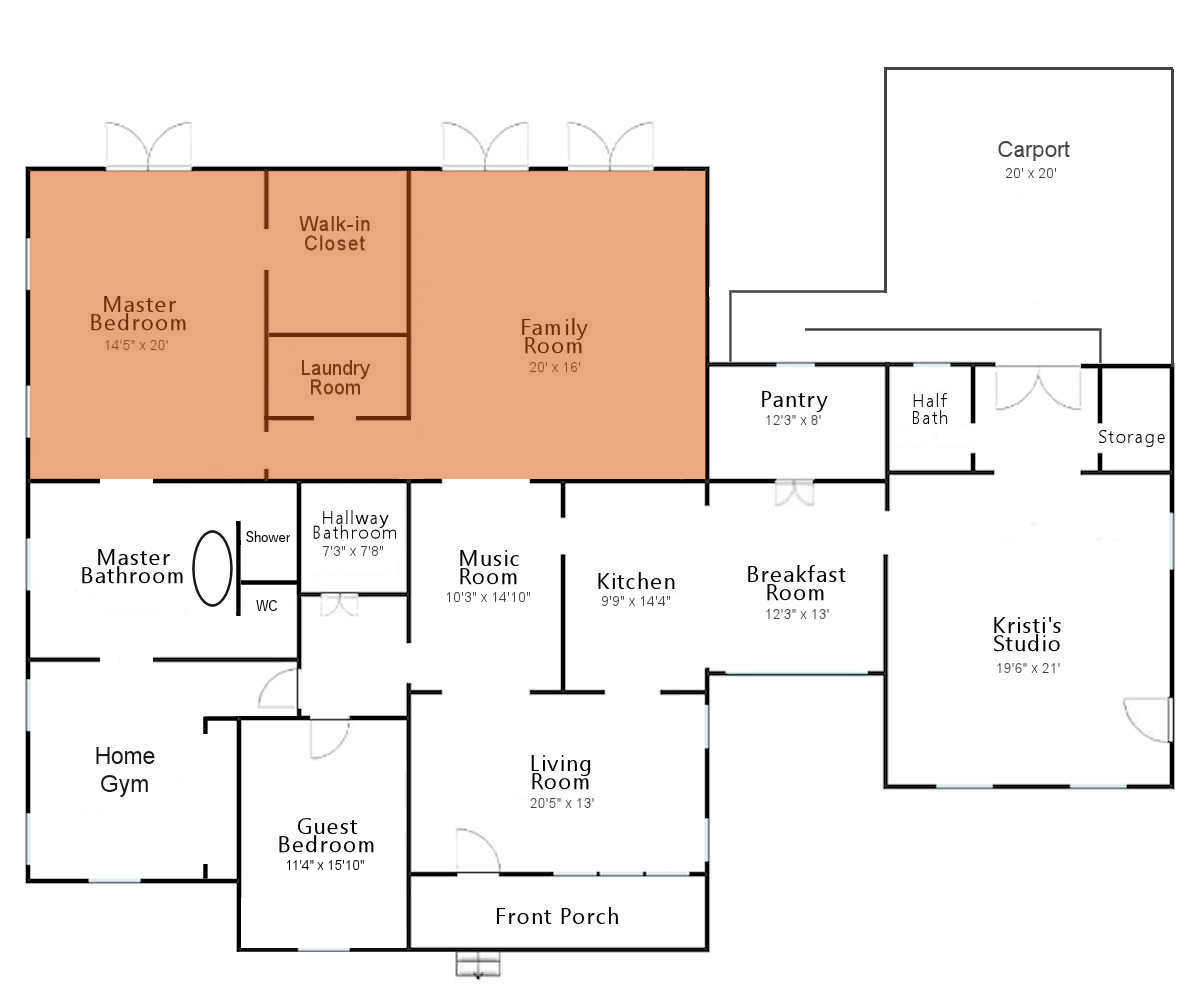 The House Exterior
I've focused quite a bit lately on our front porch, and there are still projects to be done to finish that up. I need to finish up the painting, reinstall the tape lights, and finish the stone skirting.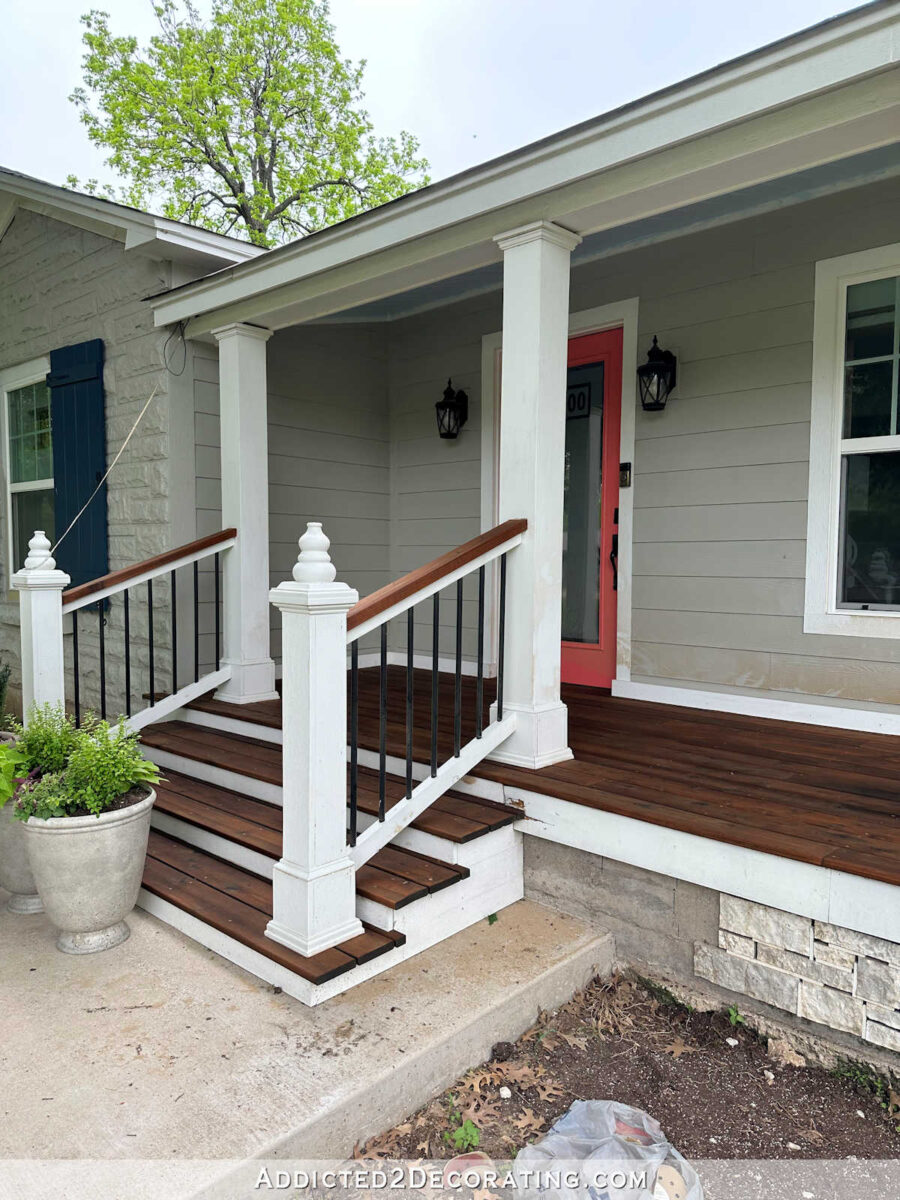 But there are so many more exterior projects to be done! When I was cleaning out the sunroom a few months ago, I came across some corbels that I bought years ago to make window flower boxes for the windows on the front of our house. That still needs to be done!
I also still plan to build a pergola above the breakfast room windows (which are almost completely obscured by this plant that keeps growing back).
And then I still need to build steps and finish up this area by the side studio door. This is an old picture, taken way back when we had that concrete pad poured, but that's still all that's there. There are still stacked cider blocks serving as steps to this door, and I need to build steps to match the style of the front steps.
And then there's the carport. This thing is still not finished. It's useful just as it is, but it needs to be finished. This is an old picture, so thankfully, the shutters are no longer there. 😀 They were installed on the house long ago. But the rest still looks pretty much the same. It needs to be painted, and it still needs a finished ceiling and lighting.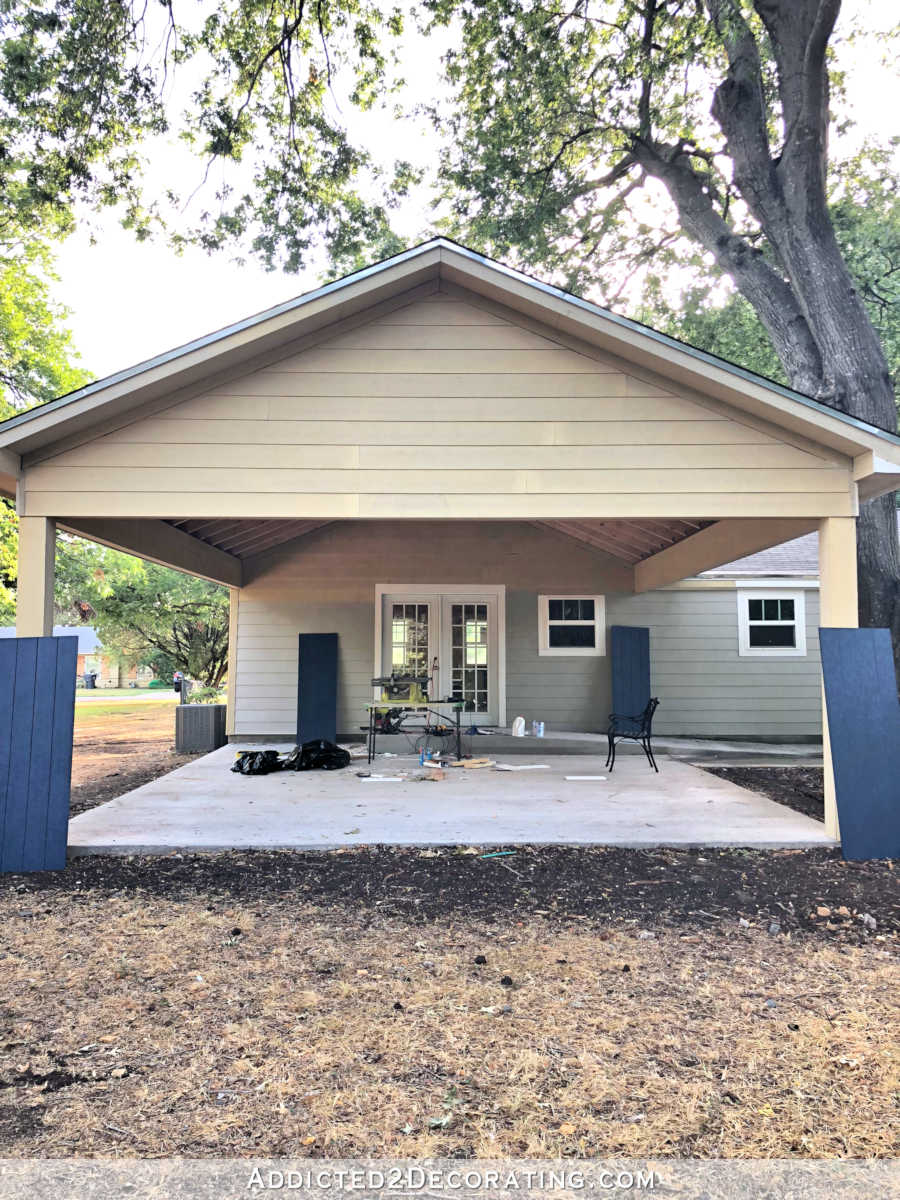 The Yard Projects & Landscaping
Even once all of that is done, I still have an acre of land that needs landscaping!! Don't forget this beautiful landscaping plan that Matt bought me for my birthday last year.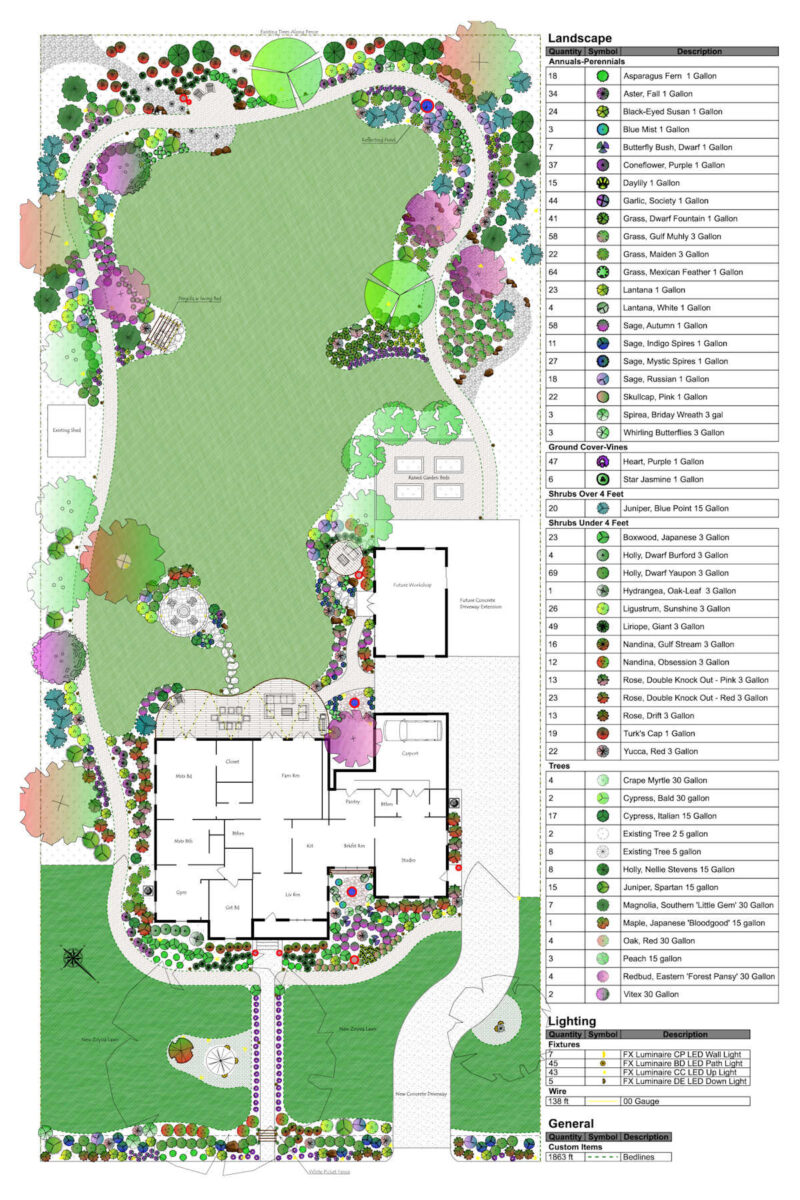 I honestly feel like I could work on that for the rest of my life and never get it finished, and never run out of things to do. There's no way I could get bored with that landscaping goal.
Then There's The Small Projects
As if all of those things weren't enough, I've been saving ideas for artwork and small projects that I want to do and share and teach people how to make for literally years. While I lost a whole lot of them when my external hard drive broke, I still have so many ideas saved in other places (Pinterest, Instagram, my laptop) that I've been collecting for years and just waiting for a time when I can spend more time on those small, fun projects. I could probably spend an entire decade or two just doing small fun building projects, art projects, sewing projects, etc., and still not get to the end of my creative ideas.
All of that to say that even when the interior of our house (as it stands today) is officially finished, and the studio is done, there is no shortage of creative ideas that I have, and things that I want to do, build, and create, that I can share with you. But yes, once I've done all of that, then it'll be time to shut down the blog. 😉
Addicted 2 Decorating is where I share my DIY and decorating journey as I remodel and decorate the 1948 fixer upper that my husband, Matt, and I bought in 2013. Matt has M.S. and is unable to do physical work, so I do the majority of the work on the house by myself. You can learn more about me here.