Wood Planked Walls In A Bathroom (and My Crisis Of Conscience)
If you've been following along on my small bathroom makeover, you know that I decided to plank the walls with tongue and groove wood slats that I found at Home Depot.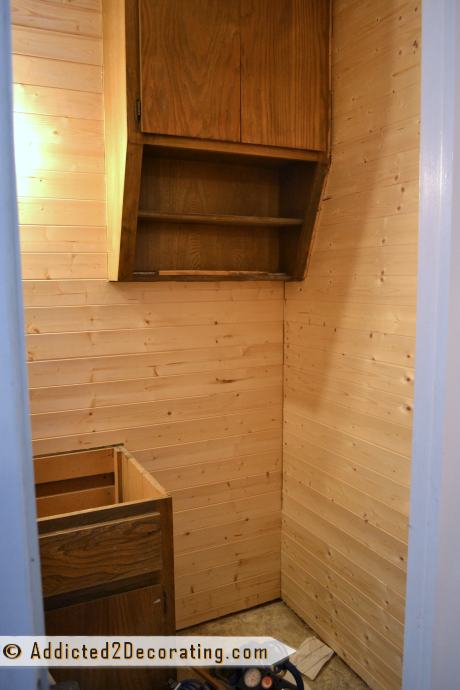 The reason I chose to do that was because I wanted a solution that was quick and easy to cover up the wallpapered walls, and I did NOT want to remove the wallpaper.
Well, as it turns out, this process has been easy enough, but it's turned out to be the very opposite of quick.  After I got all of the wood planks installed, I happened to look at the directions included with the packaging, and what did the very first sentence say?  Something like this:  "Not recommended for areas with humidity, such as bathrooms."
*Sigh*
I could just imagine the planks being all warped and hideous in a few months from the humidity that builds up so easily in this tiny little closet of a bathroom.
I tried to convince myself to just press on.  I held off on working on the bathroom for several days while I tried to convince myself to just get it done.  Just prime, paint, and let the future owners deal with it when it warps and turns ugly.
But quite frankly, my conscience wouldn't allow that.  So I decided that in order to protect the slats from any danger of moisture damage, I would caulk every single crack, crevice, and joint.  EVERY.SINGLE.ONE.  That way there's no chance of water or steam getting trapped behind the slats.
I worked on it for several hours yesterday, and got about halfway done.
I'm actually really glad I decided to take the time to do this.  I'll feel much better about it, and much more confident that it'll hold up to humidity once everything is caulked, and then the planks are primed (and sealed) with an oil-based primer.
In hindsight, the method that I used in the other bathroom, using 1/4″ hardboard cut into strips, was much easier.  At least those planks would lie flat against the wall, and any little cracks were small enough that they could easily be filled just with a coat of primer and paint.
These tongue and groove wood planks are not so perfectly flat, lots of the joints are too big to be easily filled with a coat of primer, and they also have knots.  Some of the knots are right along the joints.
Those areas most definitely need to be caulked, because water and humidity could easily get behind there, especially around the shower and sink area.
But fortunately, they're quite easy to fill.
Truth be told, it's a pain, but it's not difficult at all.  In fact, it's going much faster than I had anticipated.  So I'm hoping that by the end of the weekend, these walls will finally be primed and painted.
So just in case any of you were wanting to try this in your own bathroom makeover, I wanted to give yo the heads up.  These slats aren't recommended for bathrooms, and if you do decide to use them, I'd suggest taking these extra steps to be sure that they won't be damaged by the humidity.
Hope you have a great weekend!  I'm off to caulk!  🙂
Addicted 2 Decorating is where I share my DIY and decorating journey as I remodel and decorate the 1948 fixer upper that my husband, Matt, and I bought in 2013. Matt has M.S. and is unable to do physical work, so I do the majority of the work on the house by myself. You can learn more about me here.