DIY: Large Multi-Colored Wood Shim Sunburst Mirror
I've been working on walls, trim, doors, and other not-so-fun things like that, so I decided to take a break on that stuff and do something a little more fun and creative.  So I made a giant multi-colored wood shim sunburst mirror to go in the t.v. space between the bookcases in my living room.
Now I know what you're thinking.  "Kristi, sunburst mirrors are sooooo 2011!!"  😉
Well, I still like them, and I still see them everywhere.  I can't open up any of my favorite shelter magazines without seeing a sunburst mirror.  So even though they kind of took the blogosphere by storm in 2011, and then died a quick death as people moved on to the next fad, I think they've been a bit longer lasting in the real decorating and design world.
So when I needed something to fill the large space between my bookcases in my living room, I thought that a sunburst mirror would be the perfect thing.  This one is very large (37 inches in diameter), and they're so inexpensive to make.
The picture doesn't really do it justice.  For some reason, the pictures just don't capture the SIZE of this sunburst mirror properly.  In person, it looks quite a bit bigger.
To make this, I used three packages of the large (very long) wood shims, a piece of MDF cut to about 19 inches square, a round framed mirror, wood stain, leftover paints, and lots of hot glue.
I used four different colors for my shims.  I used 48 blue shims cut to 15 inches long, and then 24 of each of the other three colors.  The green ones are 13 inches long, the orange are 11 inches long, and the yellow are 9 inches long.  I used my miter saw to cut them to length, then I stained them and dry brushed the paint onto the shims so that they looked rustic and aged.
I started by marking some lines on my MDF from corner to corner, and then from side to side.  These are just guides so that I'd know where to place the first shims so that I could get them as straight as possible.  Then I glued a 7-inch mirror in the center.
Next I gave the mirror a coat of white spray paint.  I did a terrible job at taping the mirror.  In fact, I didn't even bother to protect the middle.  That's nothing that a couple of minutes of time and a razor blade can't take care of.  🙂
I attached the first blue shims using the lines that I had drawn onto the MDF as guides.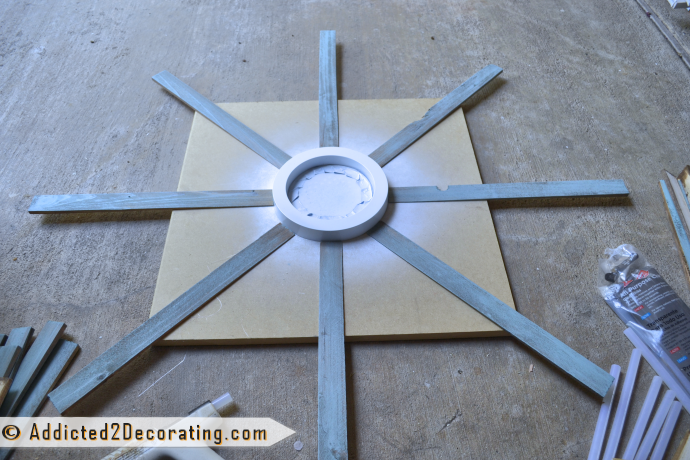 Then I began filling in, spacing them as evenly as possible.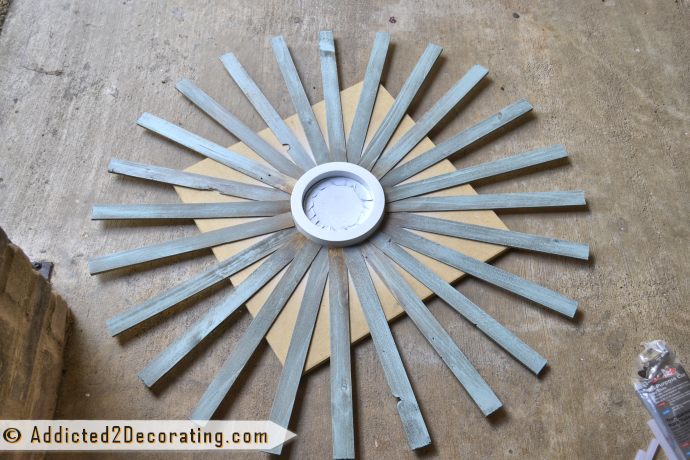 And then I filled in between those shims.  I used 48 shims on the first row of blue.
Then I moved on to the green shims.  For this row, I used only 24 shims.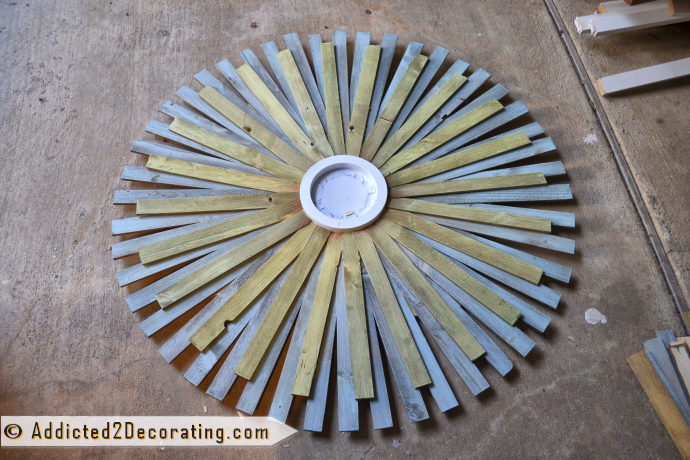 And then on the two subsequent rows, I used 24 of each color.
This thing was kind of a pain to handle and hang once it was made.  If I had to do it over again, I would have attached the hardware for hanging to the back of the MDF before attaching the wood shims.  But I managed.
Are you wondering why I'm putting a sunburst mirror here instead of a t.v.?  Well, my plan for short term rentals isn't going to work out.  According to the condo bylaws, I'm not allowed to rent out the place for a term shorter than 30 days.  I'm pretty bummed about that.
So we're back to selling.  And since our little 36-inch t.v. looks so funny sitting in that large space (and we have no plans for purchasing a larger one since we're not t.v. watchers at all), I decided to fill the space another way.  I think I actually prefer this to a t.v.!  🙂
Addicted 2 Decorating is where I share my DIY and decorating journey as I remodel and decorate the 1948 fixer upper that my husband, Matt, and I bought in 2013. Matt has M.S. and is unable to do physical work, so I do the majority of the work on the house by myself. You can learn more about me here.