Y'all, the responses to my post about the flip house next door (and the response to the videos I put on Instagram stories yesterday morning about that house) have been funny, sad, overwhelming, and frustrating. So many people seemed to get a kick out my critique of the house, while so many also had similar stories of what's going on in your own part of the country/world with real estate prices being artificially inflated by investment companies doing horrible flips on houses for quick money, which in turn, prices regular people right out of the market in their own towns and cities. But in addition to all of that, lots of people were like, "Show us more! You should do more of this!"
So if it's something that y'all would be interested in, I'd love to show you more. It would be kind of a "what you can get for $250,000 in Waco, Texas" or "what you can get for $500,000 in Waco, Texas" kind of thing, and I would walk through and show you all of the things that real estate agents aren't going to show you in their wide angle, carefully edited listing photos. I just looked, and there are at least five open houses this weekend in Waco, and Woodway, with prices ranging from $274,000 to just under $1.4 million, including the awful flip house next door. I'd personally love to see them (beyond the listing photos). How about y'all?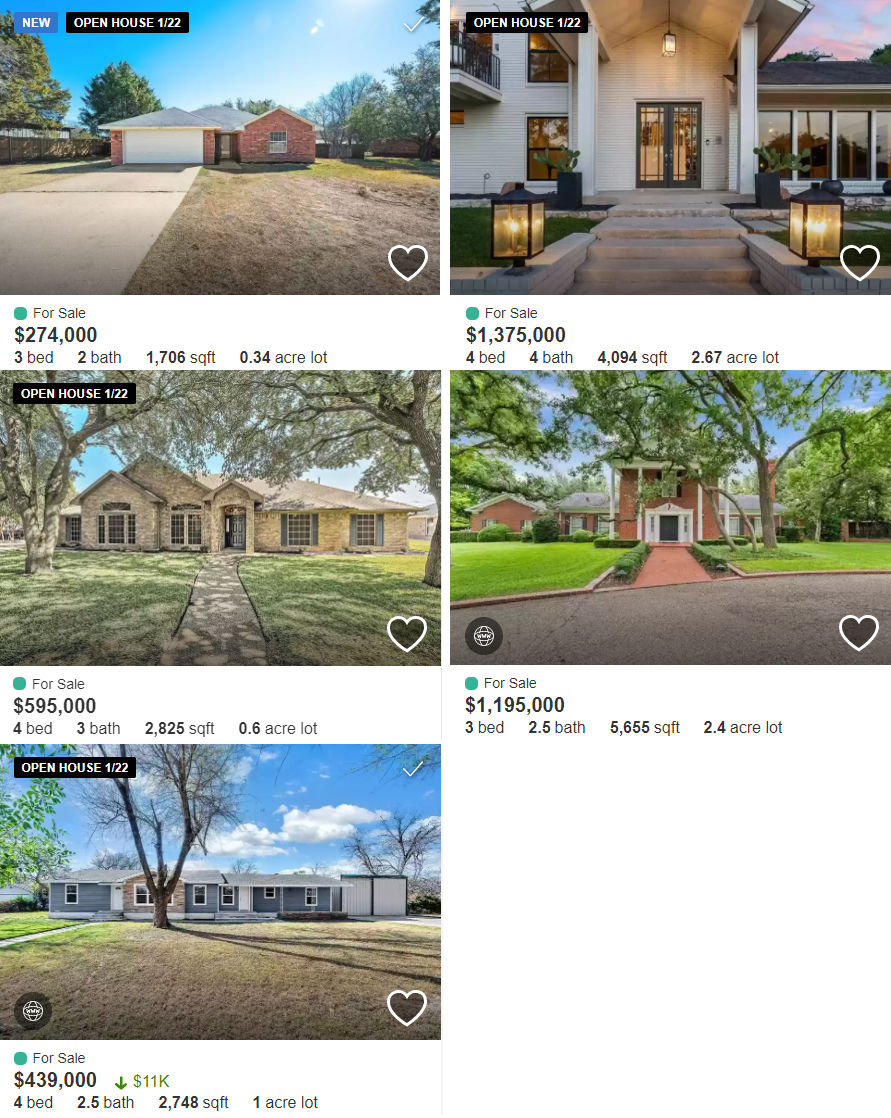 I know with Magnolia/Fixer Upper being located in Waco, and Waco getting so much attention because of it, people are kind of fascinated with this little city. But I also think that Magnolia/Fixer Upper gave people a very unrealistic view of what your money could buy here. The people on that show got their remodels done at cost — a privilege not extended to a regular homeowner who isn't being featured on a national TV show. And while they would feature some dirt cheap houses and fix them up very nicely, what they failed to show was the neighborhood where that newly remodeled house was located.
I'll never forget one particular Fixer Upper house (probably the smallest one they ever did) that was put on the market for just under $1 million a few years ago. I was shocked, especially knowing the location. Everyone was shocked. It was the talk of the town, especially among local real estate agents.
So I got in my car and drove over there to see the house in person. The photos in the real estate listing looked amazing. The photographer did a wonderful job, and clearly used a wide angle lens to make the tiny house look much larger than it is, and focused in tightly on just that house and the property it sat on . But the main issue was the neighborhood. It's sandwiched between an interstate highway and a government building that employees hundreds of people with a parking lot that can't hold all of the cars. Plus, it's two blocks from Magnolia Market, which brings in 200,000-300,000 visitors each month during busy summer months, and all those people have to find parking as well. So those streets in that area of town are always lined with cars that are coming and going all day, every day.
But as far as the immediate neighborhood went, the other houses on that street couldn't have been worth any more than $60,000 at the time…if that. Most of them were in severe disrepair, and the house right next door had been so neglected, with dead and dying trees filling up the lot and covering the house that you could barely make out the dilapidated house through the dead limbs just from the street, and these aren't big lots. And yet, the owners put a $950,000 price tag on that house (the "shotgun house"). I laughed. Everyone laughed. Needless to say, they didn't sell it for that.
So while Magnolia makes it look like anyone can move to Waco, buy a house for $100,000, put $75,000 into it, and have an amazing house in the end, there's a whole lot that they don't show you.
But that brings me to a service I'd like to offer.
I know the market for this service is small — it includes people who live out of state and are planning to move to Waco, Texas. That's a pretty narrow target. But I'll offer it nonetheless.
The idea for this came together over the last few days and after several different interactions with various people.
First, I had dinner with a friend on Tuesday night, and she was talking about her experience buying a house in Waco. She and her husband moved here from California, and because of work and other things, they couldn't make trips here to look at houses. So they bought a house sight unseen (well, other than the real estate listing photos) and relied on their real estate agent to steer them in the right direction.
The photos on the listing were obviously taken with a wide angle lens, because when they got here to see their new house in person, the rooms were smaller than they had expected. Also, there were other issues that hadn't shown up in the photos, like kitchen cabinet doors that opened into obstacles, and other quality issues.
So I left our dinner thinking about her situation, and then started getting responses to my video of the flip house next door like, "Kristi, do more of these!" and, "Show us more overpriced houses with your critique! This is hilarious!" and things like that.
And I thought, "What if I combined those things?" In other words, what if I offer my services to people looking to move to Waco from out-of-state (or even from out-of-town…Texas is huge, so even lots of out-of-towners can't easily drive to Waco to look at houses), and I act as their proxy in looking at houses that interest them?
I would not be acting as a real estate agent. I'm not licensed for that. And I wouldn't be acting as a house inspector who's looking to tell you how much life you have left in your shingles, or what kind of wiring is hidden behind the walls, or if you need more insulation in the attic. Nothing like that.
But I would simply walk through the houses with a critical eye of a proxy for potential buyers to see the things that the real estate listing photos aren't telling. And I would be doing so as a neutral party who doesn't have a horse in the race. I don't stand to gain a commission upon the sale of the house, so I have nothing invested, and I have no reason to try to skim over issues with the house, or try to convince a potential buyer that kitchen cabinets from the 1950s are "charming vintage" cabinets when they're not working properly.
No, instead, I would go in as a proxy for the buyer, looking at the property with a critical eye. Does the listing say that the kitchen is "newly remodeled"? If so, did they use cheap cabinets that will fall apart in the first year? Or did they use quality products? Does the house flow nicely? What is the neighborhood REALLY like? Are the rooms as big as they look in the real estate listing? Or is that living room that looks huge in the listing actually too small to fit a normal sized sofa?
As a native Wacoan, as a person who has been an interior decorator and has decorated many houses in Waco, and as a DIYer who has bought and fixed up a condo and a house in Waco and knows what quality work looks like, I think I could help a lot of prospective buyers looking from out-of-state, and help them weed out the houses that aren't quite what they seem to be in listings, or at least avoid major disappointments once they finally see their house in person.
I asked my friend if she thought that would be a useful service, and she said, "Oh, yes!! Definitely!" So I'm offering. I'm not offering my time for free. My time is valuable. 🙂 But I do want to offer. So if you know anyone looking to move to Waco or areas around Waco, let them know that I'd love to help them.
Again, I know this is a very narrow group of people who can use my service. People moving specifically to Waco, Texas, is a very small percentage. I know if I could offer this service for any part of Texas, my inbox would be filled up in an hour. Unfortunately, I can't. Or won't. I'm just not willing to travel too far from home. But I'd happily be a proxy for any buyer looking specifically in the Waco, Texas, area.
If you or anyone you know could use this service, send me an email at [email protected] and we can work out the details.
In the meantime, I'll entertain myself (and maybe you) be visiting some of these open houses and seeing just what's out there.
Addicted 2 Decorating is where I share my DIY and decorating journey as I remodel and decorate the 1948 fixer upper that my husband, Matt, and I bought in 2013. Matt has M.S. and is unable to do physical work, so I do the majority of the work on the house by myself. You can learn more about me here.
I hope you'll join me on my DIY and decorating journey! If you want to follow my projects and progress, you can subscribe below and have each new post delivered to your email inbox. That way you'll never miss a thing!