Today is May 25th. Already. That means that in 36 days (did I count that right?), this year will be halfway over. And I find that in the last months, I've fallen back into my bad habit of leaving projects half-finished and moving on to something else.
It's a personality thing. I don't know if it's because I have a short attention span, or if it's because I have about a million ideas swimming around in my head, so as soon as I see that an idea is going to work (or isn't going to work, as the case may be), I'm ready to move on and try out the next idea.
But whatever the cause, this is something I've done for as long as I can remember. It's my default setting. I can change that default and be a person who actually finishes a project before moving on to something else, but it takes an awful lot of self-discipline for that to happen. And lately, that self-discipline seems to have gone by the wayside.
So today, I'm taking account of the half-finished projects that I have around my house, and I'm going to do my best to finish them in the next five weeks. I'd like to start the second half of this year with a clean slate without any half-finished projects hanging over my head.
For example, my music room walls still aren't finished. I did the stencil on the walls last June. I did all of the big parts, but I failed to complete the tricky parts around the doors. And then in January, I decided that the stenciled design needed a bit of oomph, so I finished up the tricky parts of the stencil on one side of the room and then added some detail with a Sharpie marker.
I got one wall finished, and then decided, "Yep, this Sharpie marker on a stencil idea is great! It totally works!" And with that, I was ready to put a my green "it works!" check mark by that idea, and move on to the next idea. So now I need to go back and actually finish the walls.
Then there's the entryway. I've tested out some paint colors, both on the frame around the grasscloth as well as on the credenza.
I actually did go ahead and paint the frame around the grasscloth teal. It looks awful, so it needs to be white. Oh well. I had an idea, I tried it out, and it didn't work. No big deal because it's just paint, but I do need to get it done so I can stop looking at that awful teal frame. And I need to make a decision on the credenza so that paint test colors aren't the first thing a person sees of the inside of my house when they stand at the front door.
Next up, living room draperies.
I got one panel finished, and that's it. I'd like to at least get the drapery panel for the other side of the fireplace finished. The double-width panels for the front windows can possibly wait until my studio (with the big workroom table) is usable. But for now, I'm so close to getting that second panel for the fireplace wall finished, so I'd like to at least do that.
On the exterior, I need to finish my shutters. I got the shutters made and installed on the studio. You can click here to see how I made them, and click here to see more pics of the shutters installed.
But I still have two more windows on the other end of the house that need shutters.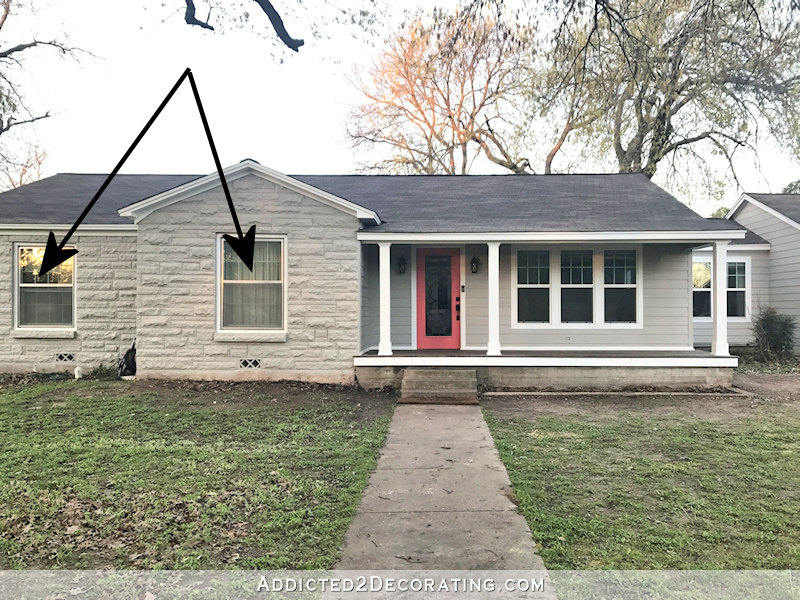 I think shutters on those windows will not only add some much needed color to that end of the house, but will also balance out what's going on on the studio. But I'll admit that this as just a matter of pure procrastination and avoiding a project that I've built up in my mind to be incredibly challenging and frustrating. Generally when I build a project up like that in my mind, and anticipate the worst, it turns out to be much easier than I expected. But I really think this one will be every bit as frustrating as I've imagined it will be.
Putting shutters on siding is pretty easy. Putting shutters on stone that is really rough and non-uniform on the fronts, with up to three inches of depth variation on the front of those stones, is going to be a real pain. I imagine that it's going to require quite a bit of careful chiseling in order to get the front of those stones smoother so that shutters can actually sit relatively flat against them. I'm not looking forward to it, but I do want it done.
And finally, I need to get the ceiling on the front porch installed and painted. I worked so hard to improve the appearance of the front porch…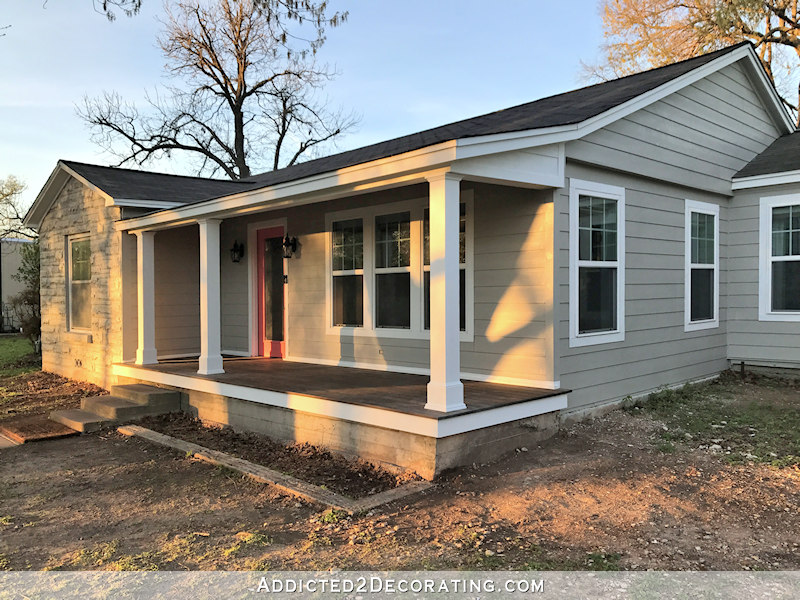 …so it's kind of a let down to actually step onto the front porch and see unfinished rafters, insulation, wiring, etc.
So those are my half-finished projects that I'd like to get done by the end of June so that I can start the second half of this year with a clean slate. You'll notice that I didn't add anything about the studio because right now I'm just waiting to see how the carport project progresses. But if things go according to plan, it's very possible that by the end of next week, I could be adding "finish wiring the studio, half bath and mudroom" to this list. We'll see how it goes.
I know for a fact (because y'all have told me) that some of you are also dealing with unfinished projects around the house that you just can't seem to get motivated to finish. Join me on my challenge! Let's get these finished so they're not weighing on our shoulders when we cross that line into the second half of 2018!!
(By the way, the carport concrete is being poured today! I'm so excited!)
Addicted 2 Decorating is where I share my DIY and decorating journey as I remodel and decorate the 1948 fixer upper that my husband, Matt, and I bought in 2013. Matt has M.S. and is unable to do physical work, so I do the majority of the work on the house by myself. You can learn more about me here.
I hope you'll join me on my DIY and decorating journey! If you want to follow my projects and progress, you can subscribe below and have each new post delivered to your email inbox. That way you'll never miss a thing!