*This post contains affiliate links.
Y'all, I ordered the sofa! I went with my favorite — the James sofa from Interior Define. I ordered it while it was still on sale, but I haven't selected a fabric for it yet. They'll send up to 10 swatches, and they just arrived yesterday, so I've been staring at them ever since. I looked at them in the afternoon light, in the evening light, and in the early morning light, and I think I have my color picked out. I think. 😀 But y'all know me well enough to know that I could change my mind at any minute.
For those who missed my sofa post, you can get caught up here and see the other sofas that were contenders for the living room. The James was my favorite, but it was also the most expensive, so it took a few days for me to convince myself to go for it. But I want a quality sofa this time (not another two-year sofa), and those cost money. So now I'm on to the task of choosing the fabric.
Here are the ten fabrics (all velvet) that I ordered, from left to right: Galaxy, Greige, Sterling, Narwhal, Peacock, Celadon, Bloom, Coral, Scuba, and Lavender.
I knew before I ordered them that those last four wouldn't work, but they said I could order up to 10, and I wanted to see those in person just because. 😀 And while I love the Peacock and Celadon, I really don't want to change the look of the room so drastically. I'm not redecorating this room. I simply want to swap out one cheap gray sofa for a quality gray sofa, and then move on. That's it. So right off the bat, that narrowed it down to four grays.
Here's what they looked like on the website mockup where you can click on the fabric and it changes the picture.
Here's the Galaxy…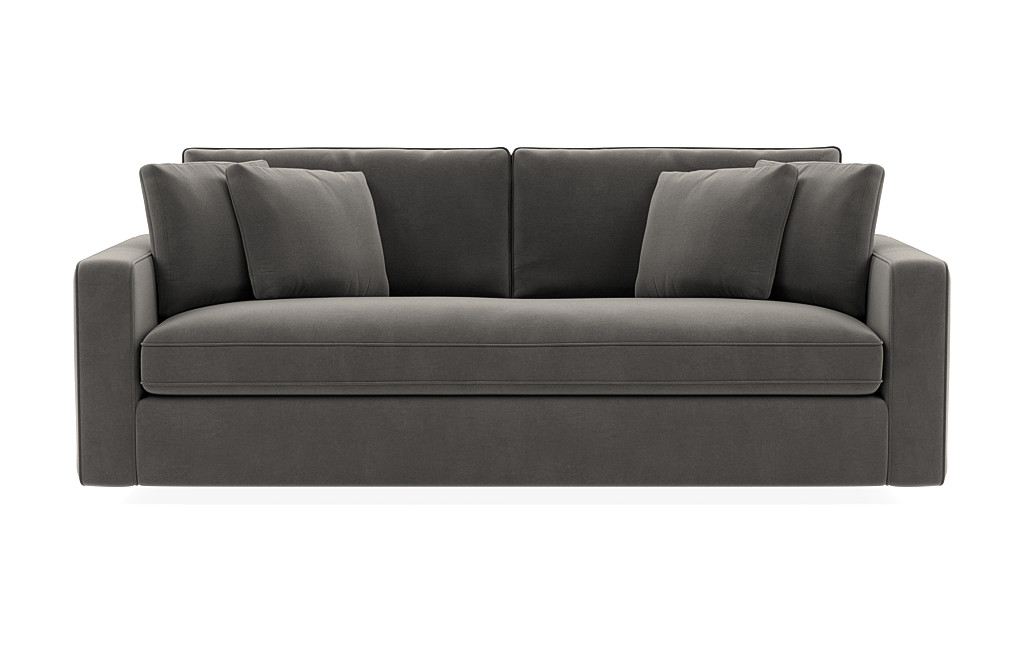 And Greige…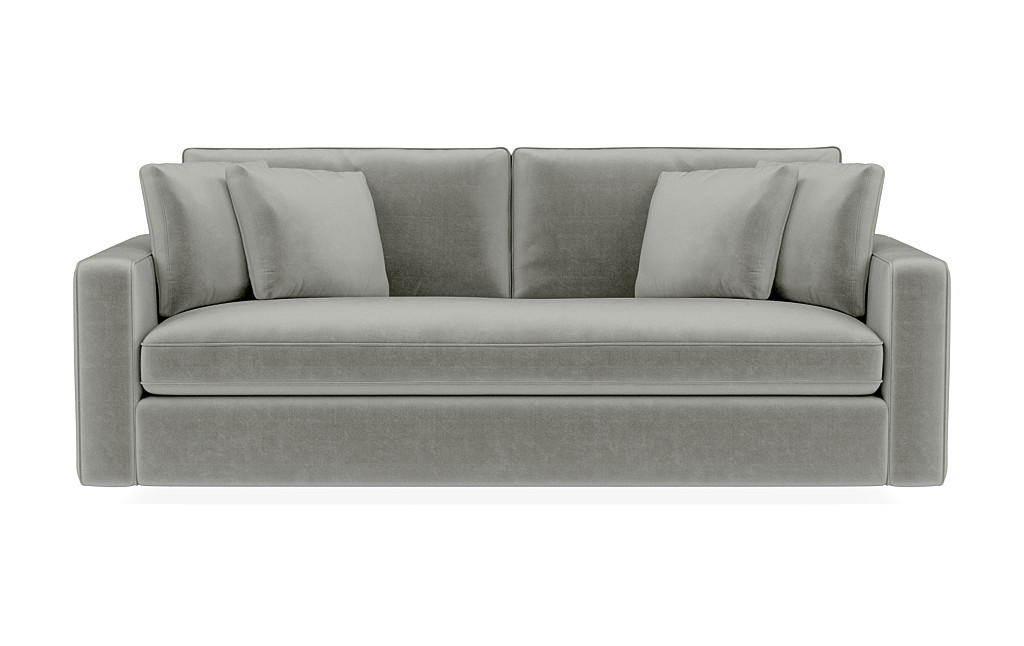 And this is sterling…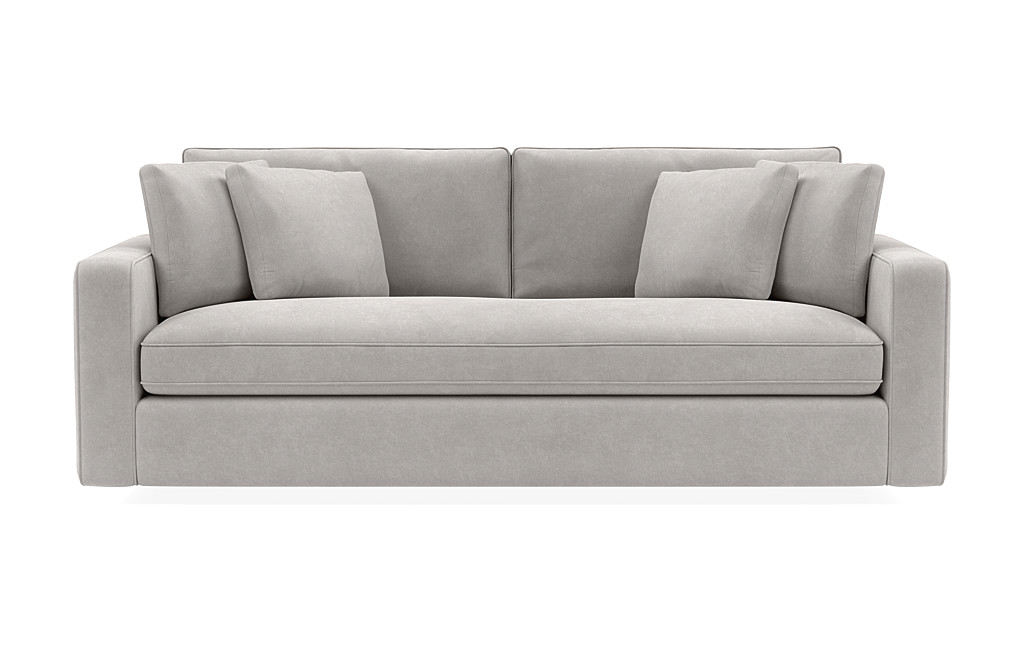 And Narwhal…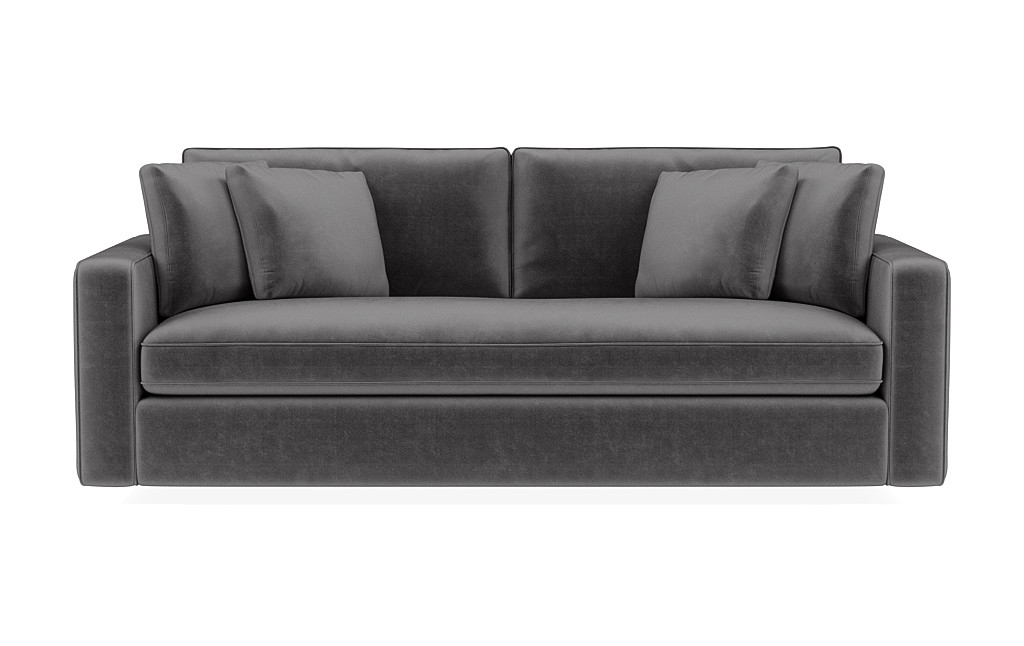 Just based on those pictures alone, I would have sworn that I'd choose either the Greige or Sterling. I'm so glad that I didn't order based on pictures! Because in the end, I don't think either one of those would be the best choice.
In person, the Greige was definitely one of my two favorites, but the Sterling was way too blue. I ruled out Narwhal because it was way too dark. And it also has a funny undertone to it, but I can't put my finger on it. Green? My brain wants to process it as a green undertone, but I don't think that's it. It just looks "off" to me.
So within minutes, I had pretty much narrowed it down to either Greige or Galaxy.
Velvet can be a tricky fabric to select. Because it has such an obvious nap to it, it can look really dark one way, and really light the other way. Case in point, check out the two grays on the end in this picture. The one on the far left is Galaxy. The one just to the right of Galaxy is Greige.
But here they are looking at them from the opposite direction. It looks like I swapped the Galaxy and Greige, but I didn't. They're in the same spot.
And they're in the same order here — Galaxy on the far left, and Greige just to the right of it.
But here they are again — Galaxy on the far right (appearing much darker) with Greige just to the left of it (appearing much lighter).
So the two colors are actually much close than I had originally thought, with Greige just a bit lighter than Galaxy, but not a whole lot. They just stapled the samples to the cards with the nap going in opposite directions. So when I placed the two samples side-by-side with the nap going in the same direction on each one, they looked a whole lot closer in color. Here's Galaxy on the left, and Greige on the right, with the nap going up on both samples.
And the same order — Galaxy on the left and Greige on the right — with the nap going down on both samples.
Of course, on parts of a sofa line the back and the bench seat cushion, the nap will go neither up nor down. It has to be railroaded, with the nap going sideways. So here's the Greige on top and the Galaxy in the middle with the nap going sideways.
Here they are against the purple chair — Galaxy on the left, Greige on the right.
And here they are on the fireplace mantel. I should have flipped one of them so that the nap would be going in the same direction.
After narrowing it down to these two for sure, I flipped the cards over to read the details, and that pretty much sealed my decision. I don't know if you can see this…
The Galaxy is a performance plush velvet with a rub count of 100K, while the Greige is a mod velvet with a rub count of 25K. That's quite a difference in durability. Plus, the mod velvet isn't listed on their site as a cat friendly fabric, where the performance plush velvet is. So with those important characteristics in mind, that pretty much made the decision for me.
I was kind of concerned about the Galaxy being too dark (because their mock-up picture looks so incredibly dark), so I contacted Interior Define to ask questions, and the lady who helped me sent pictures of sofas covered in each of the three grays for me to to see what actual sofas in actual rooms look like with the three grays. (I was still curious about the Sterling, even though I knew it was too cool/blue.)
Here's the one with Galaxy performance plush velvet.
I think it's beautiful! It is dark, but the way that light plays off of the velvet, it has enough highlights that it doesn't look like a solid dark gray blob. I think it'll be perfect. And it's really quite similar to the gray I have now, which I really do love.
So Galaxy it is!
Now I just have to let them know my selection, and in 22-25 weeks, I'll have a new sofa!
Yes. 22-25 WEEKS. 😀 Ugh. Everything takes so long now, but that's okay. I can be patient. And this will put the arrival of my new sofa around my birthday in June (if I counted correctly), so it'll be a nice birthday gift for me. 😀
Addicted 2 Decorating is where I share my DIY and decorating journey as I remodel and decorate the 1948 fixer upper that my husband, Matt, and I bought in 2013. Matt has M.S. and is unable to do physical work, so I do the majority of the work on the house by myself. You can learn more about me here.
I hope you'll join me on my DIY and decorating journey! If you want to follow my projects and progress, you can subscribe below and have each new post delivered to your email inbox. That way you'll never miss a thing!