Last Updated on December 25, 2015 by Kristi Linauer
Matt and I have lived in our condo for almost six years.  (It'll be six years in July.)  Until recently, I've been perfectly fine with it.
I've actually liked that I have a tiny place (at only 834 square feet) and don't have lots of rooms that I don't even use, but still have to clean.
I have LOVED that I don't have a yard to maintain.
I'm comforted by the fact that all of the exterior stuff is someone else's responsibility, and I don't have to pay anything for it.  If the roof is damaged during a thunderstorm, I don't have the responsibility to repair it.
You get the idea.  There really are some great advantages to owning a condo, and for the last almost-six years, I've been focusing on all of those positives, but lately…about the last month…the negatives have started outweighing the positives.  I want a house so badly I can taste it.  I spend time online looking at houses.  I dream about houses.  The thought consumes my mind each and every day.
So why have I all-of-a sudden become disillusioned by condo living?  I've made a list.  (By the way, I don't want this list to come across as complaining.  It's more like I'm sharing with you my "pros and cons" balance sheet that helped me make the decision that I'm over condo living.  The positives are above.  The negatives are below.)
1.  I don't like having a bike rack outside my front door.
For almost six years, I've looked at this thing every time I walk to and from my front door.  I look at it when I sit at the table in my breakfast room working on my computer.  It's an eyesore, and it's right outside my window.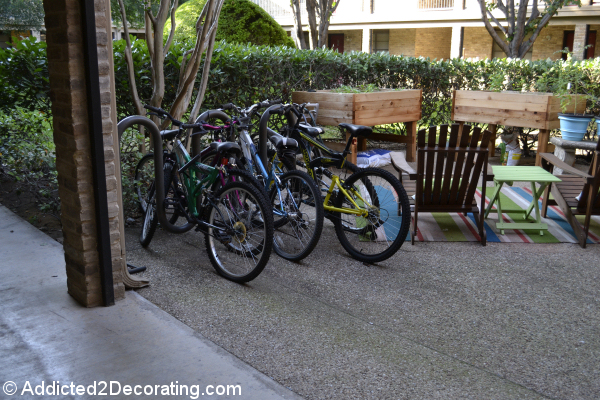 I was standing just outside my front door to take that picture.  Yes, it's that close.  And throughout each year, it gets filled with bikes that are forgotten, left there when a student moves out.  Then it gets rusty, the tires get flat, and it becomes an even uglier eyesore.  I'd love to be able to walk out my front door and NOT have to see a bike rack.
2.  I want some privacy.
In the almost-six years that Matt and I have lived here, I could count on one hand the number of times I've seen other people use the patio area outside of our condo.  In fact, to be specific, I've seen only two other people use it in six years.  So I thought that this year, I'd spruce it up a bit, and we'd actually get some enjoyment out of it.
I thought that it would be almost like our own little private patio, since nobody…NOBODY…ever uses it.
Well, it turns out that if you put something pretty and useful there, people will come…like moths to a flame.  And unfortunately, I've learned something about myself.  I'm stingy.  It's true.  I'm not proud of it.  It's just a fact.  I don't want people who I don't know sitting on my chairs, walking on my rug, and leaning on my pillows.  I know that sounds awful.  I'm just being honest.
But I can't tell them not to use it, because that patio isn't mine.  As a condo owner, I have no ownership of any specific outside area.  Plus, I don't like to be rude.  If I were to put my stinginess on one side of a scale, and my desire to not be rude on the other side of the scale, my desire to not be rude would win out.  Not by much.  But enough to matter.
But even if my stinginess won out, and I wanted to tell people to stay away, I just can't.  That patio space is public space that can be used by anyone who lives here.  I have no right to tell people to stay away.
I just want my own backyard, my own patio, where I can put my own furniture, pillows, rug, gardens, etc.  That way I have full control over who visits my patio and enjoys my stuff.
3.  I want a real garden.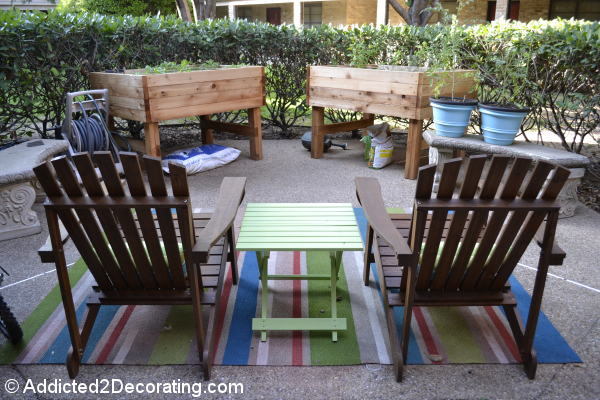 My elevated garden beds were the best I could do since I live in a place where I don't own any outdoor space.  But I want my own area, hidden from prying eyes by a nice, high fence…in my own back yard.
Watering my gardens is such a pain.  In this whole building, there's only one outdoor water spigot.  It's about 65 feet from my front door.  Can you see it in this picture?  Of course not.  It's too tiny.  But it's at the end of that arrow.
So each time I want to water my garden, I have to roll my water hose all the way down there and hook up the host.  To make it worse, that spigot is right outside someone's window.
And then I have to drag the hose across the lawn and throw the sprayer over the hedges.  Then I walk around the hedges, grab the sprayer, pull the hose to give me some slack, and then water my gardens.
When I'm done, I throw the sprayer back over the hedges, walk around to grab it, and then walk it back to the spigot and roll up my hose.
This inconvenience…just to water my garden…is really starting to frustrate me.  Even more frustrating is the fact that there used to be a water spigot right outside my front door, and for some reason, it was removed at some point before we bought our condo.  I'd sure love to have that put back!!
4.  I desperately need a garage, or a storage building, or a workshop, or all of those things.
Right now, if I need to work on a project that can't be done inside (e.g., sanding, spray painting, painting with oil-based paint, etc.), I have to drag my project, my tools, and my work table outside my front door and work on the sidewalk.
In addition to this not being an ideal work space, I also hate how everything gets messy and dusty, and my front door gets easily banged up because I'm constantly lugging power tools like my miter saw in and out of the door.
I just want my own garage…and workshop…and storage building.
5.  I can't stand not having curb appeal…and having no control over it.
The building I live in has absolutely no curb appeal.  In fact, that's an understatement.  The outside of the building is just flat out UGLY.  In fact, when Matt and I were looking at condos, the first time we drove up to this building, I almost told him to turn away just because the building was so ugly and drab.
But I kept my mouth shut.  I figured since we were there, and we had scheduled an appointment to see it, we might as well look at the condo.  Plus, I was kind of curious about how they looked inside anyway.
So we went in, and almost immediately I forgot about the drab outside.  The condo we looked at was owned by a Baylor University professor, who was living there with his wife.  They had created a beautiful, comfortable home, and I realized that these condos do actually have potential.  We ended up purchasing a different condo with the same floor plan.
But even though the interiors have great potential (and I'm still working on mine), I'm ready for something that actually looks pretty on the outside as well.
6.  I want to have input…or actually, full control…over the landscaping.
While it's very nice to not be responsible for any outside stuff…landscaping, yard work, exterior maintenance…there's also a down side to that.  For example, I have to live with hedges that look like this…
…and like this…
…along with the dying grass that nobody does anything about.
And then there's this monstrosity…
What the heck is that?!  Is there anyone who actually thinks that looks good?  It's like a shrub that got so overgrown that it's now a tree, but they keep cutting it like it's a little tiny shrub.  I've been so tempted to borrow a chain saw and cut the thing down.  It's just ridiculous.
If I have a house, I can always hire gardeners and lawn maintenance people, but I'm definitely ready to be in full control of what plants are planted, and how they're taken care of.  No crazy overgrown bush trees with chili bowl haircuts.
7.  I want to be able to go into my garage or out my back door to throw out my garbage.
I know that sounds strange, but if you live in a house, you know the convenience of having your big garbage cans in your garage, or perhaps in a dedicated area outside your back door.  Then once a week, you roll your garbage cans out to the end of the driveway.
Well, I guess the positive point about living in a condo is that I don't have the responsibility of remembering to roll my garbage cans out to the street once a week.  The negative point is that when I do want to throw out a bag of trash, I have to drag it all the way to the end of this corridor…
…and then about 30 more feet to the dumpster.
And I hate having a dumpster right there by a main entrance.  Talk about no curb appeal!!!  There are specific times of the year (when students are moving in for the fall semester, or moving out for the summer) when that dumpster overflows and garbage gets piled all around the dumpster.  Yeah…pretty.
I don't want the word "dumpster" to be a part of my regular vocabulary anymore.  I'm ready for normal trash cans, perhaps the big, nice ones provided by the city, that I can keep close and wheel out once a week.
8.  I don't like being "connected" to trashy neighbors.
Does that sound too mean?  I don't care.  It's true.
I know that when you live in a house, there's always the possibility that your neighbors won't take care of their house, and things will fall into disrepair.  But it's one thing when that person is your neighbor living in a separate house (at least visitors know it's "the neighbors" and not you).  But it's something altogether different when your neighbor's disrepair is actually connected to your home.
I'm tired having eyesores like this connected to the same building in which I live.
Screens that are torn and never repaired.  Screen frames that are bent and mangled.  It's ridiculous.  How does this even happen…on the SECOND FLOOR?
And their trashiness makes me look trashy.  If I'm going to look trashy, I want it to be of my own making…not because of someone else.
I want a house where I have full control over the repairs, so that I don't have to look at (and be connected to) eyesores like this for months and years on end.
8.  I want to live somewhere where constant advertising isn't necessary.
I understand that most of the condo owners rent out their condos, and they (or their property manager) need to be able to advertise that there are vacancies.  But I'm too old to have to look at stuff like this every time I drive up to my home.
And then there are the rent / lease / sale signs that are a constant throughout the year, every year.  When you live in a complex that has about 128 condos, it stands to reason that there will always be condos that are empty, so there will always be signs.
I want a house…where the "For Sale" sign can be removed permanently once I sign the papers and take ownership.
8.  I want my mailbox close…with no key required.
It's basically the same issue as with the dumpster.  But to get my mail, I have to walk down that long corridor…
…and then turn to the right and walk about 70 more feet.
Then I have to wrestle with my tiny key in the rusty keyhole to get my mail out.
I know that seems like a small issue, but it's definitely on the "con" side of my pros and cons list.  I want my own mailbox, at the end of my own sidewalk, and I don't want to have to use a key to get my mail out.
10.  I hate satellite dishes.
Allowing satellite dishes in a condo complex with at least 128 condos is a bit different from one homeowner having one satellite dish on their home.
These things are everywhere…in the grass, attached to the building, on the roof.  There's absolutely no consistency to how they're installed.  They dish company just comes out and sticks them anywhere they can find a space for it.  I absolutely hate them.
So those are my top ten reasons.  There are many more.  But suffice it to say that I'm done with condo living.  I've completely over it.  I want my own home.  I don't even want anything fancy, and if you know me at all, then you know it absolutely must be a fixer upper.  I want to be able to design it my own way.
Unfortunately, Matt and I aren't in a position where we can buy a house just yet.  But we're both feeling incredibly motivated to save up a downpayment so that we can make this happen.  Perhaps at this time next year, I'll be in my own little home, with my own patio, and my own backyard where I have my own gardens that I water with a hose that's attached to my own water spigot, and my own garbage cans in my own garage, and my own mailbox at the end of my own sidewalk.
I'm so ready, and feeling so restless, I don't even know how I'll be able to wait.   But I have no choice.
Addicted 2 Decorating is where I share my DIY and decorating journey as I remodel and decorate the 1948 fixer upper that my husband, Matt, and I bought in 2013. Matt has M.S. and is unable to do physical work, so I do the majority of the work on the house by myself. You can learn more about me here.
I hope you'll join me on my DIY and decorating journey! If you want to follow my projects and progress, you can subscribe below and have each new post delivered to your email inbox. That way you'll never miss a thing!