Last Updated on December 25, 2015 by Kristi Linauer
When it comes to projects around the house, do you actually see them through to completion?
I don't.  And it's the part of my personality that I hate the most.
I would need a highly trained psychologist to tell me exactly what my problem is, but when I get a home improvement project about 90% complete, there's something that clicks in my brain, and I lose interest in that project and want to move on to something else.  I've been this way for as long as I can remember, and it's the very reason that I don't have even one single finished room in my condo.
Remember my bedroom?  I got the closet finished.
But if you look closely, you'll see that the trim on the walls has dabs of wood filler that isn't sanded, and the trim is unpainted.  There are no baseboards either.  And the other side of the room?  I started building new closets on either side of the bed…
We won't even talk about how long it was that I started working on my bedroom.  It's way too embarrassing.  But these projects remain unfinished to this day.
Remember my hallway and utility closet?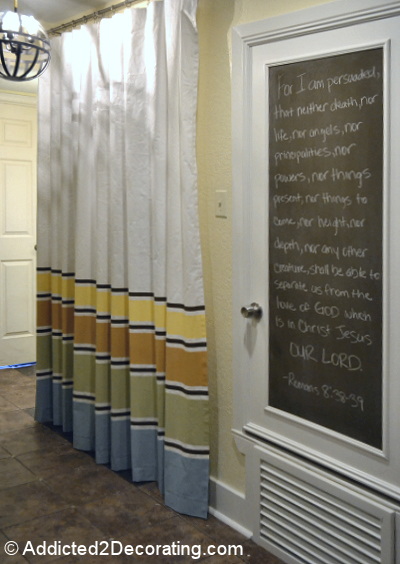 I'm soooo close to having this finished, but there are lots of small projects that need attention.  My diy light needs repair, trim needs to be installed an finished.  I need handles and pulls on the cabinets, and the door to my bedroom needs to be fixed and painted.  Oh, and then there's the floor, which is still ungrouted.
My kitchen and breakfast room are the same song, different verse.  Unpainted trim, small projects left unfinished.
See?  I get so close to finishing, and then it's almost as if I lose interest.  I'm sure one of you psychologist types could root around in the DSM-IV and find a clinical name for this mental condition that I obviously have.  😀
When a project gets to that 90% completion mark, at that point I can tell if it's going to turn out like I envisioned it in my head.  It's almost like I'm perfectly fine with just the knowledge that the project is going to be fantastic when it's finished.  Once I know for sure that the potential is there (which happens around the 90% mark), I lose interest and am ready to move on to something else.
It's my biggest and most irritating personality flaw…and it's irritating even to me.  I need to either learn how to become a finisher (perhaps with some therapy…LOL) or become best friends with a finisher who loves to do free work for her new best friend.
So are you a starter?  Or are you a finisher?  If you're like I am, do your projects just remain unfinished, or do you just force yourself to finish them?  And more importantly, is there a support group for people like us?
Addicted 2 Decorating is where I share my DIY and decorating journey as I remodel and decorate the 1948 fixer upper that my husband, Matt, and I bought in 2013. Matt has M.S. and is unable to do physical work, so I do the majority of the work on the house by myself. You can learn more about me here.
I hope you'll join me on my DIY and decorating journey! If you want to follow my projects and progress, you can subscribe below and have each new post delivered to your email inbox. That way you'll never miss a thing!