Last Updated on December 24, 2015 by Kristi Linauer
Well, I had hoped to get some input on my kitchen floor yesterday.  I was so disappointed to see that nobody really had an opinion on it, and everyone was too shy to tell me what they really thought.  😀
Ha!  Obviously I'm joking.  I read all 520+ comments, and I don't think I've ever had another "give your input" post where everyone was pretty much on the same page.  In all of those comments, I could probably count on one hand then number of people who preferred the painted floor, or who suggested some other unique flooring idea.  The almost-unanimous opinion was that the floors needed to be stained (Waterloxed) to match the rest of the house.  So I guess I've got my work cut out for me.  I have no idea at this point how I'm going to sand around those fancy cabinet feet, but I can guarantee you that I'll figure something out.  🙂
Thank you for all of your input!  It really helped make that decision very easy.
But before I start sanding down the floor, I'm going to finish all of the cabinets first.  And yesterday brought me a bit closer to completion.  Despite the heat, I actually met my goal for yesterday of getting the cabinets sanded, sprayed with a second coat of paint, and then clear coated with the matte polyurethane.  Here's how they looked with one coat of paint, which I showed you yesterday…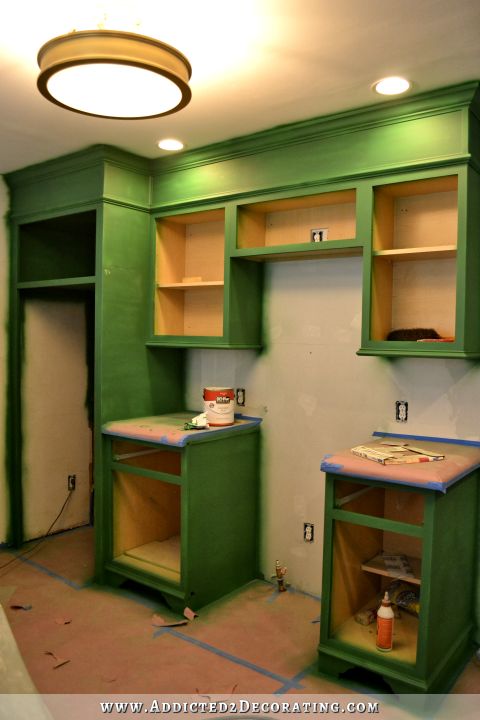 And here they are finished, with the second coat of paint and two coats of matte polyurethane.
I just can't say enough about that matte RustOleum polyurethane.  I spray it on with my Critter sprayer.  It sprays so beautifully, and dries to a gorgeous velvety satin finish.
The two areas on this wall that I was the most concerned about were the top flat part by the ceiling (which is where I had the most problems on the wall of cabinets), and the side panel of the fridge enclosure.  It can be tricky getting a consistent sheen on large, flat areas like that, but both turned out great.  I didn't have any weird or frustrating sheen issues at all with any part of the cabinets on this wall.
Obviously I still need to switch the door swing on the refrigerator.  That seems kind of low on the priority list right now, but it'll happen eventually.  Also, I think I will end up having to bump out the back wall of the enclosure behind the fridge so that the refrigerator can sit back as far as I want it and still have good circulation back there.  It'll have to bump back into the music room, and I'm not sure if I want to go ahead and do that, or just leave the fridge sticking out a bit and wait until I actually tackle the music room before I cut out that section of wall.  So we'll see about that.  But when all is said and done, it'll only be the thickness of the doors that stick out past the front of the refrigerator enclosure.
For now, my only goal is to finish all of the cabinets.  My goal specifically for today is to get the doors and drawers finished for this wall, and then do the tiling on the wall behind the range tomorrow.  Then I can finally install the range hood.  I'm hoping that by the end of this week, this wall will be finished and I'll actually have a usable stove for the first time since February.
Addicted 2 Decorating is where I share my DIY and decorating journey as I remodel and decorate the 1948 fixer upper that my husband, Matt, and I bought in 2013. Matt has M.S. and is unable to do physical work, so I do the majority of the work on the house by myself. You can learn more about me here.
I hope you'll join me on my DIY and decorating journey! If you want to follow my projects and progress, you can subscribe below and have each new post delivered to your email inbox. That way you'll never miss a thing!