Last Updated on May 27, 2014 by Kristi Linauer
So here's how my day went yesterday.  As usual, I got up at 6:30 and began looking through my pictures that I had taken of my project the day before (my painted kitchen floor that I worked on for two days).  I chose a few pictures I wanted to share with you, edited the pictures, and wrote my post.  As soon as I hit "publish" on that post, I was anxious to head into the kitchen to look at my new painted floor in the light of the new day.
As soon as I removed the plywood that I was using to block the doorway, and I took a look at the floor, the very first thought in my head was, "That reminds me of a high school gymnasium floor."
Ugh.  It was something about the light/medium toned natural wood and the painted lines that just screamed "gym floor" to me.
And once I saw it, I couldn't unsee it.  Needless to say, "high school gym floor" wasn't exactly the look I was going for in my kitchen.  So immediately after breakfast, I headed back into the kitchen with my sander and a full 15-count package of 60-grit sanding discs to undo my two days of hard work and start over.
Four rolls of painters tape and 13.75 hours later (I finished at 12:30 this morning), I had a new painted floor.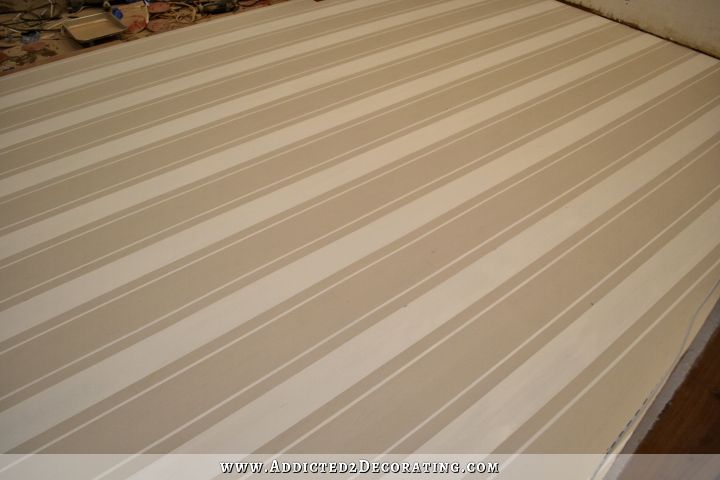 Aahhhh…so much better.  This is what I had wanted all along.
So where did this all go wrong?  Well, let's just say that this whole thing was a learning experience…again.  A hard lesson learned…again.  This was a lesson I had already learned on several occasions, but evidently those other times didn't stick because I wound up with a floor that looked like a high school gym.
And what is that lesson, you ask?  The lesson is to trust your gut, and don't let others' opinions sway you and make you second guess your plan when you know what you want.
I have a very definite plan — a vision — in my head of my finished kitchen, and that vision includes a striped painted floor in these two colors (Behr Oyster and Behr Polar Bear).  I'm pretty sure 100% of the people who comment on my blog were completely on board with me painting my floor when I still had the old wood.  But as soon as I put down the new wood, that changed.
When I put down the new wood, but mentioned that I still planned to paint the floor with stripes, the comments and emails started coming.
"I can't believe you're going to paint that floor!"
"Paint should only be used on old wood floors that are beyond repair, but not on new wood floors."
"Paint on floors should only be used as a temporary measure on old floors until you can get new floors."
"Kristi, please reconsider your plan to paint that wood floor!"
"That floor is so pretty.  Are you sure you want to paint it?"
"I think you should just seal it like you did the rest of the house, and have one continuous floor throughout."
And so forth and so on.
And somewhere along the way, I let those comments get into my head to the point where I felt guilty about painting the new wood floor.  But I still wanted a striped floor.  So I tried to reconcile the two, and I ended up with a gymnasium floor.
So learn from my experience.  No one else has the vision that you have for your home.  They can't see the "final picture" that you have tucked away in your brain.  And even if you implement that final picture and others don't like it, it doesn't matter.
And most importantly, don't take others' arbitrary decorating rules to heart.
"New wood floors should not be painted."
"Kitchen cabinets should never be painted green."
"Old wood furniture should never be painted.  If you don't like it like it is, then leave it for someone else who will appreciate it."
"Original oak trim should be left alone."
Ugh.
You want to know my decorating rule?  It's your house, and your stuff, so do what you want to with it.
If you want to buy a 100 year old Victorian filled to the brim with dark, depressing oak trim and walls, and you want to take a paint brush to all of that oak and paint it bright white (or purple, or hot pink for that matter), then do it.
If you want to buy a quintessential mid century modern house and decorate it like a beach cottage, go for it.
If you've acquired an antique dresser and you want to paint it orange, then that's exactly what you should do.
And when people start trying to fill your head with their arbitrary decorating rules like, "You should never paint the original oak trim in a 100-year-old Victorian," then you just smile, and then go grab your paint brush.
If I sound upset this morning, believe me, the only person I'm angry at is myself for not following my gut and not trusting my vision.  Add that to the fact that I've spent the last three days crawling around on the floor of my kitchen on my hands and knees, and I'm exhausted and sore all over.
I need rest.  And a massage.  And then I need to polyurethane my new, beautiful (to me) painted oak floor.
I'm sure once I get some rest today, I'll be back to my usual self tomorrow.  🙂
Addicted 2 Decorating is where I share my DIY and decorating journey as I remodel and decorate the 1948 fixer upper that my husband, Matt, and I bought in 2013. Matt has M.S. and is unable to do physical work, so I do the majority of the work on the house by myself. You can learn more about me here.
I hope you'll join me on my DIY and decorating journey! If you want to follow my projects and progress, you can subscribe below and have each new post delivered to your email inbox. That way you'll never miss a thing!