I did get started on the studio yesterday, but I'll be honest. If I hadn't posted yesterday about needing accountability, I wouldn't have gotten anything done at all. In fact, I put it off as long as I could, and then around 4:30 yesterday, I said to myself, "Kristi, you HAVE TO show progress tomorrow because people are going to ask. So GET.SOMETHING.DONE."
Accountability works.
There's nothing drastic about the progress I made, but I did put in a good two hours of work. At least it's a start. And at least the room doesn't feel quite so suffocating anymore. This is what it looked like yesterday before I got started…
And this is this morning…
There's a little more breathing room, and a little more room to move around, as evidenced by Cooper. Yesterday, he was trapped. (Did you even notice him? It's my own version of Where's Waldo?  😀 )
And now he can roam a bit freer. (Don't worry. The saw has a blade guard on it, and it's not plugged in. He just likes to sniff all the things.)
So it's not huge progress, but it's progress. And the best part is that I got over that initial emotional/mental hurdle that was keeping me from getting started. That overwhelming sense of dread is gone. Now it's just been whittled down (at least in my mind, where the real battle was) to an annoying task that needs to be done.
I just keep picturing what this room is going to look like when it's finished, and that is a great motivation for me. I'm so excited to see how it will turn out. So far, these are the two images I've saved as inspiration for my studio.
Y'all know I don't like a distressed finish on cabinets or furniture, but I do love the overall look of that green and white. And those green pendant lights are amazing!
And then there's this one…
Can you image a bold green in the back entry and on my cabinets with my wallpaper?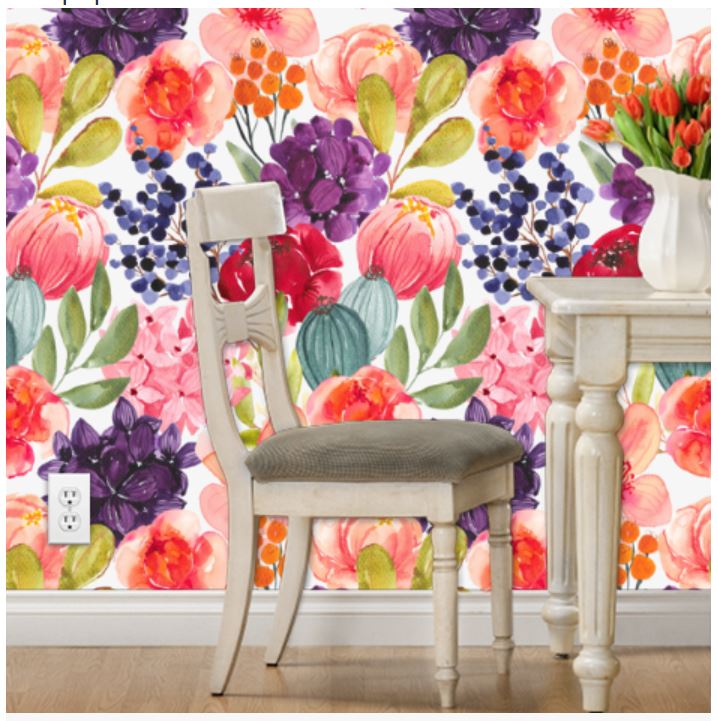 I think it would look amazing!
And I know someone will say, "But Kristi, you've already tried green, and didn't like it!"
But I didn't repaint my kitchen because I didn't like the green. In fact, I loved the green. I repainted the kitchen because I found such a bold color very difficult to decorate around, especially considering that basically all of my decorating decisions in almost every other room (breakfast room, pantry, living room/entryway, music room, hallway, hallway bathroom) needed to "flow" with a bold green kitchen.
I finally decided that if I had to make every room in my house "flow" with the kitchen at the center, then the kitchen needed to be my favorite color.
But I've kind of reached my teal limit now, and green is a close second for me as far as favorite colors go. And since the studio doesn't have to "flow" with seven other areas/rooms of the house, I think this is my opportunity to bring it back. I just need to make sure that the small bit of cabinets that can be seen from the kitchen and breakfast room doesn't clash with those rooms, but I don't think that will be a problem. I mean, just take another look at my pantry backsplash tiles. They have a very similar green in them.
So those were the visions dancing around in my head yesterday as I waded through the mess and cleared out some of the junk. And those will be the visions that keep me going today as well.
It's still a long way away, but I can't wait to get to the pretty stuff!
Side note about my keto diet:
Several of you have asked me how my keto diet is going. Well, I've started a new blog to share my keto journey. So far, it has one whole post on it. Yep, it's just a baby blog, and I'm still getting things set up over there. But I will post regularly and share my progress, my favorite recipes, my favorite resources, etc. I'd love for you to join me over there if that something you're interested in. You can find it here…
See what I did there? 😀
Addicted 2 Decorating is where I share my DIY and decorating journey as I remodel and decorate the 1948 fixer upper that my husband, Matt, and I bought in 2013. Matt has M.S. and is unable to do physical work, so I do the majority of the work on the house by myself. You can learn more about me here.
I hope you'll join me on my DIY and decorating journey! If you want to follow my projects and progress, you can subscribe below and have each new post delivered to your email inbox. That way you'll never miss a thing!