Well, after an almost-12-hour day of laborious work on the studio yesterday, my brain and body needed a break last night, and I was desperate to focus my attention and thoughts on something pretty and creative. So I started looking for ideas for decorating my studio.
The other day I wrote a post about my biggest decorating mistake, and it's one that I don't want to make in the studio. In the other areas of the house, I always ask Matt his opinion about things. He very rarely gives me any input (his standard response is, "If you like it, go for it!"), but I do still try to consider him and avoid anything over-the-top girly in the rest of the house. Only every once-in-a-while will he actually have an opinion, like his standing request for "no pink walls."
But the studio is mine. All mine. I don't feel obligated in any way to ask Matt his opinion about how I decorate it at all. And this is my chance to go crazy, make it as girly as I want, and use all the colors and patterns I want.
It's actually a little overwhelming to me to have such a large room to decorate, with complete free reign over the decorating. Parameters actually make the decisions easier, but I have no parameters in there. If I want to paint the whole thing hot pink, I can. (But don't worry. I don't want to.)
What I do know is that I want pattern. I love flowers, trees, birds, stripes, and geometric prints. I can put stripes, geometrics, and even trees and birds anywhere in the house. So perhaps this is my chance for flowers. Lots of big, bold flowers.
I could actually imagine using gorgeous, bold floral wallpaper like that one, and then painting my cabinets the pinkish red in those flowers. Too bold? I don't think so.
But I do think that particular wallpaper might be too dark overall for me. Even though my studio gets lots of light, I've gravitated towards more light and bright colors and patterns over the last few years.
Too much? I'll admit, that might be too much for even me, especially for someone whose favorite colors are blues, greens, and blue-greens, but I respect the heck out of any designer who will take bold chances like that. (Although I find that rug very distracting in the overall design.)
If I use wallpaper in my studio (and I really, really want to!), the trick is going to be deciding where to put it. The room is so big that I think it would be overkill to wallpaper all of the walls. That would also cost a small fortune, and I don't want to spend that much on wallpaper, or spend a month installing it.
So I'm thinking that I'd just put it on the walls that are between the cabinets on both the the long front wall and the "office" area of the studio. It would be something like this…
The wallpaper shown is Tulipani in Graphite by Designers Guild, but obviously it's way out of scale. 🙂
That front wall makes sense to me. The built-ins cover the entire wall from side to side, and there's a clear angle where the wall stops and the ceiling starts, as you can see here…
But I'm not so sure about the "office" wall since the built-in area is off to one side of the wall, and the wall goes much higher, well beyond where the built-ins will be.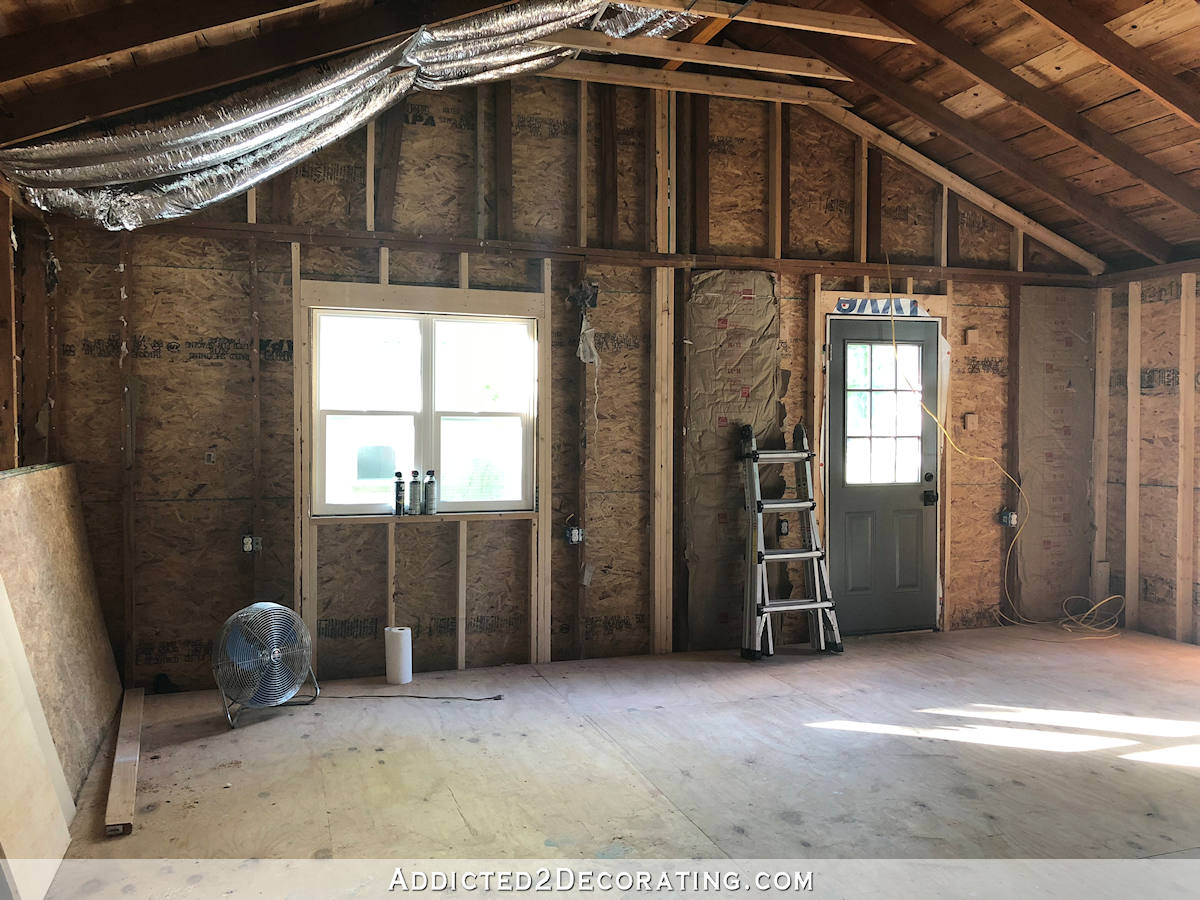 So that makes me think that if I do a fun wallpaper, I should just keep it to the front wall and not put it in the "office" area, right?
I guess another option would be to put it on the ceiling.
Ummm, wow, right?
I love the look of a wallpapered ceiling, but I can't even imagine actually installing that myself. I'd tackle it in a bathroom…maybe. But a room that's 20 x 22 with a vaulted ceiling? Probably not. That would be a job for a professional, for sure.
Anyway, my mind is spinning with different possibilities. I have free reign, and approximately 1200 ideas I still want to try. How I'll narrow those down to decorate one room in a cohesive way is beyond me.